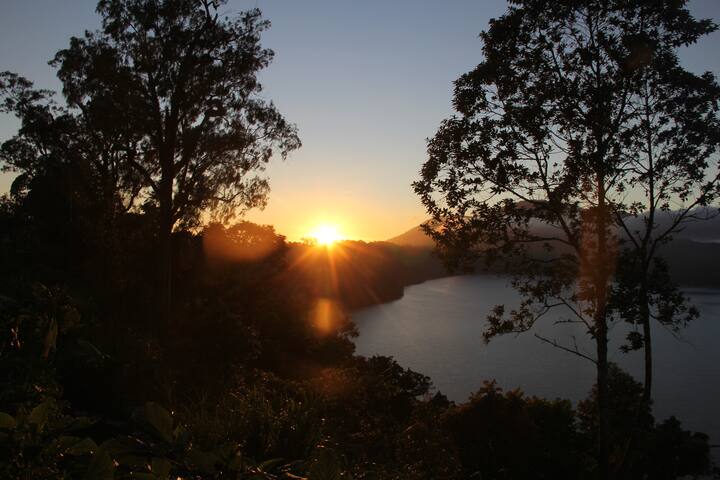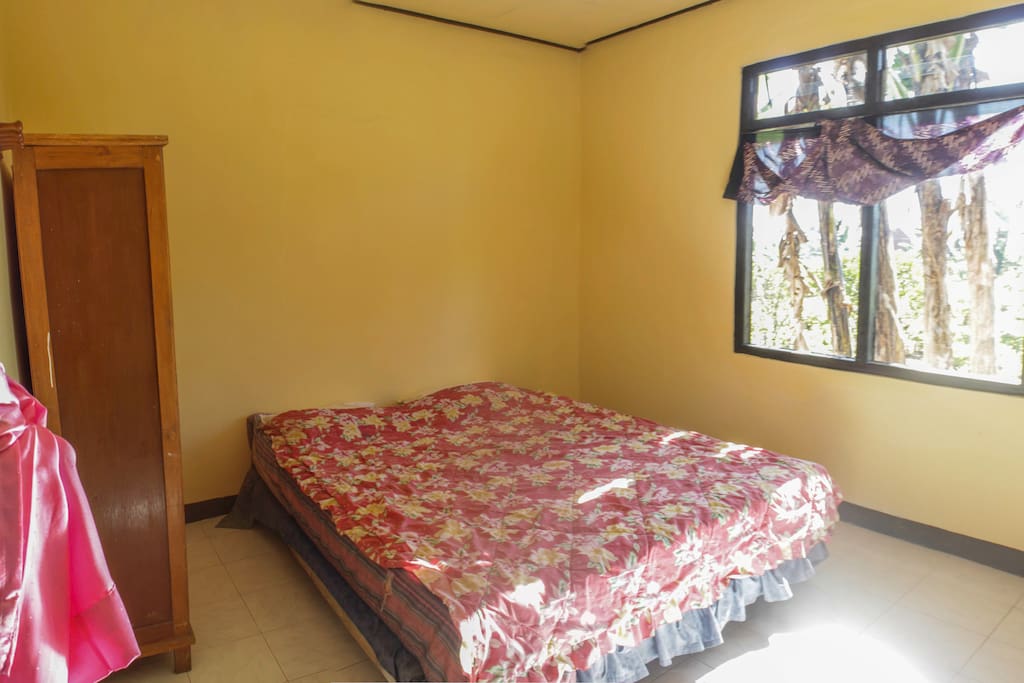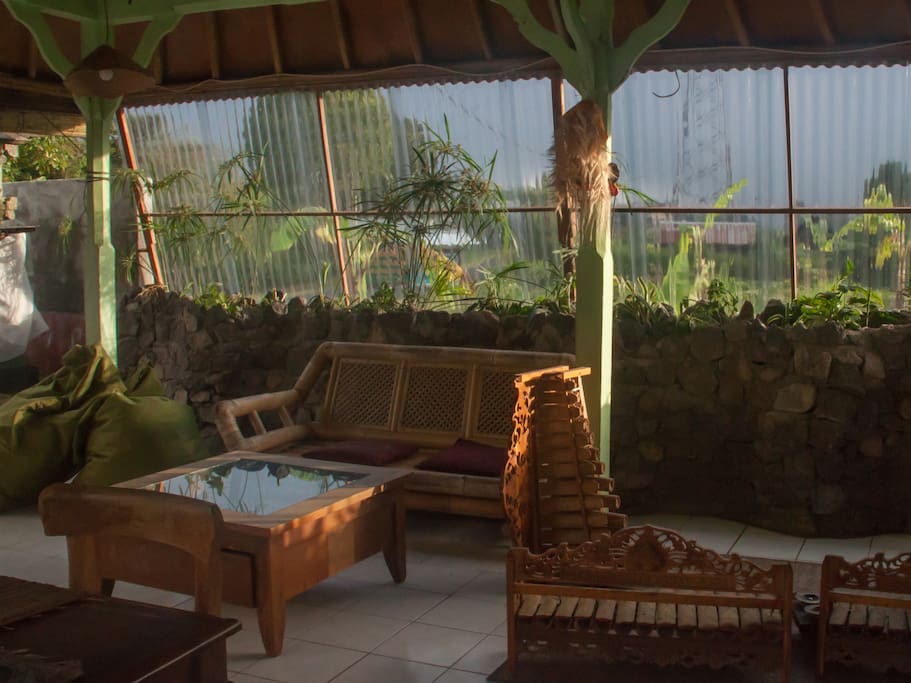 About this listing
Queen size bed, private toilet, warmish shower and a wobbly tab. This room has all you need but it's not perfect. The surrounding however is flawless: Lush jungles, secluded waterfalls, mighty mountains and hidden temples. Do you like to hike?
---
---
---
---
The space
This part of Bali is not visited by many tourists and you will be able to explore the pristine Bali.
Our little home stay is called Bukit Kembar.
We are located up in the mountains of Bali between Munduk and Bedugul. Our village is surrounded by lush jungles overlooking two volcanic lakes. It is the perfect place for people who love hiking and want to explore the rural parts of Bali.
Our guesthouse is simple but the rooms have the basic amenities that you need after an unforgettable day in the jungles: a warm bed and shower. We serve local and fusion dishes in our restaurant. We have a fireplace and often sit together in the evening and play music or talk.
We also have a shelf with books; claim a bean bag or a hammock in the garden and just relax.
Guest access
We printed a large map of the area on the wall, have a look at it to find nice hikes. If you have a smart phone we highly recommend you to download an app that uses openstreetmaps, we are currently tracing all the nice hiking treks in the area and upload them on openstreetmaps. This way you will be able to make the most out of your stay. There are soo many amazing sights nearby.
Our place comprises a quiet garden in the back and a restaurant area in the front, next to the main road. There you can enjoy an amazing view over lake Buyan and the surrounding jungle. We offer free Wifi and a selection of different dishes. The Wifi connects with the 3G network, so it's not very fast, but it's good enough for booking a room at your next destination or checking (SENSITIVE CONTENTS HIDDEN)/emails. You are also very welcome to visit our little coffee processing place 80 m behind the hotel or join the gamelan orchestra practice night.
Interaction with guests
We love to interact with our guests. Before we made a business out of our passion we were hosting countless couchsurfers. We love to sit together enjoy a good meal and talk about life. Papa Jero, the head of the family is a spiritual teacher and has a lot of interesting stories to tell.
The neighbourhood
There are some of the most amazing places in walking distance from Bukit Kembar, sights rarely visited by any tourists. This is the pristine Bali far away from the crowded beaches of the south.
Climb one of the surrounding mountains and watch the clouds spill over the edge of the ancient crater. Hike through the mystical fig tree forests and search for the hidden temples. Go on a canoe trip on the lake and catch a fish for dinner. Take a bath in one of the secluded waterfalls and jump off a cliff into the canyon. Pray in the cave temple of Tirta Kuning. Climb the 30m high spirit tree or just take in its beauty by meditating on its roots. Follow a river from its spring through the forest and along the subak irrigation channels down to the rice fields.
Our goal is to protect the jungles by promoting the area as an ecotourism destination. Currently people are earning a few dollars by cutting the beautiful trees and carrying them out of the forest. We want to show them that the forest as a whole has much more value than a few trunks.
You can easily explore the region by yourself. However, if you wish to get a guided tour, rent a car for a day trip, we are happy to organize it for you.
We also rent motorbikes if you are comfortable sitting on two wheels.
The people of the mountains in Bali prepare some unique dishes with vegetables only growing in the mountains. We both serve local and internal dishes. Our goal is to give you an insight into our fascinating culture, be it food, music or dance. We will do our best to make your time in the mountains an unforgettable experience.
Getting around
We are located in the perfect spot for many different trekking tours. To the north you can follow the waterfall valley down to the rice fields. To the South there is a path starting right next to our hotel and takes you down through the jungle to the two lakes. Public buses are rare and infrequent. So I usually hitchhike which works perfectly well in this area of Bali. We have a car and we are very happy to drive you to your next destination.
There are several amazing hiking trails starting right at our door steps, so you don't really need anything other than your feet if you just stay here for a couple of days.
If you are wondering how to get here:
With your own scooter/car:
We are located between Munduk and Bedugul right on top of the narrow stretch of forest that separates lake Buyan and lake Tamblingan. Look out for our yellow/red triangle sign at the road. If you are driving up from Denpasar in direction of Singaraja you have to turn left in direction of Munduk and Gobleg when you are at the highest point. This is after Pancasari, right on top of the windy road with the many monkeys.
public transportation:
From the South you can catch a Bus from Ubung or Mengwi, in direction of Singaraja. Jump out at the very top where the road turns left to Munduk and Gobleg. The name of the village is Wanagiri. Bukit Kembar is 3km along that road. There are no buses there, so try to stop a car, this is very easy and the people will love to help you. The corner of the road where the cars turn left and have to drive steeply up hill, is the best spot.
Hitchhiking:
Matthias travels everywhere by hitchhiking. Bali is a great place to hitch because the people are super friendly. But not many people do it, so they won't understand the thumbs up sign. Just wave the cars down with you flat hand, the way the locals would stop a bus. I generally don't tell them right away that I want to go to north Bali because everybody will tell you this is impossible. When I hitchhike from Denpasar I first tell them, that I want to go to Mengwi, then Bedugul, then Wanagiri. You should really try hitchhiking, it's soo much fun!
Other things to note
We are on 1300 m above sea level on the top of an ancient crater. Make sure you bring a jacket/jumper. Even though you would not expect it, it can get quite cold in the night.
---
Check-in time is 1PM - 9PM.
We want to build awareness and conserve our beautiful forest. Please be considerate and properly dispose of your rubbish. Show my family that you care about the nature and help them with suggestions if you see that they could improve their effort of going green.
---
Bali, Indonesia
·
Member since June 2014
I was born and raised in our beautiful village called Wanagiri. Wana means forest and giri means mountains - and that's what you will find here!
My family used to be farmers until we were displaced from our land. With the help and encouragement from several kind travelers we started hosting backpackers who wanted to explore the rural parts of Bali. We started to run a restaurant, then a guesthouse and a few months ago we got the amazing opportunity to rent our the beautiful villas of a once luxurious hotel.

Wanagiri is on the edge of an ancient volcanic crater overlooking two lakes. There are hidden temples and secluded waterfalls in the surrounding jungles and it seems every time we go for a hike we explore something new. But sadly the people are illegally cutting trees and carry them out of the forest to make a few dollars. We want to show them that the forest is much more valuable as a whole. Our goal is to protect the forests with sustainable tourists so that many more people can explore the beauty of the mountains.

We made hiking maps, experimented with menus for our guests and gave English classes to the kids in the village. We are figuring out ways to recycle and dispose the plastic rubbish, because we believe the plastic problem can only be solved if we start on the top and try to keep the rivers clean.

As our guest you are invited to be part of our family. I live with my wife, Mama Jero, my daughter Koming and our granddaughter Yuna, in the guest house.
Response rate:
100%
Response time:
within an hour
Explore other options in and around Buleleng
More places to stay in Buleleng: