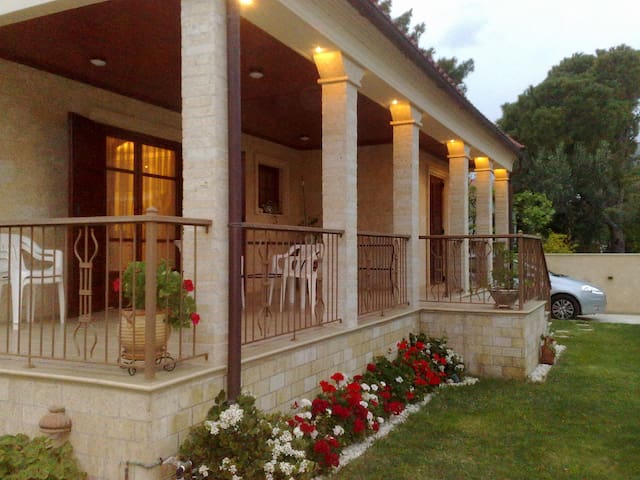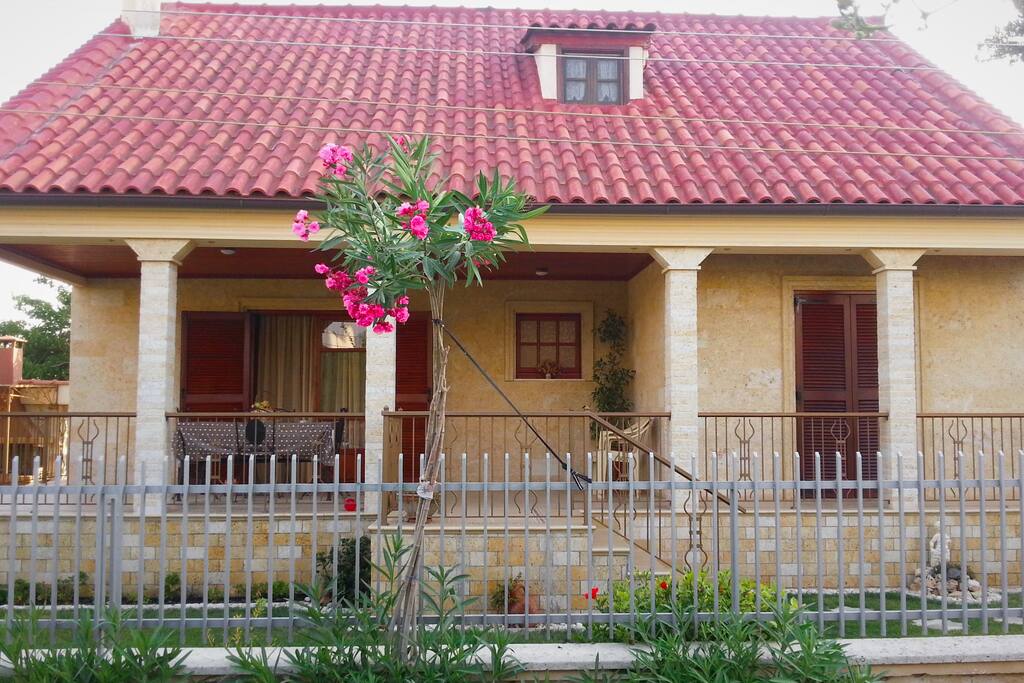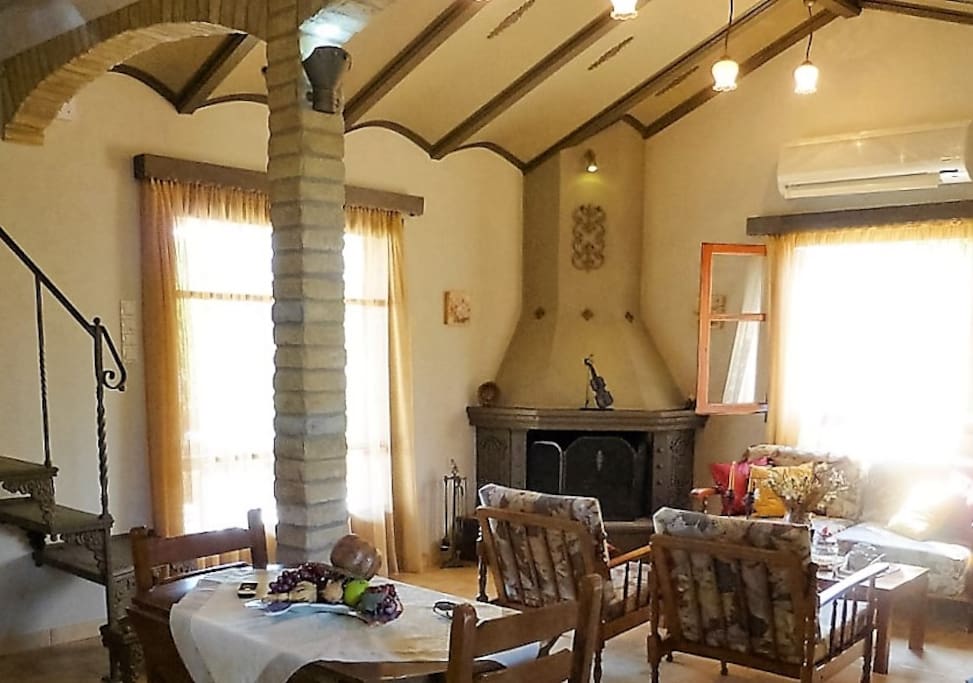 VILLA a footstep away from the beautiful beach
---
---
Always communicate through Airbnb
To protect your payment, never transfer money or communicate outside of the Airbnb website or app.
Learn more
---
No extra visitors beyond the ones who have booked.
No local friends or relatives allowed to stay or make use of the house.
---
Strict
Cancel up to 7 days before your trip and get a 50% refund. Cancel within 7 days of your trip and the reservation is non-refundable.
---
---
---
The welcome we received from Antonios and Lia will stay in our memory forever .. they are a lovely couple and their warmth, generousity and kindness was a fantastic beginning to our time there. The house is yards from a lovely quiet beach and MaLABar restaurant who were also very friendly and helpful. The house is set in a lovely location with a cosy and homely feel. Within hours it felt just like our own home. The house was super, clean and had everything you would need, decorated to a high standard. The house was very comfortable and we spent many evenings sitting on the outside balcony enjoying the warm evening. Even using the BBQ area several times ... We cannot say too many great things about our experience here and meeting such lovely people. FANTASTIC ... We were very sad to leave and would have wished to stay forever .. and again Antonios and Lia gave us such a lovely send off .. small gifts of food and herbs to remind us of our time ... We will return ..
---
У Кинетта очень удобное место расположение, развязка дорог позволяет много путешествовать. Близко многие достопримечательности Греции. В течении одного часа можно искупаться сразу в двух морях: Ионическом и Эгейском. Дом великолепный, все очень удобно, все есть. Расположение: очень близкое к морю, не далеко минимаркеты, кафе. Пляж чистый, почти всегда пустой, т.к. на нем в основном отдыхают жители Кинетта. Рядом в отеле есть водные развлечения, скутер, дайвинг и прочее. Море чистое исключительно, красивое, есть рыбки, осьминоги. Антониус и его жена милые, добрые люди, встретили и проводили нас замечательно!
---
Хочется еще и еще раз поблагодарить Андониса и Лию за чудесный прием! Все, что мы читали в отзывах, оказалось реальностью. Хозяева - замечательные, приветливые и открытые люди)) Встретили нас на машине на станции и проводили по окончании отдыха. Всегда были на связи и интересовались, все ли в порядке. В день приезда нас ждало угощение - салат, сыр, оливки, вино, сладости и даже мороженое для детей:)) Дом очень чистый, аккуратный и уютный, оборудован всем необходимым, все работает, чудесная зона BBQ, которой мы неоднократно пользовались. Магазин в 5 мин хотьбы. Пляж - в 2-3 мин, немноголюдный, чистейшее тихое море. Если есть желание не только лежать на пляже, то лучше быть с машиной (общественный транспорт развит слабо). Машину в крайнем случае можно арендовать в соседнем отеле. Как и многим до нас, уезжать не хотелось!)) Надеюсь, что обязательно вернемся в это чудесное место:)) We would like to thank Andonis and Lia more and more! All previous comments became a reality for us. Andonis and Lia - wonderful, welcoming and frank people:)) They have met us at the station, have been always on line and asked about any problems. At the arrival day lots of treats waited for us - olives, cheese, wine, salad and even ice-cream for children:)) The wonderful house, very clean, cozy , with all needed equipments, BBQ zone was used many times. Shops - in 5 min on foot, beach - in 2-3 min, very clean and quiet sea. If you want to visit any other places it would be better to have a car, which may be rented in the nearest hotel. We didn't want to leave!) Hope we will return to this great place:))
---
Nous avons beaucoup apprécié d'être attendus à l'arrivée et de trouver un dîner tout préparé qui (EMAIL HIDDEN) maison était impeccable et bien équipée,dans un quartier agréable,près de la mer, et nos hôtes,très sympathiques et ouverts avaient le souci de suivre notre séjour pour savoir si tout se passait bien. La situation géographique de Kineta est idéale pour visiter à la fois Athènes et le Péloponnèse. Adresse à recommander !
---
Понравилось все. Море рядом. Дом уютный, чистый, удобный,все условия для хорошего отдыха. Большое спасибо хозяевам.
---
Месяц отдыхали в кинете у Лии и Антонио, отдых получился незабываемым, очень гостеприимные хозяева, которые предусмотрели все до мелочей, что бы наш отдых был максимально комфортным. Всем очень рекомендуем это прекрасное место и сами никогда не забудем и надеемся вернуться ещё)) ещё раз огромное спасибо Лии и Антонио
---
Мы в восторге! Встретили как ближайших родственников. Дом уютный, удобный, прекрасное месторасположение, море рядом. Андонис и Лия гостеприимные хозяева, по приезду нас ждал полный кувшин вина, оливки, сыр, мясная нарезка - все для хорошего ужина, т.к. приехали в воскресенье и магазины должны были скоро закрыться. В доме есть все. На участке зона барбекю, которой мы регулярно пользовались. Место далеко от трассы - очень тихое и спокойное. Мы много ездим по миру, но такого восторга от отдыха у нас не было никогда! Лия звонила и спрашивала, все ли в порядке, нуждаемся ли мы в чем то еще. Отпуск пролетел и так жалко было уезжать! Андонис с Лией подарили нам кучу специй и горный чай. Это был волшебный отпуск - просто сказка! Мы счастливы, что выбрали для отдыха именно этоn дом и таких замечательных хозяев! We delighted! Andinis and Lia met us as the close relatives. House cozy, convenient, fine site, sea nearby. Andonis and Lia hospitable owners, on arrival waited for us a full jug of wine, an olive, cheese, meat cutting - all for a good dinner because we arrived on Sunday and shops had to be closed soon. In the house there is everything. On a site a zone of a barbecue which we regularly used. The place is far from the route - very quiet and peaceful. We go on the world much, but such delight from rest at us was never! Lia called and asked, whether all as it should be, whether we need something else. Holiday flew by and it was so a pity to leave! Andonis with Lia presented us a heap of spices and mountain tea. It was magic holiday - simply the fairy tale! We are happy that chose for rest this house and such remarkable owners!
---
Languages:
English
Response rate:
100%
Response time:
within a few hours
Explore other options in and around Kineta
More places to stay in Kineta: