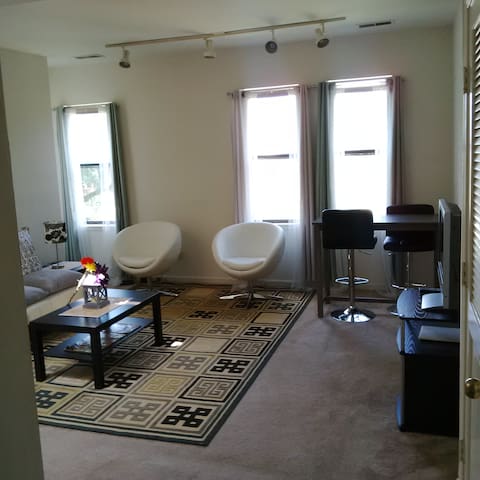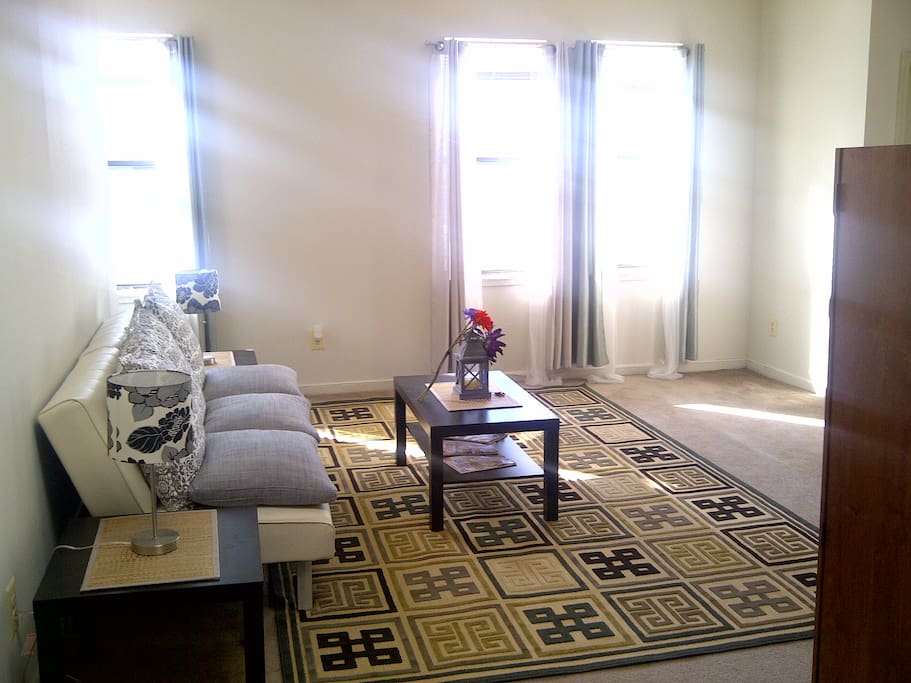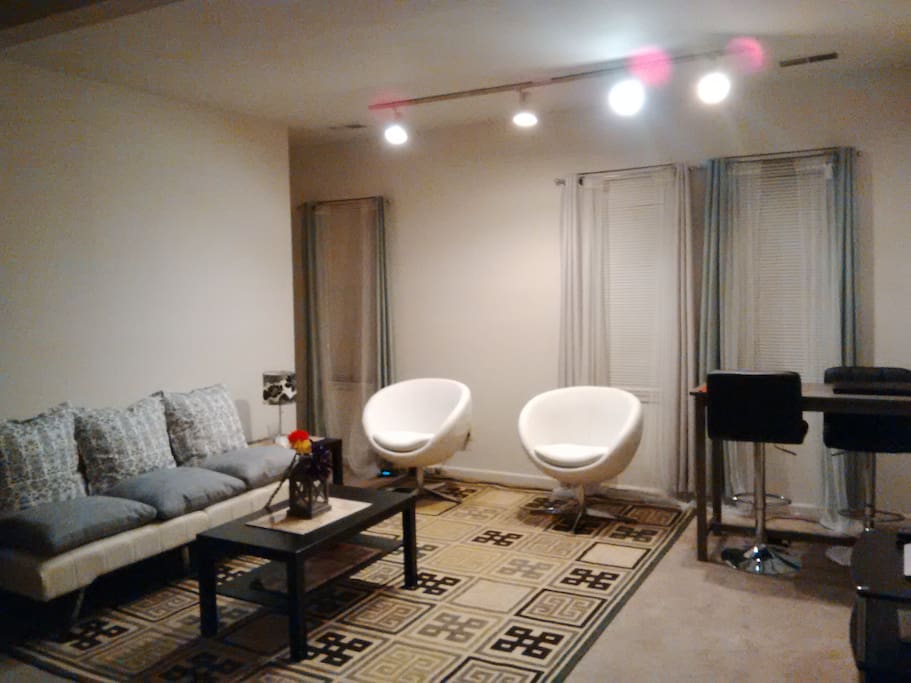 Females Only. Lovely shared bedroom in the heart of DC. Bright, chic, clean space. Central air and heating. Furnished. Free wi-fi. Move-in date may be very flexible depending on length of stay. Please message to inquire. Thank you.
$4.00 cleaning fee for short-term guests (i.e. less than 30 days). Will be paid through resolution center.
The space
*As a female host myself, I feel more comfortable renting to female guests only.*
1 shared bedroom and 1 bathroom are available to a mature and responsible female guest. The guest may share the room with either the host or the host and another approved guest. The rate is $600 a month with no security deposit. The shared room has 3 beds. This bed is a top bunk twin bed.
The house is located in a residential city neighborhood in D.C., 11 minutes from the White House, and minutes from other city attractions like U Street, Adams Morgan, and is 8-10 minutes (walking) from the nearest metro train station (Shaw/Howard University metro station, using the "Howard University" side escalator exit).
The room and bathroom are very clean (I am very hygienic and will only consider guest who are as well!!***)
Pets are not are allowed, and an official government issued I.D. must be available (scanned or in person) at the least 1 day before the stay is commenced. Please make sure to see house rules.
Thank you :D!
Guest access
Fridge and Pantry for storage, Kitchen for cooking, Dishes and pots, Living room for lounging and eating, Room, Bathroom, Storage closet for luggage. New washer and drier located in building (coin operated, 7 to 8 quarters per load- $1.75-$2.00).
Interaction with guests
I am rather introvert and quiet, and like to give my guests their space as well. Always feel free to come to me with questions; I am available. Otherwise, feel free to work, study, or lounge undisturbed ;).
---
---
Not safe or suitable for children (0-12 years)
Check in time is 3PM - 5PM
This room is for female guests only. Absolutely no exceptions.
~Please remember to bring your personal items (i.e. your shampoo, conditioner, toothbrush, and lotion) (bedding, toilet paper, and towels, etc. are provided by me)!
~No Pets
~No Drugs
~No Smoking
~No Parties
~No overnight guests
~No unannounced guests or accompaniments. Please tell me if anyone that is not you will be coming with you to my home.
~There is a 55$ a month utilities rate for guests staying 27+ days, this will be paid via Airbnb
~ Any day-time visitors should be disclosed to host beforehand and are not allowed in the private bedroom, but may use the common area
-Please feel free to use my dishes, if you'd like to. But if you choose to do so, please *leave them in the sink for me to wash*. Thank you.
~Absolutely NO SHOES inside the house***!!!***
~Must be very very clean, For Example ( and some may see these as "common sense"; however, I feel the need to mention them):
-Washing your hands (with soap!!!!!) after you use the bathroom--yes, every time.
-Not sneezing out into the open air

- And etc. ...

~Guest may not make copies of the keys given to her (apartment and/or building keys)
~I must receive an authentic copy of your state or government issued ID (NO school I.D.s) minimum 1 day before your arrival
~Bathroom and room must be kept clean, please make sure to clean up after yourself
If guests leave messes and I am constantly having to clean up after them, I will charge a cleaning fee.
If you are naturally a clean person, this should be easy to keep up with ;D
You must also acknowledge
Must climb stairs
Potential for noise
Some spaces are shared
Amenity limitations - At this time, the intercom at the front door is pending repair.
---
---
---
Judy was a great host! When I arrived she helped bring my suitcase up and made sure I was all situated. Her rules seem overwhelming on the site, but they're really common sense. If you are a clean person with commons courtesy, you'll be just fine!
---
Judy could be friendly, and I truly appreciated her help during my last day of stay. That being said, I'd like to suggest the below to improve the experience of guests, especially those who are staying with her long term: 1.Judy should refrain from putting up post-it notes with reminders to guests, an act that can easily be construed as passive aggressive behavior. I remember seeing a note in the bathroom asking guests not to waste toilet paper. A week or so before that incident, I'd decided to buy and started using my own tissue paper because the toilet paper she provided was so thin: For every sheet of Trader Joe's tissue paper (I love that, by the way), for example, you'd need perhaps four times the sheet or more from the roll in the bathroom. Effective communication, the way it works, is not only about the message but also about how the message will be received, and it's the responsibility of the source to make sure the message has the right impact. And to me, the message on the post-it note sounded more of an accusation rather than a reminder. That incident is one of many where I felt I was more a tenant than a guest. 2.Judy should consider having a physical document with all her rules, perhaps in a clear book, for guests' easy reference. Given her long list of rules, there's always a risk of not remembering them all. Judy did warn me when I arrived that she will be reminding me of any forgotten rules, but her method had an unpleasant effect of me feeling like I was being watched all the time and that she was more concerned about me following her rules rather than making me feel welcome at her home. 3.Judy should show more flexibility by taking into account the needs of more than one guest. The utensils she's designated for guests were only good for one guest, so I'd decided to buy a few of my own. Although guests can borrow her personal flatware, it's a hassle having to ask for permission every time and having her wash the utensils (she has an instruction on this). As to the location, it's probably the best aspect of this listing. It's close to everything. It's next to Le Droit Park, and the window next to the bar table you see on the photo overlooks the park, a popular place for residents in the area to play with their dogs and children. It's a 10-minute walk from a cinema, which has a bar, 15 minutes by foot from Chipotle, and even less from Half Smoke, a must-try, and CVS.
Hello Eliza, thank you for leaving your review. I've left a few brief replies to the recommendations you've included. But first, I like that you mentioned the importance of communication in your review, and I totally agree that it is simply essential. I do value authentic, direct, and kind communication. That being said, I will say this also: while in my home, I had the rather unfortunate experience of overhearing you, with the other female guest that was present, discussing me in my dining area in what I'll simply call a less than kind and pleasant manner---on multiple occasions. Though I will not take time to delve into the contents of your discussions, I will say the following: If ever you feel something needs to be addressed when living with others---please, do consider directly addressing the appropriate party of whatever you feel the matter may be. Engaging in deconstructively critical "side" discussions about someone--in their own home, no less--creates unnecessary tension, and is simply impolite. I noticed the ever subtle-yet-pronounced shift in demeanor (ignoring my greetings, etc.), yet despite such, I strived to at least try and show some kindness to you, which was challenging at times because I felt I was being somewhat ousted in my own home. Subversive behavior is not an effective or rational response to true concern. True concerns should find expression through direct, mindful, and honest communication. Though it is now water under the bridge, I do hope a lesson will be learned to ensure more enriching future experiences. __________________________________________________________________________ 1. Per the little sticky note I left in the bathroom that politely requested that guests please not waste tissue, it was indeed meant as a pleasant request (the smiley I face drew inclusive) and not as a passive-aggressive gesture. I apologize if it seemed as if the request was meant to elicit any offense. I assure you that it was not. __________________________________________________________________________ 2. In your second point you've mentioned having a place where the rules are documented. The main house rules are clearly defined on the Airbnb listing page. For those house rules that are more practical (e.g. replacing a chair after exiting a dining room table, cleaning up after oneself, etc.) I usually don't feel the need to formally document these for guests, as I feel they are natural rules, and a simple, respectful reminder (if one is ever needed) suffices just fine for most. __________________________________________________________________________ 3. Oh my. I absolutely never stated or insinuated that you would need to ask before using my dinnerware each time (how onerous that would be!). I expressed clear permission for you to use my dishes---in addition to the guest set---if you desired. I do wish you would have checked your assumption by simply communicating your concern to me instead of going through the hassle of buying your own. I did indeed mention that you should leave them in the sink whenever they're used (which I would think wouldn't be difficult) because it is truly my personal preference to wash my own plates. In future, please simply ask if you have a concern, as this matter could have been cleared in as simple as an instance and a word. ~ Farewell, Judy
---
Judy was a very nice and welcoming host. Even though she describes herself as introverted, I found her to be very friendly. Her bathroom and entire apt was extremely clean, and her bed was comfy. Super convenient location and safe neighborhood. She is quite particular about her rules and will give you the politest of reminders if you need them. Thank you for having me Judy!
---
I had a wonderful time staying with Judy. Her apartment is clean and quiet, the bed is comfy, and she is very friendly and welcoming. She really means her house rules, which I thought was wonderful. During the day, the walk to the Metro is nice and seems pretty safe. After dark, I used Uber, but I wouldn't feel too worried if I had to walk. The park next door provides a great view and a nice shortcut. I would definitely choose to stay here again. Thanks Judy!
---
Komunikace s Judy před příjezdem byla na výborné úrovni - odpovídala obratem, vysvětlila vše potřebné...Čekala mě v domluvenou hodinu, po příjezdu vše vysvětlila a ukázala. Měla jsem k dispozici celou šatní skříň, dostatek úložného místa v lednici i kuchyni, kde jsem velmi ocenila, že mohu používat její nádobí. Wi-fi připojení je na slušné úrovni. Z praktického hlediska bylo vše v pořádku a odpovídalo popisu. Považuji však za důležité zdůraznit, že: - pračka není součástí bytu, ale je společná v prvním patře pro všechny obyvatele domu a za jedno (půlhodinové!!!) praní platíte 1,5 USD - pokoj je orientován do ulice, v blízkosti je nemocnice a okna málo těsní (+v zimě značně profukovalo), takže je v pokoji poměrně dost hluk z venku - v bytě je ještě jeden pokoj s koupelnou, kde bydlí další spolubydlící - každý měsíc ještě platíte měsíční poplatky 55 USD (což je uvedeno v popisu) - jen na to pamatujte - zvedá se tím celková cena! Strávila jsem s Judy přes dva měsíce a musím říct, že zpočátku jsem se s tamějším prostředím sžívala velmi těžko. Díky dlouholetému studiu jsem zažila mnoho spolubydlících, ale nikoho jako je Judy. Píše o sobě, že je uzavřená a velmi čistotná, což mohu jen potvrdit. Někdy byl však její přístup více než zarážející. Veškerý čas trávila v podstatě doma, ale i přes to se mnou často komunikovala přes přilepené vzkazy (a např. vzkaz v koupelně na zrcadle, abych si nezapomínala mýt ruce mýdlem, byl pro mě urážející). Musím souhlasit s Kassandrou, že pobyt pro mě byl někdy stresující, protože jsem měla strach, jestli jsem náhodou něco neudělala "špatně". Považuji se za velmi přizpůsobivého a čistotného člověka, takže jsem se všechny požadavky snažila plnit, některé mi však přišly jen těžko pochopitelné: např. zákaz chodit po koberci v pantoflích, zasouvání židle do přesné pozice pod stůl, zákaz manipulace s křesílkem, pouze plastové nádobí do lednice... Nejpodivnější mi však přišlo, když Judy po dvoudenním návratu z výletu umývala všechno nádobí, které jsem já už před tím umyla. Obě jsme "noční ptáci", takže mi vyhovovalo, že jsme si dobře vycházely vstříc co se týče svícení apod. a snažily se vzájemně nerušit. Když jsem na dálku řešila rodinné problémy; zdržela se do noci ve městě - Judy se ptala, jestli je vše v pořádku, ale kromě toho bylo naše soužití velice neosobní a odtažité, což mě osobně docela mrzelo.
Hi Iva: Thank you so much for your review! I really appreciate your consideration of my house rules even when some things were new and very different than the ways you were used to doing them (e.g. using plastic tupperware to store food in the fridge vs. glass serverware; not leaving chairs pulled out after leaving the dining table, etc., etc.). I appreciate your willingness to adapt :). -Regarding my *quietness* :}, I do make all prospective guests aware that I am a very introvert person - as I have it stated openly in my listing description. I apologize if this was a bit of a challenge to adapt to :]. As I stated during the initial arrival orientation, though I am indeed an introvert, I'm also a very direct communicator because I believe that clear communication is key to a smooth process. In the future, if you ever have any issues with something like this, please do feel free to give your host a holler and chat with them. We're always willing to clarify :)! -As a precaution (and because I have had *less than savory* experiences in the past, unfortunately :/), I do keep a stationary sign in my bathroom reminding guests to wash hands with water *and* soap after using the bathroom. Also, just to clarify some things (I think the system may have mistranslated)-- I do indeed have a *female* roommate who has her own bedroom and her own bathroom. Thank you again for your feedback! Ciao ;D
---
Hello, I'm Judy. I'm a young professional living and working in D.C. I keep a clean house and a peaceful atmosphere. International and local visitors are welcome.
A little about me: I tend to be very quiet and introvert. I like to read, work & play on my laptop, keep in-touch with the entrepreneurial scene, and explore the city randomly (or planned). I also enjoy watching Downton Abbey online and pretty much relaxing otherwise. Safe travels and see you soon! Ciao ;)
Response rate:
100%
Response time:
within an hour
Explore other options in and around Washington
More places to stay in Washington: