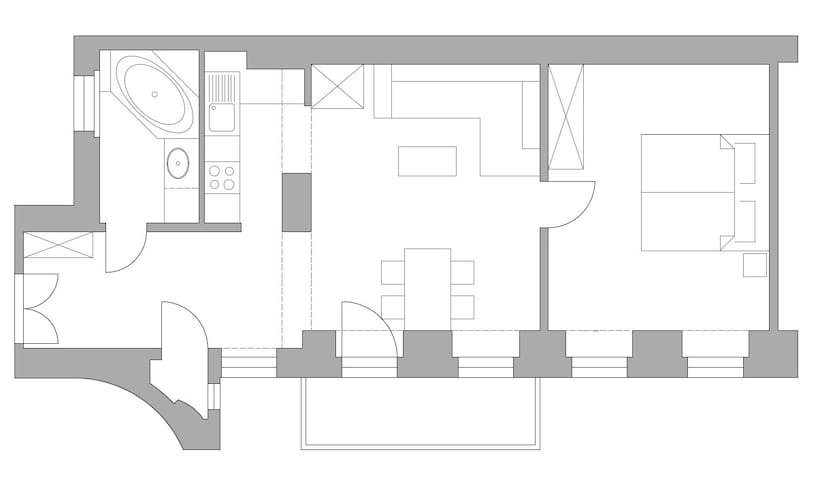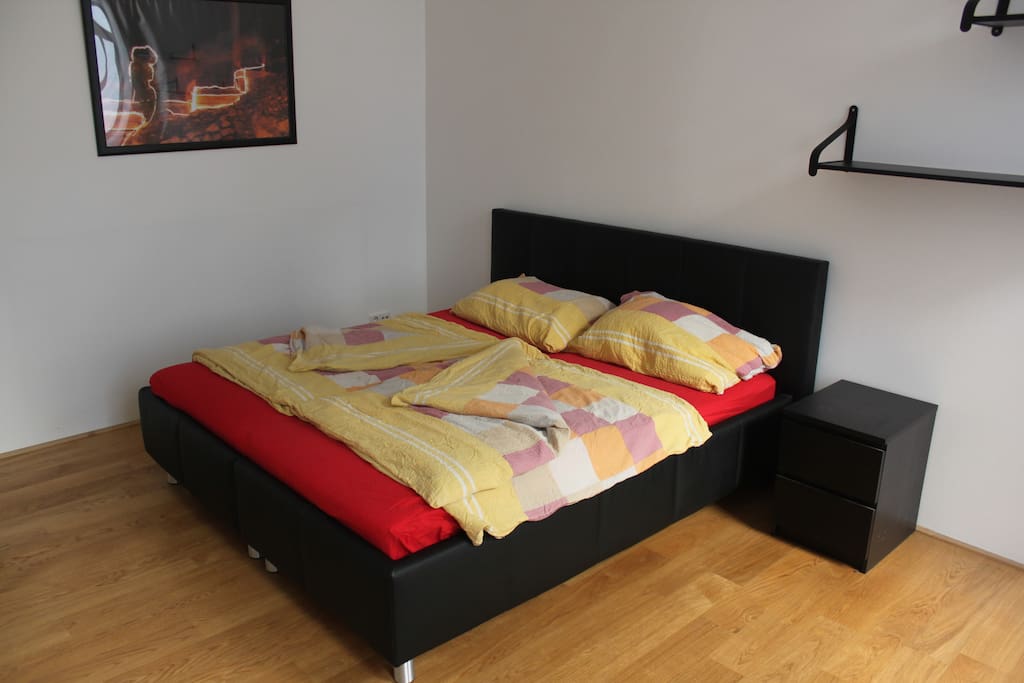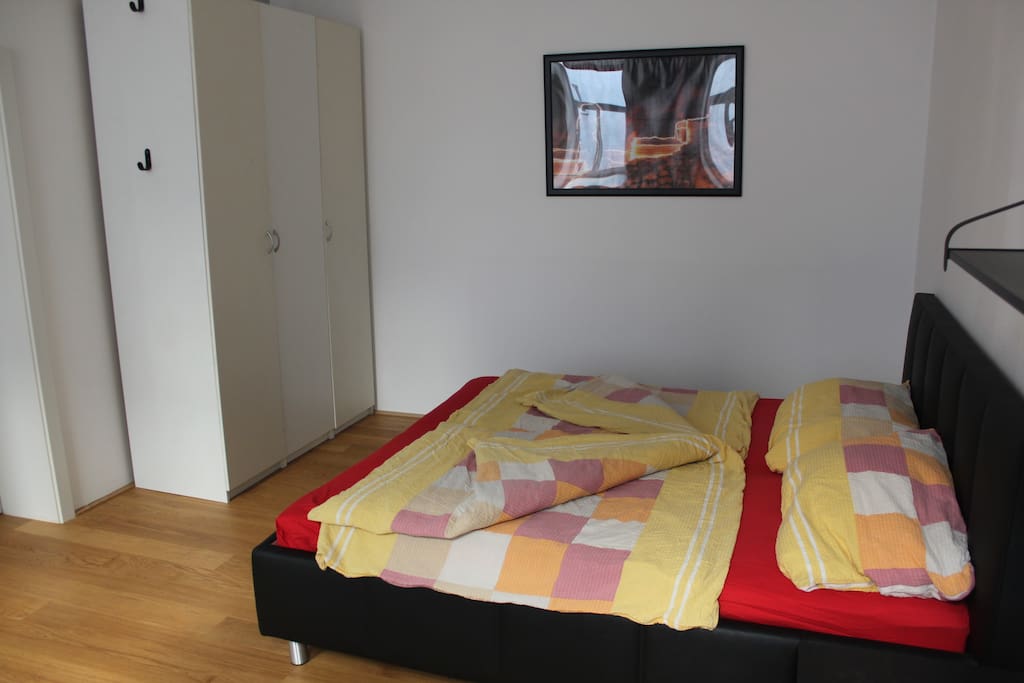 The apartment is on the 1st floor and is 56m² big. It is divided into a bedroom, kitchen / living room, toilet, bathroom and a small balcony which is facing the courtyard.
The apartment is on the 1st floor and is 56m² big.
It is divided into a bedroom, kitchen / living room, toilet, bathroom and a small balcony which is facing the courtyard.
Other things to note
Please read through the house rules Please read the rules of internal order
Bitte die Hausregeln durchlesen
Please read the rules of internal order
---
---
Always communicate through Airbnb
To protect your payment, never transfer money or communicate outside of the Airbnb website or app.
Learn more
---
Check in is anytime after 3PM
Hausordnung:
1. Im Geiste der guten nachbarschaftlichen Beziehung, bitte berücksichtigen Sie die Ruhezeiten von 22.00 bis 08.00 Uhr. Die Lautstärke sollte nicht außerhalb der Wohnung gehört werden.
2. Organisation von Partys, Konsum von Alkohol und Drogen in der Wohnung
Die Organisation von Partys in der Wohnung, der übermäßige Konsum von alkoholischen Getränken und der Gebrauch von Drogen sind streng verboten und kann zur sofortige Kündigung des Vertrages führen.
3. Einrichtung
Alle Elemente, die in der Wohnung oder Teile der Wohnung sind, kann von den Mietern genutzt werden. Bitte seien Sie vorsichtig mit ihnen.
4. Wartung der Wohnung und Schäden
Der Mieter muss die gemieteten Räume, Möbel und die Ausrüstung in der Wohnung mit Sorgfalt und Vorsicht verwenden. Der Mieter haftet für alle Schäden in den angemieteten Räumen, sowie an beschädigten Objekten. Dies gilt auch für die Schäden durch Dritte, die in gemieteten Räumen mit Zustimmung des Mieters verursacht wurden.
Der Mieter muss den Vermieter sofort bei evt. Gefahr im Verzug informieren.
5. Raucher
Rauchen in der Wohnung ist absolut Verboten.
Bei nicht Einhaltung kann die Wohnung an andere Mieter nicht vermietet werden, was zur Folge hat, dass der Mieter für die nicht vermietbaren Tage den vollen Tagespreis (auch nach Abreise) zahlen muss.
6. Schlüssel
Durch den Verlust der Schlüssel ist der Mieter verpflichtet, 100 Euro zu zahlen, weil der Zylinder der Türe ausgetauscht werden muss.
Im Falle des Aussperrens aus der Wohnung bei dem der Schlüssel innerhalb der Wohnung im Schloss steckt, muss der Mieter für den Aufwand eines Aufsperrdienstes aufkommen (Zahlung vor Ort).

7. Haustiere
Halten von Haustieren und Haustiere anderen bewilligter Gäste sind in der Wohnung nicht gestattet.
8. Küchen
Bitte bedenken Sie, dass die Küchen nur in reiner Form hinterlassen werden soll, das gleiche gilt für das Besteck, Töpfen und anderen Küchenutensilien, die zum Kochen verwendet wurden. Am Abreisetag sollte, wenn es möglich ist, die Küche aussehen, wie Sie sie vor gefunden. Bitte benutzen Sie die Platten auf dem Herd vorsichtig und gründlich. Nicht auf ihnen sitzen. Die Platten müssen gereinigt werden, falls sie verschmutzt wurden.

9.Müll
Bitte, lassen Sie Ihren Müll nicht in der Wohnung verteilt liegen, sondern werfen sie in sortiert weg.
Bei Ihrer Ankunft werde ich gerne Ihre Fragen zu den Recycling-Prozess zu beantworten.
10.Boden
Bei dem Fussboden handelt sich im einen geölten Eichenechtholzboden, bitte gehen sorgsam mit ihm um. Sollte der Fussboden feucht oder nass werden, bitte sofort trocknen.
11. Verantwortung
Der Vermieter übernimmt keine Verantwortung für die von dem Mieter mitgebrachten Wertsachen.
12. Recht auf der Wohnung entsorgen
Im Falle von nötigen/sofortigen Reperaturen oder Beschwerden anderer Parteien im Haus, darf der Vermieter die Wohnung ohne Wissen der Mieter betreten.
13. An-und Abreise
Die Ankunft in der Wohnung möglich ist, zwischen 6 - 12 Uhr. Um die Unterkunft für unsere nächsten Gäste vorzubereiten, bitten wir Sie, die Wohnung bis 11 Uhr An Tagen zu verlassen, wenn wir andere Gäste in unserem Eigentum, Zeiten der Ankunft und Abreise können individuell besprochen werden.
14. Vorzeitige Abreise
In Fällen einer vorzeitigen Abreise hat der Vermieter die Miete nicht zu erstatten.
15. Anzahl der Personen
Die Anzahl der Personen sollten nicht ohne Zustimmung des Vermieters überschritten werden (max.2 Erwachsene). Das Einladen von Gästen bzw. der Zutritt von Dritten ist untersagt.
In Verstoß gegen diese Regel, hat der Vermieter das Recht, den Mietvertrag sofort zu kündigen.

Rules of internal order:
1. In the spirit of good neighborly relationship, please rest periods taken into account by 22.00 until 08.00 clock. The volume should not be heard outside the apartment
2. organizing parties, use of alcohol and drugs in the apartment
The organization of parties in the apartment, the excessive consumption of alcoholic drinks and the use of drugs are strictly prohibited and may result in immediate termination of the contract.
3. furnishings
All items that are in the home or parts of the apartment can be used by the tenants. Please be careful with them.
4. Maintenance of the apartment and damage
The tenant must be used with care and caution the leased premises, furniture and equipment in the apartment. The lessee is liable for all damages to the rented premises, as well as damaged objects. This applies also for the damage caused by third parties, caused in rented premises with the consent of the tenant.
The tenant must inform the landlord in default immediately upon evt. Danger.
5. smoking
Smoking in the apartment is absolutely prohibited.
By not maintaining the apartment can not be rented to other tenants, with the result that the tenant must pay for the non-rentable days the full daily rate (after departure).
6. key
The loss of key, the lessee is obliged to pay 100 euros, because the cylinder of the door needs to be replaced.
In the case of the lock-out of the apartment in which the key is inside the apartment in the castle, the tenant must pay for the cost of a key service (payment on the spot).

7. Pets
Keeping pets and other pets of approved guests are not permitted in the apartment.
8. kitchens
Please keep in mind that the kitchen should be left only in pure form, the same is true for the cutlery, pots and other kitchen utensils that were used for cooking. On departure should, if possible, look to the kitchen as you found before. Please use the plates on the stove carefully and thoroughly. Do not sit on them. The plates need to be cleaned if they were dirty.

9.Garbage
Please, do not leave your garbage scattered in the apartment, but throw them in sorted away.
On arrival, I will be happy to answer your questions about the recycling process.
10.Floor
The floor is in an oiled oak wood floor, please go careful with him. If the floor is damp or wet, please dry immediately.
11. responsibility
The owner accepts no responsibility for the brought by the tenant valuables.
12. right to dispose of the apartment
In the case of necessary / immediate repairs or complaints from other parties in the house, the landlord may enter the apartment without the knowledge of the tenant.
13. Arrival and Departure
The arrival at the apartment is possible between 6-12 clock. To prepare the property for our next guests, we ask you to leave the apartment to 11 Clock On days when we or other guests in our possession, times of arrival and departure can be discussed individually.
14. Early departure
In cases of early departure, the landlord does not have to pay the rent.
15. Number of persons
The number of people should not be exceeded without the approval of the Rental (max 2 adults). Inviting guests or access by third parties is prohibited.
In violation of this rule, the landlord has the right to terminate the contract immediately.

---
---
---
Thanks to David for letting me stay in this flat. I enjoyed staying at his place which is accurately described on the site. The flat is spacious and in a building from the beginning of the century. I love those buildings. Thick walls and in a nice area. Could imagine living in the 7th District. I used public transport but often walked to the centre (15 min to Hofburg, 30 min to Stephan's Cathedral). The flat has been clean. I'd come back.
---
Hi there
I am a born viennese man and I´m 26 years old.
I am a stundent on the vienna University of Technology and I work in the event industry.
I love to photograph, snowboarding, basketball, play games with my friends and of course making party.
Languages:
Deutsch, English
Explore other options in and around Wien
More places to stay in Wien: