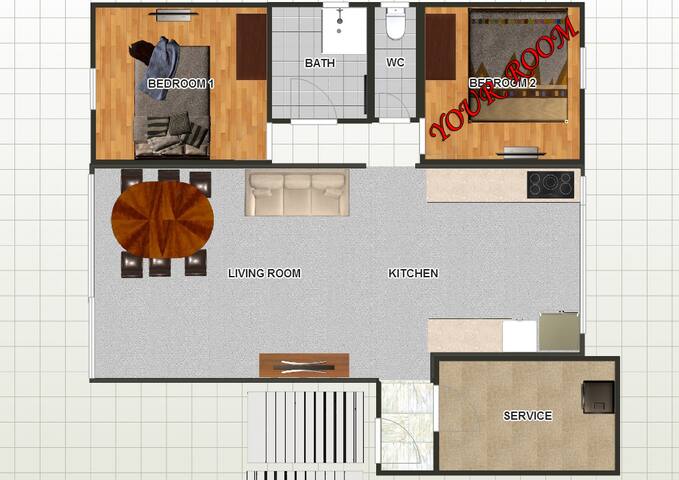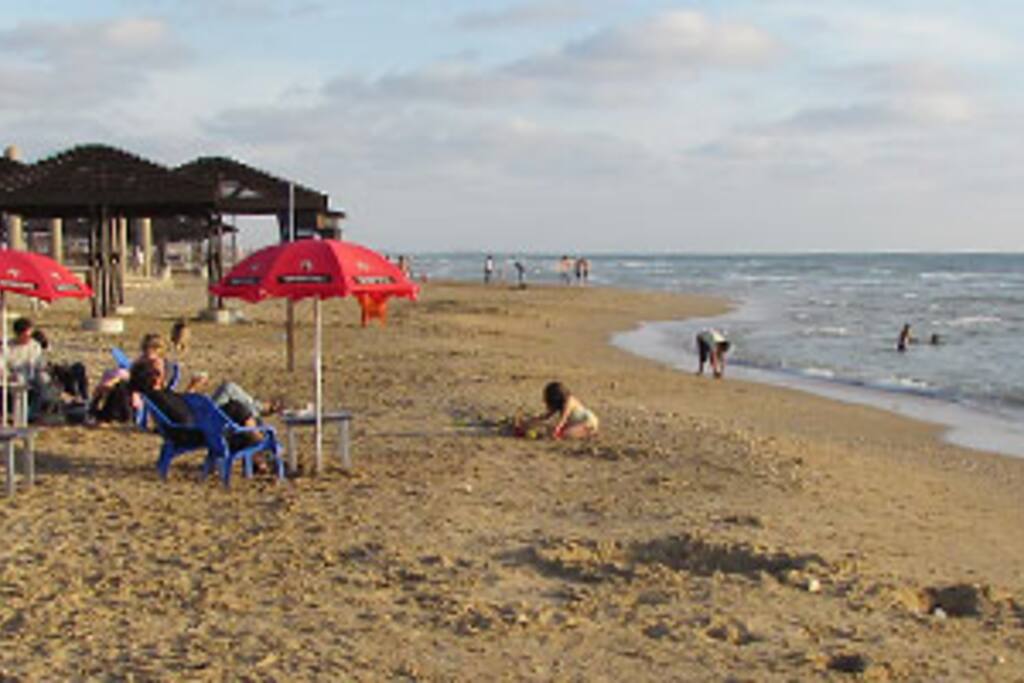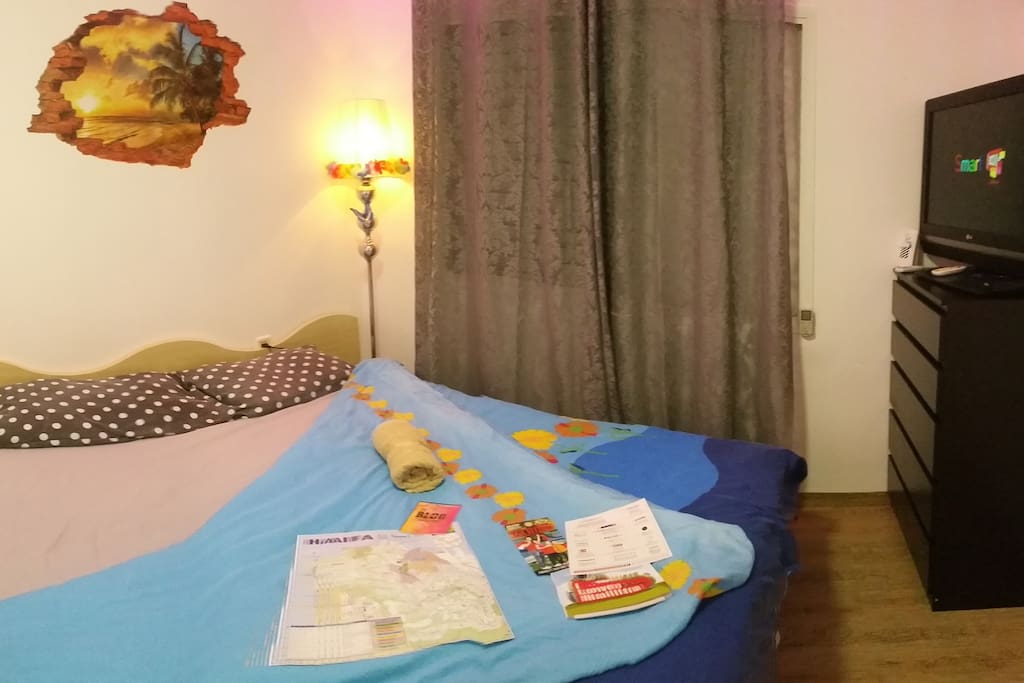 RECENTLY RENOVATED.
Price is reduced as we are still arranging the living room area.
ROOMS ARE CLEAN AND TIDY.
We reply within minutes 24/7
Feel at Home with Full Hotel Service!
To the Feet of Mountain Carmel,
With Panorama View to the Sea &Walking distance to the Beach.
Cleanest Air In The City!, Amazing View, Second Floor, Private Room+AC 3x3m(9sqm)
You can also use the Large LivingRoom, Kitchen, Bath, Parking.
The space
A Private Room, WITH A KEY (CARD LOCK)
This listing is by default for room market "2"
*Option for minibar Fridge in your room.
WE RECOMMEND YOU TO PLEASE READ THE WHOLE LISTING AS MANY THINGS ARE INCLUDED
don't hesitate to contact us for any additional information!
100% safety & Privacy.
Amazing View to the Sea or the Mountain
(you can choose from 2 rooms available)
Walking Distance to the Beach, &
Pedestrian bridge to cross safely to the Beach
Located to the feet of the mountain, close to nature,
on a quiet street, close to the shopping mall, central bus station and "Hof ha Carmel" rail station (~2KM Distance)
Spacey and comfortable
With the cleanest air in the city & Best FREE Beaches,
Hiking & National Trails from this street edge,
Bus to Central Bus Station/Rail Station/Dado Beach/Bat Galim is 10 Steps! from the house
Other Bus Stations for Rapid Transport and getting around ALL The City within walking distance!
Information about bus/train lines, Hiking Trails and other essential info will be provided on arrival.
Guest access
Large Living Room,
Dining Table
Kitchen with: Fridge, Microwave, Stove, Kettle, Dishes
Bathroom
Toilet (separated from bath)
Private TV + Internet TV
Air Conditioning, Heating,
Internet and Wifi 24/7
Laptop
Safe Deposit
Free Unlimited Parking
*You can choose to park in a shaded area or across the bedroom window.
Interaction with guests
Interaction with guests is by guests request.
24/7 "Costumer Support" by phone & personally We will provide you with help in any issue!
Trip Planning Service - FREE
Guided Tours - Option
We Received more then 42 Positive Reviews from guests PRIOR to AirBnb. link will be provided on request!
Other things to note
We INCLUDE:
Clean Bedsheets, Linen, Pillows ect
Clean Towels (Body & Face)
Toothbrush, Toothpaste,
Soap, Shower Gel, Shampoo, Conditioner
*Hanging Cloth Dryer - FREE
*Hair Dryer - FREE
*Soap, Shampoo - FREE
*Iron - FREE
We provide the following at an additional fee
8 € *Small Breakfast (sandwich style)
15 € *Large Breakfast
4 € *HomeMade Bred ~1KG (on Request.)
19€ HOME MADE FAMILY SIZE PIZZA (2 hours preparation time)
5/8 € *Washing Machine - Price for 3/6KG
2 € *Cloth Dryer / 15Min Operation
Pickup or Drop-off services by car. 2 €/KM
---
---
Extra people £11 / night after the first guest
Weekend Price £42 / night
Always communicate through Airbnb
To protect your payment, never transfer money or communicate outside of the Airbnb website or app.
Learn more
---
Check in time is flexible
Self check-in with smart lock
★ House rules ★
★Booking period starts typically at 13:00 and is until 11:00 the next day, but they are flexible. this is a place for rest not place of hurry up and stress.
anyway the baggage can be left or picked up 24/7
★Smoking is Strictly Prohibited inside any part of the house
the fine for a violation is 100$ (US)
Repeating this action may result in early termination of the booking.
★Any additional guests that are not listed in the booking must leave before midnight
or if they spend the night over must pay the fee as an extra guest.
★Please keep the house clean and intact, great effort was invested renovating the place
for your enjoyment, any damages to the property will be billed.
WE ARE VERY FLEXIBLE,
NO PROBLEM ARRIVING LATE,
NO NEED TO DO THE DISHES,
FOOD OR BREAKFAST CAN BE PRE-ORDERED.
we will gladly help with any questions.
THE FULL RENTAL AGREEMENT CAN BE FOUND HERE:
https://www.airbnb.com/users/show/12791161
You must also acknowledge
Dog(s) live in the house
---
---
---
Great hosts. Very welcoming and knowledgeable about the city. Clean place and in a good location.
---
Very cozy room. Ronny even helped us out with setting an extra bed. Ronny is an IT genius who make the apartment a comfortable place with loads of interesting gadgets. Whilst, he knows a lot about the city and the country and love to share with the guests. I'll definitely recommend you to be his guest in Haifa.
---
Ronny and Andreea are perfect hosts. The room is very clean and quiet. Ronny helped with everything we needed, including taking care of our car. The breakfast was made to our taste and request. Everything went perfect. The apartment is very close to the beach and to the mall at a very affordable price. We will certainly meet again. Rafi
---
Since 2010 We are active members of several hosting communitys,
with more then 100 positive reviews (NO negative reviews)
and a growing number of 5 star reviews on AirBnB
We Speak English, Hebrew, Romanian and Hungarian.

We host on AirBnB for over a 2 years and we are potivie we can offer the best hosting experience for your vacation!

You can rent the entire apartment and get total freedom
or you can choose to rent one of the Private-rooms and fit your budget!

We offer a "Hotel" like services with Home welcoming and stay
We offer laundry and housekeeping Once a week as an included service
OR specially upon your request,
Guided tour's of the country or in the city, Booking tickets, Driving Services ect.

About Us:
We are a nice couple, with lots of experience hosting,
doing our best to help and guide travelers,
We also traveling a lot in Europe and Israel,
in the past few years i was working in Romania
in IT and MI (Medical Imaging)

MY AIRBNB MOTTO IS: Guests are like Family - Make sure they are happy!

We always try offer the best price and service in the category of the listing without compromise.
if you have any questions please dont hasitate to contact us!

Waiting to host you soon!
Ronny & Andreea

Standard Booking Agreement:
★GENERAL
This Rental Agreement and Contract (the "Agreement") is a legally binding agreement made and entered into as of the Reservation Date written below by and between the undersigned person(s) or company (the "Guest") and the undersigned owner, manager or agent ("Rental Agent"), pursuant to which the Guest has agreed to rent the residence described below (the "Property"), for the duration of the Rental Term for the Total Rental Fee and other good and valuable consideration as described herein.
By making a reservation booking & payment you agree to all terms of this rental agreement.
★BOOKING
Booking period starts typically at 13:00 and is until 11:00 the next day, but they are flexible. We do not apply law as a rule, anyone could be stressed by time, this is a place for rest not place of hurry up and stress.
Reservation of booking will be confirmed the same day after we will receive Confirmation by AirBnB, Deposit is not returned except special proved occurrences in full amount of payment.
★ARRIVAL
Upon Arrival Guests will be provided with a brief explanation of the house,
gain access to the WIFI and internet, greeted to their rooms, and Recieve an Electronic KEY to access the house and their Room.
Upon Arrival Guests should provide one valid ID or passport to be logged.
★SMOKING
Smoking is allowed only outside and on the private or public balcony.
Smoking inside the premises is Strictly Prohibited, Smokers will be fined 100$ (US)/Violation. Repeating this action may result in early termination of the booking.
★OCCUPANCY / OTHER GUESTS
Guest agrees that no more than [Max Guests on Reservation] persons shall be permitted on the Property at any time during the Rental Period, all of whom shall comply with the conditions and restrictions imposed upon Guest under this Agreement.
PLEASE NOTE we might have guests renting other rooms on this property, your room is private, secured and locked with a unique card, but the kitchen bath and living room may be used by all guests. Also please be kind to other guests and respect the silence after 23:00 if you wish to not have any other guests in the house please contact us or choose to rent the whole unit under "3Room Apartment HAIFA 600m from Sea"
★CONDITION AND USE OF PROPERTY
The Property is provided in "as is" condition. The Rental Agent shall use his best efforts to ensure the operation of all amenities in the Property, such as Internet access, TV access Air Condition as applicable. The Rental Agent shall not be held responsible for such items failure to work, but will make every effort to correct any issues as reported as quickly as possible. Guest acknowledges that use of amenities such as fireplace, decks, and the like may be potentially dangerous and involve potential risks if improperly used, particularly with regard to children and such use is at the Guest's own risk.
Guest shall use the Property for residential purposes only and in a careful manner to prevent any damage or loss to the Property and keep the Property in clean and sanitary condition at all times.
Any damages done by guests, children or invited people repair will be charged to the person who booked, this includes lost or damaged items, damaging the kitchen, countertop, tables, or any appliance, the beds or the walls.
including tarring, burning, wetting, scratching ect.
Guest and any additional permitted guests shall refrain from loud noise and shall not disturb, annoy, endanger, or inconvenience neighbors, nor shall Guest use the Property for any immoral, offensive or unlawful purposes, nor violate any law, association rules or ordinance, nor commit waste or nuisance on or about the Property.
Such Violation will result in a fine of 1000$ (US)
★DEFAULT
If Guest should fail to comply with the conditions and obligations of this Agreement, Guest shall surrender the Property, remove all Guest's property and belongings and leave the Property in good order and free of damage. No refund of any portion of the Total Rental Fee shall be made and if any legal action is necessary, the prevailing party shall be entitled to reimbursement from the other party for all costs incurred.
★ASSIGNMENT OR SUBLEASE
Guest shall not assign or sublease the Property or permit the use of any portion of the Property by other persons who are not family members or guests of the Guest and included within the number of and as permitted occupants under this Agreement.
Guests are allowed to have Guests or friends during the day for social purposes and meetings, any guest not listed on the agreement that stay during the night must be added as an additional guests to the original agreement
The guests will announce that an additional guest stayed on the property during the night no later then 11:00 AM the next day. If additional guests will be found on the property, the fine will be x5 times the daily room rate for each additional guest.
★RISK OF LOSS AND INDEMNIFICATION
Guest agrees that all personal property, furnishings, personal affects and other items brought into the Property by Guest or their permitted guests and visitors shall be at the sole risk of Guest with regard to any theft, damage, destruction or other loss and Rental Agent shall not be responsible or liable for any reason whatsoever.
Guest hereby covenants and agrees to indemnify and hold harmless Rental Agent and their agents, owners, successors, employees and contractors from and against any costs, damages, liabilities, claims, legal fees and other actions for any damages, costs, attorneys fees incurred by Guest, permitted guests, visitors or agents, representatives or successors of Guest due to any claims relating to destruction of property or injury to persons or loss of life sustained by Guest or family and visitors of Guest in or about the Property and Guest expressly agrees to save and hold Rental Agent harmless in all such cases.
★RELEASE
Guest hereby waives and releases any claims against Rental Agent, the Property owner and their successors, assigns, employees or representatives, officially or otherwise, for any injuries or death that may be sustained by Guest on or near or adjacent to the Property, including any common facilities, activities or amenities. Guest agrees to use any such facilities or amenities entirely at the Guest's own initiative, risk and responsibility.
★ENTRY AND INSPECTION
Rental Agent reserves the right to enter the Property at reasonable times and with reasonable notice for the purposes of inspecting the Property or showing the Property to prospective purchasers, renters or other authorized persons. If Rental Agent has a reasonable belief that there is imminent danger to any person or property, Rental Agent may enter the Property without advance notice.
★UNAVAILABILITY OF PROPERTY
In the event the Property is not available for use during the Rental Term due to reasons, events or circumstances beyond the control of Rental Agent or the owner, Rental Agent will apply due diligence and good faith efforts to locate a replacement property that equals or exceeds the Property with respect to occupancy capacity, location and value that meets the reasonable satisfaction of the Guest. If such replacement property cannot be found and made available, Rental Agent shall immediately return all payments made by the Guest, whereupon this Agreement shall be terminated and Guest and Rental Agent shall have no further obligations or liabilities in any manner pertaining to this Agreement.
★ADDITIONAL TERMS TO THE RENTAL AGREEMENT
In addition to the standard terms included herein, Guest acknowledges and agrees that the following additional terms and conditions apply to the Guest's rental of the Property:
★GENERAL PROVISIONS
This Agreement contains the entire agreement between the parties with regard to the rental of the Property, and any changes, amendments or modifications hereof shall be void unless the same are in writing and signed by both the Guest and the Rental Agent. This Agreement shall be governed by the laws of the The State of Israel and The town Haifa The words "Rental Agent" and "Guest" shall include their respective heirs, successors, representatives. The waiver or failure to enforce any breach or provision of this Agreement shall not be considered a waver of that or any other provision in any subsequent breach thereof. If any provision herein is held invalid, the remainder of the Agreement shall not be affected. Any notice required to be given under this Agreement shall be in writing and sent to the contact information included herein. This Agreement may be signed in one or more counterparts, each of which is an original, but taken together constitute one in the same instrument. Execution of a digital signature shall be deemed a valid signature.
Indication on www.AirBnB.com Site as - "ACCEPTED" - Is considered as a valid digital signature.
★SERVICES INCLUDED IN THE RENTAL FEE
Phone Support 24/7 on the day of arrival And On all the days of the rent
Personal Help on any issue 24/7. Local mobile phone can be provided (for outgoing calls you will need to charge)
Rooms As described, Clean Room, Shower, Toilet, Bed, Clean Linen, Clean Sheets, Clean Covers, Clean Towel, TV with several channels, Internet via Wi-Fi, Fair usage of Air Condition, Kettle, Fridge, Stove, Microwave oven,
Plates, Knives, Spoons, Forks, Cups, Several Pots and Pans, Hanging Cloth Dryer, Hair Dryer, Iron. Consumables (Fair use): Hand Soap, Bathing Soap, Shampoo, Toilet Paper, Gas and or Electricity and or Water
All or Some of the following: Coffee, Tea, Cocoa Powder, Sugar, Salt.
★SERVICES NOT INCLUDED IN THE RENTAL FEE
Any other foods not listed Above, Breakfast, Other Meals, Snacks, Drinks, Any Additional cleaning services, and or Changing of Towels and or Bed Sheets, the usage of Washer & Dryer and or Washing machine detergents,
Phone Calls (Local or international)
Pets can be accommodated with prior agreement
★REFUND
Guests are Entitled for a refund only if the room was not as described and or misleading and or was not habitable,
The partial amount, of the days NOT USED will be returned to the guest excluding any AirBnB fees.
Refund will be made on the AirBnB System OR Cash by giving & signing a proper declaration,
Guests will allow the Agent and or Owner resolve issues within a reasonable time to resolve the matter by repairing the issue or refunding the guest
The Guests Hereby declare that he finds the Size, and Location of the property as satisfactory prior to rental and by this he is not entitled for a refund on this basis.
Before Arrival AirBnB Refund Policy is applied, as named "Moderate" on www.airbnb.com
Page: https://www.airbnb.com/home/cancellation_policies#moderate
Moderate: Full refund 5 days prior to arrival, except fees
Cleaning fees are always refunded if the guest did not check in.
The Airbnb service fee is non-refundable.
If there is a complaint from either party, notice must be given to Airbnb within 24 hours of check-in.
Airbnb will mediate when necessary, and has the final say in all disputes.
A reservation is officially canceled when the guest clicks the cancellation button on the cancellation confirmation page, which they can find in Dashboard > Your Trips > Change or Cancel.
Cancellation policies may be superseded by the Guest Refund Policy, safety cancellations, or extenuating circumstances. Please review these exceptions.
Applicable taxes will be retained and remitted.
For a full refund, cancellation must be made five full days prior to listing's local check in time (or 3:00 PM if not specified) on the day of check in. For example, if check-in is on Friday, cancel by the previous Sunday before check in time.
If the guest cancels less than 5 days in advance, the first night is non-refundable but the remaining nights will be 50% refunded.
If the guest arrives and decides to leave early, the nights not spent 24 hours after the cancellation occurs are 50% refunded.
★COMPENSATION & Limit of Liability
In any event, this rental agreement limits the responsibility of the owners to no more then the amount paid for the entire reservation.
In case of extreme negligence and/or if the owner canceled without prior notice and/or any other reason listed or unlisted the liability of the owner is limited to double the total amount paid for the reservation by the guest regardless of any expenses presented.
★PRIVACY POLICY
The Agent, Owner or any other guests will not disturb the guests or use the space rented by the guest,
In case the guest rented only a part of the property, the Agent and or the Owner are entitled to use and or rent any other room on the property, including common spaces freely and the guest will allow the usage of the kitchen bath and toilet in such cases by other Guests.
The guest will get a Room-Key, The Room and or the parts of the property rented can be locked mechanically or electrically and will not be accessed without the guest's knowledge.

Languages:
English, Magyar, עברית
Response rate:
100%
Response time:
within an hour
Explore other options in and around Haifa
More places to stay in Haifa: