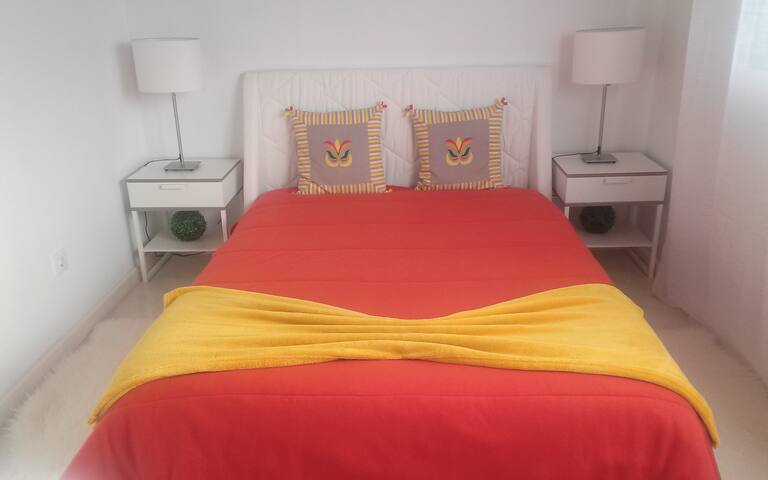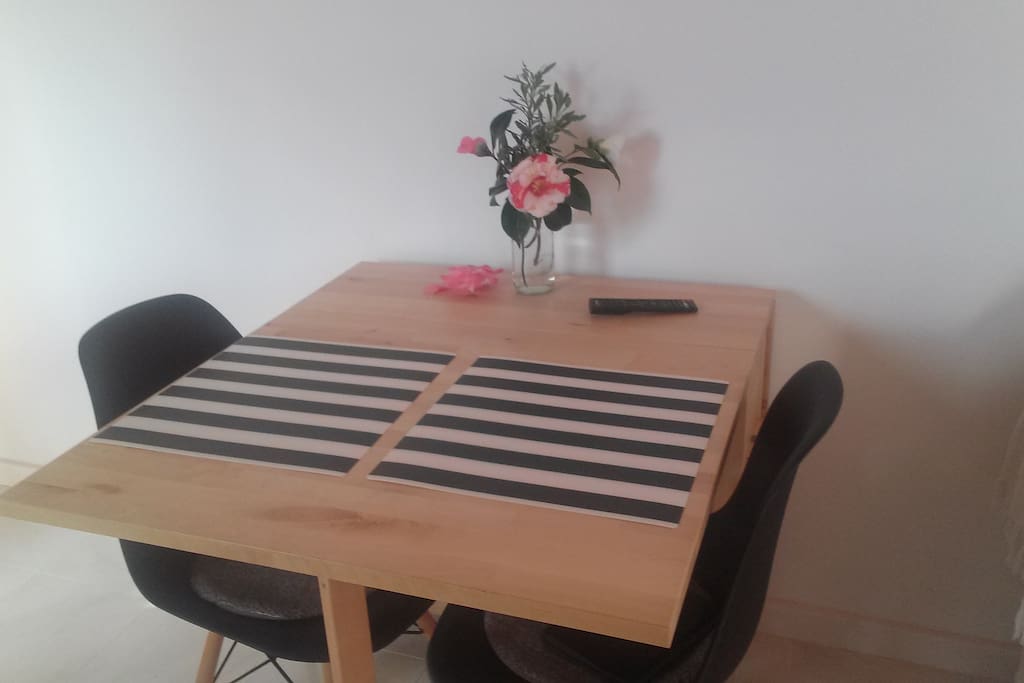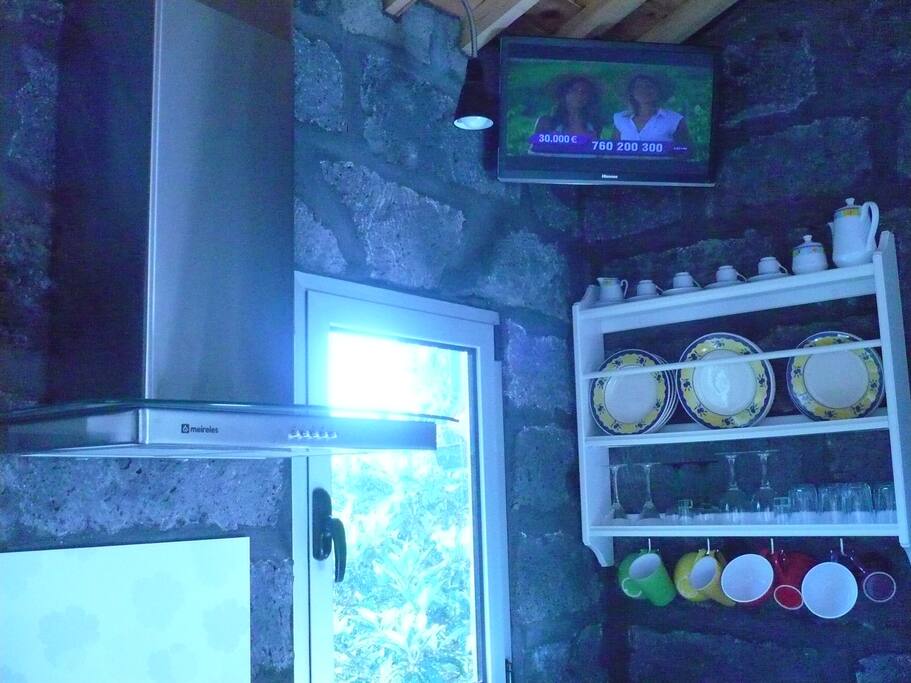 Romantic and relaxing stone cottage in small farm
Romantic and relaxing stone cottage in small farm
This lovely old stone cottage was recently renovated. It's in our small farm. It's an open space: bedroom, kitchen, sitting area, hall and private bathroom. It is suitable for 2 people. It has a fully equiped kitchen. It's a great place to relax. Enjoy it!
---
This listing has essential business travel amenities.
---
---
Always communicate through Airbnb
To protect your payment, never transfer money or communicate outside of the Airbnb website or app.
Learn more
---
Please, don't smoke inside the house.
Please, turn off the lights when you don't need them.
Please separate the rubbish.
Please turn off the air condicionar when you leave the cottage.
Take care of the house as it was yours.
---
Strict
Cancel up to 7 days before your trip and get a 50% refund. Cancel within 7 days of your trip and the reservation is non-refundable.
---
---
---
Guida and Jorge's place is in the middle of the island Sao Miguel. Its a great base camp to explore the island from. Small farm with 3 guard dogs, chickens and ducks. The little cottage offers everything you need and we felt very comfortable and privat there. Both, Guida and Jorge, are very welcoming and warm as hosts and we couldn't have found a better start to our holidays in the Azores. This is a real gem! Thanks for having us. It was great.
---
The little house built by Jorge and Guida was lovely, secluded and beautifully designed. It had everything we could have wanted even air conditioning! Our hosts were kind and generous The chickens and chicks entertaining and the dogs fun. A lovely blot hole in good central position on the Island.
---
We planned to stay longer at Guida and philip's place but due to circumstances (flight missed) we only had one day at their place. Which was a real bummer because we loved the house and wished we could have stayed much longer. The place looks amazing and was very tidy with everything you wish for at an Airbnb. The house is situated a bit of the road, but by car everything is well within reach. Guida and Philip are very nice people and gave us great tips. We would definitely like to return.
---
Our stay at Guida and Jorge's was perfect. We absolutely loved the place. Thanks to the very good instructions provided by Guida, we found the house very easily. The small cottage is located in a farm and is perfect if you're looking for a peaceful place during your stay at Sao Miguel. We were welcomed with some fresh eggs and with some delicious bananas from the farm. We loved spending our evenings on the small terrace watching hens, gooses and ducks. We would highly recommend this place and definitely hope to come back again.
---
Charming place to stay , excellent location for touring the whole island .Very good restaurants locally , supermarket nearby but eating out is very reasonable so only need breakfast . There is a cafe / cake / chocolate shop on the main rd .The studio itself has everything you need but Guida & Jorge are just next door if you need anything , excellent hosts .
---
This farm is absolutely perfect for people looking to explore the beautiful nature of S. Miguel. It is located in the centre of the island and is very close to Ponta Delgada. It is also a quick drive from Sol*Mar, a great little supermarket. The hosts go above and beyond what is commonly expected and you truly feel like family with them. Plus, their adorable dogs give you a very warm welcome! The house is very clean and comfortable. We had no complaints about it. The only thing to watch out for is the tight squeeze in their driveway. Nervous drivers watch out! (Or not go to the Azores at all) We managed just fine, though! Looks scary but is very manageable. We had a wonderful time! We absolutely recommend this little slice of heaven.
---
The stay itself was quite alright. Clean cottage, but the bedding is all fleece including the bed sheet, doesn't make for very good sleep in the summer. It gets smelly, sweaty and damp and the AC is fairly obsolete. Our host interaction on the other hand was very, very different from what all the other reviews said. After a 3 hour wait at Pico airport our flight was further delayed by 2 hours with an estimated landing at 9:30 PM and we kept the Host informed every time we got an update. Despite that, we received no replies apart from a single 'ok'. Unlike the listing and the reviews, the host made no offer to show us the way home from the airport. In fact, we were accused of getting lost and not following the directions (more on the directions later) correctly, because we arrived at 10:30 pm (after baggage claim and car rental pick up and a 30 minute drive to this location). We have no clue what we did to warrant such behaviour! You can't see much on the tiny country roads at night with unnamed streets, and so we had to find our own way by trial and error. And vague directions like 'look for stone cottage with yellow windows' (which btw is the neighbor's house not theirs, so good luck with figuring out the brackets and syntax in the dark), 'when you pass 2 mirrors on the road' and 'drive some kms' do not make it easy at all! As soon as we reached, we were faced with this angry man who does not introduce himself and just stares at us for 5 whole minutes. Very unsettling. We introduce ourselves and joke about how we knocked at the wrong door to break the ice, to which HE takes offense grabs the paper in my hand takes it to a little lamp on the side of his electric box and demands "where? where does it say so? Show me?" We are astounded! We wanted to turn back right then and get the hell out of there. After a 5 hour wait at an airport and a stressful drive finding/reversing our way through really narrow, stone walled streets, one really does not have the patience to deal with such an uncalled for attitude. We decided to ask straight out if there was a problem and if we should find ourselves alternative accommodation, considering it was being made quite clear to us that we were not wanted there and we were really not in the mood to play games. To which the host sarcastically replies "no now it's ok, it's ok. Tom maybe you'll come late again so this is how you open the gate" Again insinuating that we had decidedly arrived late and kept him up? What sightseeing did he imagine we were doing at 10:30 PM?? We were then shown the room and immediately asked when we'll be checking out (we didn't understand the urgency since we...
We're the two hosts, Guida and Jorge, the man who met you is Jorge, and he introduced himself, but you were so nervous, tired and angry because of the flights delays that you didn't listen to him. Delays happen, they aren't our fault. I, Guida, didn't meet you because I was ill with a terrible back pain and I had to wake up early the next morning to go to work. And when you check out I had already gone for work. I usually meet guests, but sometimes it isn't possible, because of my job and guests' timetable. I sent the detailded directions and the maps to you on 24th March, as I did with all our previous guests. You should read the address and directions before, not only when you arrive at the place. 98% of our guests arrived here easily and the other 2% called us asking for help and we helped them. They all told us the directions were perfect and easy to follow. That's the first time guests get lost fifty meters far from our gate and knock on one of our neighbours' door and did not knock on the second neighbour's gate because Jorge opened our gate at the moment you parked in front of the neighour's gate. You didn't read the address and directions carefully, because the name of our street is there in its begining and you said the street isn't named. Our gate number is white and big, so you can see it at night, but you didn't see it. We aren't native English speakers, so our English isn't perfect, maybe the directions have some writing mistakes, but we think they're easily understandable. Jorge didn't grab the paper with directions from your hand, he only tried to read them in your husband's hand. Sometimes Jorge meets the guests at the airport, but only when they arrive really late, after midnight, or when they ask us. You didn't ask for this service. The air condicioner isn't obselete, it's two years old, probably you didn't learn how to use it properly. We offer eggs and fruits, but in the description we say "guests can pick up eggs and fruits", so you didn't pick up them because you didn't want or maybe you need a reason to ask for a refund. We usually leave fresh eggs in the fridge when we have them, but on that day we didn't have any. We don't provide breakfast in this accomodation, but we left in the kitchen some butter, jam, salt, sugar, oil, vinager, tea, coffee, pasta, etc. as we do with all our guests. You had already tried to cancel the reservation two months ago, because the flight had been postponed and you thought it wasn't worth coming here, and we said that there was no problem, you could cancel. Then you asked if you could be refunded and once again we said yes, we understood the situation. You love refunds. We NEVER discriminated our guests. Kind regards, Guida and Jorge
---
Hello dear travelers,
My name is Guida and I live on a beautiful island in the Azores - São Miguel.
I am a teacher, a hostess and a part-time farmer.
My husband, Jorge, and I love to travel, but for now, we are enjoying time in our garden home and orchard, where we are surrounded by fruit trees, flowers, farm animals, and our cats and dogs.
Our little "quinta" is the perfect place to enjoy Azorean nature... and we look forward to sharing it with travelers who want to experience the warmth and beauty of the Azores.
We are friendly, generous hosts who enjoy meeting and helping guests from all over the world discover our lovely island.
We are sure you will love our little piece of paradise.
Kind regards.

Languages:
English, Português
Response rate:
100%
Response time:
within an hour
Explore other options in and around Rabo de Peixe
More places to stay in Rabo de Peixe: