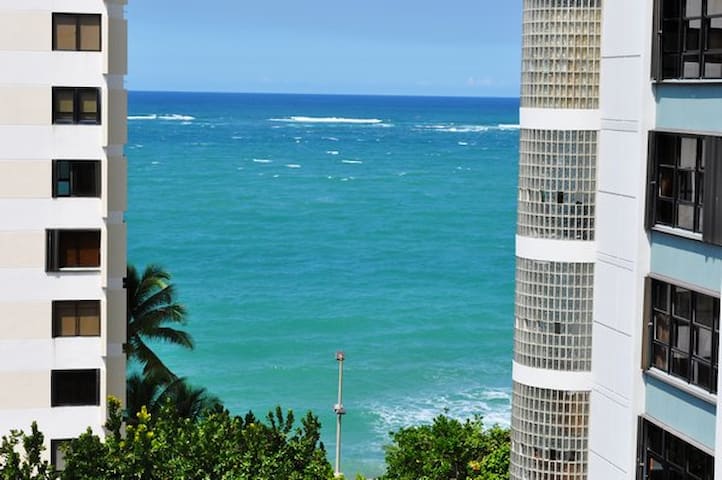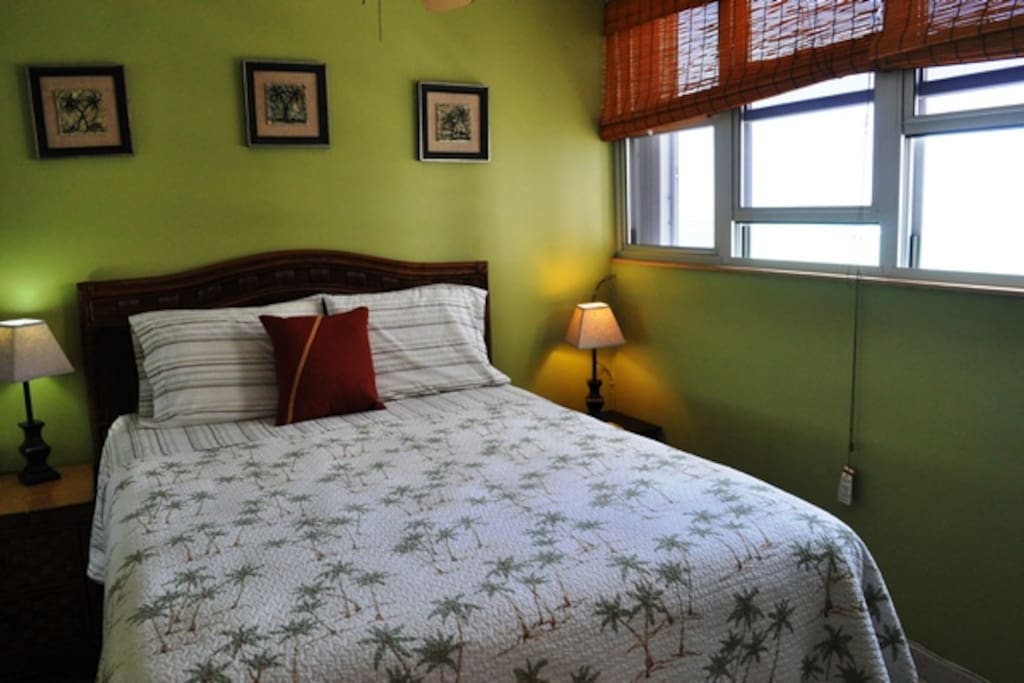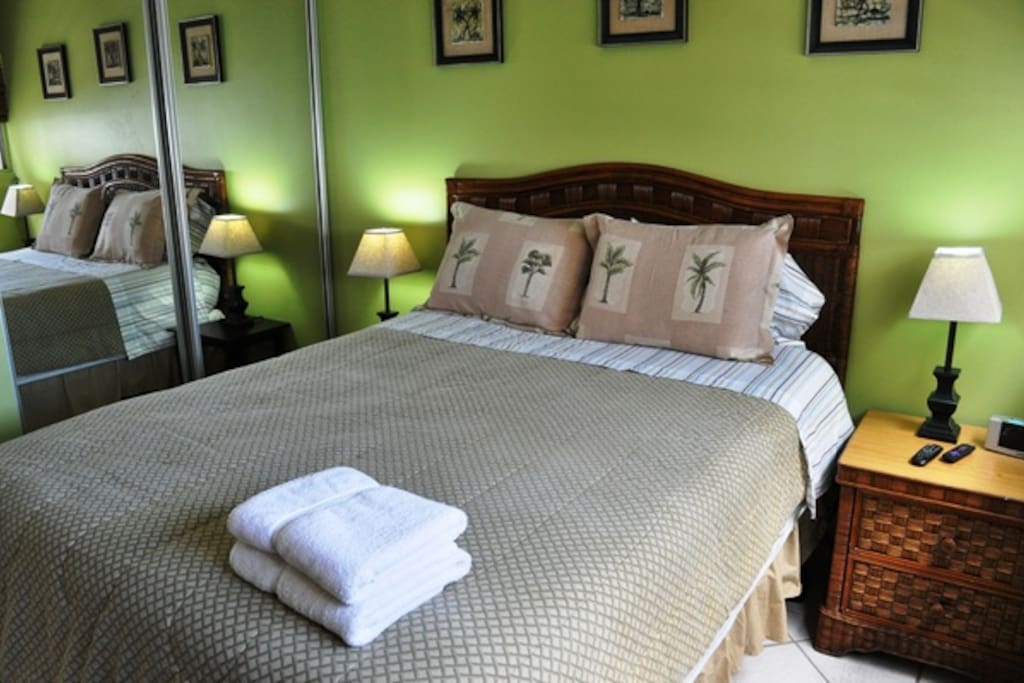 1 BR/ 1 BA, sleeps 4, A/C, Free WiFi, Cable TV, equipped kitchen
The space
This newly renovated one bedroom apartment has ocean views and a wonderful ocean breeze. During the day you can sit with plenty of natural light and listen to the ocean while staring off at the vast blue sea. The apartment is on the 8th floor in an elevator equipped building, allowing you to enjoy privacy from outside noises. This apartment is centrally located in the heart of Condado. You will find a variety of restaurants, hotels, shops, and nightlife all within walking distance. The apartment is just one block from the Marriot Hotel and the bus station with service to Old San Juan and other parts of the San Juan Metro Area. The bedroom has a firm queen size bed and is completely private when you shut the large teak doors. A brand new queen sized murphy bed in the living room allows for two additional sleepers and includes built in storage for clothes. There is a well-equipped kitchen with new appliances and countertops if you enjoy making meals at home. The bathroom has a large, easily accessible stand-up shower with commode in one room, and a separate changing area with sink for privacy. There is air conditioning in the great room and bedroom and coin laundry available in the building's main lobby. The apartment has been recently painted and decorated for your relaxation needs. High speed internet is provided along with two televisions and Roku boxes. The apartment does not offer private parking, but there is on street parking available within one block as well as the covered parking at the Marriot Hotel which provides parking for reasonable monthly rates.
Guest access
A coin laundry in the Condo
Interaction with guests
We will meet you upon arrival in front of the rental and return for your check-out and final walk through. During your stay we are available for questions and to help with all kind of details - you can always reach us per phone or email, preferably by text message.
Other things to note
TIPS FOR BETTER LIVING IN THE TROPICS
First of All: Be Happy, Relax & Enjoy - you are visiting a beautiful, sunny, tropical Island, which requires an open heart and mind to be fully enjoyed!
Stay happy! - even if anything is missing or broken. Simply contact us immediately and we will be glad to help.
Remember you are renting a Home away from Home and no one likes a stinky apartment: Therefore the garbage goes out daily. And the dishes are specially made to break after 2 hours of being used unless they get cleaned. To avoid any extra charges for broken dishes simply clean them.
We are in the tropics and if you want to have your food and drinks for yourself, store almost everything in the fridge. If not you might have to share it with unwanted animals or the humidity and heat may destroy some foods.
The plumbing system on tropical Islands appears to be delicate. Therefore it is important not to throw any sanitary items, Condoms and not even a lot of toilet paper at the same time in the toilet. Misuse may end in clogged toilets and extra charges!, if misuse would be proven by Plumber.
It also rains on a sunny island. Please close all doors and windows while exploring "paradise". If you don't the apartment may get flooded and you would have a lot of extra work.
!!!Please be environmentally friendly!!! We are a small Island in the middle of the Atlantic Ocean with limited access to resources! PLEASE do not waste fresh water! Only turn on A/C while being at home. Turn off A/C when leaving the apartment. Close all windows and doors while running the A/C.
You have chosen to stay in a condo with real neighbors that are unfortunately not on vacation and deserve their good night sleep. Please keep the volume down after 10PM and before 9AM.
Please make arrangements for your check-in or out a few days before it actually happens, so we can prepare for a smooth arrival and departure.
In case of EMERGENCY please call 911! And please inform us as well - send a text message or call to the following numbers: (PHONE NUMBER HIDDEN) and (PHONE NUMBER HIDDEN)
---
---
Always communicate through Airbnb
To protect your payment, never transfer money or communicate outside of the Airbnb website or app.
Learn more
---
Check in is anytime after 4PM
Terms and Conditions
Carefully read all of our Policies below as they apply to each booking.
WHO IS WHO
It is hereby agreed that anyone booking a property through "Vida Urbana" shall be called "Guest" and shall rent a furnished apartment on a short-term basis from the "Owner" of each property. "Vida Urbana" shall be acting and understood as a booking agency with limited property management responsibilities.
MINIMUM STAY
We are specialist in Old San Juan Vacation Rentals on a weekly and monthly basis and require a 4 consecutive night's minimum stay on all of our properties. We may book 3 nights during off season and on last minute bookings, but do not offer reservations for less than 3 nights.
OUR SEASONS
High Season from December 16 to April 15.
Low Season from April 16 to August 15.
Off Season from August 16 to December 15.
RESPONDS WITHIN 24 HOURS
We receive various inquiries every day and answer them within 24 hours in the order received.
FIRST COMES - FIRST SERVES
It may happen that there are several parties interested in the same apartment at the same time. In this case our policy is "First comes - First serves".
PERSONAL OFFER & RESERVATION PER EMAIL
All of our Policies apply equally to bookings through our online booking service, Bookings per Email and Bookings through any other advertisement. We will send your personal offer for the apartment and time requested. You can read it and get back to us with any question you've got. If you agree on our offer you will fill out & sign the agreement and email it back to us. The moment we receive the signed contract and your first payment went through the reservation is made.
ONLINE BOOKING
All of our Policies apply equally to bookings through our online booking service, Bookings per Email and Bookings through any other advertisement. The booking requests you are sending through any advertisement will be accepted or denied within 24 hours. Once a booking request is confirmed you will receive a confirmation to your reservation.
PAYMENTS
We charge the damage deposit and complete rent in advance. To hold your reservation you only send the damage deposit, if you are booking a property more than one month before your arrival. Your complete payment is due in full 30 days before arrival - including rent, cleaning fee, tax and service charges. We reserve the right to cancel any reservation without refund of damage deposit, if we did not receive the complete payment for your reservation within 30 days before arrival.
PAYMENT OPTIONS
You can pay online by (SENSITIVE CONTENTS HIDDEN), using your credit card or send a certified bank check as well as a money order or send your money via wire transfer. Our payment options require a 3% service charge on top of the total amount paid for the reservation. These 3% are included on the listed charges of each rental under the "10% for Tax and Service Charge".
DAMAGE DEPOSIT
We require a $200 or higher DAMAGE DEPOSIT depending on the size of the property and length of stay. The deposit for weekly rentals will be returned 3 days after departure following an inspection of the premises. The deposit for monthly rentals will be returned following an inspection of the premises and after the utility bills of the last rental month have been paid, approximately 30 days after departure.
CLEANING FEE
For each reservation we are charging at least one cleaning fee for the cleaning at your check-out. If guests stays with us for more than 7 nights we apply a deep cleaning fee at your check-out. One deep cleaning has the cost of two regular cleanings.
TAX
For rentals less than 90 days a 7% TOURISM TAX applies by law and will be charged.
RENTAL RATE EXCEPTIONS
All rates are subject to change until reservation is confirmed. Vida Urbana and Owners reserve the right to adjust rental rates during special occasions such as Christmas, New Years Eve, the annual San Sebastian Festival, Easter and others. Please always ask for your personal offer. Please note that the regular cleaning fee applies per reservations and for any stay up to 7 nights. The cleaning fee for any stays longer than 7 nights may be higher. Please note that monthly rental rates do not include the cost of electricity. Please note that the deposit for monthly rentals is always higher than the regular deposit.
CANCELLATION
You may cancel your reservation up to 30 days prior to your arrival. If you cancel within less than 30 days of your arrival the total amount of payment for your reservation will not be refunded. We strongly recommend that you purchase a trip and cancellation insurance. No shows are non-refundable. No partial refunds will be issued for late arrivals, reduction in the number of persons in your party, and/or early departures. Owner and Vida Urbana do not offer any kind of replacement/ refund/ compensation for any reason at all.
ARRIVAL AND CHECK-IN
As soon as you arrive in San Juan you will call one of our assistants and let them know that you are on your way to the apartment. Our assistant will welcome you personally in front of the property where you are staying. Check-in is between 4pm and 9pm. Early and/or late check-ins are possible depending on availability and will be charged extra in cash at the moment.
DEPARTURE AND CHECK-OUT
On the day of departure our assistant will return to the apartment at the agreed time. Our assistant will check the property and if it is found it in the same condition we left it to you we will refund your deposit within 3 days. Check out is between 6am and 11am. Early and/or late check-outs are possible depending on availability and will be charged extra in cash at the moment.
EXTRA CHARGES
Early check-ins are possible between 11am and 4pm on the day of arrival if the apartment is available at an extra cost of $25 to be paid in cash upon arrival. Late check-ins between 9pm and 6am are possible at an extra cost of $25 to be paid in cash upon arrival. Check-outs during extra hours between 9 pm and 6am on the day of departure are possible at an extra cost of $25 to be paid in cash upon departure.Late check-outs are possible between 11am and 4pm on the day of departure if the apartment is available at an extra cost of $25 to be paid in cash upon departure.
KEYS
We provide a minimum of two sets of keys per apartment per stay. We do not provide one set per Guest; however some owners of larger apartments provide one set of keys per bedroom. Guest agrees to return all keys, cards, chips, beepers upon departure. The general charge for not returned/ lost keys and other items to access properties is $75.00 per piece. If any kind of security keys are involved and/ or the owner requests for locks to be changed the cost of replacement may be higher. If Guests lose keys during their stay and/ or lock themselves out, Guest is responsible to call a locksmith to open the door and/ or to replace the keys. Vida Urbana and Owners DO NOT guarantee to be available 24/7 to open apartments or rooms which get accidentally locked.
BASICS
We are offering vacation homes away from home. Therefore owner shall provide basic furnishing, a basic set of towels (one bath towel and one beach towel per person plus one dish towel and one hand towel per bath, Owner does NOT provide wash cloth), and one basic set of linens per bed, basic equipped kitchen as well as the initial paper towel, toilet paper, hand soap and dish soap upon arrival. Guest is responsible for refills. EXCEPTIONS: Some of our offers are Rooms or Suites only and do not offer any kitchen at all or only a kitchenette. Owner shall provide hair dryer and iron/ board. In addition, Owner and/ or Vida Urbana, Inc. will be available during your stay to respond to any Guest inquiries in a timely manner, usually within 24 hours. We do not provide a 24/7 front desk or room service, and no daily cleaning service. Guest understands and agrees to rent a home away from home, not a hotel or guest house room.
The number of occupants/ visitors/ Guests shall not exceed the max. number of occupants as stated the advertisement at any time. If more people are found to occupy premises, Guest agrees to pay for the additional people at a rate of $75 per person/per night.
Guest has to be 21 years or older to book. Guest may be asked to send a copy of his/ her ID. Guest is responsible for all payments and has to send payments from the (SENSITIVE CONTENTS HIDDEN) account and/ or use credit card under the same name. Guest can have up to as many members in his party as advertised, but the Guest who books and pays for the reservation is responsible for the entire reservation and members of his party. At any time before, during, or after your stay, your information may be shared with (URL HIDDEN)
Guest agrees to leave the rental property in the same condition as found. Guest is responsible for missing items, damage to premises and for conditions that require excessive cleanup. Charges may be assessed against Guest's safety deposit to replace, repair, clean or otherwise restore the rental property to an equivalent condition prior to Guest's occupancy.
Owner and Vida Urbana assume no liability for property loss or damages of any kind at any moment, nor liability for accidents or injury or stings or wounds occurring on the premises. If the property has a pool Owner and Vida Urbana assume no liability for the use of pool. Owner and Vida Urbana assume no liability for all kind of damage and loss caused by natural disasters, unforeseen accidents and/or unexpected damages to the property caused by surrounding properties. Guest is responsible for the premises and for the actions of their guests during their occupancy of the rental property.
Outages of all kinds can happen in Puerto Rico. Owner and Vida Urbana assume no liability for water, electricity, Internet and Cable TV outage, if the problem is caused outside of our property or responsibility. Not every apartment provides Internet and Cable TV, always ask for availability. Outages on any kind of technical & electrical items & features (such as A/C, washer/ dryer, TV, etc.) will be worked on within 24 hours from the moment owner and Vida Urbana were informed. Owner and Vida Urbana can not guarantee a time frame in which the problem can be resolved. Meanwhile owner and Vida Urbana do not assume any responsibility for sudden outages and do not agree on any kind of compensation at all.
CHILDREN UNDER THE AGE OF 12
We are a family and child friendly agency and have apartments/ houses especially designed for families. However we are also listing some properties that are not recommended for children or do not allow children under 12 years. If guest plans to travel with kids, Owner and/ or Vida Urbana must be informed in advance. Failure to do so may result in extra charge or forfeiture of Guest's safety deposit and/or in early departure. NOT all properties are CHILD-PROOF and some owners DO NOT agree to welcome children on their properties.
DOGS, CATS AND ANY KIND OF PETS
We are a pet friendly agency, but not all owners we are representing like to have pets in their homes. Therefore always ask if your pet is allowed in the rental of your choice. If guest plans to travel with pets, Owner and/ or Vida Urbana must be informed in advance. Failure to do so may result in extra charge or forfeiture of Guest's safety deposit and/or in early departure. NOT all owners agree to welcome pets on their properties.
ZERO TOLERANCE
Guest and the members of his party shall not use or permit to be brought into the rental property any illegal controlled substances, firearms, or items hazardous to persons or property. In addition, smoking inside of the rental property is not allowed.
ALL of our properties are NON-smoking rentals.
Owner and Vida Urbana will not tolerate any kind of aggression (verbally or physically) in between Guests and/ or towards owner, staff, neighbors or anyone involved in the rental situation. All Guests agree on immediate departure from property without any further warning and no refund of rent nor deposit, if any of the Guests has caused any kind of situation where the police had to be called. There shouldn't be any loud noise between 10pm and 9am at the property. Guest is NOT allowed to have parties and organize large get-togethers on the property, nor bring in any other person than the actual Guests staying at the property. Any violation of our policies and our "Tips for a better living in the tropics" (see below) may result in the forfeiture of Guest's safety deposit and/or in early departure. Any kind of suggestion, observation and complains Guests may have regarding the property and service have to be addressed immediately and during the stay. Any complains not addressed at the moment or after check-out are considered to be invalid by owner and Vida Urbana. Owner and Vida Urbana do not offer any kind of replacement nor compensation for any reason at all nor considering to be responsible for common areas in Condos nor for the overall experience of Guests in San Juan and Puerto Rico. Any dispute shall be resolved in and according to the laws of The Commonwealth of Puerto Rico.
ADMISSION
We reserve the right of admission. At any time before, during, or after your stay, your information may be shared with (URL HIDDEN)
DISPUTES
Any dispute regarding our business in general, the properties listed, Guest's agreement and/ or stay with us and/ or owner shall be resolved in and according to the laws of The Commonwealth of Puerto Rico.
EPA REGULATIONS
Please visit the following link as part of being oriented by Vida Urbana about the risk of lead based paint. (URL HIDDEN) The orientation is a requirement of EPA and applies to all housing constructed before 1978.
MID AND LONG TERM RENTALS
We are offering now as well mid and long term rentals. We consider all rentals over 6 months as long term. Mid term rentals for less than 6 but more than 3 months are paying the short term rental price without 7% room tax. Only short term rentals up to 90 days have to pay 7% room tax.
SHOWINGS
We consider our Vacation Rental (short term rental) Business to be an Online Booking Service. We are offering showings free of charge for any rental more than 90 nights. For any rental less than 90 nights we are offering showings for $15 per property upon availability. There is no fee for any Long Term Rental or Sales Showing.
---
---
Absolutely loved our stay here! My friends and I came down for spring break and we couldn't have asked for a better place to stay! Two minute walk to the beach and there are so many cool restaurants and little shops within a 5 minute walking distance. The air conditioning was fabulous and both beds were super comfortable. Loved having a kitchen and loved the water pressure on the shower! Also, the Tvs have Netflix and Hulu on them which is a huge plus especially when it decided to sprinkle a little on the island. Thank you Annette and Andrés for a spring break we will always remember!
---
Came here four days after staying in Rincon. The apartment was exactly as advertised and check-in was a synch. There's no parking but we worked a deal with the parking lot across from the Marriott and only paid $20 for our entire stay. The beach is beautiful and the apartment has chairs and towels for you to use. The apartment is about 10 min drive from Old San Juan where you can spend the day exploring the forts. The lagoon is a 15 min walk from the apartment. They offer kayaking and paddle boarding for $30 and if you're lucky you'll see the manatees. If you feel like splurging, have a drink or meal at Oceano - it's right on the beach a few blocks away. Overall great stay and we would definitely come back.
---
With being so close to the beach it was very convenient to be able to go back to the condo for lunch or snacks. We fit four girls comfortably in the condo. Especially since we didn't spend a ton of time there. We were able to walk to a bunch of restaurants and shops which was nice as well. Check and and check out was super easy! We had zero issues and would definitely recommend this place or come again!
---
Clean, spacious apartment in a great location, beach view, very well lit. Air conditioning worked well, but with 3 ceiling fans, we didn't need it much. Living room TV had a roku with Netflix. There was also another TV mounted in the bedroom. The kitchen was well-stocked with all the utensils we needed to cook. Very responsive communication from the property managers. We had a small maintenance issue and they had a handyman fix it within a half-hour. They had two foldable beach chairs, large umbrellas, and plenty of towels for a week's stay. I'd definitely look to stay here again.
---
Our Vacation Rental Offers are a result of our love to Old San Juan and our desire to share this beauty with you. Therefore we enjoy representing our neighbors (homeowners) who have decided to offer their homes to travelers. We (VidaUrbanaPR) are managing an incredible variety of properties, all very different from each other and yet in the same gorgeous old city, Some Truly Economic and as well Some of the Finest Locations in Old San Juan. We and all on our team live in Old San Juan ourselves and like to welcome you to experience our Latin-, Tropical-, Spanish-colonial style neighborhood. The VidaUrbanaPR Team


Languages:
Deutsch, English, Español
Response rate:
100%
Response time:
within a few hours
Explore other options in and around San Juan
More places to stay in San Juan: