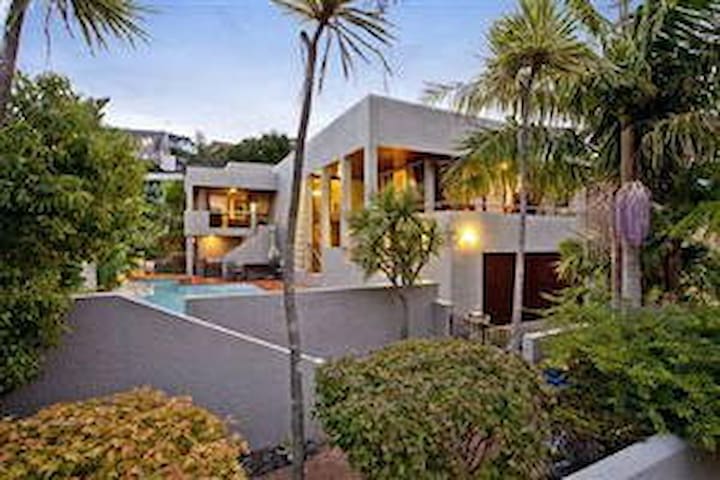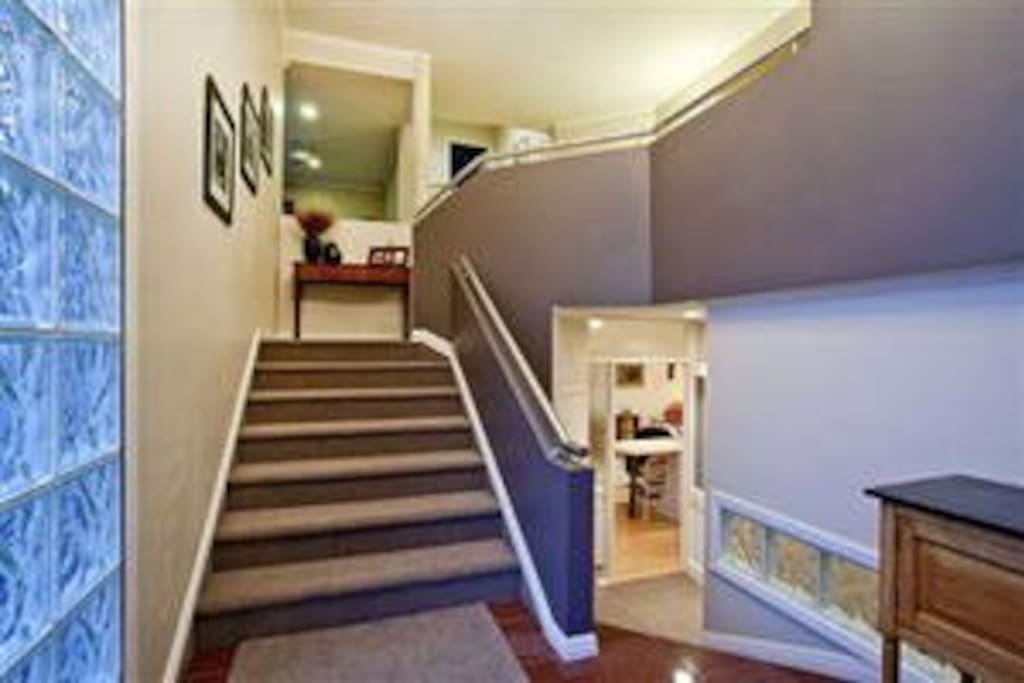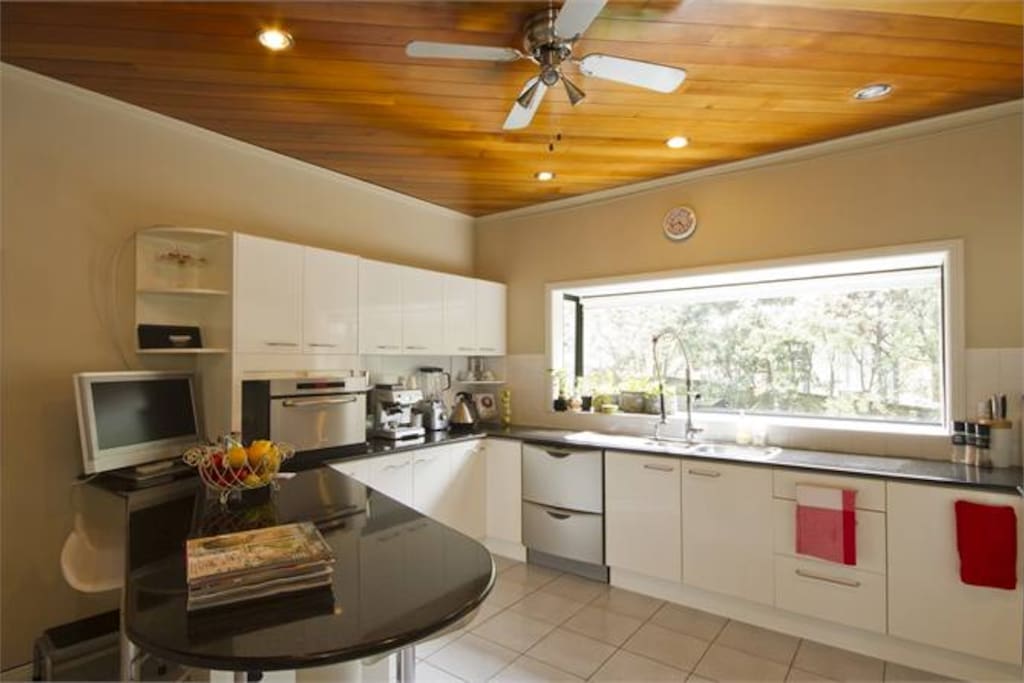 BEACH HOME with POOLS, Auckland
NORTH SHORE AUCKLAND
Modern, gorgeous 350m2 Home with Pools 3 plus spacious bedrooms, 2 baths, 2 lounges & large kitchen. Spread over three 'half' levels.
We also have cars available - from BMW Convertible 330Ci to LeGrand 8 seaters from $NZ30 per day
Also a Coastal Home at Mangawhai Heads - an hour North
The space
Modern spacious 350m2 (approx) home plus an Apartment (100m2).... see our other listing on this site: titled BEACH & POOLS NORTH SHORE AUCKLAND....... for multi families, larger bookings....
in MURRAYS BAY on the NORTH SHORE of AUCKLAND
Please Note: Cost quoted is for 4 guests, 3 bedroom Home Only ...there may be an extra charge for extra guests (including children & babies), extra bedrooms, extra bathrooms etc...or including a self contained apartment ..
Modern, stunning home with swimming pool and spa pool (jacuzzi). Generous formal dining and modern kitchen with double oven, microwave, steam oven, coffee machine etc... every mod con you can think of!
Bed 1: 1x king size bed, ensuite bathroom, study area, balcony with sea views
Bed 2: 1x superking size bed (can be unzipped to 2x singles) and 1x king single bed
Bed 3: 1x superking size bed (can be unzipped to 2x singles)and 1x king single bed
Adjacent bathroom with separate spa bath and shower, separate toilet/basin
Bed 4: 1x king size bed (can be unzipped to 2x singles) and 1x single bed....this bedroom may be an extra cost
plus apartment (an extra cost) if needed
Minimum stay one week.
All rates include use of bbq, swimming pool and jacuzzi, laundry and includes power, water, water waste, local phone calls,
WiFi, all quality linen, 2x full SKY digital decoders (MySky), big screen/projector in second lounge, initial complimentary toiletries, tea, coffee etc...
LAZE BY THE POOLS, walk down to the beach, up to the shops or through the scenic bushlands, enjoy the ocean, stroll around the golf course...what a great location to stay here on the North Shore of Auckland.
The home is beautifully appointed with very convenience and comfort. All rooms are very spacious. Three balcony areas and lead to a very generous sized pool with lap lane and heated spa pool with BBQ entertainment area.
Access to the buses and main road nearby and the beach within walking distance...only 1km!
A cot and high chair are all available on request at no additional charge.
High quality linen/towels are provided.
And for those rainy days there are TVs and DVDs .
Plus many board games, DVDs and books.
Very quiet and peaceful in a safe and secure environment.
For an extra cost this home can be COMBINED WITH....
The Apartment which can be internally accessed from the Home and this gives you:
2x kitchens, 3 lounges, 2 dining, 5 bedrooms, 3 bathrooms and 4x full SKY satelite units.
APARTMENT
Spacious 100m2 modern living with every convenience. Fully equipped and self contained, own
courtyard, bbq, separate entrance, easy (but fenced off) direct access to pool and spa pool
Bed 1: 1x super king bed (can be 2x singles) and 1x single bed with rollaway under
Lounge: 1x sofa bed
The apartment can be two bedroomed (may be an extra cost) and has its own private courtyard with BBQ and outdoor furniture on the other side of the home and the swimming pool and spa (Jacuzzi) pool...with childproof fencing and garden the other side.
Also we have vehicles available (5 to 8 seaters or BMW Convertible) for use by our guests from $NZ30 per day...
Ideally located to enjoy all the Bays has to offer...including park / reserve on 'the doorstep'. Public transport nearby & parking available.
We also have available our beach home at Mangawhai Heads.
...for all our accommodation choices we have glowing references from our guests should you require them!
Please Note: Smoking is Outside Only.
Check In /Out Times may be Negotiable.
Very close to Golf, Rock Wall Climbing, Cafes, Restaurants, Shops and Public Transport.
Neighbouring Mairangi Bay Village and Beach
and Browns Bay Beach and Village, Parks, beaches, childrens' playgrounds, restaurants, supermarkets, golf courses, Snow Planet and Luge Park, Albany Megacentre / malls, Park n Ride City Transport System, Coastal Walkway to all the Bays, Takapuna all very close
Auckland City attractions all within easy access via motorway
or ferry
Guest Review from Sally and Carlos, Doha - August 2016
This property more than exceeded our expectations. We had a very comfortable stay in the two bedroom kiwi homestay for 1 month with our two teenage daughters. The owners, Carolynn and Alan were very obliging and were able to help with any queries we had throughout our stay. The hot tub was a definite bonus for us! We also rented a car from the owners which was a cheaper option and the car was in immaculate condition. I would definitely recommend this home to anyone visiting North Shore, Auckland.
Guest Review from Glennis NZ - April 2013
Absolutely loved staying here. Everything is provided here and is really comfortable and feels like a home away from home. Felt very comfortable and safe, loads of privacy and use of the pool and spa pool was divine! Appreciated being able to have my whanau/family over for a visit for a BBQ and would very much love to stay again! Very friendly house owners! Would highly recommend this place and way better than staying at a motel!!
Guest Review from judygardner uk- Dec 6, 2011
I've stayed with Carolynn and alan before, and stayed in the apartment as well as the home. It's a great service they provide, and everything is well thought-out, clean, comfortable and welcoming. I'll go again hopefully next time I'm over visiting my young family, because I can retreat to the haven of peace that Carolynn offers when my family get too much for me!
Guest Reference from Karen Sau, New England USA Jan 2012
"I just wanted to touch base with you and thank you again for your hospitality and the use of the lovely apartment. We had a wonderful stay in Murrays Bay and my daughter and Ryder enjoyed their walks to the beach and back...
The beds were warm and comfortable and it was very quiet and peaceful. We mostly enjoyed being able to have our friends and family to visit us and entertain in pleasant surroundings, thank you.
Should we ever need accommodation again, I would hope that we could stay with you in the future and will gladly recommend you to any of our friends who may travel down under.
Caro and Alan are the sort of people that you wished you had met 30 years earlier. They are caring and helpful and humorous and have a wonderful way of making one feel happy every single second. We came from Europe were looking around Auckland to buy a house and Carolynn and Alan were more than helpful in this. I just wouldn't buy one without their input. Our accommodation was just perfect.
If it is possible to be critical in any way I feel that this interesting couple just put too much of themselves for what they charge. The price is too low for the 6 star accommodation/home they provide.
Don't hesitate. Just stay here. Europe ric Stayed April 2009 and September and October 2011 and January2012
My kids and I stayed here for 5 days and it was the most peaceful and relaxing environment we could have hoped for...the beach is a 2 minute drive and the accomodations were top notch...Perfectly clean and very cozy. Alan and Carolyn were very gracious and thoughtful. Close to Auckland and yet far enough away...wonderful privacy, too. I would definitely stay here again and again!
Joy & family
Bay Area, USA joylung Stayed November 2010
My family and I stayed here for one month and never wanted to leave. The accommodation was second to none and the location is awesome, close to great beaches, restaurants and all other amenities. To top it off Carolynn and Alan are the best hosts anyone could ever wish for and we have surely made good friends for life. We would definitely love to stay here again when we next visit Auckland. adamlowbridge Stayed September 2010
Guest access
Minimum nights stay may apply e.g. Public Holiday Weekends (3 nights), Xmas Day (7 nights), NYE (7 nights).
Interaction with guests
Parks, beaches, childrens' playgrounds, shops, cafes, restaurants, supermarkets, golf courses, Snow Planet and Luge Park, Albany Megacentre / malls, Browns Bay Village,
Park n Ride City Transport System, Coastal Walkway to all the Bays, Mairangi Bay, Takapuna all very close
Auckland City attractions all within easy access via motorway
Ferry to Auckland or the Hauraki Gulf Islands
Other things to note
The rate is for 4 guests.... 3 bedroom Home. Email for quotes for extra rooms, people, cars etc...
---
---
Extra people £30 / night after 6 guests
Always communicate through Airbnb
To protect your payment, never transfer money or communicate outside of the Airbnb website or app.
Learn more
---
Bedroom 2
1 king bed, 1 single bed
Bedroom 3
1 king bed, 1 single bed
Bedroom 4
1 king bed, 1 single bed
---
Check in time is 3PM - 5PM
SEVEN NIGHT minimum booking - except September/October: THREE night minimum. This is unserviced accommodation. Property must be left as found .... feel free to enquire for Cleaner who will give rates for exit/daily/weekly service cleaning.
THE FINE PRINT......
Holiday Home Guest Terms and Conditions Of Trade
Payment and Cancellation Policy
1. Payment of deposit or total fee for your booking indicates acceptance of these Terms and Conditions.
2. Payment will be made by method agreed upon requesting a booking. Credit Card details will be held as a security of booking and bond.
3. A deposit is required to confirm your booking.
4. The balance of payment will be payable as per your booking instructions.
5. If you cancel or reschedule your booking prior to the scheduled commencement of your stay, your monies is not refundable. We strongly recommend that you have travel insurance to cover you in the event of an unforeseeable cancellation.
Check In and Check Out
1. Check In 2.00 - 5.00pm and Check Out 10.00am. Whilst we are more than happy to provide early Check In and late Check Out wherever possible, this can only be confirmed at the last minute as it is dependent on other bookings at the time. Failure to adhere to those procedures could result in the incurring of additional costs.
House Rules
1. The number of guests staying/visiting at the property must not exceed the number agreed to in the booking details. In the event that any additional persons stay at the property, an additional fee may be charged according to our usual rates and/or we reserve the right to terminate the booking without refund.
2. Pets are not allowed - guests' or visitors' pets
3. All homes are non-smoking indoors. We reserve the right to terminate a guest's stay without refund if we become aware of guests or their visitors smoking indoors. There may also be additional cleaning fees to remove any smoke fumes from the property.
4. All guests are expected to behave in a manner that does not cause distress to neighbours or interfere in any way with their right to enjoy their properties. We reserve the right to remove guests who do not adhere to this code of behaviour.. In these cases, no refund will be due, and we will not be responsible for finding or funding alternate accommodation, nor will we be responsible for any other associated costs.
We have great neighbours and want to keep them so:
NO use of pools between 9.00pm and 9.00am.
No 'boom boxes', amplifiers, speakers or any other type of noise makers to be brought onto the property.
All noise (including loud conversation) to be inside with ranch sliders and windows closed by 10.30pm and to be kept at a reasonable, considerate level.
5. Guests may not engage in any illegal activity at the property.
6. Children, teens and non swimmers need to be supervised by an adult when using the pool and the spa, where applicable.
Breakages, Losses and Guest Charges
1. You are responsible for leaving the property in the state in which you found it on arrival. All breakages or losses must be reported immediately to us. Whilst we will not pursue reimbursement for minor accidental damage or normal wear and tear, the total cost of making good any other damage or loss to the property, pools, garden or contents will be charged for using the credit card provided for payment (or left for security). Please note this includes the removal of consumable items from the property which are provided for guest use whilst in-house and are not intended to be taken off site (examples include laundry powder, dishwashing liquid, toiletries provided in dispensers etc).
2. It is our policy to have all locks changed if keys are lost or not returned. All associated costs will be charged to the credit card provided for payment (or left for security) if this occurs. Similarly any remote controls will be replaced at your cost if lost or not returned.
3. Standard reset services on your departure are included in your rates. Guests are expected to leave the properties in a neat and tidy state without the need for extensive, excessive cleaning. You are responsible for all cleaning charges in the event that the property is left in a state that requires more than standard resetting. This will be charged for using the credit card provided for payment (or left for security).
4. Reasonable usage of electricity, gas any other utilities provided at the property are included in your rates. Excessive use may be charged for using the credit card provided for payment (or left for security). If charges are passed onto the Guest, evidence of charges will be provided on request.
5. Local telephone calls are included in the rate. Costs for additional calls may be passed onto guests.
6. WiFi is provided for your use. Illegal downloading strictly prohibited.
7. Management and owners are not liable for loss to you of any personal belongings while you are in the property.. We strongly recommend that you have travel insurance to cover you in the event of an unforeseeable loss during your stay. Guest items found by our cleaning staff are kept in our office for one month before discarding. It is the guest's responsibility to follow up any items that may have been left behind at the property. We request that guests send a reply paid envelope in order for us to return the items.
Complaints
1. You should not wait until you return home before complaining about any matter as no inspection can be carried out when others are occupying the property. We welcome hearing from you in relation to any complaints or concerns and prefer that you phoned us immediately if important, rather than when you depart, so that matters can be resolved quickly.
2. The place of law is New Zealand and the courts of New Zealand have exclusive jurisdiction.
Termination
1. Your occupation of the property may be terminated by management without notice in the event that you breach any material term or condition or in the event that any amount due is not paid.
Disclaimer
1.. Property management enters into this agreement on behalf of the owner of the property and is not liable to you in relation to the property or any services.
2. Neither property management nor the owner of the property can be held responsible for failure or interruption to power or services to the property for reasons beyond our control.
3. To the fullest extent permitted by law, property management and the owner disclaim all warranties in relation to the provision of services and the use of the property, and otherwise our liability is limited at our option to the supply of the relevant services again or the payment of the cost of having services supplied again.
4. Neither property management nor the owners are liable for any indirect, incidental, special and/or consequential damage or loss of profits which result from use of the property and services provided to you.
5. Property management reserves the right to relocate a booking to an alternative property of similar standard and location at any time. In this instance, guests will be offered either a full refund OR asked to confirm their stay at the alternative property.
You must also acknowledge
Must climb stairs - three sets of half flights of stairs....great for privacy!
Pet(s) live on property - Two very gorgeous young cats - Charlie & Daisy.... if on site we will need you to feed them please: food supplied
---
---
---
Great location between the nearby beach pool and hot tub at the house we didn't want to leave. Kitchen was awesome and very clean. Carolyn was more than welcoming and generous. Highly recommend both the house and hostess.
---
Alan and I are in our fifties - happily self employed. We both have years of experience in hospitality and enjoy meeting and ensuring guests have the best stay and kiwi experience possible. We have travelled extensively, enjoy fishing in our boat and love cooking up a storm.... especially Alan's world famous battered fish!...with chips.
I manage several holiday homes, mainly here on the North Shore (the best place in Auckland!) and we also Homestay.
Languages:
English
Response rate:
100%
Response time:
within a few hours
Explore other options in and around Auckland
More places to stay in Auckland: