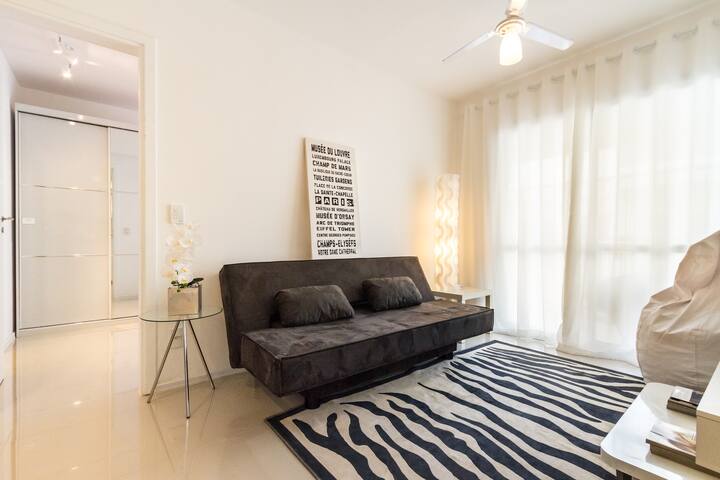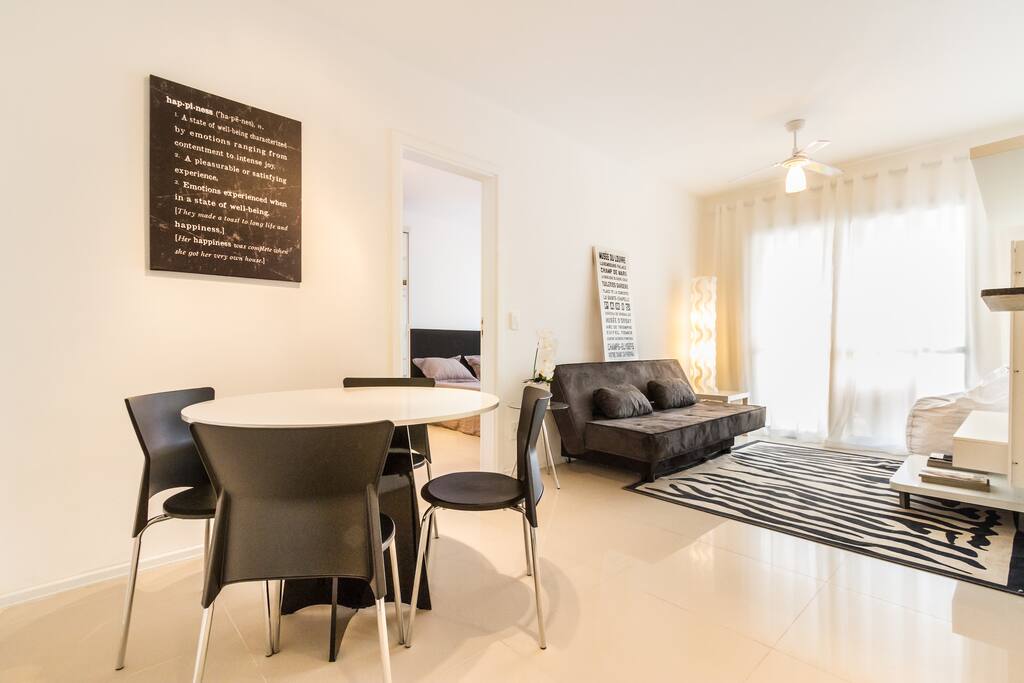 3 Apt. ao lado do Hospital Einstein
Our Flat is located in one of the newest and modern condominium in Sao Paulo. Stunning common areas will be what will make the difference in your stay.
The neighbour is very well served with all the services needed in a short or long trip.
---
---
Always communicate through Airbnb
To protect your payment, never transfer money or communicate outside of the Airbnb website or app.
Learn more
---
We expect the guest to take care of our house as their ones.
---
---
---
Apartment basically as described - a bit smaller than the pictures suggest. Clean, all in good working order: Cable TV, fast broadband Internet with WiFi, microwave, gas stove and a very convenient Samsung washer/dryer! Condo is only 1 year old and has really good infrastructure - internal and external pool, working Sauna and Steam room. Plenty of space for a walk. Free, easy parking. Pet safe and has a sepcial area for your dog tp run and play leash free. Minor problems: matress too soft (makes a U if you're on the heavy side). Sofabed not very comfy for watching movies but gets much better once you turn the sofabed into a bed and lie down using pillows for support (you can use the beanbag as a footstool for two). The area is not the safest in Sao Paulo espeially at night but that is the case with most SP areas. Some construction noise in the condo as it is still new.
Hi Alex , thanks for your stay and your suggestions , i'm sorry that your perception of the apt was 'smaller' than the pictures, but you can be sure that there's no photoshop because the airbnb site provides the photographer , and i'm sure that it always happens to you due to your almost 2 meters height ;-) . About the area, you know that Sao Paulo is like every other big city in the world, so there's no more or less safe area, but there's certainly a more safe condo as our is , we have double gate entrance with several security officers on duty 24hr a day , that's a great convenience. Will wait for you to come back.... Bye. Giuseppe
---
Giuseppe é muito atencioso mas pelo visto, não aparece em seu apartamento para verificar as condições de uso há algum tempo. Embora apareça como um item incluso, não havia secador de cabelos, conforme anunciado. Eu mesmo o informei via (SENSITIVE CONTENTS HIDDEN) mas nada foi feito. Há praticamente uma lâmpada queimada em todos os cômodos do apartamento; não havia saca rolhas (embora haviam 2 taças de vinho), não havia nenhum detergente e o pano de prato estava bem encardido, com aspecto de sujo. O congelador da geladeira precisa de um degelo urgente porque está completamente cheio de gelo. O sofá da sala precisa de uma lavagem porque está com muitas manchas de uso deixando um aspecto nada favorável. E havia uma mesa de apoio com os pés desregulados fazendo com que o tampo fique penso. Por fim, e para mim o item mais importante para uma estadia, quero falar do colchão. O colchão precisa ser trocado porque está completamente afundado tornando a noite de sono, muito desconfortável. Ao meu ver, o apartamento precisa de cuidados básicos, e rápido. Ótima localização e segurança. Voltaria a locar apenas se os pontos reclamados estivessem regularizados.
Ricardo, bom eu estou sempre vendo os apartamentos, e tem razao a lampada queimada fica sò na sala pois nao è a lampada mas o aplique mesmo e tem que vir eletricista, outra lampada queimada na cozinha eu mesmo troquei , e tambem foi ver vcs para a questao do cracha do carro tanto que quando vc nem tinha chegado e a tua hospede tinha jà chegado foi bater na porta mas nao tinha ninguem , portanto nao diga que nao apareco, a respeito dos itens mancantes pode acontecer (infelizemente) que algun hospede leve em bora algo ou quebre e jogue fora, mas claramente è bem mais simples ser percebido pelo hospede seguente (sempre se precisar do item ) que nao por mim que nao posso fazer a conta a cada dois ou tres dia que muda o hospede de todos os utensiliso do apt. Este tipo de geladeira infelizemente faz sempre gelo na parte do freezer, nao adianta desgelar pois o dia seguente està assim (nao sao as no frost) A cama pra ser sincero nunca dormi là, mas uma noite desta vou testar .... Sò podia ter 'reclamado' na hora de reparar tudo isso ( assim como me escreveu do crachà que nao te entregaram na hora da chegada e eu rapidamente providenciei copia ) e nao sò depois que teve que ir embora um dia antes , deixando uma recensao tao carinhosa (a unica em dois anos ) e claramente nao consegui reembolso nenhum ... ;-) volte sempre !!
---
Ótimo apartamento, só deixou a desejar na limpeza.
Boa tarde, o dia antes da chegada de vcs foi a empregada que normalmente limpa o apt. e ficou bem 4 hrs sò nele (47 m2), quando vc me avisou no dia seguente apois vcs passarem a noite là e foi ver o apt., encontrei uma situaçao bem difficil para avaliar, ou seja todos os lencois tirados da cama , (nem sei onde vcs durmiram ) o seu genro durmindo no sofacama nem sei em cima de coisa, (continuo durmindo mesmo com estranhos là em casa...) o cachorro tbm ficou là a noite tuda, e quando foi pessoalmente ver no banheiro o que vcs diziam ser um banheiro sujo (nao vi praticamente nada) , me disculpam mas è a primeira vez que alguem lamenta da limpeza , mesmo depois de passar a noite e claramente sujar e deixar tudo ammassado no armario, mesmo os lencois limpos e passados que teve obviamente que relavar e repassar todos !!
---
Hi, i'm an italian guy living in Brazil since July 2009 and experiencing this 'new' life in a such big city as Sao Paulo.
I'm originary of Naples italy and that's why i love going to eat in beautiful and rinomated restaurants (in Naples we have very good food), and Sao Paulo offers a huge choice about food.
My apts will be exclusively yours and the facilities of the condominium are better than a 5 star Hotel, and you will have all them at your own use, so it's only to start 'testing'.

Bye....
Languages:
English, Italiano, Português
Response rate:
100%
Response time:
within a few hours
Explore other options in and around São Paulo
More places to stay in São Paulo: