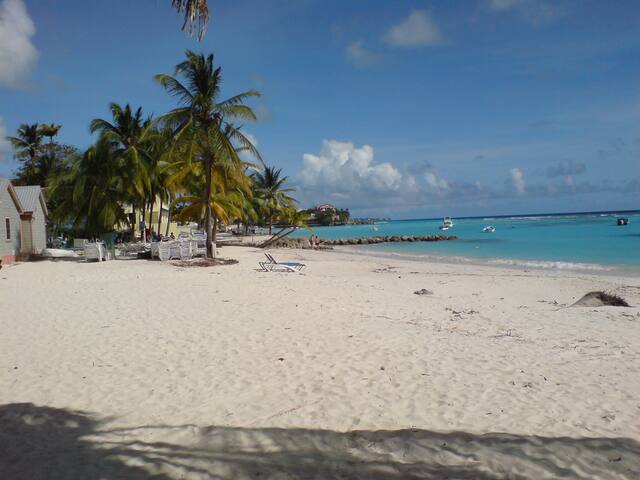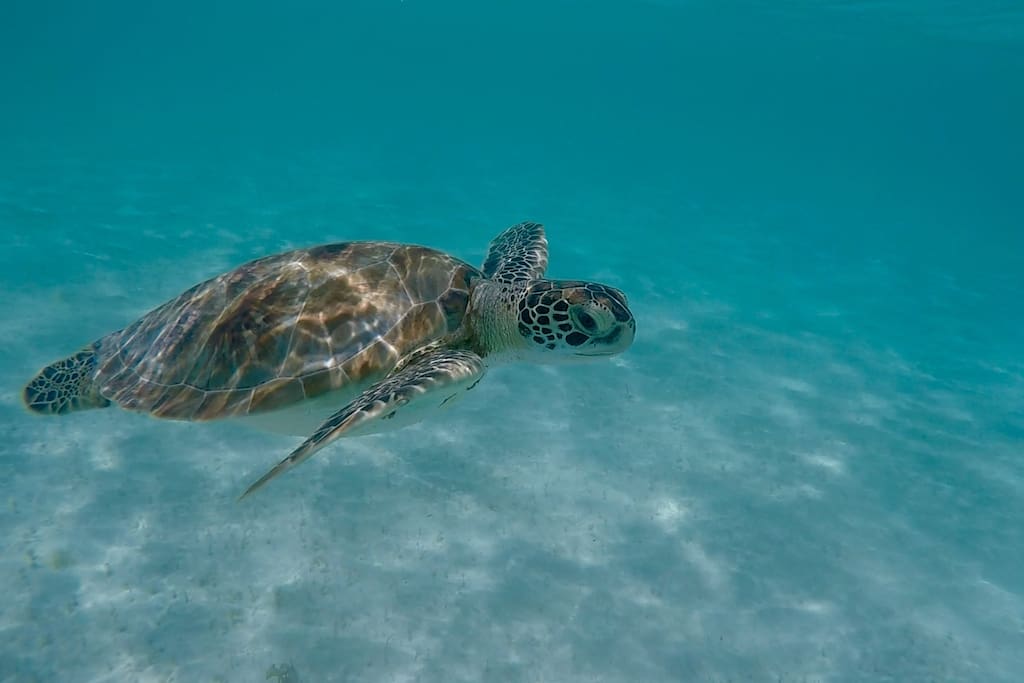 Beach guesthouse Cleverdale Saint Lawrence Gap Worthing. Free Wi-Fi & Safe Box.
Single-double small room 1-2 person with fan use, own bath, complimentary kitchen & living–dining room, veranda has sea view.
Air-conditioning at additional cost can be obtained at arrival in bedroom. In Saint Lawrence Gap main tourist area of Barbados you will find hotels, restaurants, bar, beach bar, shops, disco, nightlife in 5 min walk from the house.
Some life entertainment at the open air clubs.
The space
Please always ask us for availability as this booking system sometimes show that we are fully booked but we do have availability.
*Barbados beach guest-house & apartments Cleverdale * Worthing – Saint Lawrence Gap, South West Coast of Barbados.
There are several different accommodations available at this property.
We rent guesthouse rooms, self-catering studio apartments or 3, 4, 5 bedroom guesthouses.
Free Wi-Fi (fast fiber optic cable) & safe box in the room.
Sea / Ocean / beach view from the veranda of the property. Sea / beach view see picture.
The property is surrounded by a tropical garden and it is lying close to a turquoise lagoon protected by a small coral reef.
This advertisement is for:
A small single - double room which has own bath.
The rate is for the room for 1-2 people and fan use. Air-conditioning can be obtained after arrival at additionally cost. Beds either 2 singles or 1 king size bed.
The three guest-house rooms of the main house share a complimentary kitchen & living – dining room and a large veranda with sea view and a tropical garden.
The well managed wooden/stone Beach guesthouse is built the traditional colonial style of the past and well renovated every year. The guesthouse is furnished and decorated the Caribbean way.
This accommodation is hidden from the main tourist area, still just a stroll of 3-5 minutes' walk to all amenities of the main tourist strip, the favorite Saint Lawrence Gap in Barbados.
Enjoy the sea / beach view to the opposite beach or just relax on the veranda and listen to the rolling of the sea.
Amenities Guest-house:
Living-dining room has radio, CD player, telephone and SAT TV.
The main guesthouse complete kitchen includes: Gas stove & oven, toaster, microwave, large fridge-freezer, coffee-maker, iron and iron board.
Bedrooms are furnished with 2 single beds or 1 king size bed and fans.
The rates here are with fan use.
Air-conditioning in the room at add. cost can be obtained after arrival if required.
Each bedroom has a safe box free of charge.
Mosquito nets are on the windows which are wrought iron burglar proved. Barbados has very little problems with mosquitoes but guests feel better when mosquito nets are provided.
Sheets, towels and room service are provided at least twice per week or on request.
The distance to the beautiful powder fine white beach is just 15 meter / yards. *Sandy Beach* is one of the most beautiful beaches in Barbados. The guesthouse is lying close to a turquoise lagoon protected by a small coral reef. There are more beaches in 5 minutes' walking distance as well.
Airport transfer to accommodation is about 20 minutes & the capital Bridgetown just 10 minutes' drive away.
Smoking is allowed on the veranda and in the garden.
The center of St. Lawrence Gap in Barbados which is the main south coast tourist area is about 5 minutes' walk.
In Saint Lawrence Gap you will find hotels, restaurants, delis, bars, beach bars, clubs, discos, super-markets and all kind of shops.
Golf, Squash, Tennis, Fitness center, other sports and most water sports like diving, sailing and Jet Skis are easily accessible.
The bus stop is about 50 yards/meter away. There are buses, mini-buses and route-taxis going to the capital Bridgetown (approx. every 15 min) and to other parts of the island until midnight. The bus fare is $ 2.00 BDS $.
Guest access
The three rooms of the main guesthouse share a kitchen & living – dining room, veranda with sea view and a tropical garden.
Free Wi-Fi (fast fiber optic cable) & safe box in the room.
Interaction with guests
We are always available for our guest and make sure they have a wonderful vacation in Barbados.
Other things to note
You find most of anything you might want for a nice and relaxed vacation in walking distance of a couple of minutes.
No need for a car in this location.
---
---
Always communicate through Airbnb
To protect your payment, never transfer money or communicate outside of the Airbnb website or app.
Learn More
---
Check in time is 2PM - 11PM
No smoking in the house. Smoking allowed on the veranda or in the garden.
---
---
The minimum night stay for this listing varies.
---
I had a great stay at Brigitte's guesthouse! It was as described, clean, neat and with an amazing view of the beach from the veranda at the entrance. Brigitte was very kind and always quickly answered my messages or questions. The location is also great, waloong distance to other stunning beaches, two supermarkets, bars and restaurants. I would definitely recommend this place and would stay here again!
---
The house was super close to the beach. Beach was nice too all sand and beautiful. The oven was broken. And the safe didn't work either. Room was very hot even with a fan. Very small room also. Bridgett was helpful with all that we needed
Response from Brigitte B:
Hi Nate. You told me that the oven is broken. I was calling a technician which take 3-7 days in Barbados. When he came he said and showed me that the oven was working. You didn't hold the oven knob long enough and that was the reason that you didn't get the oven working. I had ask you if you want to do anything in a safe after I saw that the safe key was not working. The guests who left the same day didn't told me about it. As you said that you don't need the safe I changed the safe on your departure day. You were 5 nights in my guesthouse. In Barbados it is not easy to get things repaired fast. It takes a couple of days before we can get somebody. The large hotels have their own maintenance people for that reason. A small person with a guesthouse has to wait. Anyhow you had 2 fans in the room. I used to get once a complain when the room had only one fan. I never had a complain since and many guests were sleeping in this room. Maybe the Caribbean Islands are to hot for you. I suggest you book something with AC on your next trip to the Caribbean as nobody has 2 fans in the room to make people feel comfortable. By the way why didn't mention it when I saw you? Then I could have checked if both fans are working properly. Anyhow I am sorry for any convenience caused. Brigitte
---
I loved the proximity to the beach and the main road. It was easy to navigate my way around the town; just a 5- minute walk to the restaurants and busy nightlife of St. Lawrence Gap or the supermarket. The guesthouse was comfortable. I didn't require much as I knew most of my time would be spent outdoors. There is a living room with tv and kitchen for use. Wi-fi was amazing, with coverage extending all the way to the beach. I never met Brigitte but spoke briefly on my last night. I did meet Stephanie, though a bit late to our meeting, was very nice and willing to help. Overall a good stay for a much needed mini-vacation.
---
the stay at the guesthouse was really nice! my room and bathroom was very clean and the kitchen was well equipped! the location is very convenient as well n makes it easy to access local restaurants, supermarkets and beaches. Brigitte and her team were very helpful and friendly. I can honestly recommend you this guesthouse!
---
The guesthouse was really close to the beach, the kitchen was clean and for the price is was pretty good. It was low season but the 5 rooms in the house had people, but was still quite enough for us. The only thing wrong was that nothing is provided, not even toilet paper. Other then that we would probably stay with Bridget again.
Response from Brigitte B:
I am sorry that the maid didn't put a roll of toilet paper which we supply at arrival. I am not sure why I didn't saw it when I checked you in. It is not easy to provide an International service as the people in Barbados are nice but always forget something. Next time you will have toilet paper.
---
Got to the place mid/late afternoon. Could not get in! There were four smelly ashtrays on the terrace full to the brim, the place was not on the beach as advertised and expected, and even though it was fully paid for preferred to walk away.
Response from Brigitte B:
Dear Mr. Fabre, Thanks for your feedback. There is no reception at this guesthouse but we went to the house many times that day. Our office for all my properties is about 10 minutes drive away from this guesthouse. We tried to meet you at the house from 12 o'clock onwards and went there every 45 minutes but we have to go back to our office to do our work. Why didn't you call us? when you got there. You had our telephone number. Additionally there are many phone booths and everybody in Barbados will let you use their phone for a local call as there are free of charge. We can't see what the guests doing when they smoke and the maid is not there everyday. The tables to smoke are outside on the veranda of the house. If a guests communicate to us that they don't like that then we tell the guets to smoke in the large garden. The description which I did myself states that you allowed to smoke at this guesthouse. If you know that you are sensitive of smoking outside I am wondering if you did read the long description I did to make sure that everybody know the facts. Certainly I will look and speak with the person who went and check for you down there how the ashtrays for all 4 tables could had been dirty. I have not had any complaints about that. I will make sure that the guests who are smoking clean their astrays as well in the future on days when the maid doesn't work. Thanks for letting me know the above as I can only change things which I know. Anyhow I also wrote in the same description that the guests have sea/ocean view from the house veranda. Nowere I wrote that the house is on the beach. Anyway the house is 15 meter / yards away from the house. That is not even a 2 minutes walk. We have a lot repeat guest at this house from guests who appreciate a low nightly rate and having access to a nice beach with turtles swimming around them many times. There is no guesthouse on the beach in Barbados in this convenient area of Saint Lawrence Gaps walking distance. Taxes and repairs are very high when close to the ocean and that is the reason that there are only hotels on the beach which charge a lot more. You booked the cheapest and smalles room for 40 US per night. The studio apartments have their own area at the house. This might had bean better for you to stay without other guests around. I don't know that anybody who search the Internet for Barbados would expect a place on the beach for that price. My rates are reasonable and value for money in this area. Anyhow I just wanted to let you understand my thinking about your review and I will definitely make sure that the problems are addressed. As it takes between 1-3 hours after arrival before guests coming do the house we can not do better then what we do. We ask the guests to call us when leaving the airport. In 30 years I never have miss a guests yet. I hope you had a good time in Barbados and enjoyed your vacation. Brigitte Taylor
---
The beach house is cheap and clean, but the rooms are small and hot. The fan is very low power, almost nonexistant. The beach is very close. The people running the place were very nice and helpful, especially Stephanie. The kitchen is clean and nice. It is a good place to call home while exploring Barbados. The guest house has multiple rooms and the bathroom is on the corridor, not en suite.
Response from Brigitte B:
Dear Roosa, You have stayed at beach guesthouse Cleverdale. Thanks for your review as they help us to see if everything is in order. By the way you had booked the smallest and cheapest room which has own bath but the bath is opposite the room. Usually rooms in that price range in this excellent area of Barbados don't even have own bath. They have shared bath in other guesthouses. If you had told us about the fan we could had changed the fan while you visit. Nobody complained about the fan before. Anyhow thanks for letting me know now so I can change the fan in the room. We wish you all the best. Stephanie and Brigitte
---
Brigitte Taylor from Barbados,
I am a German women who decided 28 years ago to get away from the bad weather and live in a Country which has lots of sunshine :-)

I was working for myself in Germany and when I came to Barbados I was trying different businesses before I found the work I love most.

To make people happy is my goal for life which is more important to me than to make a lot of money. Since I started to operate a vacation rental business about 25 years ago my life has changed and I am always happy when my guests have a good time and I can help to make it happen.
I get many very nice reviews in the Internet which shows me that people do appreciate my way of given them a good time and all information needed for a great vacation in this beautiful Island of Barbados.

I have a lot of repeat guests for my business as guests get value for the money spend in Barbados and on my accommodations.

I would be happy if you come and visit this small paradise Island Barbados.
Have a great life
Brigitte
Languages:
Deutsch, English
Response rate:
100%
Response time:
within a few hours
Explore other options in and around Saint Lawrence Gap
More places to stay in Saint Lawrence Gap: