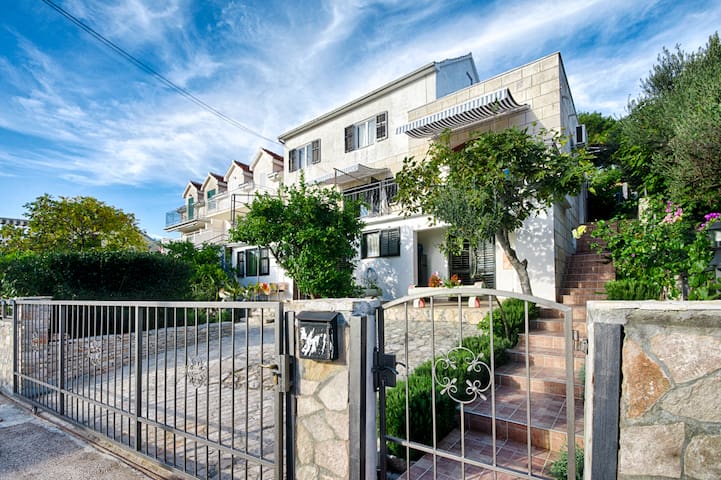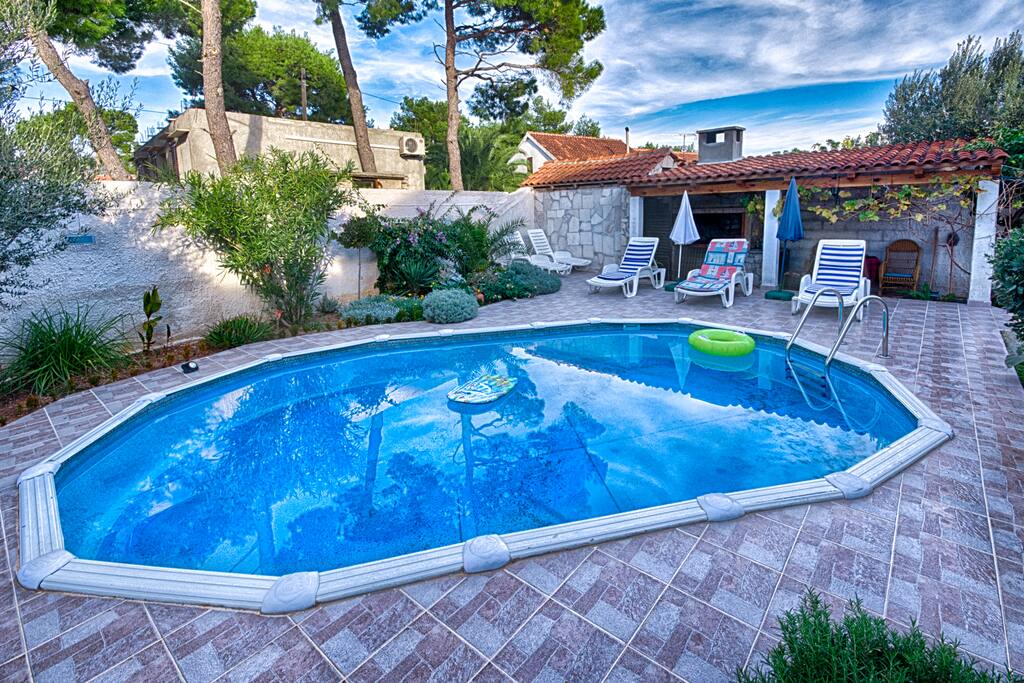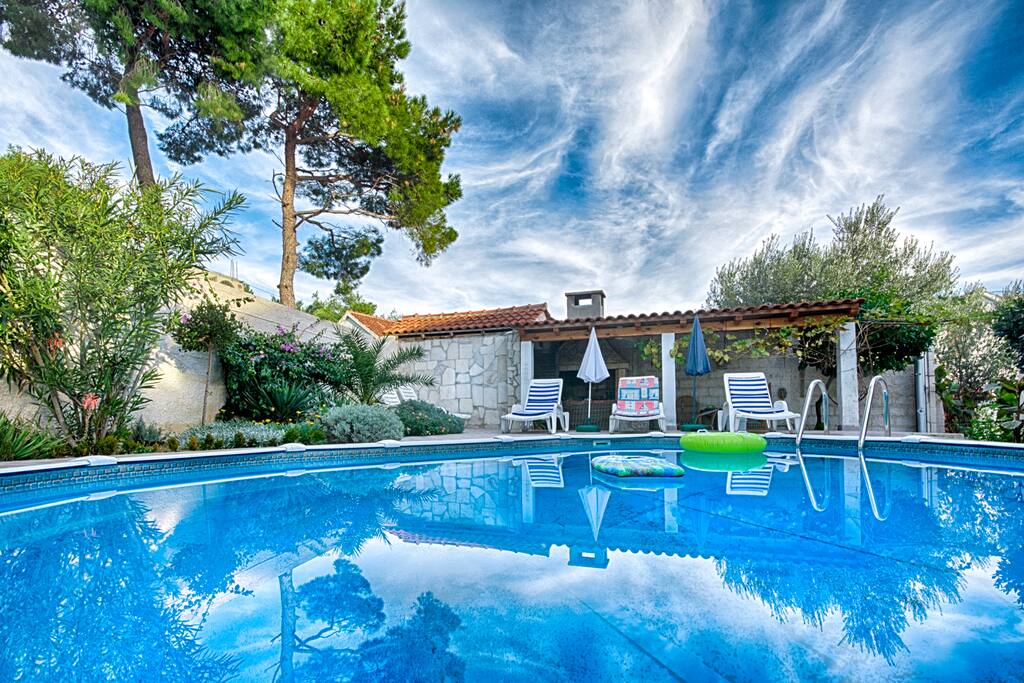 Located in Milna, Apartments Vrancic offers an outdoor pool. This self-catering accommodation features free WiFi.
At Apartments Vrancic you will find a garden, barbecue facilities and a terrace. The property offers free parking.
The space
Milna is situated in a deep harbour on the western coast of the Brac island, some 20km from Supetar. It is typical Mediterranean fishing village. Place today has about 1000 inhabitants. The crystal clear sea, beautiful beaches, domestic healthy food, ideal condition for diving, sailing, fishing, and a fast connection to the land, rich cultural life in the place, peace and silence in the place with no big crowd, that are main advantages of Milna. Our 4-star apartment complex in Milna, (Brac island, Croatia) is centrally located. The Apartments Vrancic features an outdoor pool. All 4 Apartments at the Apartments Vrancic are air conditioned and equipped with cable / satellite channels, TV, free internet, and private bathroom. The apartments at the apartment complex include tea and coffee making facilities and a refrigerator. Bathrooms in the apartment complex showcase a shower and towels. The kitchenette includes a microwave and allows guests to self-cater.
---
We (myself, my wife and two young sons) booked these apartments via Airbnb in January 2017 for dates in August 17. On the 010817 I contacted the host and confirmed our reservation, we even arranged to be met at the ferry port the following day, 020817, as we were travelling 4.5 hours by ferry from Dubrovnik. However, the following day as we were boarding the ferry at 16:00 we recived a call direct from Airbnb informing us that the host had cancelled - without explanation! During the ferry ride and with a little help from Airbnb we desperately tried to find alternative accomodation. Unfortunately, this is peak season and nothing was available - anywhere on the island. Airbnb advised we fend for ourselves for the night and they would be in touch the following day to check we were safe and they would try to find suitable accomodation. We arrived in Milna at night with nothing but our bags, no where to stay and very little money. With help, friends found us one apartment in a village which was a 40 minute taxi drive away. At the the of writing we have one more night in an apartment which has no aircon, no pool and has cost an additional €160 plus €45 taxi. We have 4 days left before we can return home and need to find alternative accomodation, however we can only find 1 apartment at €140 a night. The host knew the situation we would be in as Milna/Brac is at its peak. We received no apology or explanation from the host who left it to Airbnb to sort out. I can honestly say yesterday was one of the worst days of our lives, absolutely traumatic. I am thoroughly disgusted at the host who knew exactly the predicament he would be placing us in and he didn't have the decency to contact us himself. We are stuck on an island and having to spend hundreds of pounds just to find somewhere to sleep.
---
We were arriving though ferry to Milna a little bit late and Zeljko was waiting us at the port ready to take us home. They were really helpful and showed us some places to eat and rest / sunbath. The apartment was a 6 people apartment (we were 2) really big and provided with everything: 2 double beds and 2 single ones. It has air conditioning for the hot nights. It is also located on top of a hill that might be a little hard or tiring to access but is manageable (maybe cars might have a little trouble getting there). We only stayed for a night and were mainly outside so we could not enjoy the pool or their amiability but was an overall good experience.
---
We had a very pleasant stay in this apartment. Actually during our arrival there were some communicational issues (the one who rents out the apartment did not communicate very well with us, and provided an address which had a spelling mistake, why we could not find it at first); but with the help of some locals we found it eventually. Our stay was not expected, since they usually had (URL HIDDEN) guests, but pleasantly enough the apartment for 4 people was still free and we could stay there. The view from the apartment is amazing. Walking to Milna is about 5 minutes, walking to the beach takes approximately 10 minutes. Next to that there is also a pool in the garden, which was nicely cooling. The pictures do not correspond totally, since the apartments are renovated and it is way better than shown on the pictures! We had our own balcony on which we spend a lot of time. Zjelko, his wife, sun and grandkids were all very nice and helpful. Although there was a lack of communication in the beginning, the stay was very nice and I would still recommend it!
---
Het apartement ligt op een mooie rustige plek in Milna. Weliswaar op de heuvel dus het vergt een flinke klim naar het dorp. Het apartment is netjes en comfortabel. We hadden voor 8 dagen weinig handdoeken maar konden wel gebruik maken van de wasmachine dus prima. Peter was dagelijks druk bezig met het zwembad omdat die wat problemen had met de pomp toch hebben de kinderen wel genoten van het zwembad en wij van de geweldige BBQ met buitenruimte. We huurden het apartement van Zeljko en na een lastige communicatie start verliep dat op zich prima. We hebben Zeljko uiteindelijk zelf niet gezien maar Peter (zijn zoon?) is een goede gastheer!
---
Hello, My name is Zeljko and i own house with four apartments for rent in Milna, on Brac island (Croatia). Me and my family offer our guests relaxing family atmosphere environment, nice renovated apartments, only 100 meters from the sea coast. Come and spend a pleasant vac…
Languages:
Deutsch, English
Response rate:
90%
Response time:
within an hour
Explore other options in and around Milna
More places to stay in Milna: