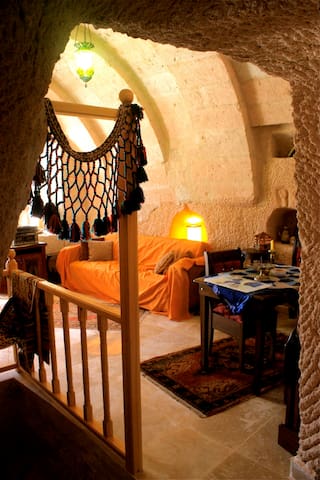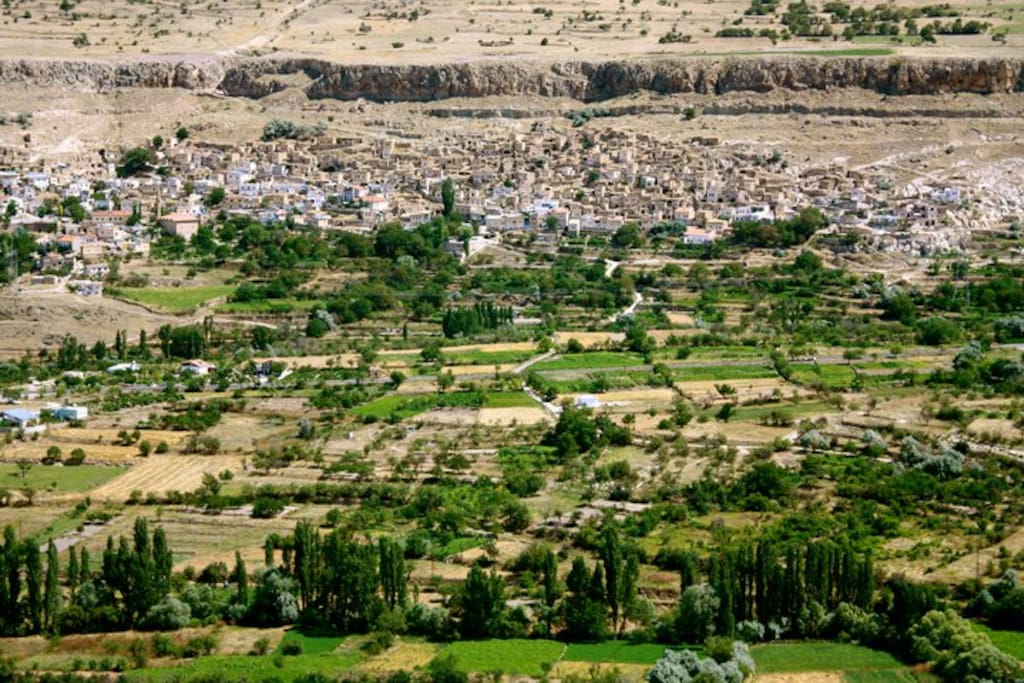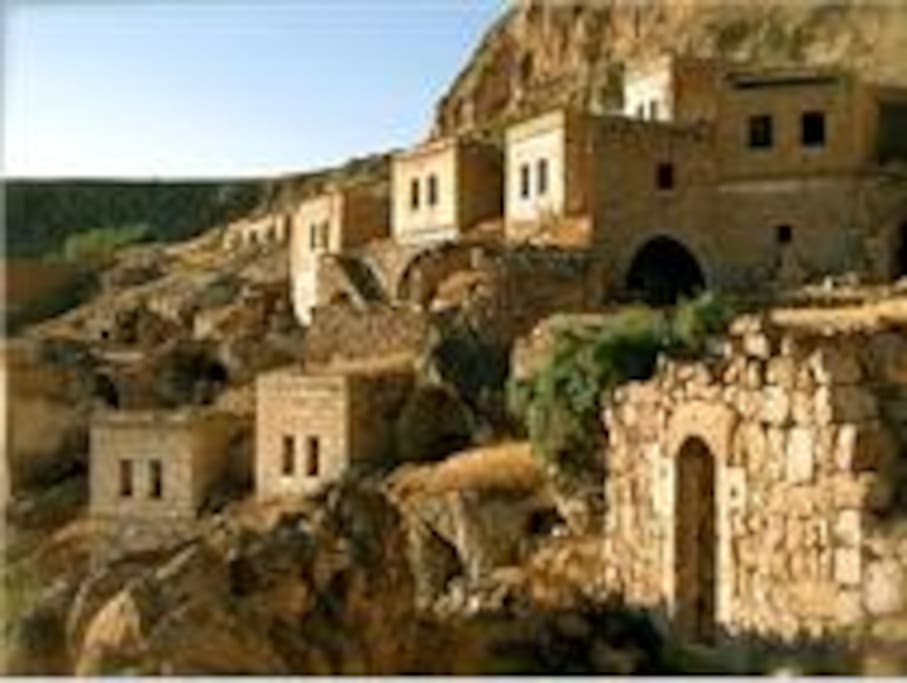 Cappadocia Cave Museum House
Fully furnished artists' residence, built with local material, decorated with frescos, and in a rustic historical setting, very close to all important sites in the UNESCO WORLD HERITAGE region of Cappadocia, Turkey. The village is a true museum.
---
---
Extra people £30 / night after 2 guests
Always communicate through Airbnb
To protect your payment, never transfer money or communicate outside of the Airbnb website or app.
Learn More
---
This is an old Anatolian village so please be respectful to your surroundings and dress appropriately. The villagers are most welcoming and friendly and they are engaged in traditional agriculture. You will be safe, and welcome. You can safely go trekking, interact with the locals, and have easy access to all major sites in Cappadocia by car. Do remember, however, you are in a Muslim rural hamlet and please avoid excessively revealing clothing for the sake of civility and respect to local customs.
---
Moderate
Cancel up to 5 days before your trip and get a full refund. Cancel within 5 days of your trip and the first night is non-refundable, but 50% of the cost for the remaining nights will be refunded.
---
---
---
She made us feel very welcome, even though we only communicated by e-mail and one telephone call. She has caretakers who live next door. I was able to phone them and let them know we were coming. Even though we didn't speak each other's language, the young woman ran down a path to greet us with a warm smile and gandshake when we arrived. She showed us to the house and showed us how to work everything. Told us we could call anytime if we needed anything. Then, she honored our privacy. I said hi to her every morning over the adjoining wall when we were both outside. The house is as advertised. Although very old, it's been refurbished and has modern amenities. It is decorated beautifully with much of the owner's own artwork. We spent 2 delightful afternoons with the neighbors on the other side. We were able to communicate with the help of Turkish-English dictionary. Very warm, generous people. You need a car to reach this house. Also, you must be able to walk up and down rough paths. Once in the house, steps are modern, but must use steps to go to bedrooms and bathrooms and kitchen. We spent time on the patio enjoying the peacefulness and beauty of the valley. It was magical during the call for prayer times.
---
Nergis was an incredible host. The home is a quaint, lovely house in a remote village. Naturally, I was slightly anxious about how to get to the house and how we were going to get around. Nergis made sure that we knew everything we needed to know and introduced us to a driver, a travel guide, a rental car company, her neighbors... I could keep going. It was such a unique experience to experience Cappadocia from a village with such a local experience. The home was also very adorable and nicely decorated. It did get pretty chilly at night but there were sufficient blankets to keep us warm.
---
We really enjoyed our stay in this amazing, remote location. Highlights included being invited in for tea with Ibrahim and Fatma next door then helping them deliver their new cooker by donkey the next day. Their warmth and friendliness was an unexpected pleasure. The house is a good base for visiting Goreme, Urgup and other places on the Cappadocia tourist trail. The house itself is a fascinating structure, simply equipped and a cool place to be on a hot day. The shaded terrace has outstanding views and a divan to lounge on. As a tall person, I found I had to take care moving around and the fittings (kitchen in particular) would benefit from an update, although this is reflected in the price. If you are looking for an authentic Cappadocian rural experience and are not seeking luxury, I would certainly recommend it.
---
It is an amazing house located in a very local and quiet village, and the house is decorated by a lot of photos and paintings that are all done by the hostess. We really think the information that the hostess provide is very useful and the guide called Ahmet recommended by the hostess is so reliable and friendly.
---
Likes:
Restorative justice, Transitional justice, Crimes against humanity., International criminal law, Clowning, Mime artist, Tori Amos, Türkiye'nin En Büyük Amatör SanatçıLar PLatformu, İSTANBUL MUZİSYENLER BİRLİGİ, Pan Müzik Atölyesi, 45lik Hayranları/Nostalji Rüzgarı, Zemer Chai - D.C.'s Premier Jewish Choir, HaZamir: The International Jewish Teen Choir, Toronto Jewish Male Choir, War Child Music, Amy Winehouse, Sumeyra, Bach, Handel, Yedid Nefesh, Villa Lobos, Eric Satie, Ayse Tutuncu, George Gershwin, Elgar, Jordi Savall, Münir Nurettin Selçuk, Phillip Glass, Schubert, Felix Mendelssohn, Cem Karaca, Arvo Pärt, Ofra Haza, Duman Fan, Murat Aydemir, Toronto Mass Choir, Tom Waits, University of Toronto Gospel Choir, Yasemin Mori, Hans Zimmer, Kronos Quartet, Sonrasi Kalir, Aristotle, Alice In Wonderland, Saatleri Ayarlama Enstitusu, Olmeye Yatmak, The Waste Land, Ben Sana Mecburum, Sevda Ile Sevgi, Eski Türk Filmlerini Bayılarak İzleyenler :), Shadowlands, Sundance Film Festival, National Geographic Channel, The Guardian, Taraf Gazetesi, La Linea di Osvaldo Cavandoli, Recep İvedik, New York Foundation for the Arts, Rudolf Steiner, Adatepe Taşmektep, Sandemons - Sand Sculpture Company, Oregon Kitemakers Retreat, Can this Onion Ring get more fans than Stephen Harper?, HATAY AMİK GÖLÜNÜ GERİ İSTİYORUZ, grafik tasarım dergisi, greentraveller, Éco-Énergie à Montréal, ADALAR, fotograf yarışmaları, Praxis Theatre, Dmitry Dmitriev, TÜRK FOTOĞRAF SANATÇILARI, A Pulkauninko kinetinis teatras. A Pulka Physical Theatre, FOOL - Festival of Oral Literatures, Nazım Hikmet Ran, Cappadocia Photo Clup, indigo dergisi, Arkeo-tr, Sarcasm Society, Bırakın HasanKeyf Keyfine Baksın, Innovo Physical Theatre, IPAN International Performing Arts Network, Circus Minimus Puppetry, Mordillo, CRITICAL RUN, International Music Score Library Project (IMSLP) / Petrucci Music Library, William Morris (), Molière, PUSH Physical Theatre, goran bregoviç, Marcel Proust, National Geographic Photo of the Day, Jewish in Toronto, Amadeo Modigliani, Adile Naşit, Özdemir Asaf, Clowns Without Borders South Africa, Connecticut Guild of Puppetry, Yaya Derneği, High Park Choirs of Toronto, İSTANBUL KÜLTÜR SANAT, Payasos Sin Fronteras - Clowns Without Borders, Cihan Yüce Photography, FTA - Festival TransAmériques, Clowns Without Borders - Canada, Polis Şiddetinin u, The Walrus Magazine, Workmen's Circle/Arbeter Ring, Leopold Center for Sustainable Agriculture, Petr Frolich Photography, UN Watch, Michelangelo, Doğa Derneği, VIVA! Youth Singers of Toronto, Roadsworth, Foundation for Jewish Culture, Russian Jewish Institute, Res Artis, Worldwide Network of Artist Residencies, DANSKEYFİ, Greenpeace Akdeniz - Türkiye, FOTOĞRAF SANATI KURUMU DERNEĞİ ( FSK ), Transitions Global, Loredana Guinicelli Photography, Live Earth, William Saroyan, The International Ecotourism Society (TIES), Nikos Kazantzakis, Annie Leibovitz, Ihsan Oktay Anar, Genco Erkal, Walter Benjamin, Royal Horticultural Society, Osman Hamdi Bey, Gabriel García Márquez, Sustainable Harvest International, Jewish Music Institute, Müşfik Kenter, War Child Canada, AKUT Arama Kurtarma Dernegi, Rainer Werner Fassbinder, Pablo Neruda, Nuri Bilge Ceylan, David Lynch, Friends of the Earth U.S., Nikola Tesla, Dancemakers, Edip Cansever, Why can't Jewish songs go mainstream?, Local Travel, Foto Kadraj | International Clown Hall of Fame and Research Center, Tarihte Bugün, Ailanpa Cafe Winebar, TREKKING & HIKING & CLIMBING, Ecotourism Network, Vacation Rentals, Fotoğraflarla Arkeoloji, Cumartesi Anneleri, 80'li 90'lı Yıllarda Çocuk Olmak, bougainville turizm, Teatron Toronto Jewish Theatre, Gezi Önerileri, ecotopian, SansüreSansür, Günübirlik Turlar, Denizleri seviyorsan dalgaları da seveceksin, Portre Fotoğraf Sevenler, ArchaeoJobs, BUGÜN NE PİŞİRELİM, Dünyanın Fotograf Kulübü / World's Photo Club, The Toronto Institute For The Enjoyment Of Music, DAĞ FİLMLERİ FESTİVALİ, Gayda İstanbul, İstanbul Sualtı, Sustainable Travel International, Puppetry Arts Institute, ¡MI CASA! THEATRE, iyi insanlar için iyi şeyler, The Seed of Hope, Erik, Clowns Without Borders International, Travel Turkey, Adventures Within Reach, HİTİTLER, European Cinema, Multinational Exchange for Sustainable Agriculture, Seaborne Dalış ve Doğa Sporları, ESKI Istanbul, Jewish Culture, Jewish Music Festival, Non-Profits on , Elevate Destinations, Conscious Alliance, Türküler Sevdamız, Fotoğraf, University of Toronto Jewish Studies, Şahin Kaygun, Penguen, The Toronto Jewish Film Festival, Oxygen Outdoor, Babylon Istanbul, Bodrum Sualtı Arkeoloji Müzesi / Bodrum Museum of Underwater Archaeology, mocha | museum of children's art, DİREKLİ MAĞARASI - KAHRAMANMARAŞ, Ast-Tur Ortakent Turizm Bodrum çıkışlı yurt içi ve yurt dışı seyahatler, Küllüoba, European-Ecotourism-Conference, National Geographic Türkiye, Museum Of Puppetry, Bunraku Bay Puppet Theater -- Traditional Japanese Puppetry, EDEN - "European Destinations of Excellence", Bir Hitit Başkenti: Şapinuva, İstanbul, Arkeoloji ve Sanat Yayınları, The Dragon's Path: Cultural Walking Adventures, Archaeology tools and equipment, Museum of Contemporary Canadian Art (MOCCA), Center for Puppetry Arts VOLUNTEERS!, Corning Museum of Glass, ekoVenture, MoMA The Museum of Modern Art, Istanbul Archeological Museums - İstanbul Arkeoloji Müzeleri, The Onion, [places for writers], Center for Puppetry Arts, Vic Campos Photography
Languages:
English, Français, Türkçe
Explore other options in and around Nevşehir
More places to stay in Nevşehir: