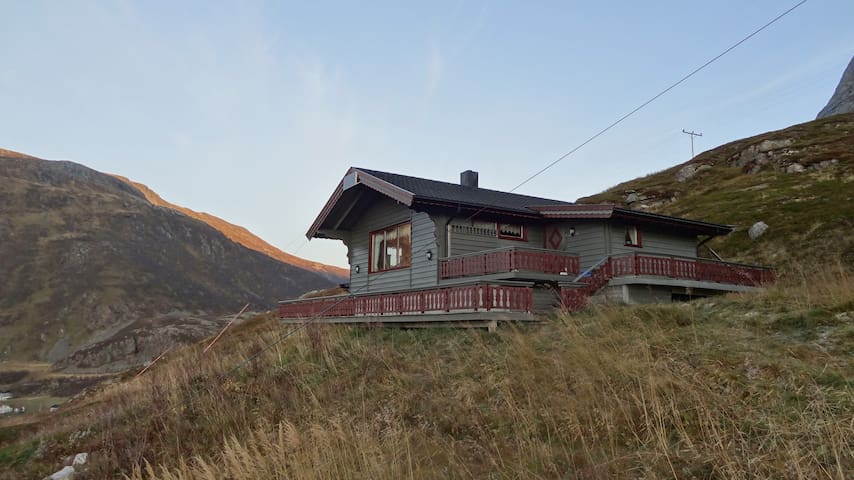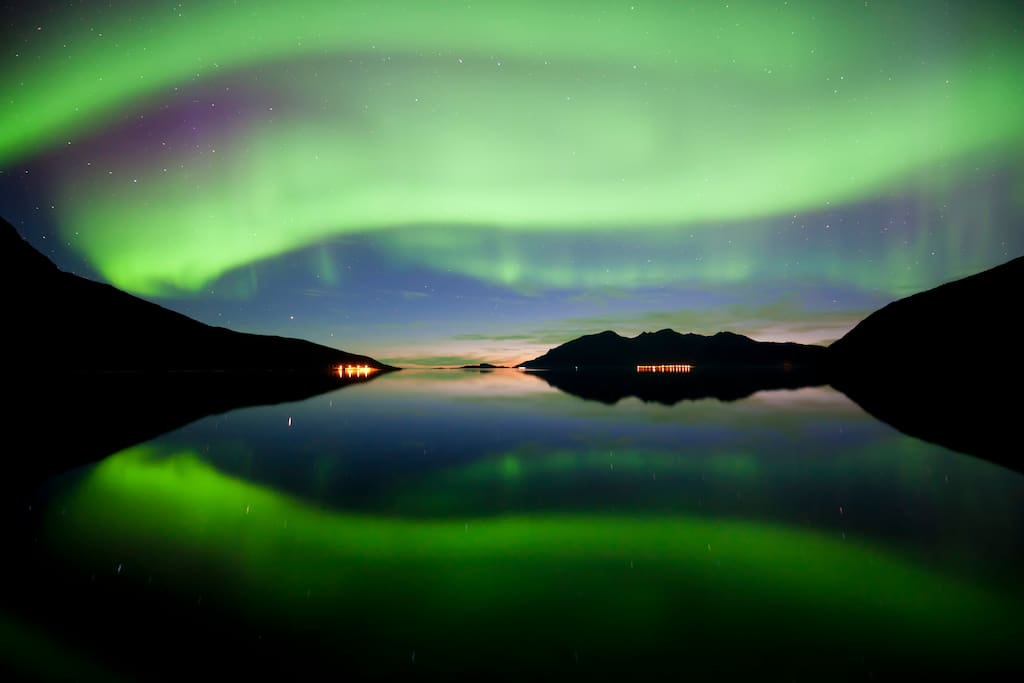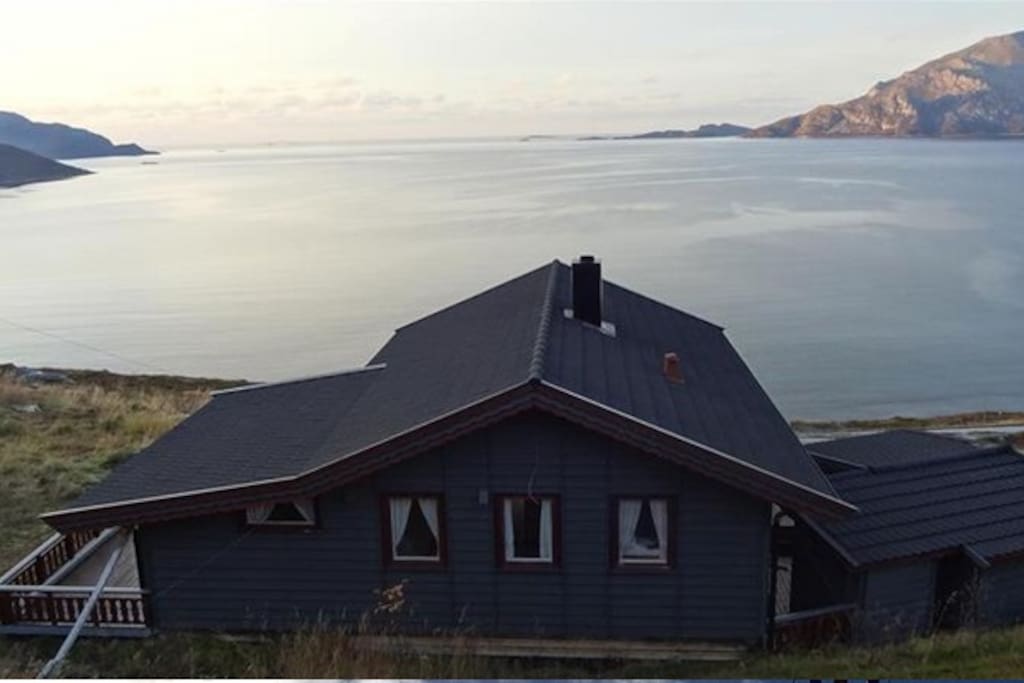 The Cabin is in Grøtfjorden, 35 minutes driving from Tromsø Airport. Enjoy a spectcular view from the balcony. After a long day, of tough activities, sit down outside with a varm blanket and let the Northern Lights do the entertaiment for the evening

The space
Are you searching for great adventures?
Do you want to experience northern lights, live close by the ocean and in the middle of the amazing mountains of Kvaløya?
In Grøtfjord, 35 minutes away from Tromsø Airport, you can get all this - and even more!
Our cabin is the perfect starting point for your next adventure in the North Norwegian nature. We offer rental of quality eqipment and we will help you with guiding if you're in need of that.
Off piste skiing, fishing, northern light chasing, hiking – what will be your next adventure?
Guest access
-65sqm
-Big balcony with great view
-3 bedrooms with 5 beds. +5 Extra beds
-Bathroom with sink and shower
-Outhouse toilet
-Inlaid water only in summer season
In winter season, there is no running water, so you have to use the well beside the cabin.
-Heating with Fireplace only, wood is included
-Full kitchen with gas stove and refrigirator
-Electricity by solar panels 12V, and generator 220V.
-"No fee" parking
Interaction with guests
We can provide guiding on request.
The cabin is a 5 minute walk up an hill, away from the road.

Other things to note
Distances:
-Middagsfjellet (678m) - 0m
-Ocean - 200m
-Beach - 500m
-Breitinden (964m) - 5 km
-Hollendaren (1029m) - 5 km
-Blåmann (1044m) - 10 km
-Buren (802m) - 12km
-Tromvikvannet (lake and river) - 13km
-Skamtinden (884m) - 20 km
-Store (Eide Handel) - 21km
-Active Tromso - 29km
-Tromsø Airport - 30km
-Tromsø City Centrum - 35km
-The Arctic Cathedral - 36km
-Cable Car - 37km
---
---
Check in is anytime after 4PM
---
We could not recommend Aurora Lodge more- we absolutely loved our 5 day stay here. The cabin is different and really makes you feel like you are so somewhere special- the cosy fire Iight and candles, piles of duvets, boardgames and amazing panoramic view out of the huge front windows over the fjord and northern lights meant we were delighted to return there after a day of activity. The outdoor toilet is novel (and what a view!) and e conveniences such as the pump shower are ingenious. We were lucky with the weather- in mid November generally around freezing but dry and often clear night skys with stunning northern lights. There were lots of outdoor activites to do Styrmannstinden was a mountain we climbed-. Driving towards Tromvik as you come around the tip of the fjord there is a wooden signpost for "tippa top" on left. This is a serious mountain, 1000m ascent mostly through snow for a lot of the year, and took a solid 6 hours of walking. Nevertheless, if you like hiking (and maybe carry an emergency beacon!) this was one of our favourite ever hikes. Reaching the summit to find the final 10m was in sparkling ice cold sunshine with panoramic views to the sea, mountains and fjords all around was increadible. Eivind was also extremely helpful in linking us up with the owners of the sauna on Grotfjord beach and we hired this and spent a very happy evening relaxing at the sauna. A final activity recommendation wouldbechartering the lady elsie boat from the other side of kaldfjord. We had a full day cod fishing on this fantastic boat, learnt loads, stayed toasty warm, and caught enough fish to cook up a feast back at the lodge, to eat around the log burning stove. The aurora lodge team were outstandingly helpful with all aspects of the stay, from welcoming us on arrival and ferrying bags up the hill on the pulley system, to fixing the generator swiftly, bringing more firewood, and quickly answering our messages about activites nearby. We hope we come again one day and will be recommending it to many friends.
---
An amazing wooden cabin in a very unique location. We really enjoyed our few days here and would highly recommend this place for anybody who is looking to get away from it all. Even when it is cold outside, the log burning stove provides plenty of heat. The small generator provides 230V volts when needed and there is a good stock of candles. The views from the cabin are wonderful. It is a short hike up the hill from where the car can be parked. Be sure to bring sturdy footwear for getting up and down the hill. People with walking difficulties might struggle, especially in wet and/or icy conditions. That said, if you come prepared then you will not be disapointed. My family really enjoyed staying here and would stay again if we came back to the Tromso area!
---
Eivind, was a fantastic host. From the day I booked the trip the communication was 5 stars. He was caring, very informative and would go the extra mile to make sure you were happy with everything. Eivind was kind enough to meet us at the airport and direct us to the supermarket and to the cabin. Nothing would ever be a hassle to Eivind. If there were any problems a simple text to him would often be enough and he would reply back straight away. His advice on activities were top class.. The Cabin is a fantastic place to take in the wonderful surroundings and the view is beyond breath taking. I've been to many places in the world and i must say this place and the view you get is probably the best ive seen. For those who want to escape the city life and be one with nature this is the place to unwind and relax. I will come back hopefully soon and perhaps stay for longer with group of friends. Thanks for everything Eivind
---
Our stay in the lodge was amazing! It is a rustic and genuine place, water comes from a well and heat provided by a fireplace. A complete cabin situated in a perfect location to see the northen ligths. The view is breathtaking. The owners are very professional and kind. The stay was very comfortable and without any problem. Recommended.
---
Explore other options in and around Grøtfjord
More places to stay in Grøtfjord: