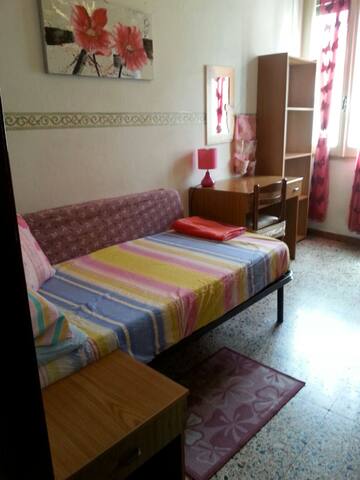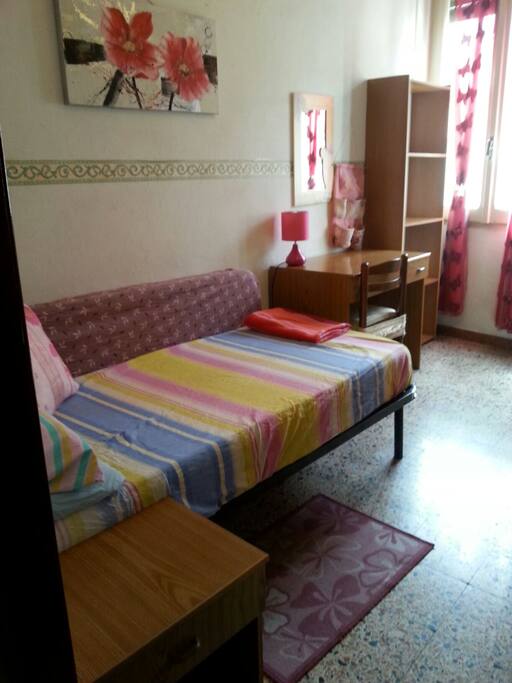 Cagliari centro camera singola
Camera singola in zona centralissima e tranquilla. Adatta a turisti/trasfertisti. Bagno e cucina (uso discreto della cucina solo in determinati periodi) in condivisione con una sola persona.
Single room (only for one person) in a nice and central area.
Recomanded for tourists or for short stays.
Bathroom and kitchen (see below the limitations of the kitchen-use) are shared with one person.
The space
Centralissimo: appartamento nel centro storico adatto a turisti.
Consigliato ad ospiti possibilmente giovani e/o alla mano, che desiderano trascorrere un soggiorno a Cagliari ad un prezzo conveniente, ma disposti a condividere un appartamento, in rispetto delle regole interne.
A very nice and quiet area in the hearth of the city. It is hightly recomended for tourists (possibly young and/or easygoing people) who would like to spend a vacation in Cagliari with few money, sharing a flat but respecting all the rules inside.
Guest access
Cucina (con limitazioni) e bagno
Kitchen (the use is limited) and bathroom
Interaction with guests
When I am at home I can spend some time with my guests and give advices about their stay in Cagliari (possibly not when I'm in a rush and I have to go to work). If you need any information about a particoular service, you can ask me or check in your room: there are many tourist information papers.
Quando sono a casa sono spesso disponibile per chiacchierare con gli ospiti e dar loro indicazioni e consigli (ovviamente se i miei impegni di lavoro mi consentono). Per informazioni su servizi specifici, potete chiedere a me oppure consultare il materiale per turisti nel cassetto del comodino.
Other things to note
The use of the kitchen is discreet and limited: possibly only cold food and it is not always opened: we sould arrange the times. In high season (from june untill september included) the price remains the same but the use of the kitchen is NOT included at all. Breakfast and laundry are NOT included. In winter the heating costs are included only for short periodes of time. If you arrive during the week, I could ask you to be flexible and wait for me to open your door, because I will be working. It could also be I could ask you to take a taxi from the airport, because I cannot leave my workplace for longtime to wait for the guests.
L'uso della cucina è discreto e limitato: possibilmente solo cibi freddi e in orari da concordare. In alta stagione (da giugno a settembre incluso) il prezzo resterà uguale ma l'utilizzo della cucina NON sarà consentito. La colazione NON è inclusa e neanche l'uso della lavatrice. I costi del riscaldamento (uso discreto della stufa) sono inclusi nella tariffa per brevi periodi. NON sono inclusi invece nel prezzo mensile. In questo caso, do la stufa a disposizione e l'ospite gestisce gli eventuali costi di ricarica. Durante la settimana potrei chiedere agli ospiti flessibilità riguardo il loro orario di arrivo: io lavoro e non posso aprire la porta di casa in qualsiasi momento. Talvolta (dipendentemente dall'arrivo degli ospiti) potrei anche chiedere loro di prendere un taxi dall'aeroporto: il mio lavoro non mi consente di assentarmi per lungo tempo, per aspettare l'arrivo degli ospiti.
---
---
Not safe or suitable for children (0-12 years)
I need respect of all the rules of the flat. It is a small room for only one guest.
E' fondamentale il rispetto delle regole interne. Posso ospitare solo una persona alla volta per motivi di spazio.
You must also acknowledge
Must climb stairs - Third floor without elevator- terzo piano senza ascensore
Potential for noise - Very silent area (no many cars arround) but my neighbours could talk each others
No parking on property
Some spaces are shared - Bathroom and limitated use of the kitchen (kitchen not available from june to september included). Bagno e uso della cucina limitato.
Amenity limitations - There are rules into the flat like: separate dishes and products (dues to my allergies and food intollerances) and my own sitting place in the kitchen
---
I stayed 4 nights at chicca's flat. Positives were that the wifi was very good - fast and reliable and had no problems at all. The location is also pretty good. The immediate area is quite residential and quiet but it's about a 10 - 15 minute walk to the more interesting areas of Cagliari, about a 15 - 20 minute to piazza yennie and 20 - 25 minute walk to the main bus and train station. Unfortunately, I did not feel welcome at all and felt uncomfortable for my whole stay - definitely did not feel the "hi, welcome to my home and hope you have a nice stay" Every room (the passageway, bathroom, kitchen) is absolutely full of her things which makes a small flat much smaller. There is enough clutter to fill another 2 flats. Even the guest bedroom has a large cupboard which can't be use because it is locked. The flat is full of post-it notes pointing out what is chiccas and what is for the guest .... even to the point about which seat at the table and which space on the table is for the guest and which is chiccas. When I first arrived I made the mistake of asking if I could sit down while chicca was explaining the long list of written rules .... and was told that that chair was hers. Other mistakes I made included attempting to put shopping bags on the table instead of the floor and putting the stone of a nectarine in the general waste bin rather than the organic waste bin. When I asked chicca if I should take out the stone and put it in the correct bin ... she said I should. The shower is very small and narrow and is set in a bath with a very slippery floor. Having a shower was not a pleasant experience. I slipped once trying while trying to turn and my hand messed up chiccas bath products and those for guests (leftover products I guessed). I think Chicca thought I had used her products and she later pointed out (again) which were her products and which were for guests. There is a kitchen which guests can use but the kitchen cook tip is again full of products. Guests have separate cooking utensils which are obviously old and well worn .... including a fry pan with no handle. In case the walk to piazza yennie or the train station is too long for you there is a bus close by ... lucky I noticed it myself as chicca didn't mention it to me even though she knew my bag was heavy after watching me take it up 3 flights of stairs with no elevator.
Hi Robert!:) Nice to hear from you again! ;) You looked almost happy too (apart from the thing of the shower) when you were at home but so ANGRY in your rewiew! It's soooo strange! You always wanted to spend a lot of time with me! You invited me for lunch and dinner more than once but you wrote you didn't feel welcome!!!?? Wowww! From my poit of wiew, if I don't like a person, I usually try not to spend so much time with her/him even if I am alone! Anyway! Maybe this is your way to be! Before accepting your stay I thought the lady who wrote very bad things about you in her rewiew was maybe too strict and the other lady who wrote you are "demanding" was writing it in positive (URL HIDDEN) I thought positive and I accepted your stay, even if I was hesitating. Now I think I SHOULD HAVE REFUSED this "EXTREMELY DEMANDING BUT MONEY SAVER PERSON" and the angry lady was right! I think the other lady was just using diplomacy (like I firstly did in my first TOO positive rewiew that I gave him!!!) using the word "demanding" and trying to be nice. If you see my first comment about Robert I was writing my feeling under the lines, in order not to discuss. But this is what Robert probably wants: DISCUSSING (not much in front of the people but in his rewiew, whithout looking at he eyes). This makes me in the condition, even if I have not much time to waist in this way (I work and I am not a retired person who is spending the rest of his life travelling, like he is) of answering: First thing: MONEY! This is one of the cheapest and central accomodation in Cagliari in a very nice area. I can understand the cheap price can be attractive but you cannot have the same services of an hotel or a Bed and Breakfast. There is no reception waiting for you, so if the host asks you please to take a taxi to reach the flat, because she is working half day (and renounced to work the whole day and got payed half day!) only to open your door in the afternoon, and she cannot wait for hours (a taxi takes 10/15 minutes and without it you would take about 1 hour without getting lost) it's because she's not the secretary of a luxuous hotel! She is just a woman who works and doesn't have a whole free day to wait for her guests! If it was in the week end, it would have worked differently: I wouldn't have gone to the beach and I would have waited even long time. A french girl, for example told me she wuold arrive at 7 p.m. but she had problems and arrived arround midnight: I had time and I waited! But Robert seemed not to understand the difference between hotel and shared flat and didn't apreciate my effort to be there instead of telling him: "Sorry but I have to work untill 8 pm: I only can be at home not earlier than 8:30 p.m., if it's not ok for you, you can cancel your booking". About the other things...I hate spending time discussing but I have to give an explanation: When you go to somebody else home, first you have to respect his/her rules. I have a lot of experience in hosting and because of that I have to post notes, in order not to repeat bad situations (like things that had been broken from my guests and in this case I would be so sorry to ask them money back!). I have many food and body allergies and food intollerances and because of this I need my own dishes and products, but Robert was just laughing into my face because for him it was strange, trating me like a strange and stupid person. I have my usual sitting place in the kitchen and my habits. I have many jackets and my jewels and make up corner in the corridor, all my things arround in the kitchen: this is me! THIS IS MY FLAT! Nobody complained for this and I don't think it's a big crime. I only had positive rewiews till now in many years hosting (not the same in your case after very few experinces on Airbnb!) and A LOT OF PEOPLE JUST LOVED THE WAY I AM! Almost all of them had the right spirit to travel with Aibnb and I've almost always been happy with them. I am also ecologist and for me it is very important to separate the garbage. In Cagliari there will be very soon strict rules and fines for all people who will make mistakes in separating garbage! After I saw it was a problem for him respecting the planet, I just stopped saying sometning and put my hands into the garbage in order to fix his "ecological mistakes" by myself. Everytime I tried to explain a rule he shuted me up and sayed something like "I know, I'm adult and I know how it works!" But sometimes he finally did the oposite things. I tryed to explain the there are things that work differently in different countries and houses (URL HIDDEN) way! One other thing is: maybe I think wrong but he may have a little problem in his legs. I'm not discriminating but if a person has a phisical problem, he should maybe avoid too many stairs and ask for a more confortable shower, an orthopedic bed ..(all things that need to be payed more) and expecially he/ she should ask more information before booking! About the shower: once I went back home, came into the bathroom and found a piece of shower, that was broken, a terrible mess with products and the shower was not clean like the angry host wrote....but ok! I could clean it like I always did after he left the bathroom! That night he told me he wanted to invite me for dinner and it was very nice from him (he didn't feel welcome and confortable with me but always wanted to spend time with me!!!!???) but I was so trubled and asked him what happened and he became terribly angry! He told me he slipped into the shower, because there is a step inside and it was only my fault because I didn't tell him about that step: I don't think he is blind! The day after at least he apologied and I was a bit angry because he was so AGRESSIVE to me and COMPLAINED ABOUT SOMETHING THAT I CANNOT CHANGE AND I COULDN'T DO NOTHING TO BETTER MY HORRIBLE SHOWER and MY HORRIBLE BUT CLEAN "SLIPPERY FLOOR" (I leave in this flat since many years and shower every single day without having problems and almost all my guests never had problems). I told him I always clean the shower after and before using it (without pointing that he NEVER did the same: exactly like the angry woman wrote) and for me it wouldn't be possible entering into a shower without watching inside it! Everytime I warned him about something, it was wrong for him but when I didn't warn him, it was wrong again!!! EVERYTHING WAS WRONG FOR HIM! About the bus, that brings to piazza yenne: it is very close to my place, but if you miss it, you have to wait for ages to take the next one and distances in Cagliari are so small, that for me it is better walking or if I have a big luggage, I prefer taking a taxi! For me that bus is not so useful as it can be for him! But he always understands only his point of wiew! And I think he is an adult (maybe too adult for this kind of cheap accomodation!) and I though it was not necessary telling him about every single service in Cagliari! I told him there were papers into his room with tourists informations and I spent a lot of time explaining him the map of the city and answering to all his questions (even when I was late and I had to go to my office). In a 5 stars hotel they wouldn't have spent so much time with one of their guests! They have things to do! I maybe forgot to tell him that in the guest room there were 2 wardrobes: one for the guest (big enough for a short stay) and another one with things of mine inside, which was locked! I usually tell this but I think it was clear that he had only that space to put his clothes! It is only a cheap small room, in a flat of a woman, for easygoing people that want to spend a vacation in Cagliari spending very few money! A private room with an hostel price! This is what it is! About pots: one of them was broken. It can be that somebody else broke it, also because of this I don't let use expensive dishes to my guest: they pay few money and it would be too expansive and unconfortable for them buying new staff in case of breaking something! The same with products: do you aspect I always buy a new bottle of shampoo for every single guest!? If you want, you can use what is already opened, if you feel disgusted from an already used product, there are a lot of shops where you can buy everything! Buy the way: there were also some samples of shampoos bags (of course never used) if you wanted! Robert seemed to me like a person with one only point of view, that doesn't understand and maybe doesn't want to understand somebody else culture and mentality. He is a kind of "long life traveller" but he should understand that if you do this and if you want an accomodation where you can do everything you want, you should pay much more. My advice to him is:" Robert, you should maybe spend more time in your Country to save money, and then you should travel less times but with more comfort! You're no more a twenty years old boy! Anyway, I thank you very much! Because of you I understood I should make a bigger selection of people. It was an experience for me too: from now I will do something to make things better, I will write more things in my flat description on Airbnb, I maybe can give better services but with an higher price or maybe not give the kithchen use anymore. Let's see!"
---
Unfortunately I did not meet Chicca, because she was on holidays herself. But the communication was very good and she organized everything really well, so that I had a comfortable and nice stay in her home. The room is small but very well equipped (bed, wardrobe, mirror). The flat provides everything you need and is close to the old center of the town.
---
Languages:
Deutsch, English, Español, Français, Italiano
Response rate:
100%
Response time:
within an hour
Explore other options in and around Cagliari
More places to stay in Cagliari: