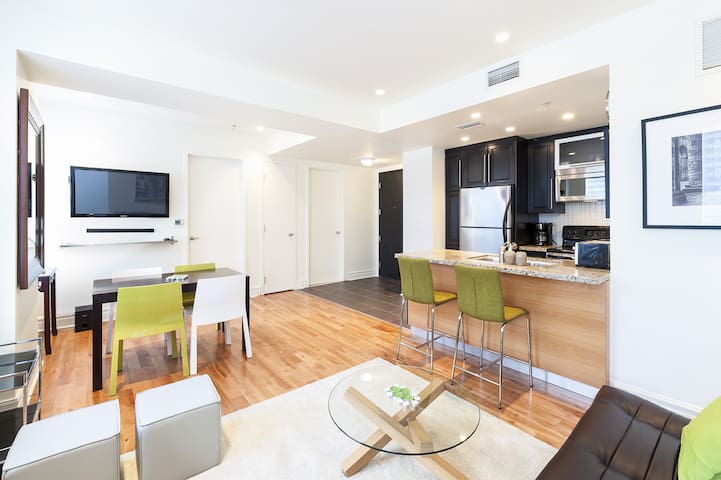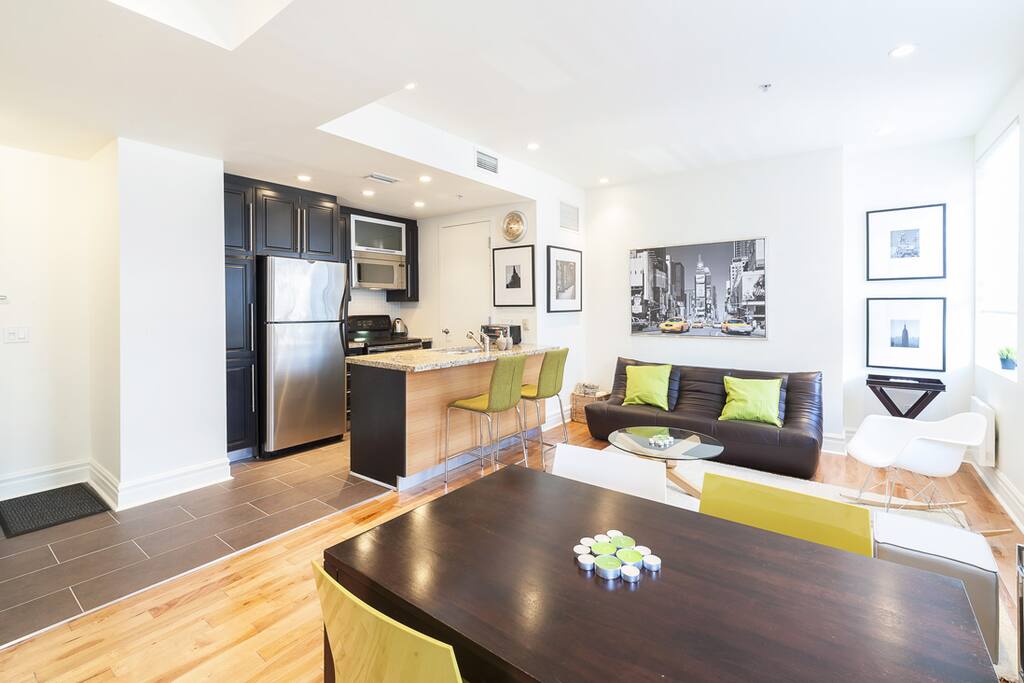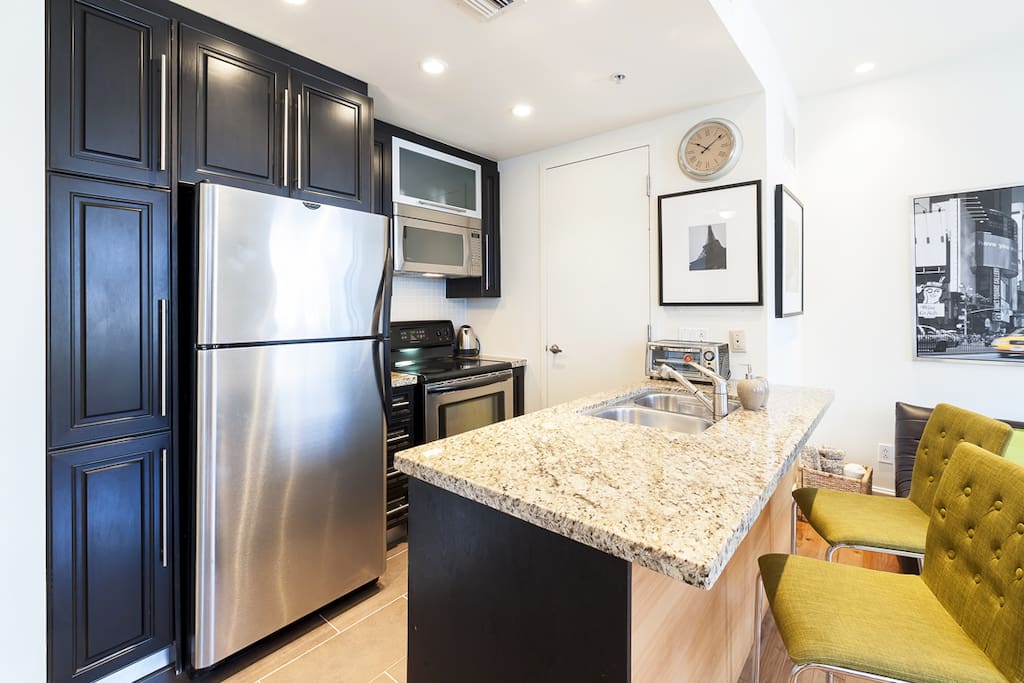 About this listing
Located Downtown near Old Montreal on Saint-Jacques Street with 575 sq. ft. This 1-bed 1-bath modern unit features new materials, recessed lighting, and all the creature comforts of home.
The space
** 30 nights minimum stay
Building amenities include indoor pool, concierge service, and indoor parking.
Fully-furnished and colourfully decorated, this one-bedroom and one-bathroom condo for rent at the Themis building offers an ideal pied-a-terre or temporary accommodation in Montreal. The sunny open-concept living space is inviting and comfortable with hardwood flooring, multiple windows, and contemporary décor. The floor plan includes a cozy den area, a 4-person dining area, and a U-shape kitchen fully-equipped with stainless steel appliances, fitted cabinetry, and quartz countertop. The closed queen-size bedroom is quiet and includes a built-in flat screen TV, and you'll enjoy spa-like fittings in the designer bathroom complete with sleek tiling, soaker tub, and encased stackable washer/dryer for added convenience. Staying in Montreal is simple with Simplissimmo!
Guest access
Originally built in 1927, and now a heritage site, the 11-storey Themis building was beautifully restored in 2004 to house forty-five condos with modern design and classic style. Each unit offers optimum comfort and a unique living experience all in a luxurious urban setting. Every feature in the Themis building has been carefully considered with the resident in mind with essentials such as an elegant lobby entrance, a multi-level indoor parking garage, two elevators, superior soundproofing, as well as concierge service. Shared amenities include a gym, and a furnished rooftop terrace complete with interior pool as well as stunning views of the St-Laurence River and the Montreal skyline.
Interaction with guests
Informations Séjour
1) Heure d'arrivée
Veuillez prendre note que les heures d'arrivés se déroulent à partir de 15h jusqu'à 21h maximum. Aucune exception ne sera tolérée à moins d'une autorisation contraire. Votre heure d'arrivée par défaut est 15h.
Un agent vous accueillera à l'unité afin de vous remettre les clés et effectuer un état des lieux. Afin de pouvoir vous accueillir dans les meilleures conditions, il est essentiel de convenir d'une heure d'arrivée approximative avec votre représentant.
Dans le cas où votre heure d'arrivée dépasse 21h, veuillez vous adresser à votre représentant afin de voir si des exceptions peuvent s'appliquer.
------
2) À votre arrivée
Afin d'éviter toute attente inutile, nous vous demandons d'appeler l'un de nos représentant 45 minutes avant votre arrivée à l'unité (lors de votre arrivée à l'aéroport de Montréal, ou une fois que vous aurez passé les douanes canadiennes). Veuillez prendre note qu'une flexibilité de 30 minutes supplémentaires à l'heure de rendez-vous qui sera convenue est requise, dépendant de la disponibilité immédiate de nos représentants. Nous vous remercions par avance pour votre compréhension.
Une fois votre appel reçu, notre représentant se dirigera vers votre unité afin de vous accueillir. Dès votre arrivée, le représentant vous remettra les clés de l'unité, le passe magnétique et la télécommande du parking (si requis). Il vous donnera un contrat que tous deux, aurez à signer. De plus, vous aurez à lui remettre une pré-autorisation 1000 CAD$. Il vous remettra également une lettre de bienvenue y figurant toutes les instructions et renseignements relatifs à votre unité.
------
3) Durant votre séjour
Veuillez respecter le règlement de l'immeuble, est les avis de la co-propriété s'il y a lieu (concernant l'entretien et la maintenance).
Simplissimmo ne garantit pas la fourniture de produits ménagers et d'entretien. Vous trouverez de nombreux extras lors de votre arrivée, mais ceux-ci ne constituent en aucun cas un fond suffisant à l'entretien d'une unité.
Votre confort est une priorité pour nous et sachez que nous restons à votre entière disposition pour tous vos besoins. Si vous avez des questions ou des commentaires concernant votre séjour, il nous fera un plaisir de vous répondre dans les plus brefs délais.
------
4) Heure de départ
Votre heure de départ est établie par défaut pour midi.
Dans le cas où vous souhaitez quitter votre unité plus tôt, il est essentiel de communiquer avec votre représentant afin de s'assurer de la disponibilité d'un agent qui pourra récupérer les clés.
Un représentant Simplissimmo vous rejoindra directement à l'appartement pour récupérer les clés. Nous vous demandons, s'il vous plaît, de vous assurer qu'aucune vaisselle ou détritus ne soit laissé dans l'évier pour éviter les odeurs persistantes.
L'état des lieux final est effectué par les préposées à l'entretien lors du nettoyage de l'unité.
———————————————-

Information for your Stay
1) Arrival time
Please note that check-in begins at 3pm and ends at no later than 9pm.
No exceptions will be made unless otherwise authorized in advance.
By default, your arrival time is set at 3pm.
Upon your arrival, an agent will greet you at the unit to issue you keys and complete an inventory of fixtures. To avoid unnecessary waiting times, it is crucial to communicate your approximate arrival with your representative.
In the event that your arrival time is after 9pm, please contact your representative who will try to accommodate you as best as possible.
--------
2) At your arrival
To avoid unnecessary waiting times, please be sure to call us 45 minutes prior to your arrival at the apartment (either while leaving the airport or after clearing the Canada Border).
Please note that an additional 30 minutes of flexibility should be added to your appointment time, depending on immediate availability of our representatives. Many thanks in advance for your comprehension in this matter.

Once we receive your phone call, a Simplissimmo agent will make their way to your unit to meet you. Once you meet up with your Simplissimmo agent, your keys to the apartment will be given to you as well as any magnetic passes or remotes needed to access the building and the parking garage, if you have parking included in your reservation contract. The agent will also have your reservation contract (which is initially provided to you once your reservation has been confirmed on AirBnB along with your booking confirmation and updated statement) that both parties will need to sign. Additionally, you will be asked to allow a pre-authorization of 1000$CAD which will give you access to your 'welcome letter'. This document serves to provide you will of the important information and instructions pertaining to your arrival and stay with us.
--------
3) During your stay
Please respect the building's codes of conduct at all times and any guidelines set out by the Co-Owners Association regarding upkeep and maintenance.
It is important to note that while all of our apartments are fully furnished and include many services, we do not provide laundry detergent or a set list of daily cleaning products. You may find them in your apartment as an added bonus.
--------
4) Departure time
Departure time is 12pm.
In the event that you would like to depart earlier, it is vital that you communicate with your agent in order to ensure that there is an agent available to collect the keys.
A Simplissimmo representative will meet you directly at the apartment to collect the keys. We kindly ask you to remember not to leave any trash in the apartment or dirty dishes in the sink in order to avoid lingering smells for future guests.
Final inventory of fixtures will be performed during unit housekeeping.
Other things to note
Once your reservation has been confirmed via Airbnb, please provide us with the following information:
- How you will be arriving to Montreal (car, plane, etc.)
- Your approximate arrival time, please note that by default Check-in is at 3:00PM and Check- out is at Noon (If you require a specific check-in or check-out time, please advise us in order for us to plan accordingly).
- Your complete home address.
- Names of guests (if any)
As soon as we have received the following information, we will send you a reservation confirmation as well as your reservation contract with Simplissimmo.
---
Check In: Anytime after 3PM
Room type: Entire home/flat
---
---
Always communicate through Airbnb
To protect your payment, never transfer money or communicate outside of the Airbnb website or app.
Learn More
---
Check in is anytime after 3PM
Please note, it is forbidden to:
- Disturb the other residents' right to a peaceful enjoyment of their property;
- Block toilets, sinks, tubs or other water fixtures with garbage or other substances;
- Use a Bar-b-q on the balconies or terraces unless authorized by the building;
- Hang clothes, towels or bathing suits on balconies, windows or terraces;
- Take away dishes, cookware or any other equipment or furniture from the Suite;
- Use Roller Blades, bicycles or skateboards in all areas of the building;
- Leave windows open when the Suite is not occupied;
- Install additional locking devices on doors;
- Throw out garbage or debris in any common areas not designated for waste disposal;
- Leave children under the age of twelve (12) unattended in any common area of the building;
- Tamper with smoke detectors or fire extinguishers.
---
Strict
Cancel up to 7 days before your trip and get a 50% refund. Cancel within 7 days of your trip and the reservation is non-refundable.
---
---
Appartement super bien placé, très propre et bien équipé. Troisième étage donc bruyant car il ne donne pas sur Saint-Jacques. La terrasse du 10e est superbe pour voir les feux d'artifice. Quelques soucis, j'ai attendu 1h30 devant le logement le premier jour avant qu'on ne vienne me donner les clés et signer le contrat. La climatisation n'a pas fonctionné du séjour. La porte s'est bloquée, à nouveau la personne est arrivée avec une demi-heure de retard (mais le problème a été résolu dans la journée! ouf! et merci!). Le jour du départ, personne n'était là pour le check out, j'ai dû claquer la porte derrière moi alors qu'il avait été convenu par courriel un rendez-vous à 9h. Le personnel était en revanche fort sympathique, tant au téléphone qu'en personne, à défaut d'être ponctuel. Attention, j'ai payé 2063 francs suisses, ce qui correspondait à 2947 dollars canadiens à ce moment-là, mais lorsque j'ai signé mon contrat à l'appartement, le montant de la location inscrit était de 2235 dollars canadiens. Où sont passés les 712 dollars canadiens restants???? Mystère... Je pense que si la climatisation fonctionne et que l'on paie la location mensuelle autour de 2000 dollars canadiens, l'appartement est à recommander, surtout si on a envie d'être au centre, car tout est proche, Vieux-Port, quartiers Latin, chinois, des spectacles, centre ville. En revanche si vous voulez dormir le matin, impossible, dès 6h30 trafic, travaux et luminosité vous en empêchent.
Response from Simplissimmo:
Bonjour Nicolas, Nous vous remercions pour votre commentaire, suite à la lecture de votre commentaire permettez nous de rétablir certains faits essentiels: -l'unité est située sur a rue saint-jacques et donne vue également sur la rue saint-Jacques pls précisément devant l'édifice de la Presse qui est localisée sur cette même rue, nous ne sommes pas sure de saisir ce que vous voulez dire ... -nous sommes navrés d'apprendre que vous ayez du attendre 1H30 cependant et comme stipulé sur la première page de votre contrat nous demandons à nos clients un préavis minimum de 45mn et su possible à l'aéroport, contrairement à un hôtel nous devons coordonner votre arrivée avec un agent -la serrure de votre logement nécessitait d'être lubrifiée et c'est pourquoi le problème a été rétablit en moins de 60 mn après votre appel de service, nous travaillons constamment à améliorer nos délais de réactivité pour être encore plus rapide ... -en ce qui concerne l'air climatisé selon nos informations et comme confirmé avec le syndicat de l'immeuble, la tour d'eau de l'immeuble était fermée pour une maintenance de 8 jours, pouvez vous nous en dire plus ? -le jour de votre départ (samedi matin) nous avions convenu au téléphone que vous pouviez quitter l'unité, nos bureaux étant fermés le WE et afin d'éviter de vous retarder, nous nous sommes assurés que cette situation vous convenez car notre équipe de nettoyage était sur le point d'arrivée afin d'effectuer le nettoyage des lieux. Nous sommes surpris de votre commentaire à cet effet ! -nous vous suggérons de vérifier le détail de votre facturation avec Airbnb qui selon nous est assez précis sur les frais qu'il vous charge, notre agence est directement payé par Airbnb après que vous les ayez réglé et après la collecte de leur commission. Nous espérons sincèrement que votre expérience fut plutôt positive, malheureusement nous ne pouvons avoir les ressources d'un Hotel avec réception 24H sur 24 cependant pour une location moyenne de 87$ CAD tout inclus par jour incluant parking, cuisine toute équipée, internet, laveuse/sécheuse etc ... Nous faisons appel à votre compréhension et s'excusons pour le désagrément encouru. L'équipe Simplissimmo
---
ABOUT US

Today, simplissimmo provides would-be Montrealers with an excellent alternative to hotels: apartments, lofts and high-end homes, furnished with style and character, with optional personalized services. All located within some of the hottest spots in town.

All of our properties are strategically located to provide our guests with the best in Montreal living, either downtown, on the Plateau or in Old Montreal. Among our varied clientele figure students, tourists, families, professionals and corporate clients.

SO SIMPLE

Simplissimmo not only offers generous alternatives to hotel stays but goes the extra mile to make sure researching, visiting online (or in person) and booking your Montreal stay is an extraordinarily easy, effective and enjoyable experience. Our super intuitive, informative and user-friendly website makes finding your perfect pad a breeze.

SO CONNECTED

Aside from giving you all of the tools you need to find and visualize your perfect Montreal pad, Simplissimmo puts your finger right on the city's pulse – latest events, festivals, best restaurants and goings- on about town – everything you need to make the most of your Montreal stay is at your fingertips.

----------------------------------------------------------------------------------------------------
MISSION

Simplifier la location de propriétés pour des appartements meublés, destinés à une clientèle désirant le meilleur en termes d'emplacement, de confort et de services personnalisés, dans les métropoles les plus dynamiques du monde.

À PROPOS DE NOUS

Aujourd'hui, Simplissimmo offre, à Montréal, une alternative à l'hôtel : des appartements, lofts et logements haut de gamme, meublés avec style et caractère, proposant un vaste choix de services personnalisés, dans les quartiers les plus branchés de la ville.

Nos propriétés sont stratégiquement bien placées pour profiter au maximum de la vie montréalaise, soit au centre-ville, sur le Plateau et dans le Vieux Montréal.

EN TOUTE SIMPLICITÉ

Simplissimmo offre non seulement une alternative avantageuse à l'hôtel, mais permet aussi à ses utilisateurs de rechercher, de visualiser et de réserver en ligne - une expérience extraordinairement simple, efficace et agréable. Recherchez en fonction d'un emplacement, du nombre de chambres nécessaires, de services ou d'activités souhaitées.
Languages:
English, Español, Français
Response rate:
92%
Response time:
within a day
Exact location information is provided after a booking is confirmed.
Explore other options in and around Montreal
More places to stay in Montreal: