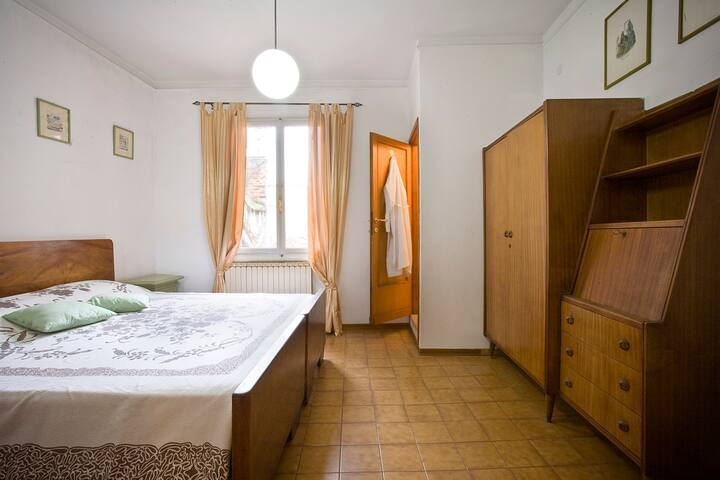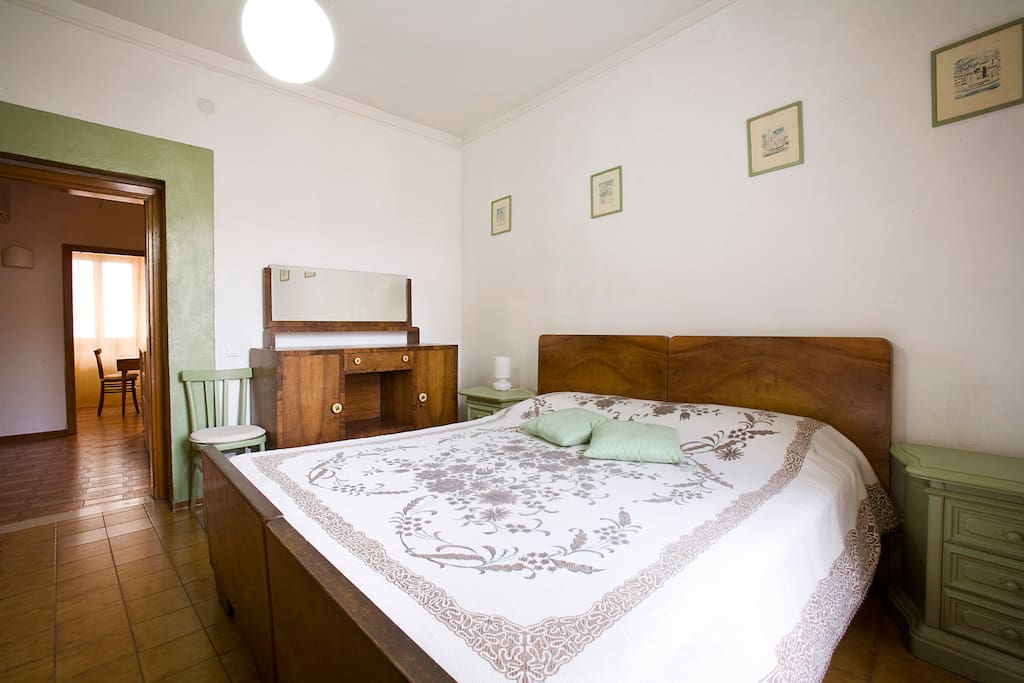 I love my flat for the location and the cozy, romantic feel it gives. It is perfect for single, couple and small families that can experience the walk around the renaissance city. Straight in the centre means close to everything you might need.
The space
Apartment in the center of Florence, between the Bargello, Piazza della Signoria and S. Croce. Third floor very sunny with views over the rooftops of the historic center of Florence, no lift. Large entrance, 2 bedrooms, one double with ensuite (the only one of the flat) and 1 single bedroom, lounge, brand new kitchen, large utility room. Fully furnished, with washing machine, TV and WiFi 2-minute walk from Piazza S. Croce, Ponte Vecchio, Piazza della Signoria and the Duomo, 10 from the train station. Close to all the conveniences of downtown within walking distance shops, markets, supermarkets, services, theaters, cinemas, eateries and restaurants , pubs and clubs.
Guest access
The entire space is the the guests, it is your home for the all period, you are welcome!
Interaction with guests
If it is possible as much as the need or like to!
Extra people £27 / night after 2 guests
Always communicate through Airbnb
To protect your payment, never transfer money or communicate outside of the Airbnb website or app.
Check-in is anytime after 2PM
Rispetto delle cose e dei condomini. Respect for the neighbors and the flat
First, the location is fabulous, around the corner from the Bargello and a short walk to Piazza Della Signoria, Palazzo Vecchio and the Uffizi. Florence is such a walkable city that you can anywhere from this location. Giada's apartment is adequate with a large master bedroom, kitchen and eating area and a small second bedroom. There is no sitting (living room) area in the apartment but the washing machine is a definite plus. Now for the other news. The bathroom is a small, narrow room with the "shower", with no enclosure, in the middle of the room. This makes it very difficult to shower and contain the water. Giada provides a mop and floor rugs to soak up the water. You then have to hang the rugs outside the window to dry. Aside from having to walk up 58 steps with our luggage ( we knew it was a 3 story walk up but it really is 4 since Italians don't count the ground floor), our first evening was a nightmare! We were trying to let Giada know our arrival time but were having difficulty with our internet connection, but we did let her know when we were leaving Rome by train. We arrived at the apartment by 6:15. She was at the apartment when we arrived and helped with the luggage on the last floor. She gave us a quick orientation and showed us how to lock and unlock the door to the apartment and the security gate at the top of the stairs (I believe this locked gate is a safety hazard in case of a fire or other emergency). After we were acclimated to the apartment, we decided to leave for dinner. We locked the door and attempted to unlock it so we were sure we knew how it worked. The door would not unlock. After about 10 minutes of trying to unlock the door, I called Giada. She could not help and since she does not live close by, she made no attempt to come back to the apartment to assist us. She did call a friend, who owns the apartment next to hers, who came to help. She could not get the door open either. After she spoke to Giada, Giada decided the only thing she could do would be to call the fire department. I asked her what she thought they would do and she said they would have to break into the door. This was taking a very long time and was causing us a great deal of stress, thinking that our first night in Florence would be in an apartment with a broken door. Giada's friend convinced her to call a locksmith, which she did. He was on another call (Saturday night) and didn't get to us until 10:35 pm. Giada's solution for us not eating was for us to go to a nearby restaurant and watch for the repairman. This was not acceptable to us. When the repairman arrived, he could...
First of all, Dear Patricia, the story you wrote is quite different from how things are really gone... To make one example, I helped with the bags twice, which it's not due, I came downstairs helping with a couple and the second time I carried, because I asked, the heaviest! But it doesn't matter because I won't be so long and boring as you have been... You didn't even mention the fact that you changed plan at the last minute and wanted the money back from me due to your disorganisation while the flat was blocked for you.. No, not even a person who travel for the first time in his life knows it! All you could say about the door lock problem, that I solved in less than two hours, from another city, 9pm Saturday night, was still complain.. About what? Things like that happens and nobody can predict, whoever own a house knows it but you! It is ashame to see how people can be so unhappy I feel sorry for them.. For you in this case, Because I love people and fortunately you are a very rare human case! There are many more things I could write to correct you false story.. But I cannot waist my time further. I always do my best and more for my guest luckily they always appreciate me for this. Wish you the best and that your anxiety will get better.
---
Excellent location, right between Santa Croce and the Duomo, making it easy to get around town. Great kitchen space. The shower was a bit awkward (it's more of a wet room and I had never used one before) but the window helps it all to dry quickly. There is no living room, so when having guests/friends over you either have to hang out in the dining room or one of the bedrooms, but this is no so important right? Overall an enjoyable stay!
---
Giada made us feel very welcome and was very nice. She was always available and if there were any issues she took care of them immediately. The neighborhood is nice and in a great location. You really can't stay in a better part of Florence which we learned after staying at Giada's place for 2 months.
---
We found the apartment very convenient and spacious. The location is great - right around the corner from Santa Croce and very handy for the city center, supermarkets, and in a fun neighborhood just outside of the tourist track. It does, however, get pretty noisy at night during the summer. The apartment gets a good breeze, and stayed cool enough with the windows open. Giada in general responded quickly to questions. However, there was one huge drawback for us. After two days in the apartment there was no hot water and very little water pressure in the shower. Although we told the landlord, it took several days for a plumber to come check it out, by which point the shower had warmed up a little. When all hot water then shut off again (ten days into our month long stay), she would not send a plumber until two days before we were scheduled to leave, since he had told her that there was, in fact, hot water based on his one visit. She has refused to offer any reimbursement, or even to acknowledge that there was a problem. Based on this experience, we can't recommend this apartment. While the apartment is convenient, it's not worth the price for a month of cold showers and dismissive treatment! We would love to be able to give it a good review, but our interactions with Giada have been very frustrating and left us feeling a bit ripped off.
---
We stayed in Giada Marini's apartment for two months. It is situated in the very heart of the historic old city (or Centro Storico). It is situated on the third level and the wide windows look down upon all the activity of Florence below or out over red terracotta roofs. The apartment is comfortable, well equipped (right down to the corkscrew or "cavatappa"), bright, and thoughtfully appointed. Everything we needed to get started living in Florence was provided. Most important of all to us, the apartment is SECURE. There is a locking iron gate at the top of the third level landing and NO ONE can get in with the exception of the two neighbors (two very nice ladies) who also have apartments on the same floor. The front door is secured with a locking mechanism containing four deadbolts all operated at the same time with one key. While we were there we called our home in Florence "Casa Campane e Piccione" (House of bells and pigeons). What a lovely sound those bells are, dropping down on the city from the Duomo (or cathedral), Palazzo Vecchio (the old palace of the famous Midici family), the Chiesa Santa Croce (or Church of the Holy Cross) and all of the magnificent churches that grace Florence. The pigeons are your neighbors here in Giada's apartment as well. They make their nests in the holes of ancient brick or rock buildings, under eaves, or in the bell towers. They sit quietly looking down upon the city all day long, just like we did so many times from our perch, looking down upon vendors pulling their carts every day to their spots and returning every day after work to put them away, watching the excited activity below or looking out over the red terracotta roofs so familiar in Italy. If you happen to have a piece of bread left over and throw it down onto the street below, the pigeons will entertain you by spreading those strong wings and soaring down to pick it up. We love the pigeons and the bells. We love Florence; and we love Giada's apartment. We are hoping to return there again next year for another two months if things work out that way for us. Giada is a wonderful host. She was present when we arrived to show us around and to help us get situated in our new home in Florence. She made herself available to us in every way and was diligent to see to it that we were comfortable. We highly recommend to anyone planning a few days, weeks, or months in Florence, to stay with Giada. It will be a vacation you will always remember.
---
Sono una persona socievole e aperta che viaggia molto. Per passione diventato anche lavoro, per mare, noleggio e loco 2 imbarcazioni a vela. Per passione ovunque sia inspirata o seplicemente a trovare amici. Adoro tutte le forme d' Arte e culture, rispetto la natura, amo navigare, mi piace sciare, girare in centro con la bici, ballare, mangiare e bere bene in buona compagnia.
Languages:
Deutsch, English, Español, Français
Response rate:
100%
Response time:
within an hour
Explore other options in and around Florence
More places to stay in Florence: