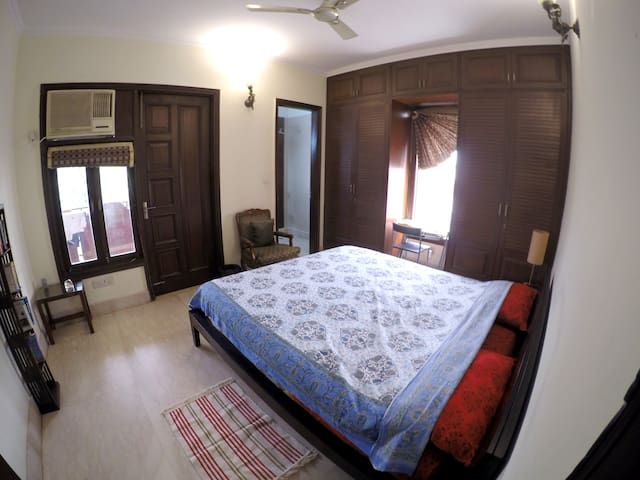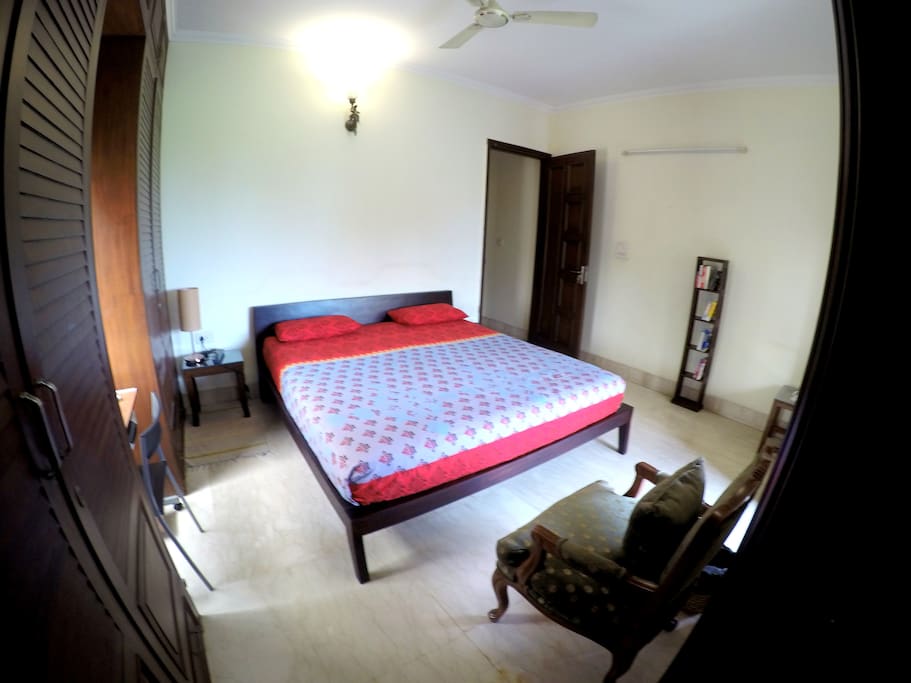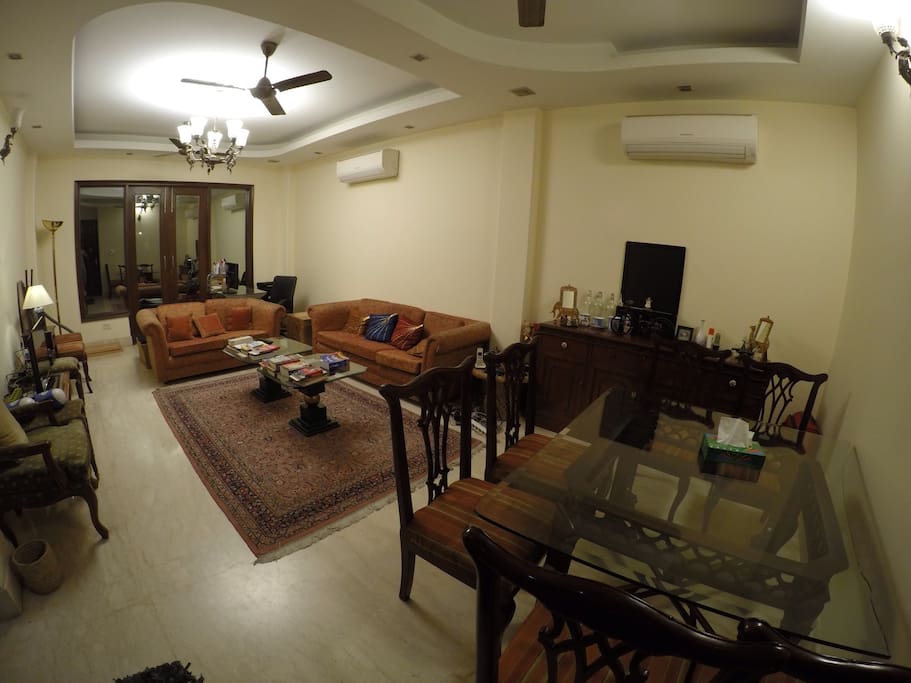 ★Your best choice in Delhi Center!
Between us and the heart of Delhi (Connaught Place), you have the museums, Government quarters to host the Govt employees and politicians only, embassies, The President of India, ministries and houses of 10 to 100 millions USD each...
The space
Between us and the heart of Delhi (Connaught Place), you have the museums, Government quarters to host the Govt employees and politicians only, embassies, The President of India, ministries and houses of 10 to 100 millions USD each...
Breakfast INCLUDED / Heater for Delhi winter / 2 Speed Internet Wifi (16 MBPS each soon 40 MBPS each) / Unlimited advice for your travel and stay in Delhi
At our place, you have real people, it is not a Bed and Breakfast managed by employees where the owner is rarely here, it is not a hotel, it is a home where you can spend time talking with the locals.
Authenticity is the word.
When you come to know the cost of the flat and houses in the posh and green Nizamuddin East, you will understand that you have a great deal in Nizamuddin East, central area :-)
Nizamuddin East is an upscale residential colony in New Delhi. It is located on Mathura Road and is home to Humayun's Tomb, one of Delhi's most famous monuments. It is considered to be one of New Delhi's greenest and most peaceful residential colonies. The colony having 286 houses, including Jaipur Estate, and 32 public parks.
About the property
1. You will have one room in a 3 rooms with private bath room/toilet and balcony for each room. (27 square meter size room + bathroom + balcony)
2. Big lounge
3. A real kitchen.
4. Lift.
5. A terrace with view on Humayun's Tomb, the monument that has inspired the Taj Mahal 100 years later.
6. The area is safe, quiet and without traffic.
7. No problem of Water, electricity or transportation.
8. Unlimited drinking water
Location – neighborhood description
1. Between 25 to 45 min from Delhi International airport. (according to Delhi traffic)
2. Prepaid Auto rickshaw stand 3 minutes walk. (No more cheating by them when you go to discover the city)
3. A Transfer from/to airport can be arranged
Facilities
A. International electricity adapter
B. Travel guides (Lonely Planet, Routard)
C. Delhi Maps
D. Meals on request
E. Unlimited free calls to one land line number in: Argentina, Australia, Austria, Belgium, Brazil, Canada, Chile, China, Colombia, Cyprus, Denmark, France, UK, Greece, Hong Kong, Hungary, Ireland, Israel, Italy, Kazakhstan, Luxembourg, Malaysia, Mexico, Norway, New Zealand, Panama, the Netherlands, Poland, Portugal, Peru, Russia, Singapore, Slovakia, Switzerland, Sweden, Taiwan, Thailand, USA, Venezuela.
or one mobile number in: USA, Canada or France.
Attractions and distance
1. 10 minutes from the heart of Delhi Connaught Place.
2. 6 min from India Gate and the house of the President.
3. 3 minutes walk from Humayun's Tomb (Private entry, only for Nizamuddin East people).
4. 10 min walk from the daily sufi music in the old Nizamuddin, full of history.
5. The Taj Mahal, Mumbai, Amritsar, south India, Khajuraho, Dehradun...all are possible via the Nizamuddin railway station, 2 minutes walk.
Our other options: >>>>>
My Other Listings >>>>>> Check the links on the right of this page.
In the flat, we speak French, English, Arabic and little Spanish.
Ps: We stay in touch from your first message on AirBnb, till your visit at my place, your departure and even later. Don't hesitate to contact me and ask me questions about your projects in India.
Interaction with Guests: We Ben & Prachi are the hosts in this flat and our friends Sid & Kelly who live at about 130 meters distance from us, we help each other to manage our listings and never let our travelers alone in case of need.
Prachi is a lawyer and practices between Delhi and Pune and Ben organizes cultural activities for French and Indian schools. We both need to travel for our work between Delhi and Pune where we have our second flat. When not traveling we spend the majority of our time at home and are available to interact.

You are not alone in our flat, in case we are absent, you always have our friendly Brampal, who take care of the flat and you, he speaks English, speaks and laugh with you and never try to cheat you or be nice to have a tip. He is genuine.
It is downgrading his importance considering him just as a staff person, for us, he is a member of our family, we threat him as equal.
In all the cases, we are always available over the phone and emails to reply to your questions, help you with any thing you want, even at midnight.
You can also go and meet Sid and Kelly who are 130 meters from our place if you need anything.
It is a quiet neighborhood with a lot of peace and security to rest and recharge the battery and at the same time, we are central located, close to the touristic spots!
1 minute away, you have: a pharmacy, 4 restaurants (One open 24h), a phone shop to get your sim card, several grocery shops, fruits and vegetable sellers, a clothes shop (Anokhi), a toy shop, a woman saloon, a taxi stand, a dry cleaner...
For the security of all, our area have CCTV and our home has a visible one in the lounge pointing the entrance door.
Guest access
You have access to all the common area of the flat, parking, terrace, Internet, kitchen, lounge...
Interaction with guests
We are always happy to discuss with our travelers when they want to discuss. We appreciate when we see them spending time in the common area. However, if you prefer to stay in your room and be alone or with your travelmate, it is your choice and we have no problem with it. We give space to our travelers.
Other things to note
- FREE: You have free calls to more than 106 countries (landlines) and 95 for mobile lines. If you need to make a call., contact us. You will need a smartphone or a tab.
- Breakfast: Tea or coffee, a well appreciated omelette (2 eggs), jam/butter, up to 4 toasts. If you need something else, you can get it from the market (parentha, dosa, cereals, milk, Nutella, juice...).
---
---
Bedroom 1
1 king bed, 1 floor mattress
---
Check in time is 12PM (noon) - 2AM (next day)
- We confirm that you can check in at anytime, even after 2AM. (Despite what you see just above). We know that you might have night flight.
- Smoking possible only in the balcony or outside.
- Please leave your shoes at the entrance.
- The dinning table in the lounge is here to take your meals. (Not in the rooms please)
- We believe in and appreciate the conservation of energy so we request you to switch off lights, fans, electrical appliances like water heater, AC etc, when not in use.
- If you plan to bring an animal, you need to discuss with us BEFORE sending your Instant/booking/request.
- Feel free to bring visitors in the lounge only. (For that, please inform us before bringing someone, so we are aware).
- Access to the rooms is only for the travelers in the Airbnb booking. (Communicate with us for any booking alteration need)
- You can arrive/leave at anytime, even in the middle of the night.
-Official check out is at anytime before 11:00.
-Official check in is at anytime after 12:00.
- You can Check-in earlier, and/or check out later, if available, please inform me.
- You have a 24h access to the house.
- As it is an Indian Gov obligation applying on every person hosted in India, a copy of your passport is needed. The day they will stop the law, we will be happy to stop also.
- The security deposit: No charges or authorizations will be made to the guest's payment method. So nothing to worry about.
For your information: How does Airbnb handle security deposits?
https://www.airbnb.com/help/article/140
- You need to inform us before booking if you have any infant or children.
- If you plan to dropoff your bags before the check in or leave your bags after the check out, please confirm with us that possibility before making your booking.
---
The apartment is situated in a leafy suburb with great local cafes and a stone's throw from Humayun's Tomb. The hosts were extremely helpful and gave great advice on where to eat in the neighbourhood and nearby sites to visit. I highly recommend this pad, as a central and safe place to base yourself if in Delhi for several days.
Response from Prajakta (Prachi), Ben & Brampal:
Thank you for your review, 5 stars rating and private feedback: "I had a wonderful time staying here. A real gem in service and location. The apartment is gorgeous and has great modern features! Loved it.". PS: Nizamuddin East, Humayun Tomb... are all in New Delhi. We are not in the suburb. Delhi north to south is 70 km long, we are 5 KM from the President house and ministries and the point 0 of the city Connaught Place ;-)
---
Ben's place is fantastic. The neighbourhood is safe and clean, there is plenty of shops for your essentials and apartment is spotless. Didn't get to meet Ben in person as he was away but Brampal hosted a us fantastically and helped us a lot with getting around and navigating Delhi. In particular we were really thankful for all the help and information before our arrival with train tickets and all sorts. Great hosts, definitely recommend.
---
Absolutely loved staying at Ben, Prachi and Brampal's place. Hamayan's Tomb is so close that, from some of the rooms, the main dome is visible over the trees. It's nice and quiet in the area so you don't have to worry about getting a good night's sleep. There are some pretty mild issues - you do need to get a short 10 min cab or rickshaw to reach the metro, and most of the gates to the residential area do lock after about 10pm but - for both - you get into the swing of things pretty easily. Ben is very helpful and great at communicating asap (and tolerant of any last minute changes or extension requests I had to make). It's a shame we couldn't hang out more but he had to go away for a few weeks pretty early on in my stay. Brampal is the best! He often went above and beyond the call of duty, is very sociable and helpful, and is a lovely fellow. Hopefully it won't be too long before I next visit Delhi again - and if I do, I will be sure to come again. :)
---
I was here for 2 nights whilst visiting the Taj Mahal. Bed is super comfortable and Brampal was very friendly and he fixed me breakfast each morning. Loved it. Coffee was astounding! There were numerous traffic and dogs barking at night but it didn't bother me considering that I am from Central London. :) Overall, great stay! Thanks again.
---
We were really pleased with our room at Ben, Prachi and Brampal's place. Our room was clean with a warm shower and a very comfortable bed, in fact the most comfortable one on our travels around India so far. Brampal was excellent and couldn't be more helpful, he even offered to make us breakfast on the morning we were due to leave. Downsides for us however was the lift was broken on arrival and we even got stuck in there for a short while with Brampal. He did however resolve the problem quickly. We also discovered that taxi drivers even uber drivers struggled to find the address regardless of its close proximity to Hazrat Nizzamuddin station. (Note to other travellers - Uber was important to us as we really struggled to find an ATM with cash across Delhi). Our private Taj Mahal driver also couldn't find us to collect us for our day's trip arriving 40mins late. Obviously taxis are of no control to the host so this is a negative to the location only. Overall we can't fault our hosts however as communication since booking and during our stay was excellent as was the accommodation itself.
Response from Prajakta (Prachi), Ben & Brampal:
Thank you for your review, happy to see that you have experienced the most comfortable place during your stay in India. For the lift, it is like any machine, it can stop working and we have an emergency button inside that will help to have the maintenance people or us come to help you. Which Brampal did without difficulty. The lift is maintained and obviously, you don't risk your lift using it. Our place is not more complicated to find than any other place in India. It is probably even better in our place as we live in a human size area. For your lines about the location, you have used Uber to book your car on your own. As you know, Uber works on a location that you give on your app and the driver follows that location to reaches you. it is unfortunate that you faced an Uber driver who don't know how to use his Uber app and worst, he does not know our area aged more than 700 years. We can't be at fault if your Uber driver was simply incompetent. And as you said, Brampal came early morning to do your breakfast before leaving. Why in this situation, you have not talked to Brampal to give directions to the incompetent driver? This would have avoided you to waste 40 min waiting. Delhi is a 1000 Km² and 20 millions people city, with people freshly landed in Delhi working as drivers, even with Uber, they don't even know how to read a location on a phone map. Again, it is not our fault if people are incompetent in their field. You lacked of communication in this situation with your hosts while we are fully available to help ours hundreds happy travelers.
---
Brampal was there to let us in and show us around. He is so lovely really welcoming which was reassuring for our first night in India. Ben was ready to help whenever needed, he's either a (SENSITIVE CONTENTS HIDDEN) or email away. The area is great, right next to the train station which you can get to in a few minutes and there is a direct train to Agra (Taj Mahal) from there. Ben can assist you with ticket purchases, we tried the hard way by getting them at the station. Lets just say that was an experience of its own. That said you can hear the trains from the room but can tune them out. There are a lot of dogs in the area, we didn't have issues until leaving where the dogs got a bit more aggressive but can be avoided easily. The room was very clean just like the photo. Only minor drawback no shower curtain so the water does go everywhere but there is a squeegee to clean up the water. Also uber drivers do tend to get lost trying to get here. We spent 30 minutes this morning trying to get our uber since most of the gates close at night and we had an early flight and each driver kept getting lost. Overall really great stay.
---
We have traveled to more than 50 countries till now and we understand that coming to India is a wonderful experience that should not be spoiled by dirty or unsafe, not comfortable accommodations. Full of people trying to get each Rupee you have in your pocket. Ben is Frenc…
Languages:
English, Español, Français, Hindi, العربية
Response rate:
100%
Response time:
within an hour
Explore other options in and around New Delhi
More places to stay in New Delhi: