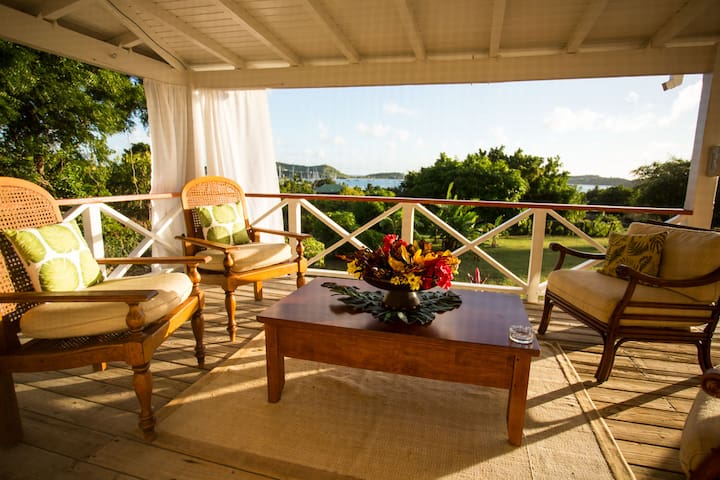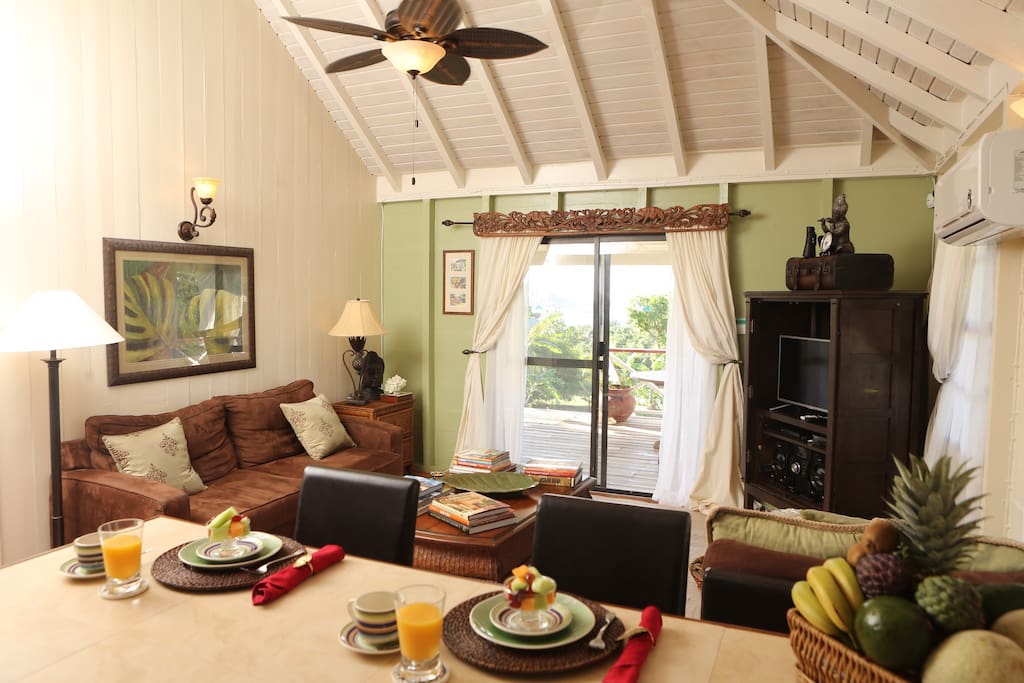 About this listing
Nestled on the base of Monk's Hill, and overlooking Falmouth Harbour are our two cozy, island-style cottages. We are just minutes away from Antigua's historical and yachting centres, as well as some of the island's most pristine beaches. We Welcome You!
---
---
---
The space
The two traditional, island style cottages are both 1600 sq ft. with large, 12 ft wrap around verandas, which offer guests a versatile dining, lounging and entertainment space. Each cottage can comfortably sleep four ( one queen bed, two twin beds) in two bedrooms, with air-conditioning as well as fans in all rooms. Each kitchen is fully equipped with coffee makers, a Nespresso machine( bring your pods),a microwave, gas stove and oven and utensils for casual dining. Mosquito screens over each window and at the glass door to protect you from being bitten.
The living rooms and master bedrooms each have 32in. LCD flat screen TV's with cable television, and the living room features an iPod docking station and a Blu Ray dvd player. There is also wireless Internet in both cottages. The property is monitored by an intruder perimeter alarm security system. Each cottage also contains a personal safe.
As your hosts, we get a genuine enjoyment out of meeting our guests, therefore we do most of the initial Meet & Greets on arrival day during most winter months. When we are away, someone will meet you at the cottage with keys and we will continue to contact you with information via email. We are always an email away, should guests wish to connect with us.
Banana Tree Bungalows is ideally located on the south western tip of Antigua at Falmouth Harbour in the Parish of St. Paul's. Guests at Banana Tree Bungalows can expect a peaceful environment to relax in. We are located only a five minute drive to one of Antigua's most beautiful beaches, Pigeon Point, as well as only four minutes away from good restaurants and nightlife.
Banana Tree Bungalows is located near a public bus route( bus #17 at the end of our lane). It's approximately US$1.00 to the Harbour and US$1.50 to The capital town. In addition, car rental companies are just a few minutes away, and we will gladly recommend our favourite rental car company for you on your request. Your car can be delivered to you at the airport (with escort to the bungalow so you don't get lost)on your arrival or at your cottage. Parking is conveniently at your doorstep. Whether you choose to rent a car or take a taxi from the airport, we will email you directions to your cottage before your arrival date.
Guests staying at Banana Tree Bungalows can be as active as they wish, as there is much to do within close proximity to the property. Engage yourself in many of the nearby water sports and activities on offer including snorkeling, scuba diving, deep-sea fishing and sailing. Come and enjoy these wonders with Dockyard Divers, who are keen to share their knowledge and experience with you. Bush walkers and hikers are spoilt for choice as many of Antigua's best nature trails are close by and running enthusiasts will love the challenge of taking on the island's hilly terrain. Great for adventurists is the Antigua Rainforest Canopy Tours, a unique zip line tour through Antigua's verdant rainforest region, or any of the exhilarating tours and sea excursions organised by Adventure Antigua. The Spring Hill Riding Club near us offers many different rides and the stables are close to many beaches which gives riders the chance to swim with their horses in the beautiful Caribbean waters. Play a round at Cedar Valley Golf Club an 18-hole championship course that caters to all skill levels, conducts lessons and has club rentals and equipment available or enjoy a set of tennis at Temo Sports.
We encourage our guests to visit Antigua's Donkey Sanctuary, a shelter by the Humane Society, for over 150 donkeys. Visitors are allowed to pet, groom and even 'adopt' their own local donkey. They also provide a unique opportunity to observe our local fauna. Interacting with these gentle creatures will forever remain an extraordinary experience in your island adventures. Swim with friendly stingrays at Stingray City too for a truly amazing holiday.
Guests can of course simply sit back relax and enjoy sun, sand and sea. The Catamaran Club Beach is just a five-minute walk from Banana Tree Bungalows and the excellent Pigeon Point and Galleon Beaches are a short drive away. Falmouth Harbour, a major international yachting hub plays host to some of the world's finest super yachts during the winter months and stages many world class events including the Antigua Charter Yacht Show, Antigua Sailing Week, and the Antigua Classic Regatta.
The area is popular amongst tourists, yachtsmen and locals alike and is well serviced by supermarkets, shops, boutiques and tourist operators. There is a great selection of restaurants, cafes and bars and a number of nightclubs and live music venues including the breathtaking Shirley Heights Lookout with its unforgettable steel band and sunset parties on sundays, and Papas 'Curry & Reggae Night' (five minutes from us) on Wednesday's.
The nearby English Harbour and Nelson's Dockyard, located in Antigua's National Park, are some of the most picturesque parts of Antigua and showcase the maritime history of the island as well as Antigua's unique natural beauty. Step back in time as you walk amongst the restored original 17th Century buildings at Nelson's Dockyard, the former home of Lord Horatio Nelson and the Royal British Navy.
Guest access
When you rent a cottage, it becomes your home away from home for your sharing with strangers.
. Washing machine in each cottage
. Bbq grill (shared) to be left at the pergola
. Mobile phone with local number & free credit
. Monitored security system
. Private parking on premises (park behind your cottage)
. Free wifi internet
Interaction with guests
As your hosts, we get a genuine enjoyment out of meeting our guests, therefore we do most of the initial Meet & Greets on arrival day. We are also only a phone call or email away, should guests wish to connect with us.
The neighbourhood
Banana Tree Bungalows is ideally located on the south western tip of Antigua at Falmouth Harbour in the Parish of St. Paul's. Guests at Banana Tree Bungalows can expect a peaceful environment to relax in. We are located in a quiet neighbourhood which is only a five minute drive to one of Antigua's most beautiful beaches, as well as only four minutes away from some of its best restaurants and hotspots.
Getting around
The public bus route is at the end of our private driveway. There are Buses to Falmouth & English Harbour as well as to the capital, St.John's ( where the central bus station is) service the area from around 5:30am until 11pm. Bus # 17 will take you in either direction. Please ask the bus driver for the current charges, but to the harbours it should've approximately US$1.00, and approximately US $1.50 to the capital town and central bus station.
Other things to note
A complimentary housekeeper service is included once per week in your weekly rental contract. The housekeeper will change the bed linen and towels, clean and tidy your cottage. Extra cleanings can be arranged for you at a additional cost of US$25.00 per clean (just email us to arrange this). Please put all trash into bags and put into one of the large, blue bins at the main gate as the private garbage collector will pick up the garbage very early on a Friday morning. Please familiarize yourself with our House Manual on this listing page.
---
Check in time is 3PM - 9PM
HOUSE RULES
Smoking is not allowed inside the cottages, so we have provided you with an airy verandah and even a pergola, where you can enjoy the pleasure of smoking...worry free. The veranda is a great space for entertaining, and we certainly encourage that. For your grilling pleasure, we have provided a BBQ charcoal grill on site, but request that it not be used on the veranda or too close to the house as it can be a high fire risk. We have placed it, along with seating and tables, at the pergola, which has the best views of Falmouth Harbour. In addition we kindly ask you to:
(A) Keep and maintain the Property in a good, clean, orderly and Tenantable condition, especially on check out day
(B) Return the Property at the end of the rental period in the same condition as it was delivered to you
(C) Use the Property as a dwelling for no more than four persons during the rental period in accordance with the terms of the contract.
(D) Not do or permit to be done any act or thing which constitutes or creates a nuisance to the occupants of other dwellings or properties in the surrounding area, including loud noise or illegal activities.
(E) Provide a security deposit, prior to the day of arrival. Once the property has been inspected by the property manager on the day of departure and there are no breakages, damages or missing items (e.g. beach towels, cell phone, charger, keys, binoculars, books, remotes, bed linen, ornaments, adaptors etc.), then the security deposit will be released from hold within 7 days of your departure
(F) Not to upload/download anything illegally or engage in any illegal activities with the provided internet access
(G) Secure your valuables during your stay. Any valuables left at the property are left at your own risk. We accept no responsibility for any loss, damage or consequential losses due to theft or any other security related incident. A safe is located in each cottage to store valuables and we ask that you lock all exterior doors, including the laundry access door, when leaving the property.
(H) Kindly turn off fans and air conditioners when leaving the property and kindly keep doors and windows closed when the air con units are in use.
(I) As Antigua is often in a drought, please conserve water by waiting until you have several items to wash in the machine, instead of using the machine for washing only one item
(J) Please keep the gate closed, and put the latch at the top. This keeps out roaming animals, which may eat the plants and set off the security alarm.
(K) Please put all garbage into bags before disposing of them in the large, blue bins by the main gate
(L) Please do not tamper with the internet box, security alarm system, or wires behind the televisions. Please do not unplug any cords behind the TV's, and kindly do not move the TV's, stereo, fans, DVD player or indoor furniture without the permission of the property manager.
Thank you and have a great stay with us.
---
Strict
Cancel up to 7 days before your trip and get a 50% refund plus service fees back.
---
---
My experience at banana tree was amazing. I loved everything during my time here and of course also to my wife. The house is lovely and so organized that you can find all you need. I miss so much the breakfast in the patio and the dinner with candles . The island is not big and in 45 minutes you can drive everywhere the position of the house is just 5 minutes from English harbour. The only problem I had it was with Internet that sometimes doesn't works really good but.....who cares when you are in Paradise. I left part of my heart in Antigua and its beautiful people.
---
Tracey was on hand to greet us upon arrival at the Bungalow and showed us around, explaining how everything worked. After she left, it did not take us long to feel right at home. I was in the hammock enjoying the view within the first 15 minutes! The bungalow is extremely well appointed - the kitchen although small, was amazingly functional. The location is perfect - we spent our days visiting many beaches and all were within a 25 min drive. Half Moon Bay was spectacular in its natural beauty, Turners beach has a great resto/bar, but Valley Church Beach was our favourite. The mix of natural shade, and turquoise waters made it the perfect spot. The view of Falmouth Harbour from the bungalow was only surpassed by enjoying sunset at Shirley Heights just a short 10 min drive away. Falmouth Harbour offers some spectacular restaurants as well - definitely check out Cloggys and Sun-Ra. There were only two areas that could be improved. The couch was not terribly comfortable as the cushions squished down below the frame leaving us sitting on the hard frame of the couch. My fiancé is quite tall (6'5") and we found that the beds were a tad too small for us to sleep comfortably together. Neither of these took away from the perfection of our vacation, but are areas that could be improved. We would not hesitate to recommend that you stay at the Banana Tree Bungalows! Tracey & Owen are spectacular hosts, the bungalow will provide everything you need and the location is perfection!
Response from Tracey & Owen:
Thank you for all your feedback Tammy. We're so very happy that you enjoyed staying at our home. We always seek to improve where we can, and as such, will look into making the sofa more comfortable. With regards to the bed, it is a queen sized bed, as advertised and photographed in our listing. Your fiancee was indeed very tall, and it was unfortunate that he didn't fit the bed we have as well as he would have liked. Thanks again for your private and public feedback
---
My husband, 6 month old daughter and I had a wonderful time at banana tree bungalows. Tracey was there to greet us when we arrived and was very friendly and helpful. Nothing seemed too much trouble and the cot was put up as requested. The bungalow was exactly as described and as we were expecting. The views are incredible! If we are ever to return to Antigua then we wouldn't hesitate to contact Tracey and Owen again. A fab time was had by all.
Response from Tracey & Owen:
Thank you Jane for review of our home. We try our best to advertise it exactly the way it is, and we are glad that you mentioned that. It was wonderful to host your little family and especially to get such a sweet, warm response from your beautiful baby. Thanks again for choosing us to host you
---
We loved our one-week stay at Banana Tree bungalows. Tracey was there to greet us personally and show us everything we needed to know....operating the safe, directions to the supermarket, a complimentary housecleaning mid-week....a local cell phone....after that the two-bdrm bungalow overlooking Falmouth harbour answered all our needs. The wraparound porch was a destination in itself. What a marvellous view! The picture on Air bob doesn't do it justice .We took all our meals there. Our 20-year-old son made it his personal space in the evenings, setting up his laptop and connecting to friends at home. This was our first visit to Antigua and we weren't sure if the English Harbour area was the best place for us to stay. As it turned out, it was great. We rented a small car from Titi Car Rentals and found we were well positioned to explore the Island's historical past and a different beach everyday - then grab a meal in one of the many restaurants in English Harbour or cook for ourselves. The super yachts in the harbour were also quite something to see. We hope to return and next time for two weeks. You know where we will be staying! Thank you Tracey.
---
Tracey was a wonderful hostess. She patiently waited for us at the Bungalow on the day of our arrival and welcomed us with her glowing smile and warm hospitality. The bungalow was clean, well equipped, beautifully appointed and easy to relax in immediately. The local cell phone Tracey supplied us with was immensely helpful during our stay as we had family we were visiting in the area. The house notebook provided us with all we needed to know about the house itself and was loaded with great suggestions for the enjoying the local area. When we had an issue with the screen door, Tracey was quick to respond and fix the problem. The real highlight of the bungalow was the deck. We had the most wonderful time enjoying the deck which felt like a genuine Island experience. The wide deck looks out over Falmouth Harbour and is graced with a gentle and cooling cross-breeze. It was a great place to enjoy to occasional tropical showers that passed through the area as well as find shelter from the sun. Whether we were eating breakfast, playing cards, reading quietly, hosting a big family dinner or just lounging in the hammock we all just loved the deck. On New Year's Eve we watched three firework displays from our perch. It was an experience we will long remember and cherish. The small town with great restaurants was an easy drive. We also enjoyed Sweet T's for lunch which is at the bottom of the hill only minutes from the Bungalow and Bailey's for groceries is right next door. We loved Pigeon Beach and we also went on some fantastic hikes and enjoyed the history of the region at Nelson's Dockyard and Shirley Heights. I would highly recommend the Banana Tree Bungalows for either a couple or a family of four and I would happily return again.
---
We are a fun-loving, married couple from Antigua and Australia. Two opposite sides of the world make for a relationship built on ALOT of traveling. Our love of travel has taken us all over the globe, including Thailand, Turkey, Croatia, Europe, Montenegro, Egypt and China, and we enjoy collecting items from faraway places to add to our cottage's decor. We both work in the luxury yachting industry, and Owen is a five star chef, who has pleased the likes of royalty and hollywood celebrities to his most avid fan... his wife. Our most beloved treasures are our two dogs, Rockette and Bailey, who we adopted as puppies in 2013.
We especially enjoy meeting our guests in person, and you will most likely see us on your arrival at your cottage. We hope to meet you soon!!!
Come join us in the land of sun, sea and fun... the gem of the caribbean, Antigua!
Best Regards,
Tracey & Owen
Response rate:
100%
Response time:
within a few hours
Exact location information is provided after a booking is confirmed.
Explore other options in and around St. Paul
More places to stay in St. Paul: