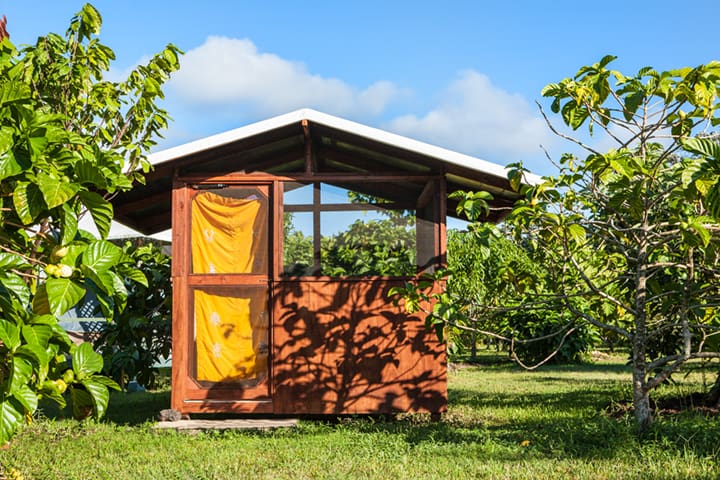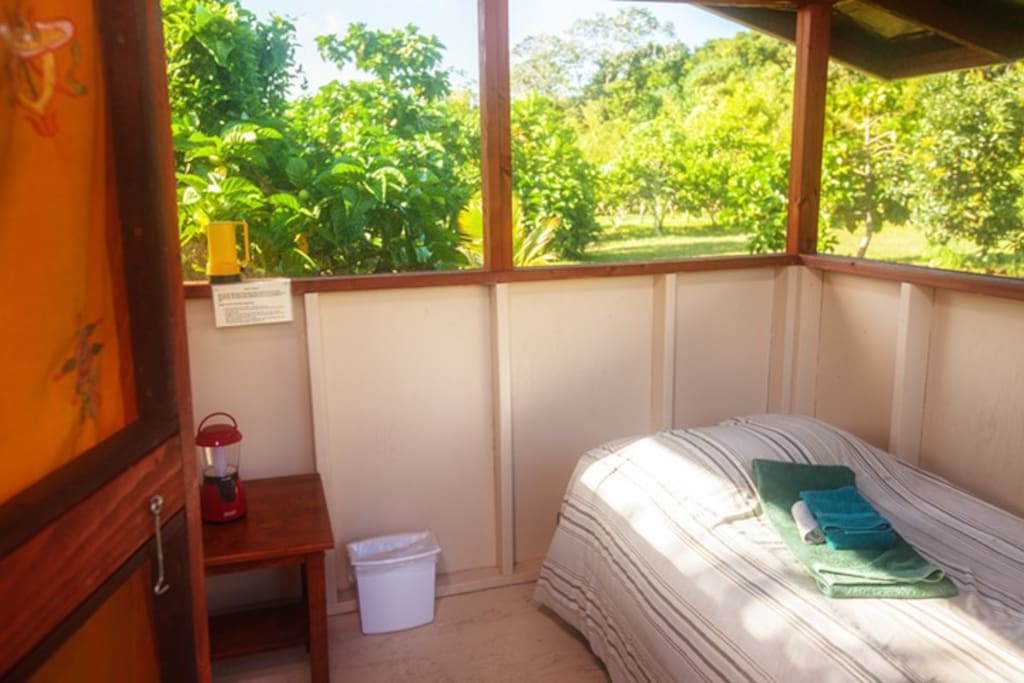 This little cabin (8 X 8) offers a lovely room that is always dry and cozy inside. Nestled among our Milo Forest, it features a comfortable twin bed.
The space
KIRPAL MEDITATION AND ECOLOGICAL CENTER (KMEC)
This little gem is an elegantly simple cabin for 1 person. Always dry and comfy inside with a single bed and is secluded in our Noni forest orchard.
The shared kitchen and two fully equipped, clean, and modern bathrooms, also with jungle view, are about 120 feet away.
Our spacious and open 11 acre property is surrounded by a buffer of jungle and features 150+ trees with 30 or so kinds of tropical fruit. You're welcome to enjoy the freshest fruit possible whenever they're ripe!
Swimming is half a mile away at Isaac Kepo'okalani Hale Park, one of the few safe places for swimming on this rugged, extremely scenic, coast.
A body-temperature warm-pond park is just a half mile further, as well as excellent snorkeling in the wave-protected Kapoho Tide Pools with dozens of corals, and thousands of brightly colored fish.
The nearly constant lava-flow area is just half an hour to the West of us, and perfect for a sunset, or sunrise, hike where you'll often see a cascade of red-hot lava plunging 50 or 60 feet into the ocean boiling below. Truly awesome! A peak experience for most of our guests.
Shopping, a natural foods market, and delicious restaurants are 10 minutes away in Pahoa town. Several large Farmer Markets operate on the weekends too.
We have a 1000 square foot Yoga Hale for small groups and events with a phenomenal view of the Pacific. We have a resident yoga teacher that hosts yoga classes for guests daily at 8 am for $12.
Our teak Meditation Pavilion was made in Bali and is, to us, a very holy and special place for prayer and reflection. We don't preach, or otherwise "reach out"...., it's simply there if you would like some peace and tranquility - which is, as most people tell us, is our main product. :-)
Check-in time is 3 pm or after, and we ask that you please arrive no later than 8 pm to ensure someone is awake and available to show you to your cabin. Late check-ins can be arranged, but you have to let us know ahead of time. Keep us informed in your route to us.
The cost contained herein is all inclusive covering the required Hawaii Hotel Room Tax and the Hawaii General Excise Tax (13.25%).
Check out our reviews on AirBNB! They speak for themselves. KMEC is the best value around for places under $100.
Mahalo Nui Loa,
Len & the gang
Guest access
Guests have full access to all of the community spaces including: community kitchen with fridge and cooking space, dining gazebo and picnic tables, 3 full bathrooms on property, 1 half bathroom by yoga hale, meditation pavilion open 24 hours, yoga hale, and always welcome to walk throughout the 11 acre organic fruit orchard.
Interaction with guests
We will be happy to direct you to all of our local wonders and our community happenings. Guests are welcome to come to daily yoga classes for a drop-in fee. We hold free meditation sittings twice a week and upon request, so we are happy to share guided meditation and discussion with any guests that are interested.
Also, we offer airport pickup and drop off for $70 one-way, or $140 round-trip only for Hilo International Airport. This must be arranged ahead of time to ensure availability.
Other things to note
All of our cabins (unlike a hotel) are open to the elements. They are screened in to protect from pesky mosquitoes and bugs, however the Hawaiian jungle is full of geckos and screens don't keep them out. They are harmless and just enjoy being around humans, and especially love eating sweet treats if you leave any food out. Please be aware that you may see a few during your stay, but there won't be a large number of geckos. In case of gecko droppings we do put a painting drop cloth over the bed to maintain cleanliness of bedding and towels until your arrival. These are removed to be washed on a regular basis. This is typically placed under the bed during your stay, in case you choose to cover the bed while you are out during the day.
---
---
Always communicate through Airbnb
To protect your payment, never transfer money or communicate outside of the Airbnb website or app.
Learn more
---
Check in is anytime after 3PM
KMEC GUIDELINES
First and foremost, our staff serve with Aloha--the loving spirit of the Hawaiian islands. Let us know if you need anything or have any questions before and during your stay with us. We are knowledgeable of all the great sightseeing, tours, beaches, etc. that the Big Island has to offer and are happy to share our recommendations with you. Below are some basic guidelines that we follow here at KMEC to honor Mother Nature and the sacred space we have created. Mahalo!
CHECK-IN AND CHECK-OUT
Check-in time is 3 pm or after, and we ask that you please arrive no later than 8 pm to ensure someone is awake and available to show you to your cabin. Late check-ins can be arranged, but you have to let us know ahead of time.
Check-out time is 12 pm. You are welcome to stick around and use the communal space, but we ask that you are out of your cabin by 12 pm so that housekeeping can clean and prepare it for the next guest.
FOOD IN ROOMS
There is a plastic bin in each cabin for food storage of dry goods. Our cabins are integrated with nature and food left out in the open can draw ants or other eco friendly bugs into the cabin, especially for longer stays. We have a large fridge in the community kitchen for guests to use, as well as labels to write your cabin name if you would prefer to leave your dry goods in the kitchen cabinets.
FRUIT ORCHARD
We have an amazing selection of tropical fruits in our orchard. Our staff regularly harvest from the trees and properly clean the fruit. You are welcome to enjoy the fruit that is in the fruit basket in the community kitchen. If there is no fruit left in the basket, please find one of our volunteers to pick and clean the fruit for you.
OFF GRID
We comfortably exist on a large solar electric system, some propane, and mostly catchment rainwater. You don't have to scrimp, but we do ask that you be mindful of your use to conserve these kinds of "off grid" systems. The entire property is off grid but you will still experience the luxuries of "on grid" living including full flush toilets, instant hot water, hot showers, delicious filtered drinking water, and electricity in every cabin. We even have 2 high-efficiency washing machines onsite, and offer laundry service to guests for a fee of $8.
ECO FRIENDLY
Because we are a completely off grid community, all of our showers, sinks, and laundry has an effect on our local environment. Therefore, we encourage the use of eco-friendly products. All soaps, cleaning supplies, laundry detergent, fabric softener, etc. on property are eco friendly and many are homemade by our volunteers with simple, healthy ingredients. As our guest it is certainly not mandatory to use eco friendly products, but if possible please use this as an opportunity to choose shampoo, shower gel, and soaps that are healthier for you and the environment. If interested, we are happy to provide feedback and guidance on good brands that have natural eco friendly ingredients.
A VEGETARIAN FACILITY
KMEC is a strictly vegetarian facility. Meat eating and non-vegetarian guests are most welcome at KMEC. However, no meat, fish, fowl or eggs (both fertile and infertile) can be prepared in the kitchens on the property. If you are new to vegetarian cooking and you'd like to experience some beautiful vegetarian meals made with fresh local ingredients, we do have an onsite chef offering breakfast for $10 as well as dinner for $20. We will make every effort to accommodate you and provide you with the most enjoyable stay possible.
DRUGS, TOBACCO, ALCOHOL AND INTOXICANTS
KMEC is a drug, alcohol, tobacco and intoxicants free center. Our focus is on meditation, spirituality, healing our body, giving peace to our soul and healthy living. The owners and our staff totally abstain from the use of drugs, alcohol, tobacco and intoxicants on the property (and for many this practice carries over to everyday life off the property too). We recognize that not all of our guests are similarly oriented and you will be welcome in any event. Feel free to advise our Director of your particular preferences, if any, with regard to these issues and we will make every effort to accommodate you.
KMEC BELIEFS
KMEC is a place that promotes non-violence, truthfulness, humility, purity, selfless service, meditation and healthy living. KMEC does not discriminate based on age, race, religion or sexual preferences.
Privacy Policy
Our Mission
At KMEC, we are dedicated to protecting your privacy and safeguarding your personally identifiable information.
Information Collection
Our main purpose in collecting your personal information is to provide you with a streamlined experience in making reservations at KMEC. We only collect information about you that we consider necessary for achieving this. Personally identifiable information is only obtained when making a reservation.
We sometimes use data collection devices such as "cookies" on certain pages of the Site to measure effectiveness and safety. A "cookie" is a small file that gets placed on your harddrive that helps us provide our services. You are free to decline cookies if you choose too.
Security
At KMEC, we take security seriously. When users make a reservation we use every precaution to safe guard it online and offline.
Your payment and personal information is always safe. Our Secure Sockets Layer (SSL) software is the industry standard and encrypts all of your personal information, including credit card number, name, and address, so that it cannot be read over the internet.
Policy Modifications
KMEC may amend this Privacy Statement from time to time in order to meet changes in the regulatory environment, business needs, or to satisfy the needs of our guests, properties, strategic marketing partners, and service providers.
---
---
The host made me very comfortable and the listing was accurate. It is a wonderful place to stay, being very open to Nature. Having the group and individual yoga sessions on site was great. Furthermore the meditation hut being open 24/7 was wonderful, and the cool air from the trade winds was much appreciated! As was the great staff in residence.
---
My stay here at the KMEC was life-changing, i felt warmly accepted, with much freedom to roam around the entire property and enjoy myself. i personally fell in love with the outdoor shower, yoga room and meditation room, as well as the various fruit trees all around. being in Pahoa, it was minutes away from thermal hot waters which are great. All in all, i would recommend the KMEC to anyone who loves nature, needs to get completely away (like depending upon sun power and rain water), or wants to be apart of a beautiful vegetarian community for a few days.
---
I had a wonderful experience the week that I stayed at KMEC. The centre is beautiful, the staff are kind, and the wildlife was a joy to be around. It was a peaceful and grounding place and my spirits were uplifted almost as soon as I arrived. The cabin was clean and comfortable and the kitchen and bathrooms were amazing. The staff were so kind and helpful and were a highlight of my time there. I am beyond pleased with my stay at KMEC and I will most definitely be returning the next time I visit the big island :) Mahalo! Mahalo! Mahalo!
---
I had the most amazing time at KMEC. I had first reserved the Papaya Cabin #1, but upon arrival asked if the Dragonfly cabin was available and if it would be possible to change. The owner Leonard who is a incredible gentleman was more than helpful, and rearranged my reservation pronto. While the Dragonfly cabin was being prepared we had a nice talk and he even drove me to the Thermal ocean pool Park, which is close to KMEC. The Staff is also super nice, you're up for great company and nice talks at the community kitchen with guests and staff members, specially Henri, Abby and Joey. Now, the Dragonfly cabin, is a whole experience in itself, I loved it. It is really like sleeping in the jungle, the sounds of nature, night, day, rain... I absolutely loved it and so did my boyfriend who arrived some days later. The Big Island has many amazing places, but I could go back just to enjoy staying at KMEC again. If you are planning to go to the Volcano Park, Thermal Pools, Tide Pools, or even Akaka and Rainbow Falls I highly recommend staying at KMEC. On Wednesday nights there is a local Hawaiian street party at Kapoho, I didn't go but has been told that it is really nice, if you're there on a Wednesday ask the staff information about it and enjoy your time at this very special place : )
---
I'm from the Big Island and wanted to spend some time at Pohoiki, a surfing beach really close to KMEC. It was just for a night, but I enjoyed it and the host was very accommodating and pleasant. That part of the island is very fun and close to lots of outdoor special places like the tide pools and Ahalanui springs. The Papaya cabin is small and rustic but perfect for one person.
---
Pāhoa, Hawaii, United States
Joined in May 2012
Kirpal Meditation and Ecological Center is a half mile from the ocean on the eastern tip of the Big Island of Hawaii, approximately seven miles from the small village of Pahoa. The 10-acre ocean-view property is blessed with average daytime temperatures of 85° F year-round, and 65° F at night, with cool, fragrant trade winds, surrounding tropical flora, including old growth mangoes, nearby swimming, surfing and snorkeling.

This property was once a papaya farm and is now newly planted with bamboo, papaya, palms, banana and many other fruit trees. The octagonal Balinese meditation pavilion is set among shade-trees with an expansive view of the ocean. The island wildlife is all around us – a variety of birds by day and at night there's the pleasant chirping of Coqui frogs – and there are no snakes. Natural wonders include Volcanoes National Park, for lava and crater viewing, volcanically heated warm ponds and steam vents (as outdoor saunas) and other wonders of the lush tropics.

Kmec opened in the summer of 2008 for pre-arranged seasonal meditation retreats and private meditation-vacations on request. Additionally, we would like to extend our welcome to Big Island travelers offering cozy cottages and open air kitchen and bath. We offer daily free meditation instructions and practices at our beautiful Balinese meditation pavillion. Additionally, we offer Yoga and nature tours upon guest's request (donations accepted).


Languages:
English
Response rate:
100%
Response time:
within a few hours
Explore other options in and around Pāhoa
More places to stay in Pāhoa: