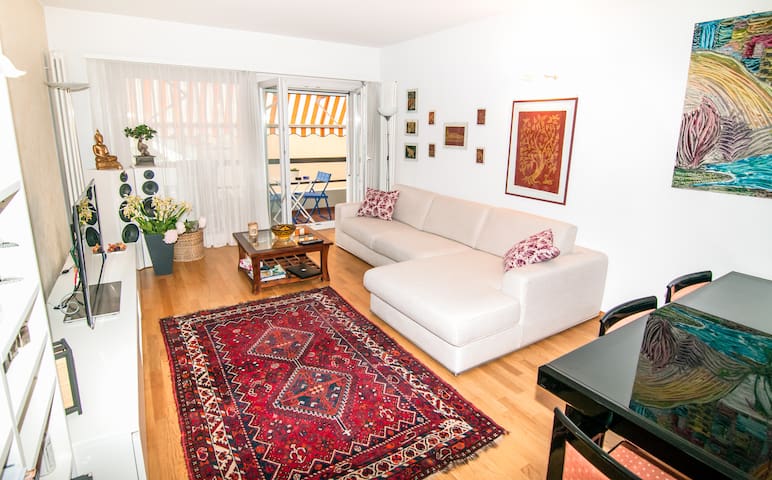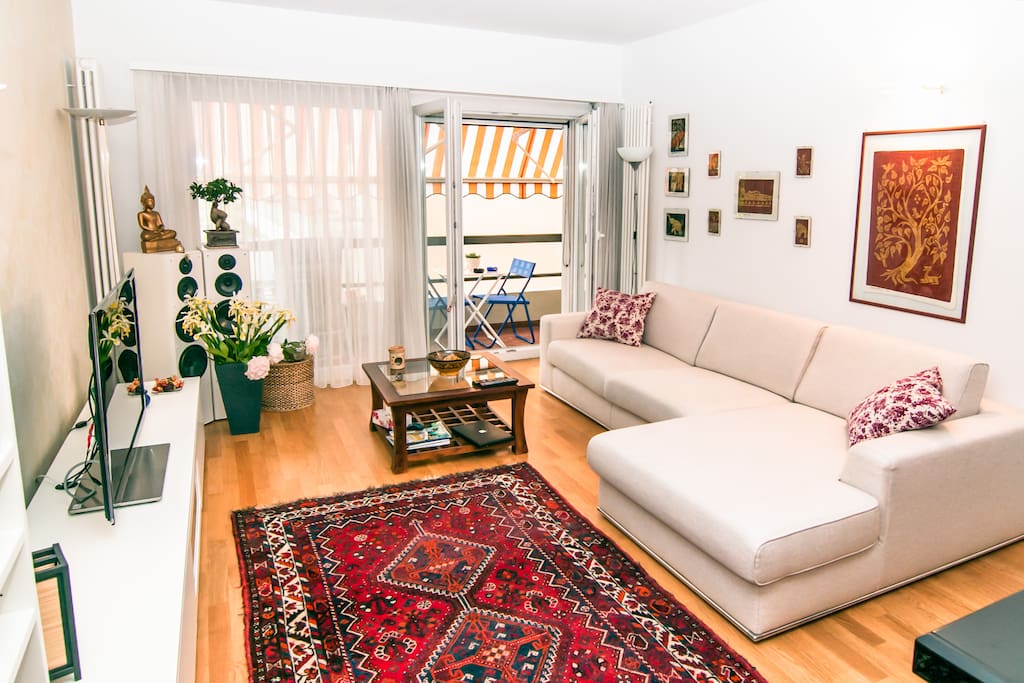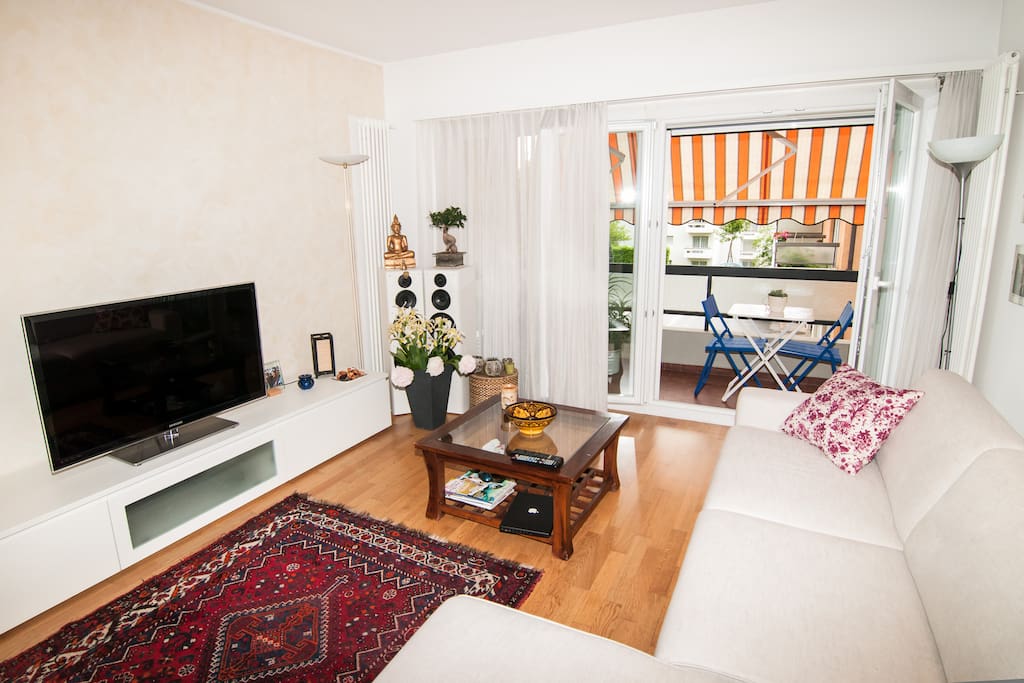 This gorgeous, recently refurbished, modern flat offers great value for money for a short summer stay in Lugano.
The area is very quiet and you will be able to enjoy a glass of wine or some bubbles on the generous balcony overlooking the mountains!
The space
This gorgeous, recently refurbished, modern flat offers great value for money for a short summer stay in Lugano.
The person who will rent the flat will be very considerate and respectful, and will be able to enjoy all the high-tech amenities of the apartment.
The area is very quiet and you may want to sip a glass of Merlot del Ticino or some bubbles on the generous balcony overlooking the mountains, the city and the lake.
Tourism and other local taxes or fees may apply. These are not part of the Total Fees and will have to be paid directly by the Guest. In addition to Airbnb's Terms, mandatory Swiss law (e.g. on tenancy contract or domicile) may apply.
Guest access
Access to the flat is restricted to the Guest only. Any third parties are not allowed into the flat without prior written approval from the Host.
Interaction with guests
We interact with guests frequently and according to the guest's demand and needs. Our response-time is generally very fast as we want our guests to have the best experience.
Other things to note
TOTAL PRICE IS EXCLUDING TOURISM TAX TO BE PAID SEPARATELY TO THE HOST ON ARRIVAL. The amount of the 'Tourist Accommodation Tax' per night per person aged 14 or above is of CHF 3.25.
A copy of the passport or ID (pdf or other formats) of each guest staying at the flat will also be required (mandatory) at the latest on arrival (ideally as soon as possible). This is for mandatory registration with local police.
---
---
Check in is anytime after 3PM
The condominium's house rules will apply. These will be available on site in their full version. Please let me know if you wish to have a look at them beforehand.
Furthermore, we would like to acquaint you ("You") with the following additional rules so that your stay at the apartment will be pleasant, while for all other additional information please speak to your host or his representatives ("Host").
1. Accommodation is normally available from 2pm on the day of arrival until 10 am on the day of departure.
2. You are solely responsible for your personal property and valuables left in the apartment/rooms and the Host is not and cannot be made responsible for the subsequent loss or damage thereof.
3. You should behave responsibly in the apartment, in the house and its surrounding areas and You should take all possible measures and precautions against possible accidents and their consequences.
4. It is your responsibility to lock the doors to the apartment/rooms and when leaving the apartment to ensure to lock the doors and windows, close sunshades, switch off the lights and all electrical appliances (TV, air-conditioning, stove, etc.) and turn off the taps. You accept full responsibility for any consequential damage caused by the infringement of this rule.
5. The Host (personally or through his representative) reserves the right to enter the apartment/rooms in your absence for cleaning and maintenance and to prevent possible damage or other dangers. The Host will endeavor to notify the guest about the entry into the apartment/room.
6. You will refrain from causing disorder, disturbing other people and make excessive noise in the time between 10 PM and 8 AM.
7. The contents of the apartment/rooms may only be used by persons who are registered as guests. However, the Host may upon request permit possible visits at certain times.
8. Bringing in weapons, explosives and easily flammable materials is not permitted.
9. Use of equipment and appliances which are not an integral part of the offer of the apartments/rooms may be possible only upon the consent of the Host.
10. Animals are NOT permitted inside the apartment.
11. In the event of loss or damage of/to installations, furniture, appliances, equipment of the apartment/rooms, You must immediately notify the Host after discovery. If such notification is omitted, You may be held directly responsible for the loss/damage and the safety deposit may be withheld. Insofar as the loss or damage has occurred due to your culpability or negligence, You are fully liable for the compensation of the suffered loss/damage over and above the safety deposit. To this extent and for the avoidance of doubt, a check-in and check-out report will have to be signed. In case You don't want to perform or sign such reports, You will automatically accept such reports as signed by the Host.
12. It is strictly forbidden to remove appliances and equipment (towels, covers, kitchen utensils, etc.) from the apartment/rooms.
13. In the event of disregard of these house rules, the Host as the right to refuse the further providing of services and to immediately interrupt the hosting with no obligation to refund You for unused nights.
14. You have to handover your identity card or passport to the Host or his representative immediately upon arrival for registration with the tourist office.
We wish you a pleasant stay!
---
Deborah was a fantastic host- very helpful and reliable, ready to make the stay as comfortable and enjoyable as possible. She speaks excellent English and was readily available for anything that came up. The flat was comfortable and spacious, well kept and clean. It was a little away from central Lugano but the bus stop was very convenient with regular reliable service.
---
My husband, myself and our 3-month old daughter had a wonderful time at Deborah's apartment during our 11-day stay. Deborah was such a great host, she replied all queries very promptly and was very helpful in providing all the information we needed before we arrived. She was there to meet us when we came, and she had such a nice personality, showing us all around. We all liked her very much, also our daughter! The apartment was very spacious and well-equipped, we had everything we needed. The elevator was useful for us as we had luggage and baby pram. Deborah had prepared a basket full of tourist guides, maps and info. Her TV channels were quite comprehensive, although most of it was in italian, we had the BBC and ITV channels in English to watch. Our favourite was the Nautical Channel, lots of sailing action to keep our little daughter entertained. The location of the apartment was pretty convenient. The bus stop is a short 2-minute walk through the shortcut pathways. I was doing an exchange at USI, so walking to the university was also very convenient, about 15 minutes. The bus will take about 5 minutes to get to USI, just check the timing so you don't need to wait. There are shops, eateries and supermarkets close by. We were very sad when we had to leave, we had such a great experience. The every sweet Deborah took the effort to get our baby a little gift before we left! We would highly recommend her apartment and if we visit Lugano again, we would definitely want to stay there too!
---
Deborah & Dan's mum picked us up from the railway station, she was lovely and proving language is no barrier to making a positive connection. The flat was not where the map said it was, which is misleading, rather it is OUTSIDE of the blue circle, it is at the restaurant sign at 1 O'Clock to the Blue circle. (the flat is supposed to be at the centre of the blue circle). If we hadn't been picked up this would have been a problem. That said the flat is lovely, bright, airy and very relaxing. The flat has been decorated reflecting the travels of the host and is warm and friendly for it. We loved the large windows and security system leaving them open but safe at night. As a first floor flat this was important to us. The lounge is very easy to relax in and the cable TV service was superior, we watched BBC and ITV British TV all week, which we don't get in New Zealand. so it was a treat, especially as travelling in Europe, it was not expected. Using the bus was a cinch with the bus stop 100m away at the circle where it turned around. The service was frequent, clean and safe even at night. Lugano's public buses are a positive aspect of the town and to be lauded. Never once did we feel unsafe and could get anywhere in town via the central hub. The frequency and efficiency of the bus service is one many NZ cities could aspire too. We would recommend Dan flat to anyone and if we come back to Lugano would stay there.
Hi Mike, many thanks for your kind review. Let me me address the location issue first: where the blue circle is located on the map IS NOT SOMETHING THE HOST (I.E. ME) CAN DECIDE. The host simply inputs the correct address in the system and then that blue circle is automatically generated. Now here is where you are wrong: the circle is exactly meant to disclose the narrower area where the property is located BUT NOT THE EXACT LOCATION! So it is incorrect for you to state that the flat is supposed to be at the centre of the blue circle! This is due to Airbnb's privacy policy. The exact location will only be disclosed upon booking. In fact if you check your documents (that you received from Airbnb and from us) you will see that you have the exact location. Moreover we provide all our guests with further guidance and maps with location of the flat and way to get there (Please refer to Airbnb's Help section for further information). As to safety, I smiled at your comment about never having felt unsafe as I don't think there is one single spot in all of Switzerland where you could feel unsafe! :) Having said that, I'm glad that you enjoyed your stay and had a good time!
---
My partner and I stayed at Deborah & Dan's apartment for 5 nights this May and we could not have enjoyed it more! Deborah was very attentive in sending us information before our arrival and made sure we made it the apartment safely when we arrived, despite an intense rainstorm that afternoon. The apartment was immaculately cleaned and Deborah really went the extra mile to make our stay comfortable, even providing new slippers for us to wear inside the apartment. The bed was also very comfortable and helped us get over our jet lag quickly. The location of the apartment is very close to Lugano's city center, with many restaurants, grocery stores, pharmacies, activities, etc. nearby. I loved being able to go for runs in the beautiful surrounding neighborhood in the morning with the lake being less than a 10-minute jog away. For anyway looking for a comfortable, welcoming retreat while in Lugano, I would highly recommending staying with Deborah & Dan!
Dear Gavin, Many thanks for your flattering review and kind words. We're really happy that you enjoyed your stay and this is the main and most important thing! Our guests' well-being is paramount to us and we do our best to ensure this is the case. It has been a pleasure meeting and hosting you, and it would be great to see you again in Lugano, but perhaps also in Croatia or Rome next time! Take care! Ciao Deborah&Dan
---
Well before my trip, my wonderful experience with Dan and his sister Deborah had began. Being a new user to Airbnb, Dan was a great coach in helping me set-up my account and in accommodating to the many small requests and queries that I had prior to the trip. Both Dan and Deborah, had very clearly sent us detailed directions to the apartment from both the airport and the train station. As we were 3 girls travelling to Lugano for a short university programme, we had very little time to explore the town. Understanding this, Deborah had very neatly organised maps and bus schedules ahead of our arrival and kept them handy in a little basket in the living room. She personally took us on a guided tour around the neighbourhood orientating us to the nearest amenities and bus-stop. Given the long hours we will be spending in campus, Deborah had pre-empted food supply issues that we might have and had stocked up lots of snacks and food in her lovely kitchenette! To top it up we had a nice chilled bottle of sparking wine waiting for at the apartment! Her home was an amazing nest. Perfect for three girls! It was clean and well kept with so many references to Asia, that we had no reason to be home-sick! During our stay she kept in constant touch with us to check on how we were getting by and was ever-ready to jump to our assistance. On our last day, she had so kindly taken the trouble to drop us to the train station and airport respectively! I need to stress here that the only regret I had throughout my stay was not having had more time with Deborah! I will recommend Deborah's home for anyone who wants to experience the true blue Swiss hospitality complete with the homely feel. THANK YOU DEBORAH AND DAN!
Wow! Thanks so Much Neethiya for your overwhelming, kind, flattering and moving words! We put a lot of love in what we do and we love hospitality particularly because of guests like you, who make us proud and give us reason to continue hosting as we do. It was a pleasure getting to know you and hosting you, and we really hope we will get to meet in the future again. Many many thanks to you and the girls! Dan&Deborah
---
1. Our hostess Deborah, made us feel very welcome. She met us at that rail station in Lugano and drove us to the apartment. She took a great deal of time explaining workings of the apartment, and left the refrigerator well stocked with essentials and chocolate. During our stay, she drove us to a suburban shopping center to shop for souvenirs. She offered to drive to lake Como and spend the day with us. She drove us to the rail station on the morning we left. She was available through our 2 week stay to help and answer questions. 2. The apartment was spacious and well furnished, as advertised. Everything was in working order. 3. The neighborhood was not really within walking distance to city center, unless you do not mind walking up steep hills. However, A public bus stop was inn easy walking distance with frequent service to anywhere in Lugano. A weekly pass was 22 Swiss francs.
---
Healthy human relationships have always been paramount to us. We've always had strong bonds with family and friends. And we keep adding new people to our long and international/multi-cultural friends list. Our hospitality is globally renowned and there is always someone stoppi…
Languages:
Deutsch, English, Español, Français, Italiano
Response rate:
100%
Response time:
within an hour
Explore other options in and around Lugano
More places to stay in Lugano: