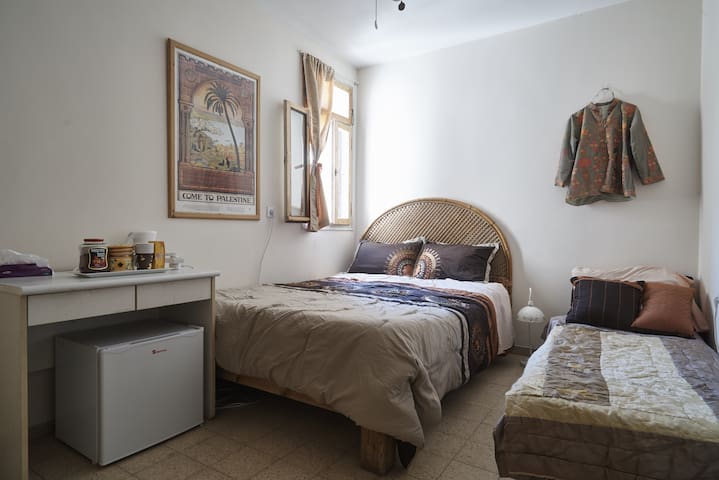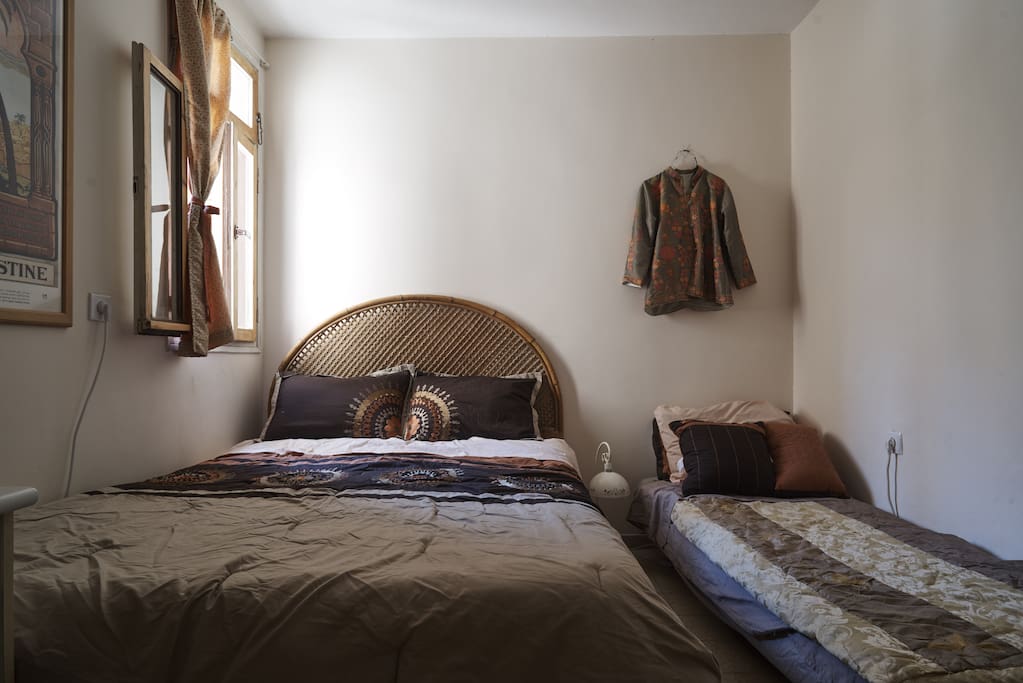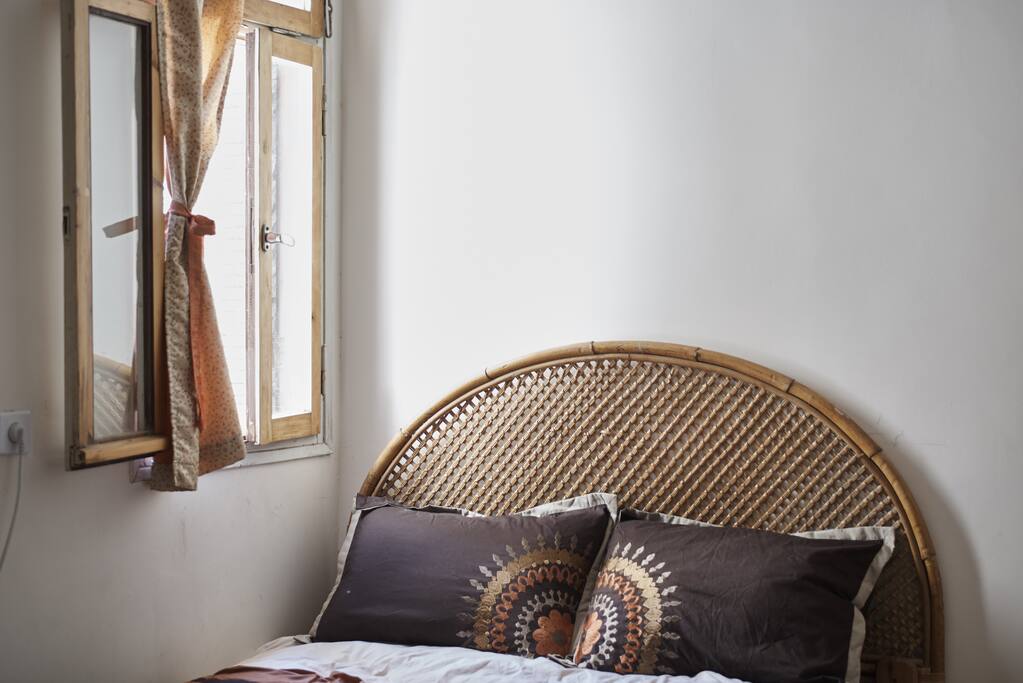 About this listing
This bright airy apartment is in the heart of all the main tourist sites in Jerusalem's Old City. Although tourists from the whole world flock through the neighborhood, the apartment is tucked into a quiet corner. For pet-lovers only . Here you are in the heart of hearts in Israel, among some of the world's most holy, famous sites and important excavations.
---
---
---
---
The space
There are several cats here, but guests can close their bedroom door to keep them out. Not advisable for people who feel nervous around animals, or who are allergic. The bedroom is bright and roomy. All you need to do is walk outside, and you are in the epicenter of Israel's main tourist sites-----the kaleidoscope of Jerusalem's Old City, in the Jewish Quarter. Walk 1 block away from my quiet peaceful corner of the neighborhood, and ------wham! ---- Tourists galore from all over the world who have come to explore this 1 square kilometer of land inside the medieval ramparts..
The apartment has wireless. Guests are free to use the fridge, and I provide eating utensils. No one cooks here because it's a kosher kitchen, but they can make themselves hot drinks, can heat up bread in a toaster oven, and can store groceries in the fridge. You can stock up on yogurts, fruits, veggies, etc., from the many nearby grocery stores, and eat cooked food at the many restaurants, fast food places, and kiosks ----also nearby. You can use the microwave. If I am in the mood to cook, I will offer you whatever I'm cooking. If I'm in the mood and have time, I might make us a nice breakfast.
The toilet room and the shower/sink room are separate, and are shared with me, although I usually shower at the gym. I supply sheets, blankets, and towels. There's wifi.
I am a licensed tour guide, and am happy to give free suggestions on how to get around Israel and what to see and do----anything from the best hiking trails to museums and everything in between. I am also happy to show you around the Old City, introduce you to interesting characters who live here and arrange for you to experience sitting with local families at their Shabbath and/or holiday tables.
Also, 2 blocks away is a bus that brings you into the New City, and it's a very easy walk to the City Center as well.
Guest access
Guests have access to the whole apartment, but no cooking in the kitchen. Your room has a fridge for any foods or drinks you want to keep there. A kettle, coffee, tea, sugar, and soy milk are provided.
Interaction with guests
I interact with the guests as much as they want, providing I am not super busy with tour guiding and animal rescue. If they want, I very often give them small free tours around the neighborhood to help them get the most out of their trip here. I also make suggestions on what to see and do, how to get around, and how to make reservations for certain tourists attractions.
The neighbourhood
The Jewish Quarter is a mere 5 minute walk from the Western Wall, the Church of the Holy Sepulcher, the Ramparts Walk, the City of David, and many other sites. There are many places to eat, and several little food stores.
Getting around
I will use this space to give advice to future guests.
1. From the airport, you can catch a group taxi called a "sheroot" for about 65 shekels. You tell the driver you need the Jewish Quarter parking lot. If they refuse, then say you want the Karta parking lot. Or you can take a bus to the Jerusalem Central Bus Station for 16 shekels, and take a private taxi from there to the Jewish Quarter parking lot. (See above for directopns to my apartment.)
2. It is shocking to me that tourists have never heard of the "City of David". I recommend a visit there.
It's next to the Old City, where 3000 years ago King David conquered the original small hill where Jerusalem was. Jerusalem would not be important at all to Judaism, Christianity, or Islam, if not for the moment that David took the city by surprise and made it the eternal capital of the Jewish People. A 3-hour tour of the City of David is the foundation upon what everything else you do in Israel is based on.
There is a wonderful 15-minute 3-D movie which shows you what the original Jerusalem looked like 3000 years ago, incredible archaeology, and best of all----a 2700-year-old water tunnel from the Bible that King Hezekiah ordered to be made to ensure a water supply while Jerusalem was surrounded by 185,000 enemy Assyrian soldiers. The water only comes up to mid-thigh at its highest point, but 99% of it is only ankle deep. Tourists just need to wear shoes and lower clothing that can get wet. In the summer, your clothes dry off quickly. In winter, it's good to wear shorts or a swim suit under your clothes, and when you get to the water tunnel---- have a knapsack to take out whatever shoes for the water-walk and to put your dry pants/skirt into. When you come out of the tunnel, you put your dry clothes and shoes back on.
It's 80 shekels per person and you reserve a great 3-hour group tour with one of the good City of David tour guides.
3. Recommended reading to absorb more from your trip:
The best subjects to read about would be:
Stories of the patriarchs and matriarchs (Abraham, Sarah, Isaac, Rebecca, Leah, Rachel, Jacob), King David, King Solomon, the Maccabees, King Herod, the Roman period and Masada, the Bar Kochba Revolt, early Christianity and Islam, Crusaders, the British Mandate, the War of Independence, and the 6-Day War.
There are short, light, interesting articles by Ken Spiro.
To see them, go to ;
Type into the search box: "Ken Spiro history crash course"
See list and choose any of the following articles:
#. If you will be in Jerusalem on a Friday evening:
The Western Wall at twilight on Fridays is quite an unforgettable extravaganza. There are over 1000 people of all ages singing, dancing, and praying to greet the Sabbath. The darker it gets, the more lively. Then everyone goes home for a big dinner. If you are staying with me, you are welcome to join me in my Friday night traditional Sabbath dinner, unless for some reason I don't cook it that week.
5. Israel is the only predominantly Jewish country in the world. To get a deeper understanding of what makes Israel tick, I believe a person should check out a little Jewish religious philosophy. At Yeshivat Aish Hatorah there are free fascinating classes in English for anyone off the street almost every morning and afternoon only a 3-minute's walk from my home. My favorite class is the one from 9:15 - 10 AM. Many of my airbnb guests have greatly enjoyed checking out 1 or more classes.
Other things to note
Directions to the apartment:
From Jaffe Gate:
If the driver lets you off near "the Mamilla Mall", ask anyone where is Jaffe Gate. Come into Jaffe gate and follow the only road as it curves to the right and passes a police station. Keep walking till you see a tunnel. DON'T walk thru the tunnel. Just before the tunnel is an alley with a sign "Saint James Road". Zig zag down that alley, turn right at Ararat Street, left onto Ha Kinor Street, then take your immediate left even though there is no sign. DO NOT TURN ANY MORE! You will pass trees on your right. DON'T TURN! You will see an entrance to my building with "5" carved in stone above the entrance. Come in, get key from mailbox on your left, go up to the first apartment and let yourself in. I will be home soon. Will you have a cell phone? My cell phone is .

Directions from Jewish Quarter parking lot:
Ask anyone where is "Habad" street, which is right next to the parking lot. Go to Habad Street directly from the parking lot. Walk on Habad street NOT toward the giant Old City wall, but in the other direction. On your left, you will pass Ha Nevel street and Ha Malach St. Then you will see on your left steps going up with the sign "Ha Shofar". Go up the steps, go straight till the end, which forces you to turn left, and immediately on your left is the entrance to my building-----#5 Ha Shofar. Go up a few steps in the building and my apartment is the first one, with "18" on the door (not my name).
---
No cooking in the kitchen unless I am there to let you know how to keep the kitchen kosher while you're cooking. Only kosher food allowed in the home, which can be bought at the non-meat nearby grocery stores. There are lots of nearby restaurants and fast food places to eat. Feel free to keep dairy products, fruits, and vegetables in the refridgerator.
---
Strict
Cancel up to 7 days before your trip and get a 50% refund plus service fees back.
---
---
My friend and I stayed at Tova's place for two days and two nights during Passover/Easter weekend. Tova is a wealth of knowledge! You won't just be getting a place to stay, but you will have a historian and guide, if you are open to receiving such information. Tova's communication was great. As she mentions in the Airbnb posting, she has a lot of cats. If you are not a cat person, I'd recommend you stay somewhere else. The best part about this listing is the location. It's in the heart of the Jewish Quarter, right by Zion Gate and Jaffa Gate. It's within walking distance to anything you'd like to see in the Old City. Thanks Tova for helping to make our stay in Jerusalem great!
---
Tova's place is simple and comfortable and only a few minutes to the Western Wall and everything in the old city. Her directions to her place from the Jewish Quarter parking lot where the Sherut from the airport dropped me, were simple and clear and all my communications with her were very easy with quick responses. Tova loves cats and was nursing abandoned kittens in her living room during my stay so her home is best suited to cat lovers! Tova was a great host. From the moment I arrived - my first time in Israel - she went out of your way to help me. Telling me where to go, which were the best places and taking me to some of them. Making suggestions and booking me into her favourite Jerusalem experience! Arranging Shabbat meals and taking me to Shabbat lunch with her friends. She has such an open, honest and generous spirit. Thank you so much for making my first trip to Jerusalem so memorable!!
---
What a great place! Location in the old city couldn't be better, 4 minute walk from Jaffa gate and 3 minutes from the western wall. Small food shops and cafes are even closer. Tova is so friendly and welcoming and full of amazing stories about Jerusalem. The kittens and cats were an added bonus! Thank you for a great visit
---
Loved staying with Tova. She is very knowledgeable about Jerusalem. The home is super-close to important sites, as well as restaurants, supermarkets, and shops. We hope to return to see Tova and her cats soon.
---
Staying at Tova's was fantastic. She has a huge heart and welcomed me so warmly. She even invited me to a Shabbat dinner and showed me around the Israeli countryside, I'm so appreciative of these little things she did to show me how amazing Israel is and to experience true Israel, not just from a tourist perspective. The location is amazing, just a couple of streets back from the Western Wall within the Jewish quarter of the Old City. I hope to come back Tova! Would definitely stay here again.
---
I was just looking for a place to stay in the heart of the old city so that I can get access to ever thing easily. However, the experience with Tova was totally beyond my expectation. This is not just a place to stay. Tova knows so much about Jerusalem and she enjoys sharing with you all stories she knows behind a single piece of stone in the old city. Later on I realized she is a registered tour guide (no wonder!) She brought all of us to a roof top that has the best view over the western wall, and invited everyone to a Shabbat dinner in her place. The cultural experience is simply amazing. For more information, she has two websites as follows: BTW, she is a celebrity (the cat lady) on national geographic now. Check this out:
---
Jerusalem, Israel

·

Joined in June 2012
A licensed Israel Tour Guide and love sharing my knowledge with travelers about how to make the most of their trip to Israel. I also love having guests, and give them as much privacy or assistance that they want.
Response rate:
100%
Response time:
within a few hours
Exact location information is provided after a booking is confirmed.
Explore other options in and around Jerusalem
More places to stay in Jerusalem: