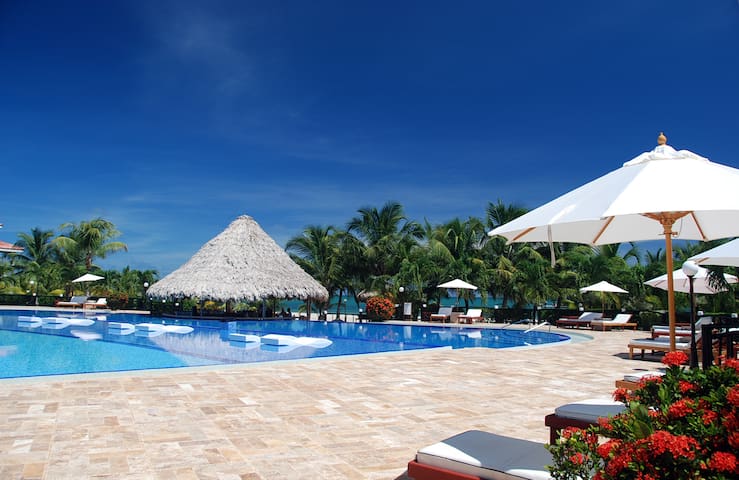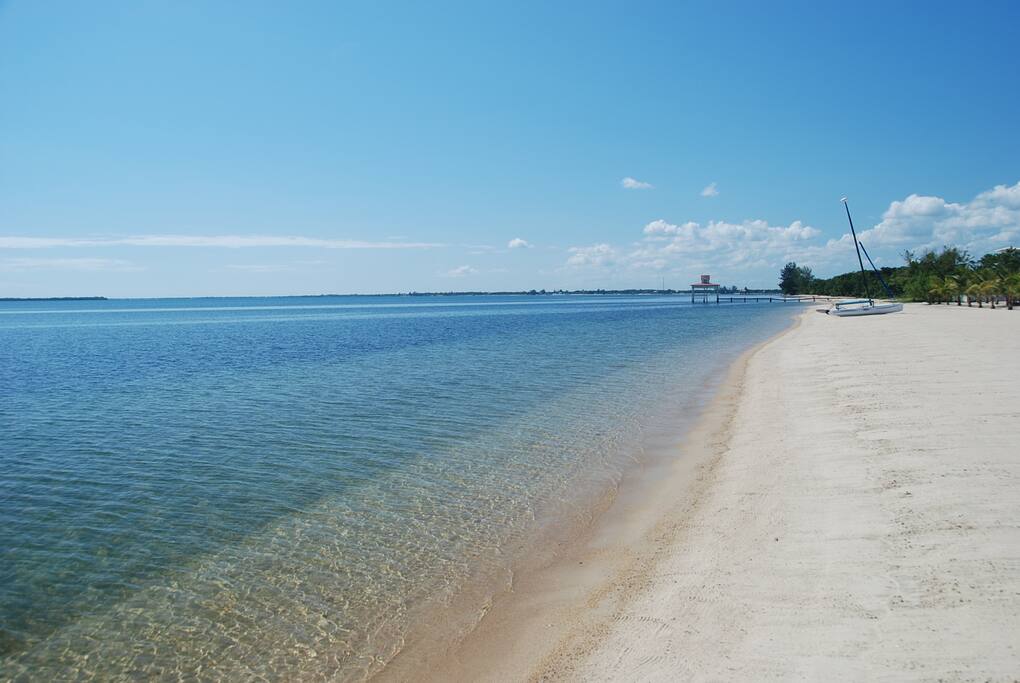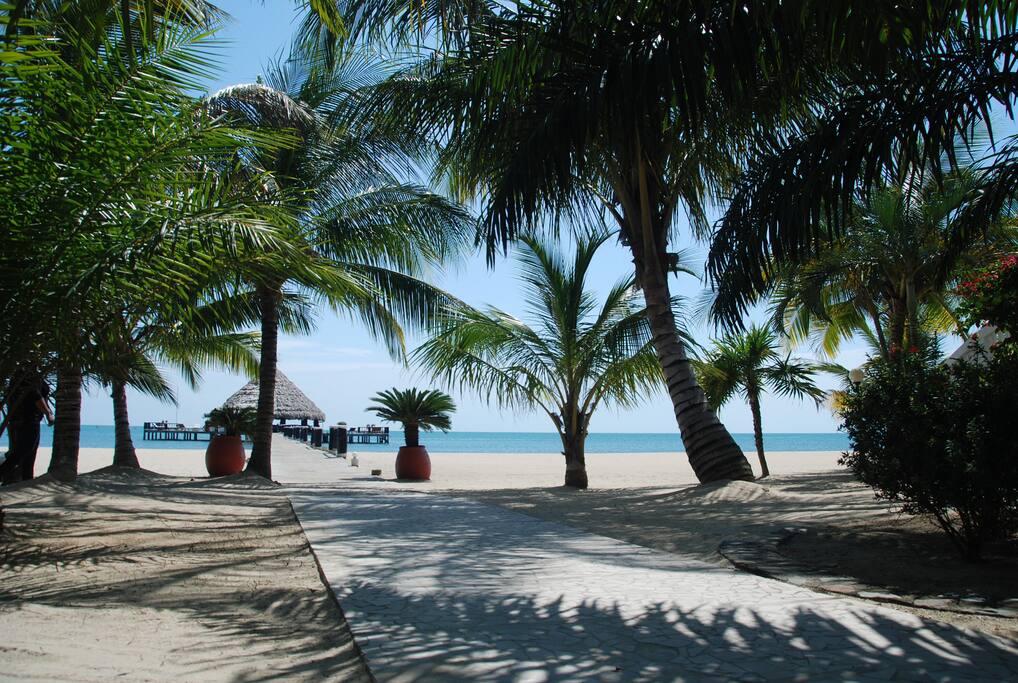 This Placencia beach property is a tropical luxury on the peninsula's beachfront. This relaxing setting features private accommodations, 3 Restaurants and an infinity pool with swim up bar on our private pristine beach overlooking the Caribbean Sea
---
---
Always communicate through Airbnb
To protect your payment, never transfer money or communicate outside of the Airbnb website or app.
Learn more
---
Not safe or suitable for children (2-12 years)
Check in time is 2PM - 7PM
Check out by 12AM (midnight)
---
---
---
This is a very nice and upscale location. The staff is very accommodating. You do need to be aware that although these are condos with kitchens they do not want you to use the kitchen and do not provide any pots, pans or cooking utensils other than a coffee pot, a few plates, and fridge. The location is secluded and far from town or any other restaurants. It's a 30-minute & $20 US each way taxi ride to town. You can rent a golf cart to do the 30 minutes (one-way) drive to town. The resort said they were full but the place is nearly deserted. This is fine if you want a quiet vacation but not a lively place.
---
Overall we had a great stay here - but you should know a few things! First, this is at The Placencia Resort (URL HIDDEN) not sure why that isn't part of the listing as it is a good thing! Feel free to email (EMAIL HIDDEN) and I can provide some pictures, advice, etc. as we really did have a wonderful trip. I would also recommend staying 50-60% of the time here and then moving to the Jungle as we did. Caves Branch (URL HIDDEN) was AMAZING. We were there April 6-10 and it was DEAD. This was a nice thing for us. I am guessing there were less than 12 total guests at the entire resort. The pool is incredible and there were never more than 6 people there. They said we were just coming off Easter which is a busy time but it is hard to imagine that part of the peninsula is ever busy. Again - AMAZING pool! This place is about as far away from the village (downtown area) as you can get on the developed part of the Peninsula. They have a somewhat regular shuttle but it is a good 20-30 minute drive to downtown and with airport pickups, etc. it could be an hour before you are able to get there/get back home. The food is decent at the resort but if you want better food at better prices, you will want to go to the village. My wife and I ended up renting a golf cart for about $50/day so we could come and go on our schedule which turned out nice. Placencia is a great place if you are looking for a very low key location. Again, they told us the time of year we went is a slow time but it seems like Placencia in general is a hidden gem. From what we gathered there was a hurricane in 2001 that destroyed the whole place, then the global financial crisis so there is a lot of "for sale" and half built construction around. The beach itself is SUPER NICE but the water right out front is not the clearest - we did rent paddle boards for $5/hr to get out to clearer water. Don't expect to do any ocean activity without a paddle board, kayak, etc. We had 2 rooms - a bedroom and a living room. Each had its own AC unit - the unit in the bedroom was not working and it was HOT in there - the first night they moved us to another room and said they fixed it the next day. By the time we got back it was late, AC was still not working, and we didn't want to hassle with it so we just moved the bed into the living room where it stayed the next 3 nights. I am sure they would have moved us but we just didn't want to hassle with it. Bottom Line - we would come back!
---
We never met Tara during our stay at The Botanical Exotic Suite. The Botanical Exotic Suite is actually located in The Placencia Hotel, since we were never informed of this our shuttle driver had quite a time finding it, after a couple of phone calls to Tara this information was provided but it was both time consuming and costly not to have been advised of this prior to our arrival. The grounds were beautiful and well maintained. The accommodations were fine but the full kitchen contains no pots, pans, cutting knives etc. so you can't actually cook in it. The best part of this resort was the pool, beautiful and clean, a 5 on a scale of 1-5. The staff was cordial and helpful. There are not 3 restaurants but 1 main kitchen where all the food is prepared and then served in 3 different locations. We found the food to be adequate but never rose above a 3 on a scale of 1-5. It is important to realize that this secluded resort is 30 minutes from Placencia Village, there is a free shuttle provided but if you want to come and go on your own time line the cab fare is between $20.00 to $25.00 US dollars one way. Finally, while it does look out on the water there is a man made barrier wall in which the waves break on it, you will not experience either the sounds or sight of waves coming into shore nor is there a swimming beach.
---
PROS ⁃ beautiful rooms/campus ⁃ Friendly staff ⁃ Clean beach ⁃ Nice workout room ⁃ Transportation to/from airport ⁃ Excursion guides were SUPER friendly and informed. ⁃ Bartenders (shoutout to our man Jamil) are very nice and make great tasting drinks ⁃ Chef prepared the fish we caught for only a 20$ fee. Tasted amazing (Red Snapper) CONS ⁃ Full kitchen, NOTHING to cook with. There were also no paper towels. ⁃ Beach water isn't clear, and as soon as you enter the water its not sand but a deep muck. ⁃ Sinks turned themselves on and wouldnt go off/ lost water pressure ⁃ Safe containing money and passports stopped working randomly ⁃ Uncomfortable sheets and squeaky bed ⁃ Paid an entirely unreasonable 50 dollars for wifi, that doesn't work at all ⁃ About a 15 minute drive from the village ⁃ Drinks and food are expensive ⁃ Asked for to borrow a pot and a can opener, they said yes, and never brought it ⁃ Front desk people seem uninformed ⁃ Research your own excursions, front desk people arent necesarily the most helpful. ⁃ The "lunch" that came with our excursion consisted of a tiny cookie, some smushy fruit, and two pieces or bread with a miniscule smear of warm tuna. ⁃ Description says 3 restaurants when there is only 2, and they have the exact same menus. ⁃ Housekeeping entered without knocking around 7am twice ⁃ Stayed for 5 days and didn't receive fresh soap or toilet paper any of the days Overall I would rate our stay as a 5.5 out of 10, and thats only because the place is so beautiful, and it semed like we were the only guests there. The place is absolutely gorgeous and clean, But the functionality is horrible. Make sure to read the book in the room, there are tons and tons of excursions that they dont tell you about or show you. We didnt know about any of them until the night before we left. Also wish they had a bug screen on the door, we wanted the fresh air but not the hundreds of itchy little micro fly bites! The Belize zoo is absolutely amazing. Got to touch and feed a jaguar. about a 2 hour drive, but the breathtaking scenery and small villages made it worth it. Hope this is helpful! -George and Mira
---
Our landing to the Placencia resort was rocky at first. The suite was advertised with a full kitchen and upon our arrival we were told kitchen meant coffee maker and microwave. After expressing our disappointment, a full kitchen was installed in our suite. The facilities are immaculate. The pool was stunning and bar tenders were pleasant. Our room was clean, comfortable with a stellar view of pool and beach from our balcony. We even decided to stay two extra nights. Tara was accommodating in making sure we had what we needed.
---
We just made it back to snowy Denver from an amazing Belize trip. We spent out first week at Tara's place in Placencia and if you haven't been to paradise before this is it. The unit was beautifully located on the beach. Gorgeous sand and palms facing the ocean. Placencia Hotel and Residences is a 5 star resort with great restaurant, pool, tennis courts, and a gym. The resort is picture perfect. We had a rental car which made it easier to get down to the Placencia Village, which helped us feeling more mobile. There were amazing pelicans fishing in front of our unit. The restaurant services were great, whether we ate at the restaurant, the pier, or the pool. We did experience a little confusion upon arrival to check in, as the Hotel is on one side of the street and the residences is on the opposite site. Make sure you check in at the Hotel side. Overall we had an amazing stay and we would recommend it to anybody. You must visit Placencia Village - cute as can be.
---
Response rate:
100%
Response time:
within an hour
Explore other options in and around Placencia
More places to stay in Placencia: