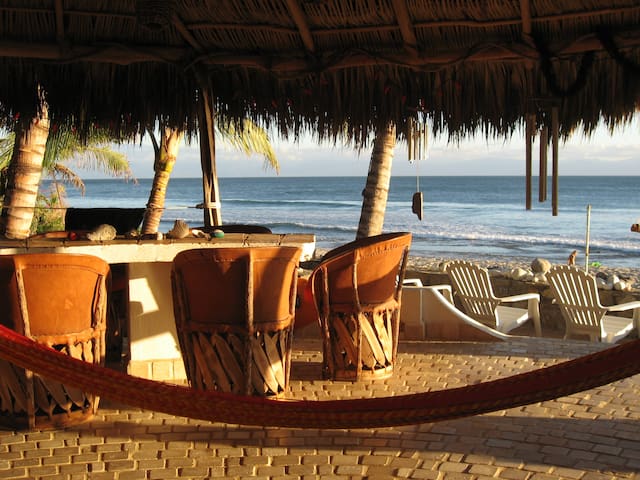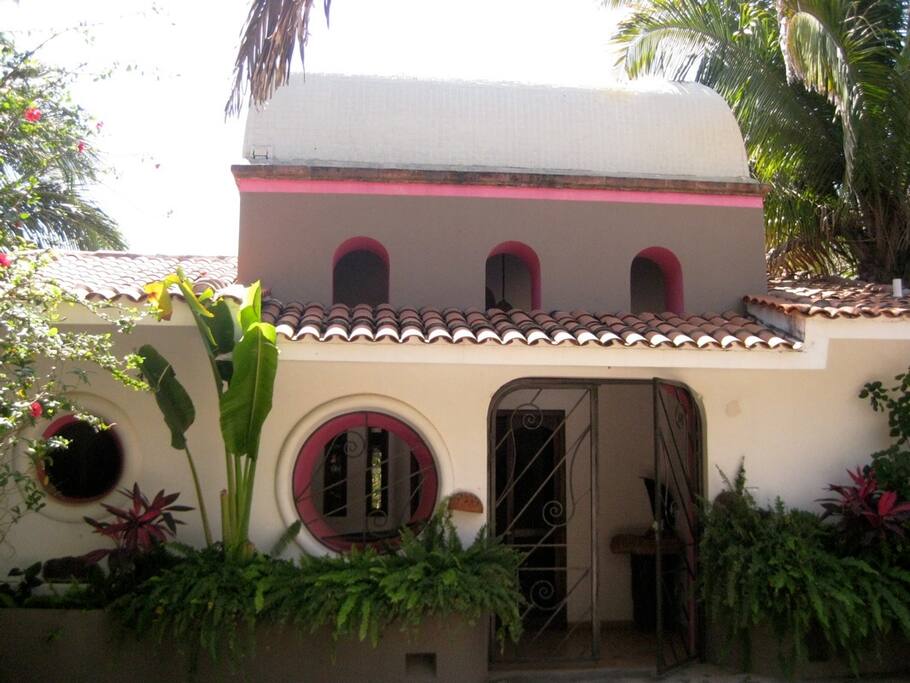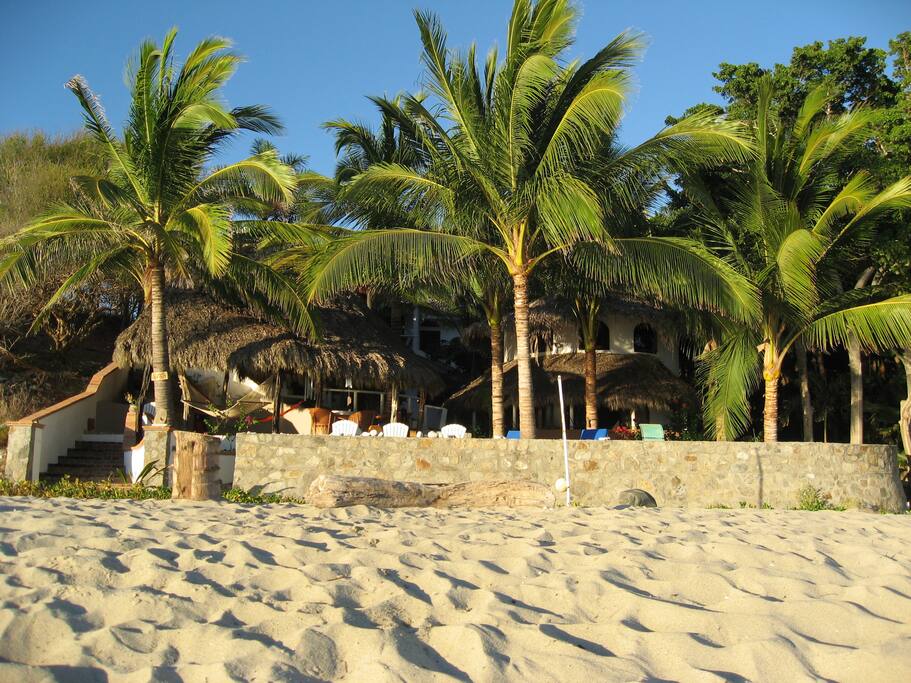 The space
Casa Rincon is located in the private and 24/7 gated community of Punta del Burro, 45 minutes north of Puerto Vallarta, 5 minutes after the quaint fishing village and new Marina of La Cruz de Hunacaxtle, 10 minutes before Punta Mita and 20 minutes before Sayulita-on the Riviera Nayarit side of the Bay of Banderas. We are the last house in the community, nestled in a lush tropical riverbed, and closest to the famous surf point called "Burros". Directly in front of the house is a perfect wave for beginners or seasoned surfers, boogie boarders, body surfers, while also perfect for swimmers and children. We roll out of bed and right into the surf with our fins or boards!
PLEASE ASK OWNER ABOUT HOLIDAY RATES, HIGH SEASON, LOW SEASON, LONG TERM RATES:
The property consists of the Main House, (1) CASA RINCON, with a large master bedroom, walk in closet, King bed, bath, and the TRUNDLE ROOM with a trundle sleigh bed for two, and bath. Both with patios and upstairs fireplace. Downstairs is a full bath and powder room, office, living/dining room with beehive fireplace, gourmet kitchen and large laundry room. The kitchen opens on to the pool and patio and ocean. Walking past the pool and towards the ocean on the left is (2) CASA RINCONCITO, aka: the Magical Round House, with Queen bed and built in single upstairs. Downstairs is a full gourmet kitchen/living area, private patio, with full baths upstairs and downstairs. To the right of Casa Rinconcito is (3) CASA SURF, with a straight view shooting right out to the Burros surf break, Queen Bed with a built in single sofa/bed in the kitchenette area, also with private patio. Behind the Main House, tucked in a palm forest is (4) CASA LUNA with views across the pool out through the palms to the ocean, King bed, kitchenette, full bath and private patio. Above Casa Luna is (5) CASA SOL, with views of the ocean through the tree tops, Queen bed, full bath, kitchenette and private patio. All rooms have views of the ocean, baths and patios. There is a Grand Palapa right at the beach with hammocks, built in tables and equipali chairs for outdoor dining and entertaining, with exquisite whale watching, surf watching, sunning patios and beach everywhere! We have free U.S. phone service and wireless high speed internet.
The property generally rents as a whole compound, or in two half compound options: CASA RINCON HALF COMPOUND includes The main house, (CASA RINCON), CASA LUNA, and CASA SOL. The CASA RINCONCITO HALF COMPOUND includes CASA RINCONCITO, and CASA SURF. As well, any combination of Casas can be rented.
PRICES VARY ACCORDING TO HOW MANY ROOMS RENTED, AND THE TIME OF YEAR: Generally this is the pricing:
Whole Property: from $600-$850/night depending on time of year:Winter Holiday is $1000/night: Casa Rincon Half from $450-$700/night;Casa Rinconcito Half from $350-$550/night: I sometimes rent out single rooms at $150/nt. for special situations. I am also happy to send you a file with much more information on the house and area, cooking, car rental, airport pickup, directions, etc. at your request, but through this site can only do so after booking. We have surfboards, boogie boards, kayaks, fins and more. We also have a full time housekeeper and caretaker. Our caretaker Luis, who is almost part of our family, lives in private quarters on our property near the entrance, is happy to help you with just about any and everything, and takes good care of this paradise. As Punta del Burros is a private community, and not in a village, it is useful to have a car.
PLEASE REFER TO 'HOUSE RULES' TO READ LOTS MORE ABOUT THE HOUSE/COOKS/RESTAURANTS/CAR RENTALS, ETC......THANKS!
IMPORTANT!!! I primarily rent through another site and purposely don't keep my calendar up to date. On that site are many current reviews as well as a video. Please search 'Casa Rincon Punta del Burro". The location map below is completely wrong. Airbnb system is unable to properly locate Punta del Burro, which is in Nayarit, 45 min. north of Vallarta, on a very private and renown surf beach.

HOUSE INFORMATION;DIRECTIONS;CARETAKERS;EMERGENCY INFO ETC.:

Ask about cancellation policy:

DIRECTIONS: Get on the highway heading in the direction North toward Tepic, or Compostela. From the parking lot exit of the airport you take a left that then curves around toward the right, and watch for the signs for Compostela or Tepic. You will wind around and get on to the highway heading North.
After you cross over the long bridge into Nayarit, you will pass exits to Nuevo Vallarta, the intersection of Mezcales, the stop light, (semaforo), at Flamingoes Golf Course and then pass through the town of Bucerias with it's 5 or maybe now, 6 stop lights. Not long after the last light after you've left the town of Bucerias you will see a highway exit sign for Punta Mita. TAKE THIS EXIT. Then you go over the highway on an overpass, pass a Pemex gas station on your right and go through the one stop light in La Cruz de Huanacaxtle, our closest town, (more on Cruz, following). The dirt road down to Punta del Burros is about 8 more minutes, from La Cruz and soon after the 10 Kilometro marker that you'll see on the right hand side of the road and is usually knocked over and lilting to the right
You will also now see a sign for VILLA ANANDA, which is in our Punta del Burro community. Use this sign to locate our entrance road. Our road is about .3 miles farther than the 10 K sign and on the left. There, you will also see another VILLA ANANDA sign. It is a very hidden, unassuming and misleading dirt entrance and you will know you missed it when you come upon the next left hand entrance to the Hotel Palladium which is at the 11 Kilometro marker. Turn around and then go in the next right hand turn. .
Coming from the direction of P.V., assuming you haven't gone past our entrance, ur road is to the left. (If you are renting a car, be sure to not only put on your left blinker, but put out your left arm for turning, as a left blinker only indicates to trucks and busses and most folks that you are giving them permission to pass, and you can have a bad accident!) If there is a lot of traffic I some times pull over to the right and let the traffic pass, then cross the road and go into our road.)
It comes up fast just after a curve, and at an electric pole. Drive down this road until you come to the gate and the gate house on the right side. Tell the guard that you are renting Casa Rincon from Barbara Cleary. There is now a guard there 24/7. Continue past the gate house and turn right onto the road that parallel's the beach and begins at the old gate house, now turned into the Punta del Burro Home Owner's office. Travel through Punta del Burro all along a cobble stone road until you go up a steep hill, then around a lot to your right, still on the cobble stone road until you come to a dead end at a dirt road again, where you turn left, and go down passing the entrance to my in-laws house, (Lori Cleary: Casa Selvatica), winding around to your left where you will see our garage, and our entry courtyard straight ahead. We are the last house.
BINGO!
DIRECTIONS TO MARKET; It's really good to go load up on food right away and get that over with. The house will have all the toilet paper and soap etc. that you need, but all basics must be purchased as we cannot always keep the cupboards filled with basics. Sometimes there will be basics already there for you to use, depending. We can arrange, at an extra cost, to have basics, (fruit, eggs, tortillas, cheese, bread, milk, etc.) there for you for your first day and then you can go back and shop later too.
GOOD NEWS!- We no longer have to go to the big Super Market near the airport which is a bit complicated to get to and from if you've never been there before, but not at all impossible. I will give you those old instructions and then NEW directions to the much closer and bigger Commercial on your way to Casa Rincon.
Plaza Marina Commercial: This is the super market closest to the airport. First, ask your car rental agent to direct you there or lead you there. It's less than half a mile from the airport, but with the overpass it's a bit confusing the first time. If you head out of the airport in the direction of Puerto Vallarta, downtown, 'Old Town' Vallarta, you will get on the main hiway heading South and through all the businesses that line the road all the way into the Malecon, (the main beach front road and boardwalk). The first businesses you'll see on your right are in the unavoidable Plaza Marina A large mall and shopping area. There are a few banks at the far end as well, and an ATM hidden inside ' Commercial'. There is a pharmacy, a roasted chicken stand, furniture stores, copy place, hair dresser, dentist, all kinds of places.
Mega Commercial in Bucerias: This one is much easier to deal with and closer to our house for returns. For this one just head out of the airport or from your car rental agency in the direction North toward TEPIC or PUNTA MITA. You will travel about 15 minutes towards the house
when on the right hand side, just before entering the town of Bucerias, (after 'Flamingoes" you'll see the humongous Mega Commercial Market. Easy off and back on to the hiway. Very easy to go back to if needed. There are small markets in Bucerias and La Cruz de Huanacaxtle for all the things you'll need after your big shop at Commercial. It's nice to go there only once if you can.
Walmart: There is a new Walmart near Bucerias, just before the new Mega Commercial. I hate to admit it, but I learned to shop at the Walmart in Vallarta. They tended to have the better produce section and lots more of American cheeses, goodies, etc.
Now you have a choice, and much closer to our house than Vallarta.
Small Markets There are plenty of small little markets in La Cruz to go to, to get things you run out of, like avocados, tortillas, milk, eggs, fruit, chips, beer, soda,etc…..


CAR RENTALS:
-Gecko Car Rentals is located in Bucerias, (20-25 minutes from the airport, in our house's direction), and they are a great local rental company. They will meet you at the airport and bring you to their business, and even arrange to take you to 'Commercial' first to do some grocery shopping. You return the car to their office and they take you on to the airport. The owner is Canadian and they all speak English. Here is their info:, Gecko Rent a Car ( (Phone number hidden by Airbnb)
(Email hidden by Airbnb)
-We have had very good experience with National Car Rental as well, who will meet you at the airport, take you to their lot nearby, and help you with directions to 'Commerical' and then to our house. (Directions to 'Commercial' in 'Direction's section.) You have to ask them to help you with these directions. It is less complicated in one way to do a big company rental as the car is right there near the airport, which is near the market, and you just return it to the lot and then they take you over the highway to the airport. But Gecko is local, super helpful, flexible, 'in our circle', and they also have lots of information on and make arranagements and reservations for all the dolfin, island, zip, horseback riding, etc, tours and fun things to do around Vallarta.

Taxi Service to and from Sayulita, Mexico
Owners: Jose and Carmen Ramos (Ask for Manuel to be your driver!)
Address: Calle Caracol #3 Sayulita, Mexico
Phone: ( (Phone number hidden by Airbnb)
Email: (Email hidden by Airbnb)
Call/email us about our Airport to Sayulita (or Punta del Burro or Punta Mita) Special
(Includes drop-off and pick-up at your Sayulita or Burros Vacation Rental as well as stopping at local Puerto Vallarta supermarket to stock up on groceries for your stay.)
2007 Summer Special: Airport=>Sayulita Roundtrip
$120 including grocery store stop!!!

THE HOUSE AND GROUNDS:
Casa Rincon is a lush and private compound of bungalows and palapas including the main house, and pool. It is on a sandy beach and enjoys the privilege of being the last house and closest house to some of the best surf in the surrounding Vallarta area. On its south side is a shady palm forest and riverbed home to numerous tropical birds and tropical specimen plants, on its north, an open bluff. We share a large stone fire-pit on the beach in front of the riverbed with our in-laws next door whose grounds are connected to ours by two stone bridges stretching across the riverbed. (Both houses can be rented together for larger, extended family or corporate needs.) A ten minute walk to the north on our sandy beach is a hotel called the Palladium. The Palladium has services which you can sign up for, such as horse back riding, surf lessons, jungle tours, jungle zip rides, etc. We also have information on these services through other sources.


-CASA RINCON: Casa Rincon is the main house approached off the courtyard entrance. On the upper entry level are the entry sala, two bedrooms, one master with bath, one with sleigh trundle bed and private patio and half bath/powder room. These can also be used together as a large master suite. Both rooms look out through the lush foliage and palms to the ocean.
Stairs lead down to the ground floor and main living area. The great room/livingroom/diningroom/kitchen, and large office, all open onto the pool and upper outdoor dining area with views out through the many palms to the ocean and bay. With Gen Air stove and double oven, Westinghouse refrigerator and icemaker, granite counters and island with bar sink, the kitchen is also fully stocked with Ltd AllClad cookware, Henckel cutlery, microwave, toaster, cuisinart, blender, Belgian waffle maker, coffee maker, etc,. You will find hand woven table linens, traditional pottery dishes and platters from Patamban, a small village in Morelia and hand blown and cut glassware from Tlaqueplaque, all ready for gourmet or casual cooking.

-CASA RINCONCITO: Casa Rinconcito also known as The Round House, (without a single 'rincon' or 'corner' in it), was the first house built on this compound, and is situated closest to the ocean. Downstairs is the newly remodeled and fully stocked kitchen with slate counters and Mexican tile work, slate bar table, built in curved sofa, full bath and office nook, all opening onto a dining patio with views of the beach, bay, surf and Burros Point. Rinconcito kitchen comes also with the same table linens, pottery and glassware as Casa Rincon.
Inside stairs lead up to the romantic and spacious upper bedroom loft. Curtains can be drawn for privacy, across Brazilwood railings, but privacy only from downstairs as this casa, as are all, is very private. The loft room has a queen bed, a built in twin sofa bed, and full bath. It also has a safe box for safely storing valuables.

-CASA SURF: Casa Surf was the second casa to be built on this property and is wheelchair accessible, as is the ground floor of the Main House, the pool, every other casa, the Grand Palapa and the beach. Across from Rinconcito, yet tucked up in the palms it too is close to the beach. Casa Surf has a queen bed, a sofa bed, a small winter loft, a travertine kitchenette, full bath and large patio balcony looking directly off to the surf break. A surfer's choice spot.

-CASA SOL: Casa Sol is a one bedroom casita with queen bed, full bath, kitchenette and private patio. It sits tucked back among the palms with little views through the lush river bed of the ocean and bay. Its entrance is off the main entry courtyard.

-CASA LUNA: Casa Luna sits below Casa Sol near the kitchen entrance to the Main House, along the river bed, and a short path from the pool. It too looks through the palms out to the sea and the bay. It has a King bed, kitchenette, full bath and patio.

-GRAND PALAPA: The grand palapa sits adjacent to the beach and sea wall. We dine there as much as possible, next to the sea. The built in brick and stone table can sit up to 8 people on leather equipali chairs. We often bring down an equipali table or the portable table for larger groups. Our lovely caretakers, Luis and Alicia, will help with any special arrangements you might want to make. There is a built in travertine counter and sea green stone sink for buffet serving. You might have to take down the wedding hammock for more tables!

-SEA WALL: Along our low, stone sea wall, (good for putting your feet up on), is a long lazy brick patio with lounges and chairs for 24 hour relaxing, surf and bay watching, or whale, dolphin and turtle watching. Two colorful Yucatecan hammocks hang amongst the palm trees between the sea wall patio and Casa Rinconcito.

AMMENITIES
-All rooms have their own patio with traditional equipali tables and equipali leather chairs with custom sunbrella cushions.
-All beds have 350-600 count 100% Egyptian cotton sheets and pillowcases.
-All bathrooms have lush towels and bath mats and there are plenty of beach towels.
-Casa Rincon has t.v. vhs and dvd player. PLEASE REMEMBER TO PUT DVD'S
AND CD'S BACK IN THEIR CASES.
-there is a first class competition indoor/outdoor ping pong table stored under the pool walkway. We set it up between the outdoor bar-b-que and Casa Rinconcito's kitchen window.
- Stored for guest use, in the Casa Rinconcito bodega connected to the kitchen, we have surfboards, boogie boards, and zoomer flippers. We keep ping pong paddles and balls there too.
-yoga mats are kept in the schoolroom/office of Casa Rincon.
-most cell phones work at the house, but often you have to go stand on the beach.

TELEPHONE, COMPUTER:
-Casa Rincon has wireless internet, fax, and vonage phone service all on the desk in the offfice/school room
-Vonage Phone Number; our number is a US number, area code (Phone number hidden by Airbnb) . To check for messages dial (Phone number hidden by Airbnb) , pin 3333. You may use the phone to dial the US but Mexico phone calls are a long distance charge and will be billed to you as will any other long distance calls. To dial anyone in Mexico you must dial 011- 52- area code and number.
This Vonage number also has a Mexico number attached to it for those calling from a Mexican phone to use, and not be charged a long distance fee. If you are calling to the house from anywhere in Mexico from a Mexican number, or need to give this number to someone in Mexico who will be calling, or someone in your group who is calling from town, the number is (Phone number hidden by Airbnb)

Casa Rinconcito has wireless internet and soon will have vonage phone service.

For emergencies, the tel number next door at my sister in law's house is (Phone number hidden by Airbnb) . It is a US vonage number and you don't need to dial the area code from my house. Her name is Lori Cleary.


ADMINISTRATION: Pablo is the manager of our house, Casa Rincon, and several other houses in the Punta Del Burros community. He speaks fluent English, and is available for any emergency. If he is not too busy he can help get groceries for which there is an extra charge. His office is in Punta Burro so he can usually come immediately if necessary.
Pablo Perez: telephone: office- (Phone number hidden by Airbnb) , cell- from our vonage U.S. pone number dial: (Phone number hidden by Airbnb) ,
Home- (Phone number hidden by Airbnb) (from my vonage phone dial 011-52 first, as if you are dialing from the U. S.)

CARETAKERS: Luis lives in the back quarters, Casa Azul, below the garage, along the riverbed and near the veggie gardens. His wife, Alicia, who used to live on the premises now lives in town with children and grand children. But she is still part of our wonderful 'team' and available to hire as a cook. (More later in this file on that.)
--Luis is our live in caretaker who will try to help you with any problem around the house. He speaks some English and is eager to learn more, understands a lot, and communicates very well. He takes care of the grounds, the pool, making fires, and
is always there for any emergency.
--Erica, Luis' daughter, is our maid. She comes to work at the house for 5 hours a day. Her chore duties will be listed in the House Info Notebook on the desk in the office. LAUNDRY: The sheets will be washed and changed once a week unless there is a special need and request. During the day the washer and dryer are being used by Erica.
If you want to do a load of wash, please wait until after she leaves, and please keep it to
a minimum as water is an issue.
If you wish to have Erica wash your laundry she can do so for an added fee of $50 pesos per load of wash. Please be sure to have the laundry in the laundry room by noon so she has time to wash and dry between other chores. She will stay on extra to make up her time and fold…..
COOKING: Erica or Erica and Luis may be hired at an extra cost to make meals. at a cost of $50 USD for up to 8 people and then $5 USD extra per person. If you plan to have Erica and Luis prepare meals during your stay I ask that you give them $1000 pesos, (about $100) which they will keep track of, giving you receipts, if you want them
to be buying food for the meals. As he buys the food he will return with receipts and you will reimburse him for that amount of $$$ and at the end of the stay, be given the remainder of what is in the (Website hidden by Airbnb) well, Luis charges another $20USD to go out and do shopping. He does this on his lunch time 'siesta break' and it is an added cost. Luis will give you receipts. Everyone LOVES Luis and Erica and you can read the guest comments about them in the Guest book. You can also pay them in pesos at an equivalent USD/Peso exhange. Everyone loves their cooking.
If you are hiring Erica to cook meals during the day, her regular hours, then there will be an additional charge to hire someone to clean if you are not more than 8, and already paying the extra $50/day. If you would like to have Erica prepare some fruit and fresh 'aguas' or light breakfast, that will be an extra charge, and she can either come early to do that, or come at her regular hours, and stay later to finish her daily work.
They work about 5 hours a day, usually 10-4 Monday through Saturday, taking a comida break around 2. They stop at 2 on Sat. and have the rest of the weekend off, although Luis sleeps at the house, so there will always be someone there for emergencies. If you have them work longer Saturday or any of Sunday, or longer on any other days I ask both them and the guests to please be sure they get paid extra at a rate of $50 pesos/hour. If they are not paid for this extra work, I might deduct it from the deposit, but only after coming to a fair understanding and agreement between all parties. Luis and Erica are very generous with their time and spirit and tend to work way over time for guests whether or not they get paid for it. On the other hand, if you are already paying extra for their cooking I think you can arrange any extra hours out with them. You can have Luis cut down coconuts and prepare them with straws for drinking. We love them!
Luis will also prepare a fire on the beach if you request, set up the ping pong table, and help with any other schlepping of things.

TIPPING: It is the custom, and expected of guests, to tip the help. This is a tradition in Mexico and you will see even the poorest people tipping the helpers who bag groceries at grocery stores. In other cultures it might be an insult to tip. Not here! We ask that you tip each helper. Here we have two. But if you hire them on to cook or hire on an extra cook, you would also want to tip a little extra apart from the general daily housekeeping tip. -----Our formula for the caretakers is the following: $150-200 pesos per two people per helper per week. In other words, for every two guests you would pay one helper $200 pesos a week. We have two helpers. So both Alicia and Luis would get $200 pesos a week for every two guests. You would be paying in total $300-400 pesos per week for every two guests. If there were 6 guests, Alicia would receive $450-600 pesos per week, and Luis would receive $450-600 pesos per week, ETC. It is our policy to deduct any amount of the minimum tip not paid to the help from the deposit. I will always check with the guests to confirm what ever my caretakers might say. Of course you may tip more if you feel the desire, and I do, but this is the minimum that we ask. There are envelopes in the desk drawer that you may use. Please consider tipping Pablo Perez, our house manager, also, if he has been involved in helping you during your stay. Thank you.

WILDLIFE: What to expect to see and when:
-Mid December to Mid April: From our house, watch one of Creation's wonders, the Humback Whales during calving season. We watch the mother's and babies breaching just in front of our house, and always further out. Bring binocs.
-From April to December you can see dolphin, who like to come in much closer. We swim with them when we can.
-From May to October is Sea Turtle season: one of the most magical times of all. We have begun to protect their eggs right there on our beach, and help them to hatch and release. If you are there during this time Luis and Alicia and any of us who are also there, will be keeping an eye on the buried eggs, protecting them from poachers and dogs. This is truly a treasured experience. We also see them at times when we are swimming in the warm summer water.

-Iguanas: we love iguanas and have brought some in hoping they naturalize to our area.
-Tejones or coatimundi's: we used to have a visiting Tejon. It looks a bit like a raccoon or large cat with a longer snout and a longer tail. You probably won't see one, but if you do, that's what it is and treat it as you would a wild raccoon.
-skunks: well, we're trying to encourage them to live elsewhere, but a little family does like to come down the riverbed at night once in a while to eat the red land crabs that scurry up from the beach at night during the rainy season. They are cute and harmless.
-land crabs: there are times when you will hear a rustling if you stand on one of our bridges at night. It sounds like leaves. Get a flash light and look again. Harmless and fascinating, the land crabs that you'll see during this season as road kill galore, the rainy season, are also harmless. Our dog LOVES to play with them and tease them. There's nothing so funny as seeing one trying to climb up the stairs in the house, which can happen.
-hermit crabs: you'll see these little guys crawling around at different times of the year,
and they too like to check out the house a bit, so don't be alarmed. It's all part of the fun.


INSECTS and other house guests: Geckos do crawl along the walls and ceilings and talk or ping at night. They are good little critters and eat mosquitoes. Speaking of mosquitoes, we hardly have any, as there is almost always a lovely breeze blowing from the sea. You can purchase a very good mosquito repellent in Mexico at any large market or pharmacy, called Autan. It doesn't have bad stuff, (deet) in it and it works. Small, harmless, cute fruit bats come at night, circle around the pool and dip down for a drink. We spray the house grounds and house regularly for scorpions with the most non toxic formula, (we are life long organic food people). Occasionally one
will be seen. The black ones are the least dangerous, the yellow ones more dangerous.
As you know, they are all over Mexico. I have more info in the Guest notebook at the house on treatment. We keep Benedryl in the powder room drawer, and anitvenom in the house fridge. There is scorpion bite information in the notebook on the office desk. I am
in the process of writing up more info on this, as I was recently stung by a scorpion. My first time in 45 years of living and traveling in Mexico!!! It was on the beach at night. A proud survivor. I wouldn't worry about it, but I do want everyone to know exactly what to do, just in case. Most importantly, go find Luis and he will take you to the local clinic
to get antivenom. Taking Benedryl is extremely helpful, (in the powder room drawer).and pouring chlorox on the sting right away. Chlorox is in the laundry room. Also, tie a tourniquet above the sting to slow the travel of venom.
If you have a doctor in the group, there are syringes in the powder rooom drawer, and we will hopefully have new vials of antivenom in the fridge. I would just go the the clinic.
Info on this will be posted on the fridge.

NEARBY TOWNS AND RESTRAUNTS:

La Cruz de Hunacaxtle: Cruz is our closest town; ten minutes or less to the south. It has small stores that carry almost anything you might need. There are no banks or ATM's. You need to go to Bucerias for those. The town is a fishing village so fish is easy to find if you just go down toward the sea and find the fishing boats. There you will find the fish stalls. Good, safe, fresh fish. You can also arrange to go on a fishing boat if you ask around. For fresh homemade tortillas you will see the Tortilleria on your right as you head down the main street, go around the Glorieta, (roundabout) and look to your right. It's small.

Restraunts in Cruz: Heading south from Casa Rincon on the main road turn right at the signal in Cruz, (or get off as the local law requests, at the lateral just before the light,
then turn right) and go down the hill toward the ' Glorieta', or roundabout. On the left
corner is "Las Glorietas" or 'Enriques" seafood. Excellent fresh shrimp and marlin or bonita tacos at 15 pesos each: $1.50 USD), and many other dishes. On the opposite corner is a newly opened restaurant called 'Frascati's; Italian food and owned by a Swiss man. If you continue past Enriques, Vallarta direction, you will come quickly upon a little ice cream shop selling exquisite home made helados and paletas. Continuing on you will pass a new breakfast café on the left serving organic coffee and wholesome and delicious homemade pastries, pies and breads. I don't know the name of this place. Continuing further down and on the left is 'Casa Sevilla', serving eclectic gourmet food in a nice atmosphere, and where you can hear flamenco music on weekends. Continuing just a bit further and on your right is the Huichol Café and Gallery with an espresso bar, serving breakfast in their lovely art studio gardens. For me, this is the place to feel timeless in Mexico and mix with people from all over the world in a very simple, beautiful and intimate atmosphere with people who have been here for a long time. They also have a very nice gallery of unique Huichol art on display and for sale. They work closely with the Huicholes supporting and helping their intact, yet threatened indigenous culture here and in the north of Nayarit.
If you turn right at the next corner, just after Enriques and the ice cream shop you find 'Filo's, a local's and expat hangout with pool table, flat screen t.v. at the bar, live music, and very good homemade pizza. You can also find out about a lot that is going on everywhere in the area at Filo's, just by asking. Across the street is a good video rental store. Down the street and on the left is a good little market with veggies and staples. There is another clean, nice looking and very local restaurant at the end on the corner that we haven't tried yet.
One of our most special and beloved places to go to is 'Jorges", for 'Jorges' street tacos. His beautiful wife and Medical student sons work there with him. He opens only Saturday and Sunday nights from about 6-11 P.M. Vallarta time. Bring your own boos (or purchase them at the little store around the corner), and prepare to have the best meat tacos, tostadas and quesadillas, (that's the menu right there), in Vallarta. People come from all over to eat here. Vegetarians, (my daughter is one and LOVES Jorges) can order the quesadilla without meat, (homemade tortillas with cheese, cilantro, quacamole, and all the condiments). They offer homemade Jamaica, (hibiscus flower drink)) and Orchata, (the cinnamon rice drink of Mexico), and his wife makes the best flan you've ever had.
On one of the parallel streets nearby Jorge's, and in a parallel universe, is 'The Black Forest' run by a German and with very good food, in a tasteful garden setting.
There are various stands at night selling typical food at a very good price. There is a good chicken and potato stand at the highway just as you head down to the 'glorieta', for take home roasted chickens, tortillas, potatoes and salsa. A good quick dinner.
Every time I come there seems to be a new restarurant in la Cruz and out at Punta Mita. Go exploring!

Bucerias: Continuing south, or heading home from Vallarta or the Airport you go through the larger town of Bucerias, about 15 minutes from Casa Rincon. Here is where everyone goes to the ATM. (More later, in the 'Money' section). There is lots to do in Bucerias. Here is a good place to go shopping in the lanes of stalls for souvenirs. (Although tucked away in La Cruz, and in Sayulita you'll find higher quality folk art from all over Mexico.) There are several good markets for most anything you need. Hardware stores, surf shop, beauty salon, (pedicure, manicure?), doctors, lawyers. You name it. You'll find it. Excellent meat market called Carnes del Mundo.

Restaurants in Bucerias; We have three favorites so far, although there are many good places to eat. For some of the very best gourmet food in all of Vallarta ,or anywhere, great company, elegant atmosphere, go to Mark's Restaurant and Bar. Mark is usually behind the bar and Jan, his gorgeous New Zealand wife and chef is either in the kitchen, greeting friends or in her boutique she keeps stocked with unique art and handcrafts that she has traveled all over Mexico collecting. To get there is a bit tricky at first. After the third signal in Bucerias, (the first comes before you even get to town), get off the highway to get onto the lateral (side road) that continues in the same southerly direction. (It seems awkward and you go over a bump, watching out for oncoming traffic already on that side road and probably trying to get on to the highway.) Turn right at the first street you come to and head toward the beach. Marks is on the right side on the first corner.

If you take a right on that street, you will see the entrance to Mark'

Almost just across the street is a very popular beachfront Palapa restaurant, forget the name, that we also go to with large parties some times and watch everything going on along the beach.

There are several other very intriguing looking restaurants on this lane, called 'restaurant row' which we have not yet tried.

Now, for very good local, fresh and well priced seafood go to 'Famar'. On that same road is a very reliable and good fish shop. At the fourth signal, having first gotten off onto the 'lateral'or side-road to make your turn, turn left and you will see 'Famar' on the right. Park by continuing down that road, turning right at the first little dirt or cobbled road and right again into their back parking area.

Punta Mita: Punta Mita is about 10 or 15 minutes north on the highway. 'Margarita's' is located there on the beach and serves seafood and margarita's of the highest caliber. Hector, the owner, will cordially treat you to a superb kilo or two of grilled lobster and a blended mango margarita as you enjoy the sunset from one of his tables in the sand.
There are more restaurants to explore along the strand of Punta Mita.

SAYULITA: Once a good long half hour on a fast day, now 20 minutes away. Everyone wants to go to Sayulita. You get there by turning right onto the snazzy new four lane highway, which exit you will see when you have almost gotten to Punta Mita. The once long and bumpy, yet peaceful, timeless and rarely traveled by tourists road to Sayulita is now a fast and smoothe paved boulevard taking you past the new Litibu development. Keep your eye out for the Jungle zip line tour station on your right, once you've headed back in to the jungle on your route to Sayulita, (located not too far from the tricky short cut left turn down in to Sayulita the back way). You can also arrange horseback riding with these zip line people. They are a great group. Our favorite place to eat is Marcello's. It's called something else, but there are little tables outdoors. Just ask how to get to Marcello's. He's the Argentinian chef/owner along with his French wife. There are all kinds of fun places to eat and things to see in Sayulita. Very good shopping for hand picked folk art at La Gitana and Las Jamacas, and good surfing.

LAS MARIETAS ISLANDS AND SNORKELING: Punta Mita is a good place to get a panga boat and guide to take you to the enchanting Marieta Islands to go snorkeling. These are the islands you see from our beach. The boat owners provide fins and snorkels
and are a very fun and reliable group. If it's whale season they go out of their way to find them and get as close as you want. It's a great trip and the island, home to the once nearly extinct Blue Footed Boobie, (it's true) is fun to explore with caves to dive into and a secret beach to discover. The captains are safe, always watching the weather and never take off if there is any hint of a storm approaching. Of course, always make sure for yourself.

MONEY: It is best to bring some US cash, but better to get your pesos at the airport from the ATM there, (called Cajeros in Mexico). You get the best exchange rate at a Cajero. There's one at the big market, Commercial, near the airport, at a couple of the banks there, and two in Bucerias. There are a few in down town Vallarta, but a hassle to get to. There's one inside Wallmart too if you are so cursed to have to go there. (Believe it or not, their produce and deli section is fabulous for those of us who live there full time, and have to make our monthly trek in. They have everything and anything you need, and fresh tortillias too!)

WATER: Water is precious, so we ask everyone to conserve as much as possible with showering and laundry. We have a septic system and must be careful not to overload it.
PLEASE DO NOT ALL SHOWER AT ONCE. THIS MAY CAUSE THE SEPTIC
TO OVER FLOW. Water for Punta del Burros comes from a well up in the mountains. I would not drink it, but we do brush our teeth with it. There are garaphones (large water bottles) of water in each kitchen and some kitchenettes. You can use that as well to brush your teeth to be safe. Drink the purified water.
-The water pump goes on whenever the water is turned on. It stays on for a while if a hose is being used, someone is showering, or we have a problem, like a running toilet, This is serious as a running faucet or toilet can drain the water tank, burn out the pump, and be very costly. If you hear a pump going on in the night and staying on, or just hear one staying on please alert Luis.
Santorini comes every few days to refill our supply of water bottles. Luis takes care of this.

WASHING VEGETABLES; We use grapefruit seed extract, but most people use 'microdyne'. It comes in a little bottle and will be near the sink. Both will be available at the house and I suggest using microdyne just to be on the safe side. Wash vegetables first, then fill a large bowl with enough water to rinse and roll vegetables in, put a few drops, a few drops only, of microdyne in the water. Rinse vegetables.

WASHING DISHES; Please do not put Mexican, green glazed, natural clay, or other pottery in the dishwasher. Only dishwasher safe plates, utensils, glasses, etc. can go in there. There low fire pottery will stay wet and mold and is not healthy to wash in the
dish washer. Thanks!



DOCTORS, EMERGENCY CLINIC:
There is a 24 hour clinic in La Cruz de Hunacaxtle, and in Bucerias.
In Bucerias there is a good Doctor, Dr. Mauro. His office is two blocks down from the Red and White Chinese store, (you'll see that on the highway after the second signal going into Bucerias). The second block down has a pharmacy on the corner on your left. His office is next door, on the corner of Hidalgo and Mexico. You just go in and sit down. He speaks fluent English and is very helpful and kind. His Tel #: (Phone number hidden by Airbnb) . (From my phone dial 011- 52 first.)

Hospitals:
• AmeriMed American Hospital: (Phone number hidden by Airbnb) or (Phone number hidden by Airbnb)
• San Javier Hospital: (Phone number hidden by Airbnb)
• CMQ Hospital ( (Phone number hidden by Airbnb) or (Phone number hidden by Airbnb)
THERE WILL BE EMERGENCY CLINIC INFORMATION POSTED ON THE CHALK BOARD IN THE OFFICE

IN THE RARE EVENT OF A SCORPION STING, GO TO THE POWDER ROOM, TAKE BENEDRYL, READ EMERGENCY INFO AND GO TO A CLINIC
LUIS CAN TAKE YOU THERE. GO FIND HIM

Dentist: Dr. Adrian Malja…( (Phone number hidden by Airbnb)

If you are a US citizen and have a problem (such as losing your passport, etc.), you can contact:

The United States Consulate
Zaragoza 160, second floor
Tel. ( (Phone number hidden by Airbnb) , Fax (o (Phone number hidden by Airbnb)

Other numbers:

Police
• Emergencies - Tel. 060
• Non-emergencies – ( (Phone number hidden by Airbnb)

Fire Department
• Emergencies - Tel. 060
• Non emergencies – ( (Phone number hidden by Airbnb) or (Phone number hidden by Airbnb)

Private Ambulance: in PV: ( (Phone number hidden by Airbnb)
Cruz Roja (Red Cross) Ambulancia: ( (Phone number hidden by Airbnb) or (Phone number hidden by Airbnb)
In Bucerias, closer by: ( (Phone number hidden by Airbnb)


DISCLAIMER: The owners, caretakers, house manager of Casa Rincon are not responsible for any loss, damage, theft, or injury. Just have to put that in there!

We love the natural wonders of this world, adventure, celebration of life and the magic and poetry of Mexico, and especially sharing it over long meals, home grown music and fun in the ocean with friends and family at our secret and sacred paradise on this cherished coast of Mex…
Languages:
English, Español
Response time:
within a day
Always communicate through Airbnb
To protect your payment, never transfer money or communicate outside of the Airbnb website or app.
Explore other options in and around Nayarit
More places to stay in Nayarit: