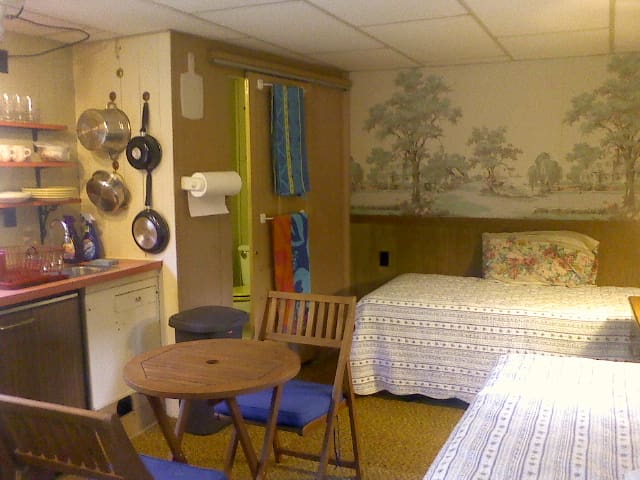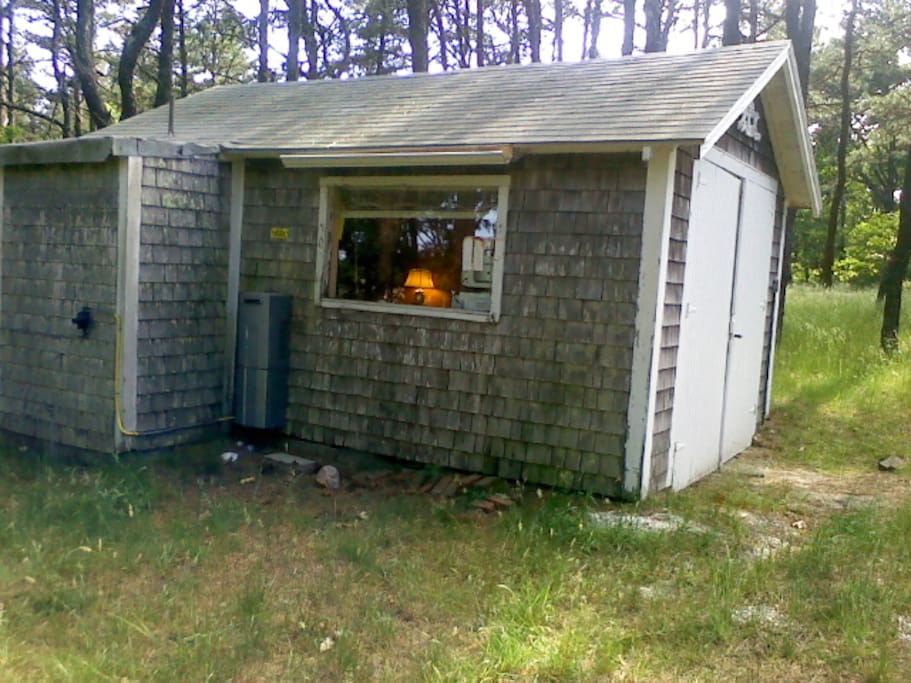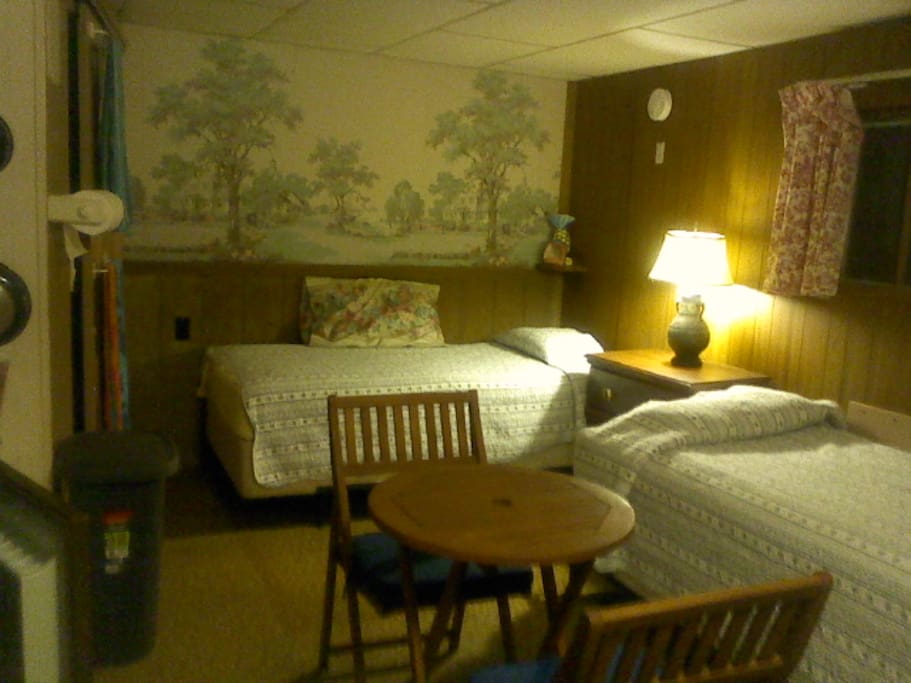 Cottage in bucolic So. Wellfleet
The space
Charming, rustic efficiency cottage in bucolic South Wellfleet woods, next to my house, view (through the woods) of Blackfish Creek tidal marsh. 2 minute walk to bus lines, So. Wellfleet General Store, and a fantastic French bistro and bakery; 2 minute bike ride to beautiful Cape Cod Rail Trail; 1 mile from Lecount's Hollow ocean beach, and a short car, bus or bike ride (3.2 miles) to the town of Wellfleet. Cottage has 2 twin beds; kitchenette w/2-burner stove, convection oven, microwave & coffee maker. Linens, towels (including beach towels!), cooking & eating utensils are furnished. Small bathroom w/stall shower, also may use outdoor shower on main house. Available by the weekend, week, month or season.
Note that a washer and dryer are available (in my house) for rentals of two weeks or more; however, if a "wardrobe malfunction" should arise, I'm more than happy to make an exception to that rule-just let me know.
---
---
Always communicate through Airbnb
To protect your payment, never transfer money or communicate outside of the Airbnb website or app.
Learn more
---
Check in time is flexible
Common sense and courtesy about sums up the "rules of the house." Smoking-of anything-is permitted out of doors only, there's a sea-clam shell which makes for a perfect ash tray (please,, no butts on the ground). Make sure no "live ones" end up in the trash. In light of recent experience, I repeat ABSOLUTELY NO SMOKING-OF ANYTHING (INCLUDING BURNING INCENSE)-IS TO TAKE PLACE INSIDE THE PREMISES; DOING SO WILL RESULT IN A CLAIM AGAINST THE DAMAGE DEPOSIT!!!
Also-please do not use candles, lanterns, camp stoves, or any other source of open flames inside the cabin under any circumstances, as these represent a fire hazard. I have provided one or more battery-operated LED lights for the rare occasions when we experience power outages.
Much as I adore dogs, out of concern for prospective visitors with pet allergies (and the fact that my property isn't fenced), I do not allow pets on the rental premises, other than service animals (i.e. seeing-eye dogs). THERE ARE NO EXCEPTIONS TO THIS RULE-PLEASE DO NOT ASK! Bringing pets-yours or your guests-in violation of the rules WILL RESULT IN A CLAIM AGAINST THE DAMAGE DEPOSIT to cover the additional time/costs involved in removing pet dander, etc.
I have no desire to regulate private behavior. However, the presence or use of hard drugs-and the sale of hard or "soft" drugs (pot) is strictly forbidden on my property. Again-NO SMOKING-OF ANYTHING-INSIDE THE CABIN! (see above).
For those staying for two weeks or more, you will be given a key to the laundry area in the basement of the main house, and I will show you how to use the equipment. ALL OTHER AREAS ARE OFF LIMITS. Please use only "natural," bio-degradable detergents in the washer (7th Generation, Ecos, Meyer Green Day, etc.). USE OF COMMERCIAL DETERGENTS (Tide, Wisk, Gain, etc.) and/or chlorine bleach may damage the dry well, and WILL RESULT IN CANCELLATION OF LAUNDRY PRIVILEGES. Likewise, please do not use "dryer sheets" in the dryer; if desired, use a NATURAL fabric softener such as Meyer Green Day, 7th Generation, etc. in the washer's softener dispenser. Dryer sheets eventually damage the dryer, and also leave residue on bedding used by future visitors, who may be sensitive to it. Please note that I keep on hand the above-mentioned detergents and fabric softener, which you are welcome to use.
By all means enjoy yourself-that's why you're here. Reasonable consideration of my neighbors, however, is desirable-I have to live with them after you've gone. Loud partying after 10 p.m. is a violation of local noise ordinances, and my neighbors-who I have to live with after you've gone-won't like it. Party all you like-but keep it down, especially after 10 p.m. Also, your guests and friends are certainly welcome to visit you; however, THERE ARE TO BE NO OVERNIGHT GUESTS. The cabin accommodates two; if you are there by yourself, you may have one overnight guest. However, if you are a couple who have rented the cabin, there can be NO ADDITIONAL OVERNIGHT GUESTS.
In addition, the facilities-specifically, the bathing (shower, outdoor shower) and laundry facilities-are for the use of OVERNIGHT GUESTS ONLY, not for the use of friends or acquaintances. Please respect this.
If you are a couple and wish to place the twin beds next to one another, by all means feel free. However, do kindly return all furniture to its original locations prior to your departure; I do not have help in cleaning and "turning over" the cabin, and moving the furniture by myself is something I'd rather not have to do.
Lastly, I do not expect my guests to also be my "cleaning service." I expect to strip and make the beds, clean the toilet and shower, clean the bathroom and kitchenette, empty the trash and vacuum and dust the premises-in other words, to clean up the normal results of reasonable use. I DO, however, expect the following: dishes and utensils thoroughly washed, wet towels left on the clothesline rather than on the carpet, and any unusual messes/spills, etc. to be cleaned up. Also-see the note above regarding moving the beds around. If the premises is left in really bad condition, be aware that I charge $85/hour for my business services, and I will charge that rate against the damage deposit for any unusual clean-up demands, as well as unreported damage to the premises or equipment.
---
---
---
My boyfriend and I stayed on John's cabin for three nights while travelling around the North East Coast of America and we had a great time! The cabin is really cosy - the perfect place for a rural break from city travelling, and we especially enjoyed cooking fresh local fish at the cabin. John was a very good host - he was very helpful prior to our arrival in advising travel routes and activities, and he provided us with complimentary local coffee which was a really nice touch. We would recommend hiring a car for travelling around Cape Cod when staying here as walking and public transport would probably be a bit of a hassle, and it doesn't take long to get to nice beaches in a car. All in all, a great stay and we would definitely recommend this place for anyone looking for a quiet and relaxing holiday break.
---
Yhe ceiling is very low. If you are tall you might not like it. There is a lovely outdoor shower.
I find this review somewhat curious. I've been hosting now for about six years, and this is the first I've heard about the ceiling being "very low." So far, none of the 50 or 60 guests I've hosted have "not liked" the "low ceiling." The "accuracy feedback" mentioned issues which "weren't accurately reflected in the listing description..." amenities and the size of the accommodation. It is listed as a cabin-not a "home" or "house." It should be clear from that that it is a small place. The photos on the listing accurately depict the size of the cabin, and leave no doubt that it is a "small space," with a "small shower" and a "small cooking area," so I don't think it's fair to imply that I've claimed otherwise on my listing. "...some would find it cramped?" In six years and around 60 guests, so far no one has "found it cramped." Again, I find these observations somewhat odd, and certainly unique among all of the reviews I have had of my listing.
---
The cabin had absolutely everything you could need. John gave clear instructions about use of all appliances and clearly written notes made eveything easy. I was grateful that he encouraged me to use heat if weather got nippy (which it did). It was wonderfully quiet for sleeping. A big bonus for me: John immediately contacted me about a cane and cart I'd left by mistake and he is sending them on to me c.o.d.: a life saver!d
---
I stayed four nights in John's cottage while attending a mindfulness seminar. John was kind, considerate and gave me plenty of privacy. The cottage is in an awesome location and I rode my bike to the beach with ease. John also made me feel safe as he left many lights on at night and there were lights in the outdoor shower. I used the outdoor shower everyday and this to me was the highlight - the trees around the property are gorgeous!
---
I am a 65-year-old single man, self-employed in several directions: professional musician (trombones/low brass), sole proprietor of a business repairing commercial food service and refrigeration equipment as well as providing oil burner service, and am also a licensed captain (Coast Guard-licensed 50 ton power and sail) providing tours of Wellfleet harbor on my sailboat during the tourist season. I am a year-round resident of Wellfleet.

You will find me to be a ready source of information as to things to do and places to go, and knowledgeable as to the history of our little corner of paradise. However, you will find me to be a "hands-off" host; I will be available if needed, but unobtrusive if not needed.
Response rate:
100%
Response time:
within a day
Explore other options in and around Wellfleet
More places to stay in Wellfleet: