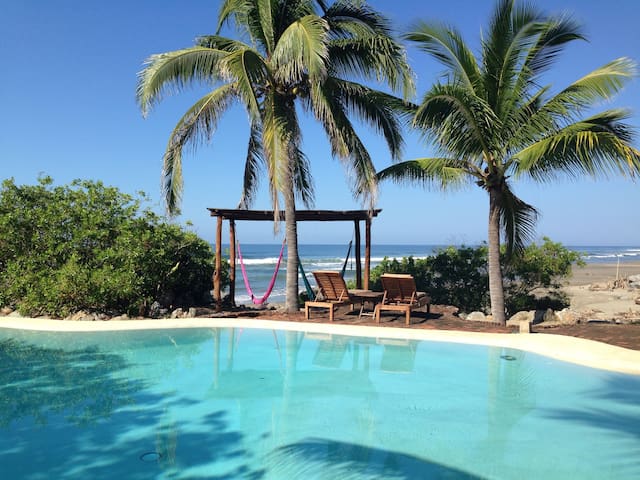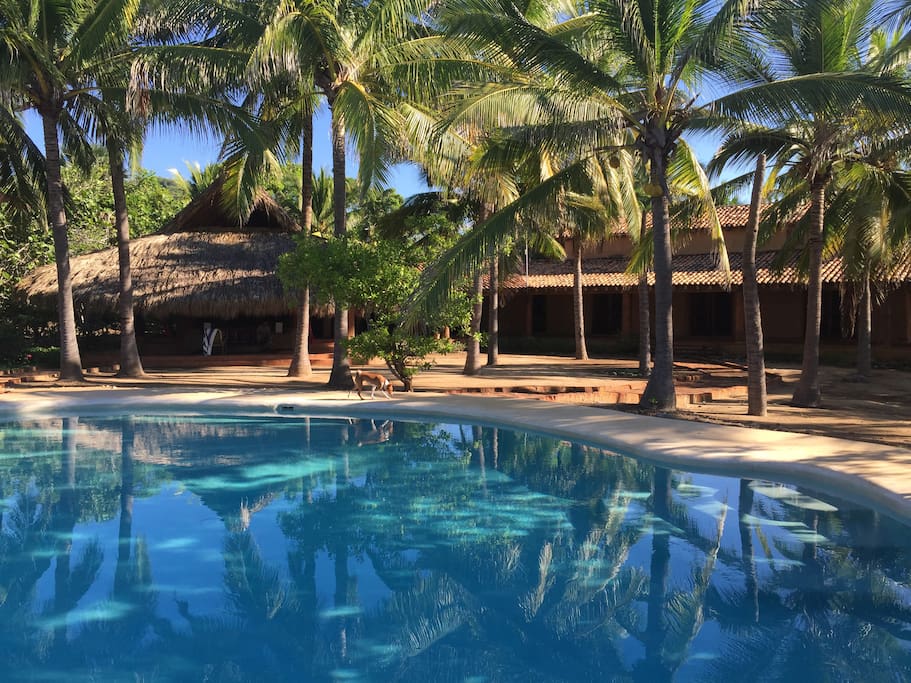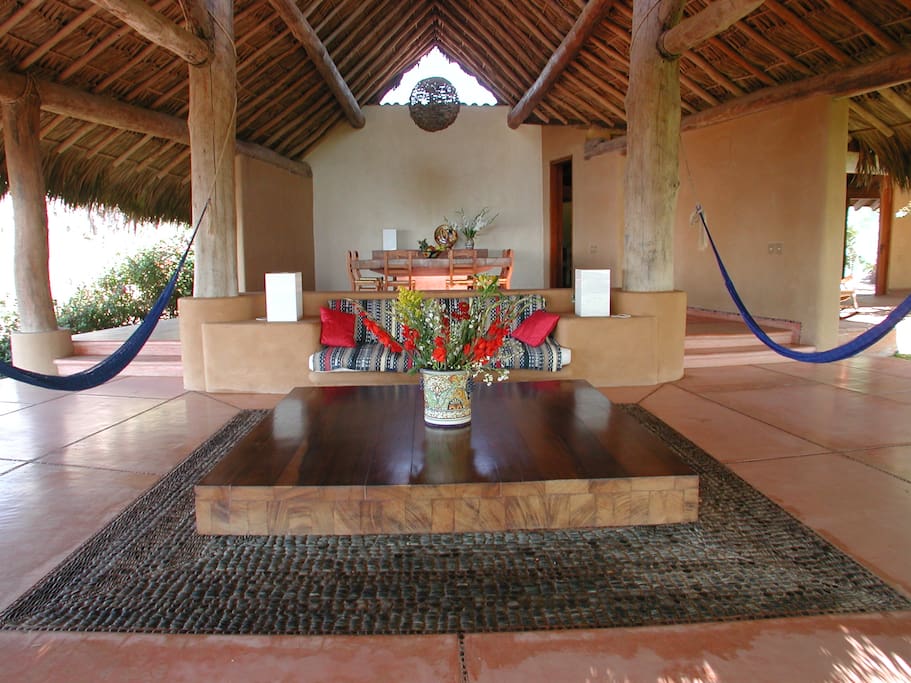 A magic paradise to be in contact with nature, located on the secluded beach of Buenavista. This lovely villa has wide-open proportions, neutral tones, and crafted wooden details, open to magnificent views of the ocean. The swimming pool is a dream.
The space
Artist's Ocean repose in Mexico
By Erin Haydn O´Neill

Usually when we think of Mexico, we think of tropical lush colors. But there is also a color scheme there, which is dry, sandy, black and burnt orange. The home presented here, has wide-open proportions, neutral tones, and crafted wooden details. It is found on a remote ocean hillside on the Pacific coastline, approximately half an hour drive from the small but relatively well-known town of Zijuatanejo.
The experience of this home became a beautiful adventure. Leaving behind the energetic little town of Zijuatanejo, which is happy, rough and colorful, we drive along an open highway passing overloaded with whole families, trucks, mules, and retro shabby busses, toward the local mountains. Dispersed plumes of smoke can be counted from a distance, as local farmers burn their topsoils in the hopes of replenishment for after the upcoming rain season. Disheveled security checks for cargo inspection, are concentrated around small roads which lead up to and down from the hills where rebels hide; We take one of the roads with no check, and the further we go, the more green things become…. it is a dusty green, and there are many rocky surfaces with huge boulders jutting out in awkward places for our four wheel drive to pass over. Colors become still more paled as the earth reveals a burnt orange hue against these enormous white rock surfaces. The road becomes narrow and the people fewer… Country shelters are passed, which closer up, reveal small homes hand made with love and care. Farm animals randomly roam or just stand there. Gradually we reach our destination as the sound of an overwhelming ocean pulls us as close as possible. The sky is a soft grey and the wind throws tall palm trees in all directions while flower shrubs lace the air with pink flower petals. The ground is made of light orange powder while still these enormous rocks dominate the entrance of the driveway. A vast cream-colored house is there with rounded corners and open walls giving an immediate view of the front gardens.

The ocean is a dominating force and the house is designed toward it is open to winds by means of glassless windows and portals on the end of each room so the rooms act as breeze tunnels. The ceilings are very tall, and the walls large round and thick. The floors are made up of big square tiles with a chocolate texture and color. There are four bedrooms one of which is the master. All of them border a front hallway, which could also be called a roofed terrace, as it opens directly onto the front ocean gardens.

The long terrace hall steps down onto the beach. The beach does not end. Fields of palms and sand border the ocean until they fade into the distant sea mist. No resorts, houses, people...just kilometers of sand, ocean, seashells and palm trees blowing in cream and orange beige tones. We wade into the ocean but not too far as the undercurrents are very strong.... we get swirled around right over left and it feels like a body massage wave ride. Afterward, Ximena and I take a walk along the beach to collect pink seashells for the table at dinnertime.

The dinner is set on a glossy wooden table, it is big and hand made into a square by local craftsmen. It stands on a bed of inlaid grey stones, which is a modern adaptation of a traditionally Mexican technique. Delicious tortillas are served with avocado, tomatoes, rice, herbs and chicken. The day's experiences have given us a warrior's appetite. It is night and the ocean roars unmenacingly. We speak of easy things and again decide to walk on the beach. Ximena has a surprise for us there.
When everything is black, the sound of the tide close by is scary. But we follow the confident Ximena. Our bare urban feet are feeling everything for guidance. Suddenly they get swamped by the water, which is glowing with speckled phosphorescent green light. It is a special time of year where the currents gather special algae that glow by agitation. The vision is magical, as the sky seems to be swirling around our feet. We become giddy with awe and delve into the sands with the fervor of witches. Eventually we return to the house for tequila.

Finally sleep is needed and each of us is shown our separate bedrooms. Healthy fatigue sends us to all the more inviting beds, which here, are wide and firm mmmm…. The sheets are made of crisp white linen and the bedside lamps are a minimalist cube shape. All of this mixed with the elements of nature so close by make for delicate dreams and an eventual deep sleep.

The next morning is introduced by the sounds of puppy barking and a water hose spraying the dusty driveway and it's plants. A quick dive in the pool is needed, as it is especially hot this morning. The pool is shaped into an organic shape with a design that allows the water to spill over a rounded border. From the house's view it looks as though it is spilling into the ocean. A light rain commences and the smell of morning coffee draws us back to the dining table. Five large green coconuts are standing with white straws punctured into them; its watery milk is totally delicious. Scrambled eggs and tomatoes are served casually. Its time to leave and touched by the whole experience, I give to Ximena a special necklace. It is a `Betony Vernon´ original from her Alchemy line. A simple oval glass with a polished silver fixture, holding inside an antique key immersed in sterilized water. It just felt right; and Ximena gave a huge knowing smile as though she really were the bearer of magic secrets and special places.
Guest access
Guests are greeted by Guille, a lovely cook to make your stay a unique mexican cuisine experience.
Interaction with guests
There will be a manager to greet you at the airport on arrival. They can help you with car rental and help with stocking the villa with food and drinks. You can make arrangements with the manager for restocking if you choose not to do your own shopping. The staff can also help you buy some fresh seafood directly from the local fisherman who will come by with their daily catch. You will have WiFi to contact the owner anytime.
---
---
---
Extra people £19 / night after 4 guests
Always communicate through Airbnb
To protect your payment, never transfer money or communicate outside of the Airbnb website or app.
Learn more
---
It is very important to rent a car.
Please don´t insist, the infrastructure of the house is for 6 guests.
---
---
---
Response rate:
100%
Response time:
within a few hours
Explore other options in and around Troncones
More places to stay in Troncones: