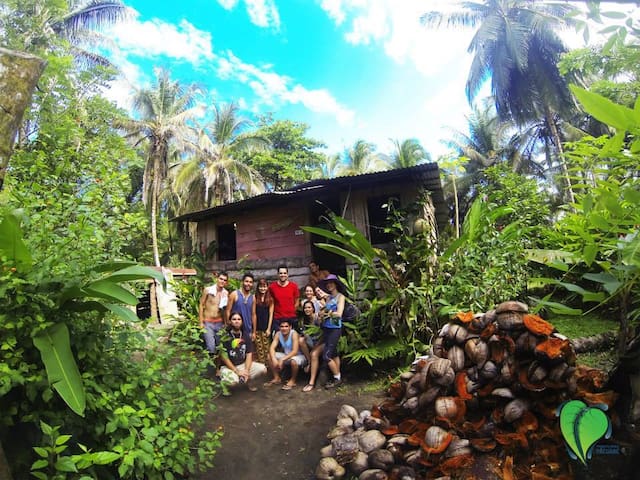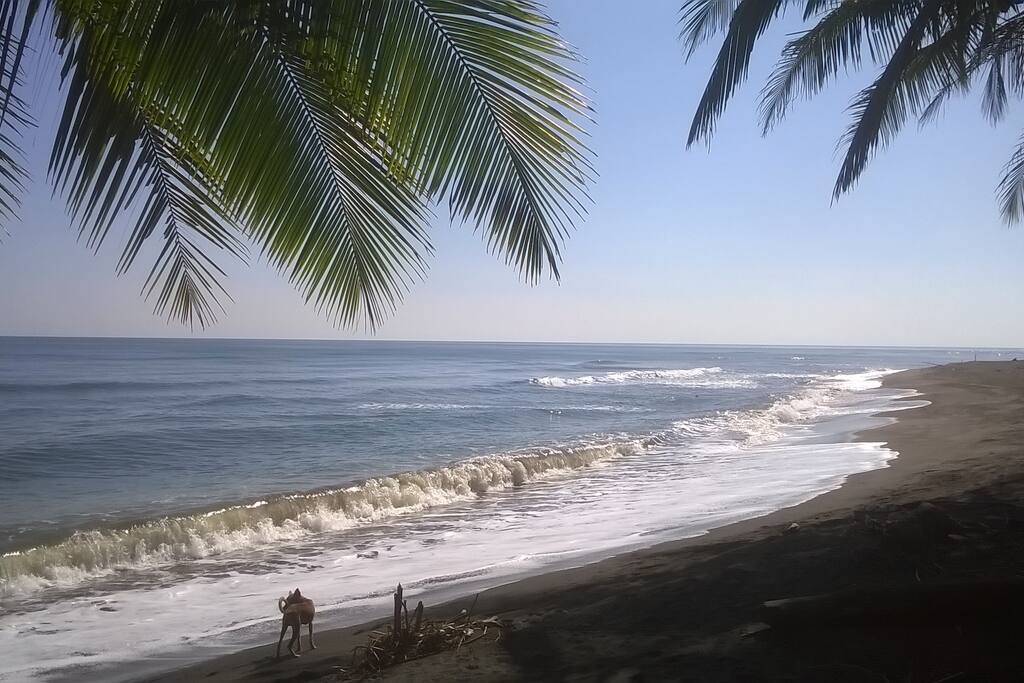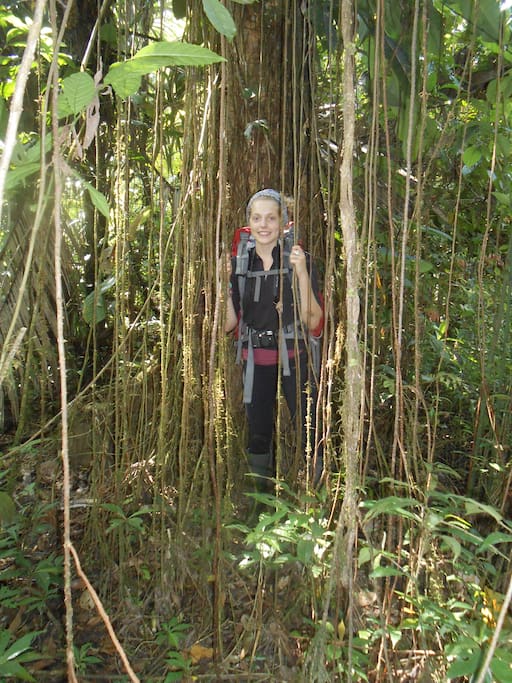 Come stay on an island where the jungle meets the beach! ALL meals are included and you will enjoy a very authentic Costa Rican experience. Our unique, rustic cabin is right on the beach! For best results--leave your electronics at home :)
The space
This unique cabin is handmade from coconut trees, and therefore is called the house of coconut. The structure is secure but open-aired--no glass on the windows. We often have hummingbirds, butterflies and birds fly right through our house when the shutters are open! This very remote location is a naturalist's paradise! Be prepared to wake up to the monkeys howling, and see sloths, iguanas, toucans and a multitude of other flora and fauna. Most mornings you can see dolphins in the Caribbean sea!
Our volunteer bunk house has 3 rooms and 5 beds. We are off-grid so we use only solar power. The kitchen is outside and open aired with a wood stove. One bathroom with a shower is attached to the bunkhouse and uses reclaimed rainwater. There is also a second compostable toilet on the property.
Our property is located on a very remote island so getting here can be a bit of a challenge, but it will be well worth it! We will be here to help every step of the way. Plan on traveling to the nearest town (Bataan) and we can meet you there!
Guest access
This unique island location has no hotels, restaurants, stores, or cars, however the Casa de Coco has one of the best cooks on the island and we provide 3 authentic Costa Rican meals a day, and an afternoon coffee break! The basic Costa Rican diet is rice, beans, and vegetables (organic, vegetarian, vegan, non-GMO, Fair Trade, gluten and MSG free). We can accommodate most diets.
You have complete access of the bunkhouse, the outdoor kitchen, and bathrooms, and full access to the beach and island!
Interaction with guests
You will stay on our property with us, so there is onsite management 24/7. You can even learn how to prepare local Caribbean cuisine. We look forward to meeting and talking with you!
You will experience a very unique home-stay program with a Costa Rican and American couple, where both Spanish and English are spoken fluently (December-June). June through November, Gaby is in the island alone and he does not speak English--Spanish only.
Other things to note
We are a voluntourism project and your stay will be most rewarding when participating! We'd like your help with preparing meals, collecting firewood, and general cleaning and maintenance of the beach, bunk house, property and community.
If you want a tour to see the sea turtles, the charge is $10/ person and all the money goes to a local conservation camp. We provide optional "Casa de Coco Rustico" tours ($10 each with additional charges for bait, boat rental, transportation costs and tips). These include fishing tours and rainforest / banana plantation hikes.
We are very remote, so transportation to the island can be tricky. Budget for $50/person for transportation from Bataan to the island (often it is less). This includes the taxi and the scenic boat ride down the Pacuare river to the mouth of the Caribbean sea. There are more details about transportation in the location/directions part of the site. (you will have access to this information once you book)
We recommend leaving your electronics at home, but if you can't, we recommend bringing an external battery pack. We do not have any electricity but we have a small solar panel for an emergency phone. Minimal wireless internet is available on the beach, but be sure to check with your phone provider beforehand.
Bringing some items will greatly enhance your stay, such as:
1. head lamp
2. rubber boots
3. towel, sheets and pillow or sleeping bag
4. rain Poncho
5. bug spray (organic is preferred).
Hats and sun resistant clothing are preferred instead of sunscreen (these chemicals kill the plankton and harm the wildlife). Quick dry clothes and flip flops for the beach are great, and good walking shoes that can get wet for patrols are recommended.
If you are able to bring any of the above items and leave them as a donation for the project, then we will be able to offer a discount--please inquire when booking.
The wildlife viewing here is amazing and it happens year round, however if your entire goal is to see a sea turtle, then the best time is March-October and often sever night patrols may be necessary. Viewing critically endangered species is a rare and wonderful opportunity-- but is also highly unpredictable! We cannot guarantee that you will see these majestic creatures but we will certainly help you to increase your odds.
---
---
Bedroom 2
1 double bed, 2 single beds
Common spaces
1 double bed
---
Check in time is 8AM - 4PM
Safety First!
1. Please respect the Ocean--Please do not swim alone and watch for RIP tide(URL HIDDEN) If you are able to bring life jackets and if you can leave them as a donation for the project then we will be able of offer you a discount--please inquire when registering.
2. Please respect the sun. We are located very close to the equator and you can burn in 10 minutes here!
(URL HIDDEN)wear sunscreen hats or shirts. Spend time in the shade and avoid the direct sunlight between 11-2.
3. Please watch for falling coconuts (especially after a heavy rain).
4. Always knock out your shoes or boots before putting them on-- gumbo boots are good for nature hikes
5. We appreciate you helping with chores-- see the schedule below.
6. We do not use any pesticides, so it is good idea to put food in bags and hang them, and especially beware of any food or wrappers in your bags—ants will find it!
7. Watching the house and all our belongings is the job of all of us always. Please close and lock the windows and doors when everyone is off the property or on the beach. No formal safe is available.
8. Poor or disrespectful treatment of all animals is never acceptable!
Schedule (approximate)
8-9 breakfast
9-11 clean kitchen, cabin, property and misc. chores such as collecting firewood, filling water buckets, keeping bunk house sand and clutter free to prevent "unwanted" guests (more details are available in the camp). Other possible projects could include property repair and construction, beach maintenance for the turtles, gardening, and animal husbandry projects. It's volun-tourism and we greatly appreciate your help with our project. Thank you for saving the turtles!
11-12 help prepare lunch
12 lunch
After lunch please help to clean your own plate and the communal pots and pans
1-4 free time
2-3 coffee break
4-5 help prepare dinner
5 dinner
Clean up after dinner and bring all food and pots inside
Night patrols (optional)
You must also acknowledge
Pet(s) live on property - we love dogs
---
We originally planned to stay with Sherri and Gaby for 3 days but stayed longer. What an experience. This is about as authentic as it comes. If you really want to get off grid and get to know another side to Costa Rica, this is a great way to do so. As laid out the living is basic,be prepared to chip in but the rewards are fantastic. Learn about the struggles of the local community and help find a sustainable Turtle poaching. Sherri and Gaby are dedicated to bringing a positive change about and it's infectious. We also had a great fishing trip, saw howler monkeys, spider monkeys and really felt like we learnt so much from the experience. Sherri is such a welcoming host with so many interesting stories. Go with an open mind and you will come away better for it. Thank you so much, Sherri!
---
Hi there, I stayed in Sherri and Gabi's place for a couple of days and this island is my definition of adventure. I've barely seen as beautiful nature as on this island: the place combines rainforest with beautiful black beach - pictures that you normally see on postcards. Sherri and Gabi - their generosity seems to be endless - told me a lot about the animals and plants that grow on the island. Gabi climbs the coconut palms (as he was half monkey half human) and opens them for you, so that you can enjoy a fresh coconut-drink after swimming in the sea. (By the way: if you're lucky, you can see dolphins in the morning) In addition to that you may learn how to make coconut oil yourself, you may join Gabi fishing, you can plant pineapple plants, you can go to the rainforest with Gabi,..... If you are adventurous, you probably gonna have an unforgettable time with people who try everything to make you feel welcome and who give away everything only in order to make you happy... Gabi and Sherri are nothing else but great people :) Thank you so much for making the end of my trip unforgettable. Good luck for your island-project. I gonna come back - that's for sure!
Esther, thank you so much for the wonderful review and we so enjoyed your company too! You are smart, inquisitive, and thoughtful--perfect for a volun-tourism project such as ourselves. You hit the jackpot with looking for adventure-- since we are off-grid and almost like "wilderness camping" --since we are located where the rainforest meets the beach. It is very difficult for many to put down the phones, and computers, and unplug-- and really experience nature at it's finest. We also hit the jackpot with you! We hope you come back very soon since now you are part of our family and our house of coconut is your house of coconut! Good luck with your studies of becoming a doctor! The world could use more like you! Thank you for saving the turtle! Sherri and Gaby
---
This really was a once-in-a-lifetime experience, but it has some definite drawbacks. Pros: amazing wildlife viewing, the beautiful soft black sand beach all to ourselves with amazing ocean waves for body surfing, fresh coconut water, friendly hosts and locals, the boat ride on the way there with monkeys and sloths and caiman, some of the best food we had in all of Costa Rica and the best fresh coconut water you can get. Cons: the incessant bugs which would not leave you alone unless you were covered in bug spray and/or wearing rubber boots, the bathroom where water would drip down your back as you're using the restroom if it was raining, the stained linens, the thievery with no way to lock your belongings inside the cabin, few options for reaching the host when we had trouble with our shuttle and boat drivers who both didn't show up on time on our way there, not getting to see any turtles because of the full moon.
---
It was a little stressful getting to the little island at first, but Sherri was wonderful with explaining in detail how to arrive. I would suggest bringing a poncho, shoes to get wet, bug spray, a bug net, a head lamp with a red light, and sun block (expensive in Costa Rica). Make sure to read their website as well for more tips to get the most out of your stay.
---
We stayed 6 nights in feb and had a great experience despite a tropical storm! Sherri and gabby are so accomodating and willing to go out of their way to make your stay comfortable. The island is beautiful and secluded. Listen to your hosts when they tell you to lock up your stuff! I also recommend choosing option 2 (pick up) when arriving because it is otherwise difficult to know where to catch the boat. Be prepared for wifi not to work depending on your phone service (but honestly, its a good thing to be disconnected, and sherri was great for emergency wifi needs). We went fishing, saw lots of wildlife, ate yummy food and coconuts and sugar cane.... need i say more? And went swimming where the river meets the ocean (lovely!). Its also the most reasonable and least "workload" voluntourism experience around. You wont be disappointed
---
My experience here with Sherri and Gaby (her husband) were beyond great! She gave me instructions on how to get there and waited for us promptly. She was an amazing guide and gladly welcomed us into here home "Coco House". We had lunch waiting for us after a long and exhausting trip. I must say this place isn't for every one though. Seclusion/isolation is an understatement and staying there defines REAL rustic living. Gaby took us fishing and is a real native to the land. It was definitely and adventure I'd luv to do again. Thank you Sherri & Gaby for everything
---
My spouse Gaby and I are very passionate about the environment and social justice. We live minimally and organically without electricity because we are located on a prime nesting beach for critically endangered Leatherback sea turtles. Our lifestyle is deliberate so that we …
Languages:
English, Español
Response rate:
100%
Response time:
within a day
Explore other options in and around Limón
More places to stay in Limón: