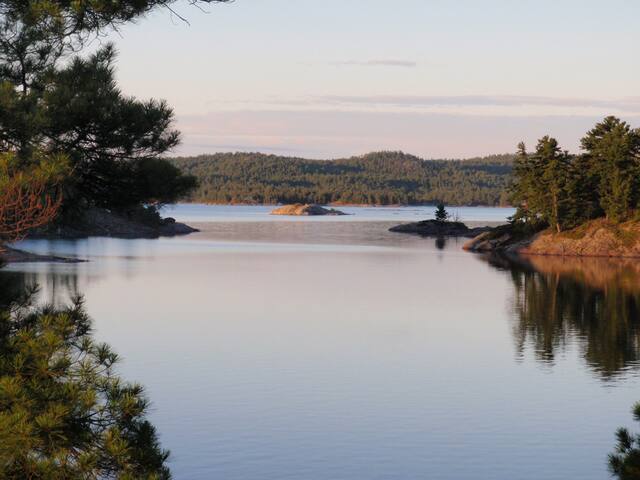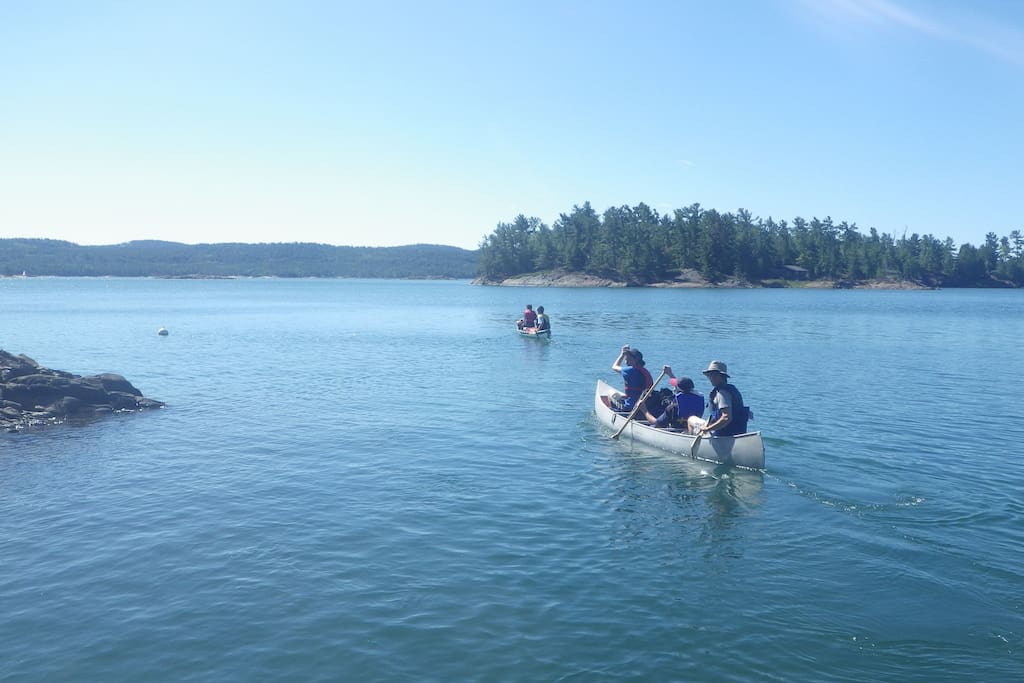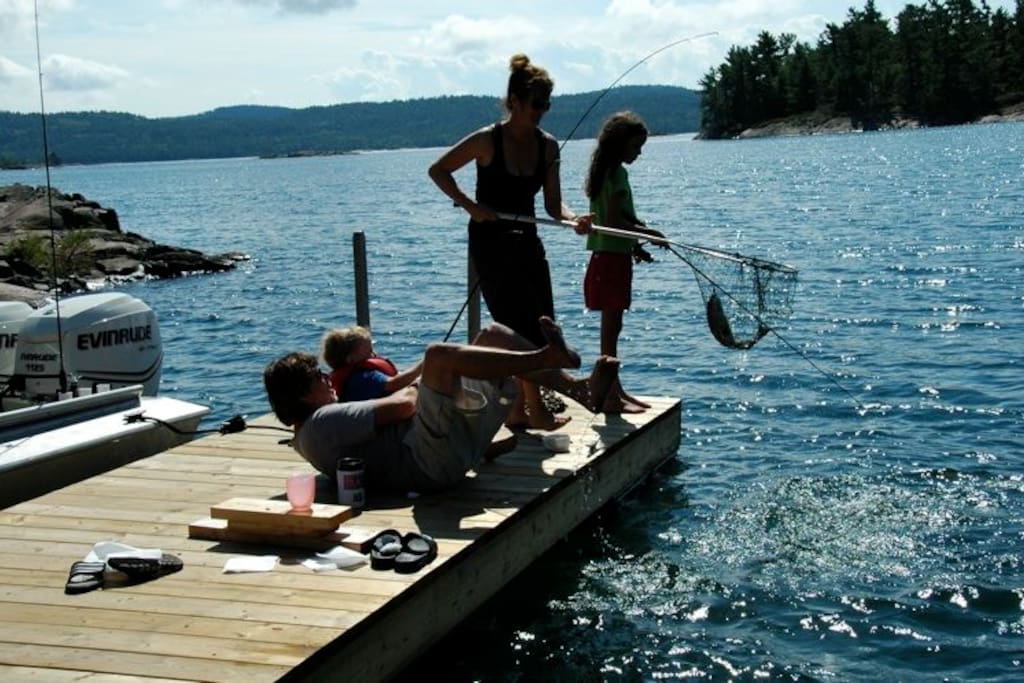 McGregor Bay Heritage Log Lodge
Enjoy your own 5 bedroom waterfront cottage; relax or barbeque on your deck overlooking a beautiful view. You will be staying on an island in scenic McGregor Bay, surrounded by miles of sheltered waterways. Sample a little piece of paradise.

The space
Enjoy your own waterfront cottage; relax or barbeque on your deck overlooking a beautiful view. You will be staying on an island in scenic McGregor Bay, surrounded by miles of sheltered waterways. Sample a little piece of paradise that is remote, but easily accessible. You will feel like you are worlds away from the hustle and bustle of every day life, but McGregor Bay is close to major highways and within a day's drive of many cities in Canada and the U.S.
Get back to nature for serenity and fun. Hike quartzite mountains, rock climb secluded shorelines, pick wild blueberries and raspberries, or fish for bass, pike, muskie and rainbow trout. Photograph or paint your scenic surroundings. You will be staying in an ideal central location for day trips around the bay.
The log cottage has the following sleeping accommodations, which can sleep 12. One queen size bed in the main bedroom and two bunk beds, one double bed, two single beds all in separate bedrooms. Additional beds in sun porch. The log building has lots of history where famous people have visited over the years. In its glory President Roosevelt visited in 1943. The Newmans were said to visit frequently as they were friends of the owners.
The kitchen has an electric stove, coffee maker, fridge, freezer and toaster. There is also a propane barbecue. Living room boasts a big rock fireplace which heats the building.. Water is pumped to the cottage by electric pump. There is a large electric hot water tank. The water is filtered but we do recommend boiling it or bringing bottled drinking water. The cottage is serviced by a large septic system and has normal indoor plumbing. There are games and playing cards.
There is a canoe and 5 kayaks supplied with the cottage. Remember to bring your fishing gear as fishing in the area is very good. Bass and pike are the most common fish caught locally. We provide basic cleaning materials and request you leave the cottage in a clean condition for the next renters. We request a $450 cleaning /security deposit which is refundable.
Guest access
Mainland parking areas at Birch Island, Ontario, off Hwy. 6 between Espanola and Little Current. Property is located on Iroquois Island in McGregor Bay.
McGregor Bay, Ontario, is a particularly beautiful, rugged area. The Group of Seven chose to create many of their spellbinding portrayals of the Canadian Shield here and in other nearby areas. Surrounded by the white quartzite of the Killarney Mountains, the Bay is dotted with islands and shoals that make a wonderful scenic vacation setting for those who enjoy an unspoiled northern experience.
Cottaging in McGregor Bay is unlike the "gentrified" version experienced in more southern areas of Ontario. Island living requires an independent and self-reliant outlook. All your supplies are carried in by boat, and once you're there, you won't feel like going out to a convenience store just for a loaf of bread.
Access by boat is provided by water taxi at 1 of the 2 Marina's on Birch Island. Parking and water taxi is provided by the Marina for a fee.
Interaction with guests
Although we do have neighbors, you feel you have the place to yourself. Most of the land is Crown Land, and you may freely explore any island that has not been built upon. 98% of the shoreline is wild. Wildlife shares the Bay with us. You will enjoy watching them, but please do not feed or interfere with them. Beaver and mink will swim by the dock. Waterfowl are abundant. Loons dive for fish all day long, and their strange cries will fascinate you virtually every night. Ducks, cormorants, gulls, terns, Canada geese and the Great Blue Heron live a successful existence in the Bay. You will thrill to watching birds of prey on the hunt. Various hawks, golden eagles and even a bald eagle soar for hours on the wind currents. Bring binoculars.
People in the Bay enjoy a relaxed pace of life. They tend to create their own amusements. You can have an easy climb in the nearby Killarney Mountains, journey for a picnic at Red Sand Beach, sail in the stronger breezes of the Outer Bay, or paddle your canoe in sheltered bays and channels. Of course the fisherman will enjoy casting for smallmouth bass, trolling for walleye and northern pike, or just still fishing for yellow perch. You should also count on catching up on your reading. 
Peace and tranquility are aspects mentioned by every visitor. There is a spiritual aspect to walking through the cathedrals of whispering white pines. The totally dark sky will amaze you on a clear night. You have never seen so many stars, sparkling right down to the horizon, and the family will enjoy counting meteors. At McGregor Bay, people discover their contemplative side, and come away with their energies recharged. Residents feel uniquely privileged to share this special place with nature.

---
---
We would ask that you leave the place clean, supplies provided. A fee will be charged for cleaning do to the access of the island. I enjoy going to the Bay and would request you treat my house like your own. Accidents do happen and notification is the only solution to keep the place safe and useable for future guests.
---
Drinking my morning coffee on the patio, listening to the birds, and looking out over a calm McGregor Bay with the Cloche range in the background. I wish I could do that every morning. We enjoyed 6 days of good fishing, lots of animals, swam, paddled and jumped off rocks. The lodge itself is incredible. It felt like being transported back to a more minimalistic Muskoka. Darwin was a great host. We had the full rundown of what was there and what we should bring before heading out. I'd love to go back next year.
---
Explore other options in and around Northeastern Manitoulin and the Islands
More places to stay in Northeastern Manitoulin and the Islands: