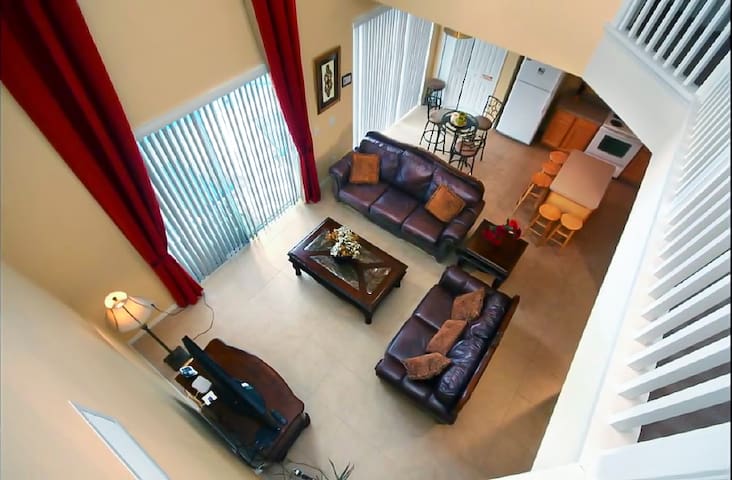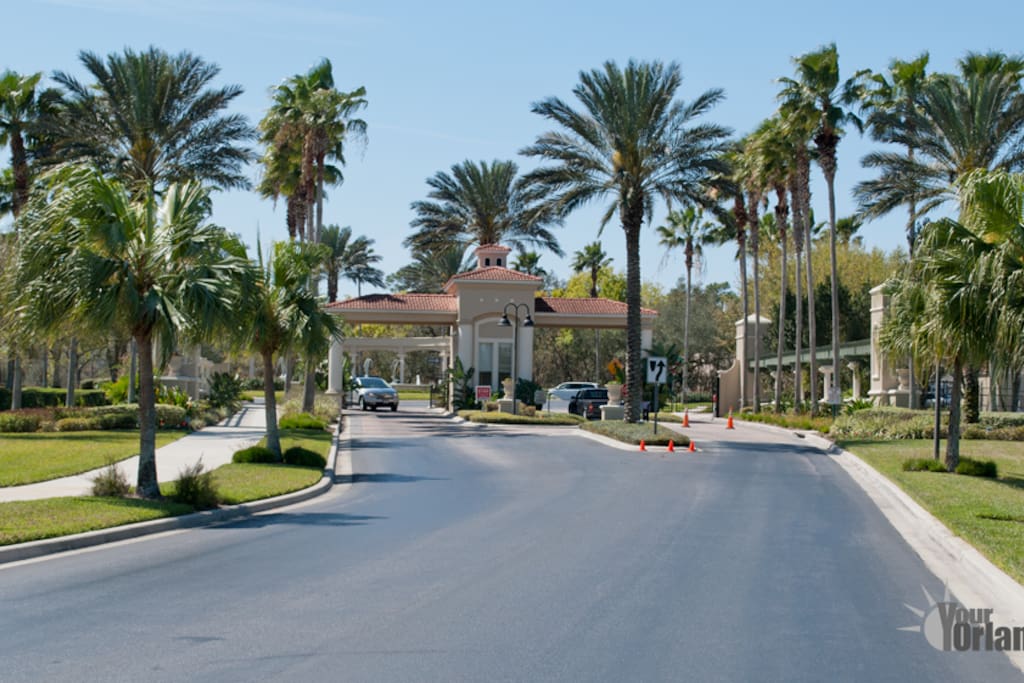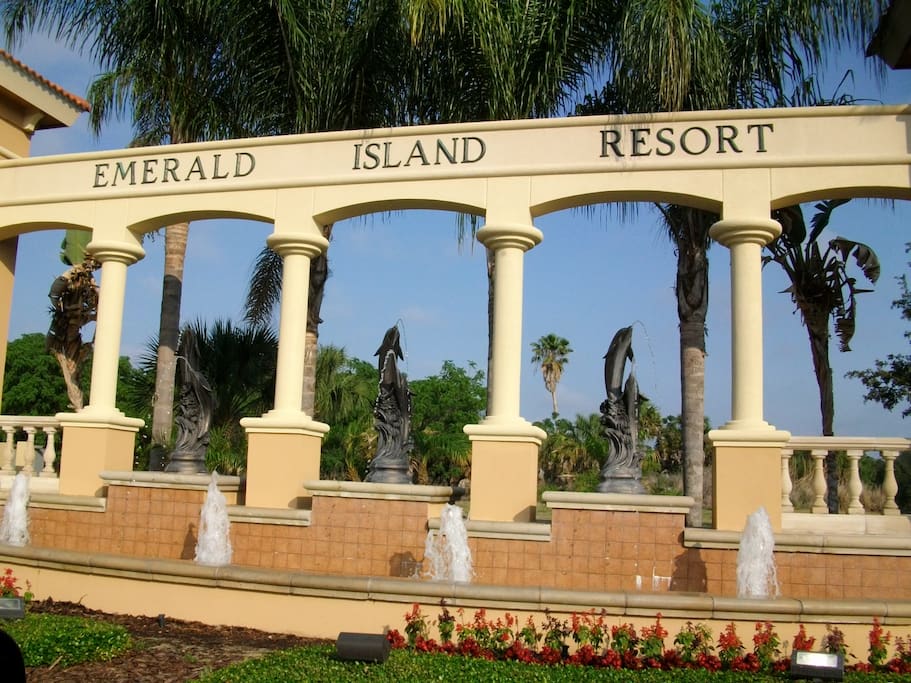 Beautiful 8 BR villa in Emerald Island resort in Kissimmee, Orlando. 4 1/2 BAs, sleeps 16, pool/spa, premium location with privacy and water view, 4 miles to Disney parks.
The space
The villa can accommodate up to 4 families with 3 king/2 queen/6 twin beds in 8 bedrooms. It provides all of the benefits of your own home whilst on vacation: beds/beddings/towels, fully equipped open bright kitchen, free Wi-Fi, free phone calls in the US, LCD TV in the family room and each bedroom, laundry room, game room and screened pool and spa with water view. Our management company is available 24/7 to answer your questions.
Guest access
Emerald Island is premier award winning gated community in an excellent location. It is only 4 miles from Walt Disney World, close to the restaurants. Stunning Clubhouse with full service reception, opens 7 days a week. Front Gate with 24hr Gate Keeper. Car Passes are needed to gain entry into the resort. Up to 6 car passes could be issued villa. Off street parking available.
Interaction with guests
Every vacation is special and we strive for providing you a unique and individualized service to give you the "vacation of a lifetime".
Other things to note
Rental agreement needs to be reviewed before booking, and signed by both owner and renter to finalize the booking.
Short Term Rental Agreement
This Rental Agreement and Contract (the "Agreement") is a legally binding agreement made and entered into as of the Reservation Date written below by and between ____________________ (the "Guest") and __________________________ ("Owner" or "Rental Agent"), pursuant to which the Guest has agreed to rent the residence described below (the "Property"), for the duration of the Rental Term for the Total Rental Fee and other good and valuable consideration as described herein.
Property: The property is located at:
Term of the Lease: The lease begins at 4 p.m. on __________________ (the "Check-in Date") and ends at 10:00 a.m. on _____________________ (the "Check-out Date").
Rental Payments: The total rent for this lease shall be the sum of _____________________________________________________(13% tax and cleaning fee included). This payment is due in full with the signed agreement 60 days before check-in date.
Additional payment:_____________________________________________________________.
If signing date of this agreement is within 60 days of the check-in date above, the rental is due immediately. Cashier's check, money order and traveler's check are preferred, personal check is accepted under certain conditions. Owners reserve the right to cancel the rental if payment has not been received in accordance with above statement. A notify email will send out to remind the GUEST.
OCCUPANCY
Guest agrees that no more than 16 persons shall be permitted on the Property at any time during the Rental Term, all of whom shall comply with the conditions and restrictions imposed upon Guest under this Agreement.
CONDITION AND USE OF PROPERTY
The Property is provided in "as is" condition. Rental Agent shall use its best efforts to ensure the operation of all amenities in the Property, such as internet access, satellite or cable TV access or hot tubs as applicable. Rental Agent shall not be held responsible for such items failure to work, but will make every effort to correct any issues as reported as quickly as possible. Guest acknowledges that use of amenities such as hot tubs, pools, spas, fireplaces, decks, and the like may be potentially dangerous and involve potential risks if improperly used, particularly with regard to children and such use is at the Guest's own risk.
Guest shall use the Property for residential purposes only and in a careful manner to prevent any damage or loss to the Property and keep the Property in clean and sanitary condition at all times. Guest and any additional permitted guests shall refrain from loud noise and shall not disturb, annoy, endanger, or inconvenience neighbors, nor shall Guest use the Property for any immoral, offensive or unlawful purposes, nor violate any law, association rules or ordinance, nor commit waste or nuisance on or about the Property.
DEFAULT
If Guest should fail to comply with the conditions and obligations of this Agreement, Guest shall surrender the Property, remove all Guest's property and belongings and leave the Property in good order and free of damage. No refund of any portion of the Total Rental Fee shall be made and if any legal action is necessary, the prevailing party shall be entitled to reimbursement from the other party for all costs incurred.
ASSIGNMENT OR SUBLEASE
Guest shall not assign or sublease the Property or permit the use of any portion of the Property by other persons who are not family members or guests of the Guest and included within the number of and as permitted occupants under this Agreement.
RISK OF LOSS AND INDEMNIFICATION
Guest agrees that all personal property, furnishings, personal affects and other items brought into the Property by Guest or their permitted guests and visitors shall be at the sole risk of Guest with regard to any theft, damage, destruction or other loss and Rental Agent shall not be responsible or liable for any reason whatsoever.
Guest hereby covenants and agrees to indemnify and hold harmless Rental Agent and their agents, owners, successors, employees and contractors from and against any costs, damages, liabilities, claims, legal fees and other actions for any damages, costs, attorneys fees incurred by Guest, permitted guests, visitors or agents, representatives or successors of Guest due to any claims relating to destruction of property or injury to persons or loss of life sustained by Guest or family and visitors of Guest in or about the Property and Guest expressly agrees to save and hold Rental Agent harmless in all such cases.
RELEASE
Guest hereby waives and releases any claims against Rental Agent, the Property owner and their successors, assigns, employees or representatives, officially or otherwise, for any injuries or death that may be sustained by Guest on or near or adjacent to the Property, including any common facilities, activities or amenities. Guest agrees to use any such facilities or amenities entirely at the Guest's own initiative, risk and responsibility.
ENTRY AND INSPECTION
Rental Agent reserves the right to enter the Property at reasonable times and with reasonable advance notice for the purposes of inspecting the Property or showing the Property to prospective purchasers, renters or other authorized persons. If Rental Agent has a reasonable belief that there is imminent danger to any person or property, Rental Agent may enter the Property without advance notice.
UNAVAILABILITY OF PROPERTY
In the event the Property is not available for use during the Rental Term due to reasons, events or circumstances beyond the control of Rental Agent, Rental Agent will apply due diligence and good faith efforts to locate a replacement property that equals or exceeds the Property with respect to occupancy capacity, location and value that meets the reasonable satisfaction of the Guest. If such replacement property cannot be found and made available, Rental Agent shall immediately return all payments made by the Guest, whereupon this Agreement shall be terminated and Guest and Rental Agent shall have no further obligations or liabilities in any manner pertaining to this Agreement.
ADDITIONAL TERMS TO THE RENAL AGREEMENT
In addition to the standard terms included herein, Guest acknowledges and agrees that the following additional terms and conditions apply to the Guest's rental of the Property:
1.Check-in time is 4pm on the check-in date, check-out time is 10am on the check-out date
2.Cancellation:
a)The guests may cancel the rental at any time it has been confirmed. Cancellation must be in writing in the form of a letter or email.
b)the following cancellation charges will apply to all rental canceled:
•Over 90 days prior to check in: deposit or first payment fully will be refunded.
•Between 60 to 90 days, deposit or first payment is not refundable.
•60 days prior to check in, all payments are not refundable.
Note: OWNER will refund the deposit/rental fees if the property can be re-rented for the same period of time in any above cases. A $20 processing fee will be charged.
3.Property Manager Service: contact of the property manager will be given to the GUEST prior to their Check-in Date. GUEST may contact property manager at any time during their stay for special service to the house. There will be $30 charge per visit. There will be no charge if service is necessitated by malfunction or non-function property facilities or equipment, e.g. water leakage, blocked plumbing, etc. Charge will be imposed only if service is requested due to GUEST's oversight or improper use.
4.Animals and Pets: We regret that animals and pets are not permitted in the home. This condition is strictly enforced.
5.Children must be supervised at ALL TIME whilst in the pool area. Glass is NOT permitted in the pool area.
6.Smoking: No smoking is allowed in the villa. Smokers may do so in the pool area. There will be additional cleaning charge if the client and or guests choose to ignore this condition of booking.
7.Late Check-out: In case the GUEST(s) need to stay longer than 11 am on check-out date, notice should be given to the Rental Agent at least 48 hours in advance. $30 will be charged for 1 hour late check-out, $50 for 2 hours late check-out.
8.Property Damage to Rental Property: In case the rental property is not returned in its normal condition, wear and tear from reasonable use excepted, based on the inspection report, Rental Agent shall supply GUEST with an itemized list of charges, GUEST agrees to pay the cost of repair in full, not limited to the deposit amount or property damage protection limit.
9.All guests' name must be sent to Rental Agent prior to the Check-in date for insurance purpose.
GENERAL PROVISIONS
This Agreement contains the entire agreement between the parties with regard to the rental of the Property, and any changes, amendments or modifications hereof shall be void unless the same are in writing and signed by both the Guest and the Rental Agent. This Agreement shall be governed by the laws of the State of Florida. The words "Rental Agent" and "Guest" shall include their respective heirs, successors, representatives. The waiver or failure to enforce any breach or provision of this Agreement shall not be considered a waiver of that or any other provision in any subsequent breach thereof. If any provision herein is held invalid, the remainder of the Agreement shall not be affected. Any notice required to be given under this Agreement shall be in writing and sent to the contact information included herein. This Agreement may be signed in one or more counterparts, each of which is an original, but taken together constitute one in the same instrument.
_________________________________________________________________________________
DateGuest's SignatureAddress
_____________________________________________
Phone
_____________________________________________
Email
_________________________________________________________________________________
DateOwner's SignatureAddress
_____________________________________________
Phone
_____________________________________________
Email
Rental Booking Form
No. of nights: ___________No. of persons: ____________ (no more than 17)
Details of your travel party (including yourself)
Title (Ms. Mr. Mrs.)First NameLast NameAge if under 18
GUEST Signature:______________________Name: ____________________ (Print)
---
---
Always communicate through Airbnb
To protect your payment, never transfer money or communicate outside of the Airbnb website or app.
Learn more
---
Check in is anytime after 4PM
No Smoking.
No Pets
Examine the house thoroughly upon arrival and notify the owner if there is any existing issues.
Dispose recycle and garbage in the corresponding bins before departure.
Start the washing cycle for one load of towels before departure. ( Don't need to finish washing if there is more than one load)
Pool heating $199/week or $35/day
BBQ grill $50/stay
---
---
6 nights minimum stay.
From Sep 1 - Oct 31, 2017 the minimum stay is 1 night.
---
We enjoyed the convenience having a house with a pool! If any problems or concerns no matter how small or insignificant you may think they are speak or text your hostess and you may be surprised by friendliness and quick response as well as small advice you may receive. For example Chelsea told me of other entertainment in the area that were not as expensive the major attractions but just as family orientated and fun. Thank you again for a great time.
---
We were really pleased with the home. We had family and friends in town for our son's wedding to a lovely local Orlando Gal. The three king rooms were a bonus and the mix of twin and queen rooms, met our needs perfectly. The home is welcoming and spacious. Room for the adults and kids. We thoroughly enjoyed the pool and spa. Our host Chelsea, was responsive to our question and offer good guidance on having the pool and spa heated in February. We would definitely return'nnn
---
The house was nice, clean, and well kept. We were close to shops and restaurants but not within walking distance. Plenty of space for large families. Unfortunately, we didn't get to enjoy the heated pool, jacuzzi, or grill do to the weather. The only downside was that we had to purchase tissue, paper towels, trashcan bags, laundry and dishwashing detergent. Overall great place and heat host!!!
Shannon, thanks for your stay in our vacation home. As the standard handling of our management/cleaning company, we only provide the initial bathroom tissue/paper towel/trash bag/detergent. Guest will have to buy the additional supply at nearby grocery store as there is not refill during the stay. Sorry about the inconvenience.
---
Great house not far from Disney! Just off 192. Fast response from Owner whenever we had a question or a problem. Clean and comfortable home which fit 16 of us perfectly. Pool was a bit smaller than it looked but was clean and warm once we had heat turned on (Note contact Owner about this before arriving we missed this in the paperwork but were able to take care of getting heat on within 24 hours. I would recommend this one!
---
Explore other options in and around Kissimmee
More places to stay in Kissimmee: