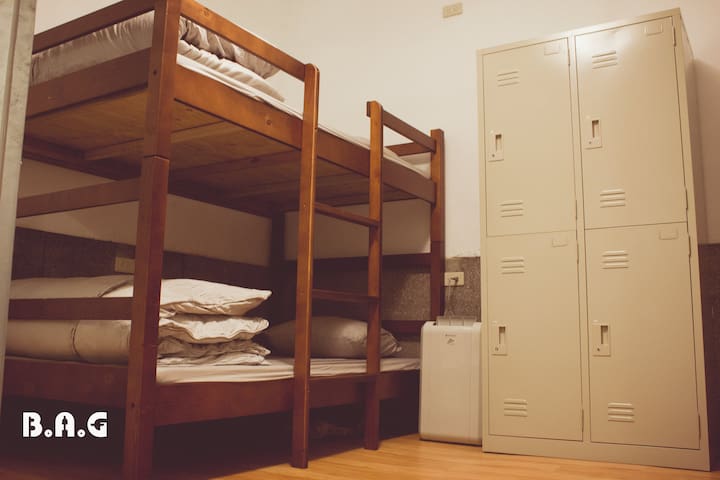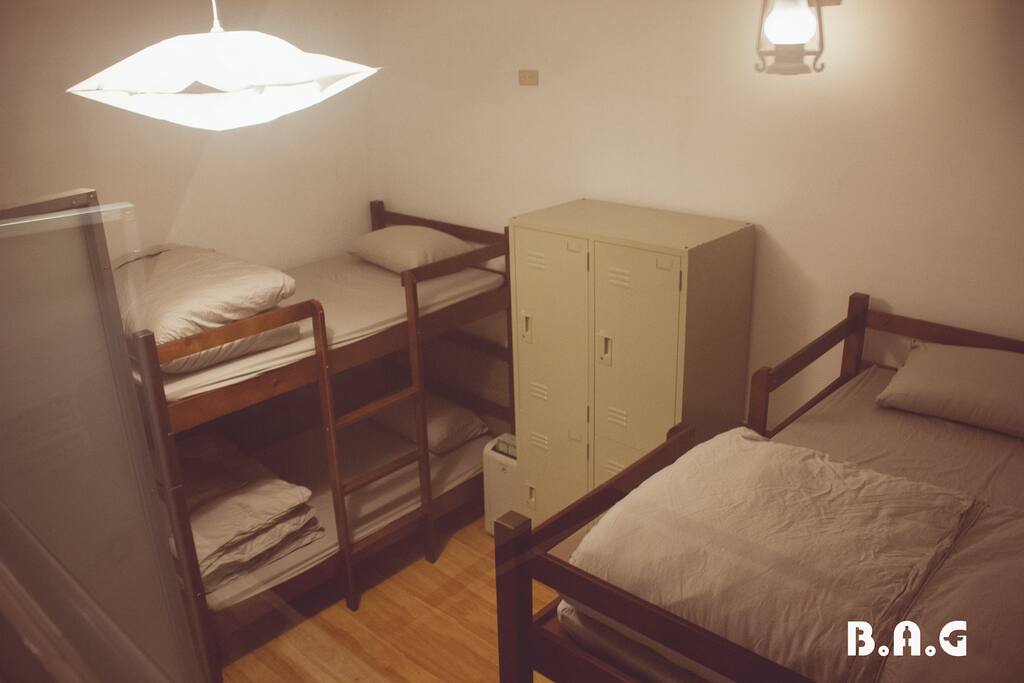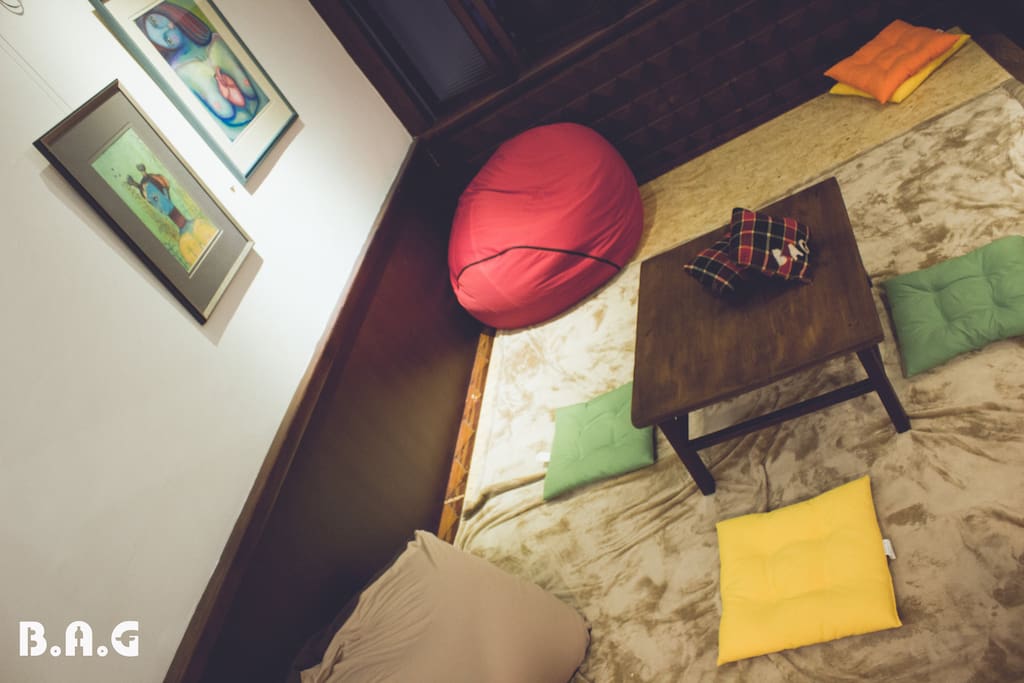 It is only a 5-minute walk from the exit of the North Gate MRT Station. It is close to the historical rice course. There are well-known overseas Xiahai Chenghuang Temple. Cheng docks, so that visitors stop photography for a long time, from the Ningxia night market only 10 minutes away, want to eat anything, really traffic near the beauty of food HOSTEL.
離北門捷運站三號出口僅5分鐘步行路程,鄰近具歷史色彩的大稻埕,有聞名海外霞海城隍廟,來此求姻緣的香客絡繹不絕,古色古香的巴洛克建築與黃昏極美的大稻埕碼頭,都讓訪客駐足攝影許久,離寧夏夜市只有10分鐘路程,想吃什麼都有,真是交通近 美景美食多的HOSTEL。
The space
We also have music art with food, stick to the hands of the foreman with ghosts Gabi, look forward to you to find more !!! Live friends, some will help us to write reviews, most of the friends did not leave a message, because not through the AIRBNB set, but also through the introduction here to stay friends, help us write recommendations to see if you can learn more yo! The In addition, many private rooms, Bao Dong or long live, we provide you more favorable price, you can ask a lot of letters Oh ~
我們還有音樂 藝術 跟美食,堅持手作的工頭與鬼點子Gabi,期待你來發現更多!!!
住過的朋友,部分會幫我們寫評語,大部分的朋友沒有留言,因為沒有透過AIRBNB下訂,也透過介紹來這兒入住的朋友,有幫我們寫推薦,來看看可以了解更多唷!!!
另外多人包房、包棟或長住,我們提供你更優惠的價格,可以多多來信詢問喔~
Guest access
We offer public space with shared kitchen, we have a lot of their own to do the meal drink, travel the most needed beer is also ready (need to pay), we also have to prepare other sound with the microphone, you can not have fun before you have fun , Each floor has two sets of shower and toilet, the fourth floor has a paid washing machine and dryer, but the laundry need to pay attention to laundry specifications Oh!
我們提供公共空間與共用廚房,我們有很多自己做的餐點飲料,旅行最需要的啤酒也準備好了(需付費),我們也有準備其他與音響麥克風,你可以在大家還沒有睡覺前玩樂一下,每層樓都有兩套淋浴間與馬桶,四樓有付費洗衣機與烘乾機,但洗衣服需要注意洗衣烘衣規範喔!
Interaction with guests
We are very fond of chatting with the couple, our backpack inn can be completed by a group of friends to help cover up, many of my friends are mostly strangers in our journey, but the gap was our enthusiasm and curiosity away from the , Looking at the creation of friends through our "sharing" so that more people know that we think the best thing, as long as do not think we are too warm enough! We are all people who love Taiwan, if you want to know how to play Taiwan, you can invite us to play together, maybe you play more with the Xing, perhaps we can take you to a light travel, give you a little advice, give you a different Past travel experience.
我們是很喜歡跟大家聊天的夫妻,我們的背包客棧能夠完成也是靠一群朋友的幫助搭蓋起來,很多朋友也多半是我們旅途中的陌生人,但隔閡被我們的熱情與好奇心抽離了,看著朋友的創作能透過我們的"分享"讓更多人知道,是我們認為最棒的事情,只要不要覺得我們太熱情就好!
我們都是愛台灣的人,若是想更知道怎麼玩台灣,可以邀請我們一起去玩,或許你們玩得比較隨興,或許我們可以帶你們來個輕旅行,給你們一點意見,給你們一個不同以往的旅遊經驗.
Other things to note
1, check in time from 3 pm to 12 pm. (If there is a special situation, please be sure to inform early or late) 2, check out the time for the departure day of the morning 12 o'clock! 3, sorry, BAG does not provide personal hygiene products and toiletries, only one bed with a kitchenette and bathroom toilets, such as: toothbrush toothpaste, personal clothing, towels, etc., etc., need to bring their own with another sale of washing Hair and shower gel (a group of 50 yuan). 4, please be sure to check in the first 24 hours to inform the flight time and the expected check in time, so that BAG can arrange your bed for you and welcome you to play. 5, BAG will be a place to stay in the code and information you need to fill in, to ensure that your interests, we will confirm your identity (to protect you I and other residents of the rights and safety), so as not to cause your inconvenience. 6, check in after we can send luggage, but not custody responsibility yo! 7, we can help you call Taxi from the airport to the BAG, can also be sent from the BAG in front of the airport (free service charge) 8, because the BAG is a historic building, stairs antique, to this accommodation must climb the stairs, if not upstairs or do not like to climb the stairs you, to consider what Oh! 9, set down and pay the cost of accommodation, if the shop staff negligence caused by the inconvenience of your accommodation, you can not apply for unsubscribe, please forgive me!
1、check in時間從下午3點到晚上12點。(若有特殊狀況請務必提早告知會早到或晚到)
2、check out時間為退房日的早上12點喔!
3、不好意思,BAG不提供個人衛生用品及盥洗用品,只有一張床跟一個小廚房和浴室廁所, 如:牙刷牙膏,個人貼身衣物,毛巾等等等, 都需要自己帶
另有販售洗髮精與沐浴乳(一組50元)。
4、請注意務必在check in前24小時以email告知班機時間與預計check in 時間,好讓BAG能為你安排你的床位並歡迎你來玩。
5、BAG會擬一份入住守則與資料需要你填寫,為確保你的權益,我們會確認你的身分(保護你我與其他住客的權益和安全),以免造成你的不便。
6、check in 後我們可以寄放行李,但不負保管責任唷!
7、我們可以幫你叫Taxi 從機場到BAG,也可以從BAG門前送到機場(叫車服務免收費)
8、因為BAG是具歷史的樓,樓梯古色古香,來這住宿必須要爬樓梯,若不方便上下樓或不喜歡爬樓梯的你,要考慮一下喔!
9、下訂並付住宿費用後,若非本小店人員疏忽造成你住宿的不便,無法為你辦理退訂,請見諒喔!
Not safe or suitable for children (0-12 years)
Check-in is anytime after 3PM
1、房內勿飲食並抽菸喝酒嚼檳榔或吸食毒品,違者送警處理。
2、房內勿造成其他房客不便或大聲喧嘩。
3、BAG會將男生跟女生分房喔!若有貼是男生勿入的標示,請勿進入唷!
4、BAG有貼禁止進入或本時段本場地沒有開放,也請不要好奇進入喔!
5、BAG的器材很歡迎你來使用與觀賞,但使用前請洽服務人員,並請愛護器材,若使用造成損壞, 需照價賠償。創作者的藝術品,如果有喜歡想購買請告訴我們,我們會熱心協助你並告訴你創作者的小故事喔!
6、我們備有簡易早餐食材,再2F有冰箱的區域,冰箱裡的食材與桌檯上面的紅茶與咖啡可以取用,當然我們也提供簡單烹調器具可以使用,為確保新鮮與下個使用者的權益,請確認冰箱以關緊並小心使用器具,食材有限,吃多少拿多少,也請不要外帶喔!
7、借用器材與家電使用完畢後請歸回原位,以免影響他人使用。
8、BAG準備的保管箱,希望可以存放你個人物品,但請把你個人貴重物品隨身攜帶唷!
9、BAG是背包客棧,除兩人房外,其他房型是沒有上鎖的,check in時會有門禁鎖給你,要保管好喔!
10、公共空間是大家一起使用的環境,請不要留下垃圾與你個人物品,離開前請確認以免遺失,公共空間如:餐廳,廚房,上下鋪房走道或非個人以外儲物櫃,淋浴間,廁所與公共走道。
11、BAG提供的是公共空調,愛護地球、節約能源,請調舒適溫度,確認房內沒人時請隨手關閉空調。
12、我們有販售毛巾、洗髮精與沐浴乳,一組30元,其他用品概不提供。
13、住客的公共空間在2F廚房旁邊的墊高空間,其他區域為小酒趴使用空間,若需要使用請告訴我們唷!
14、一樓廚房內與冰箱內商品與物品均須付費,請勿自己拿喔!若需要請告訴我們。
You must also acknowledge
Must climb stairs
Potential for noise - 輕隔間隔音不太好
我們來住過的朋友,有部分會幫我們寫評語,大部分的朋友沒有留言,因為沒有透過AIRBNB平台下訂的關係,我們也透過介紹的朋友來我們這兒入住,有幫我們寫推薦並給我們一點建議,可以來看看,有任何問題,BAG很高興能幫你解答喔!
Languages:
English, Español, 中文
Response rate:
82%
Response time:
within a few hours
Explore other options in and around 台灣臺北
More places to stay in 台灣臺北: