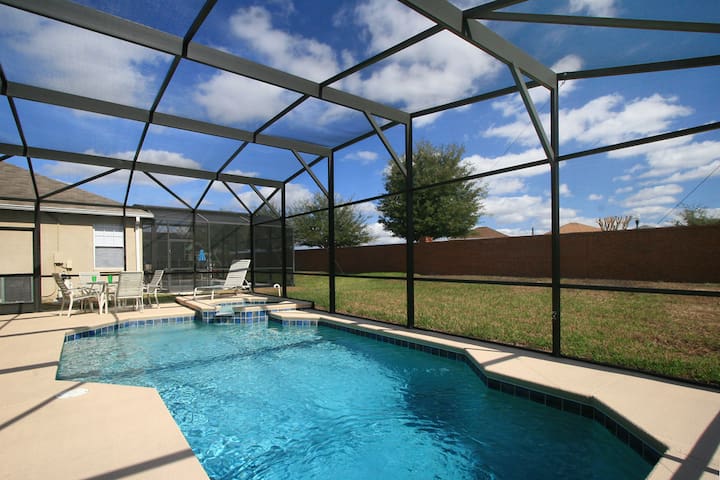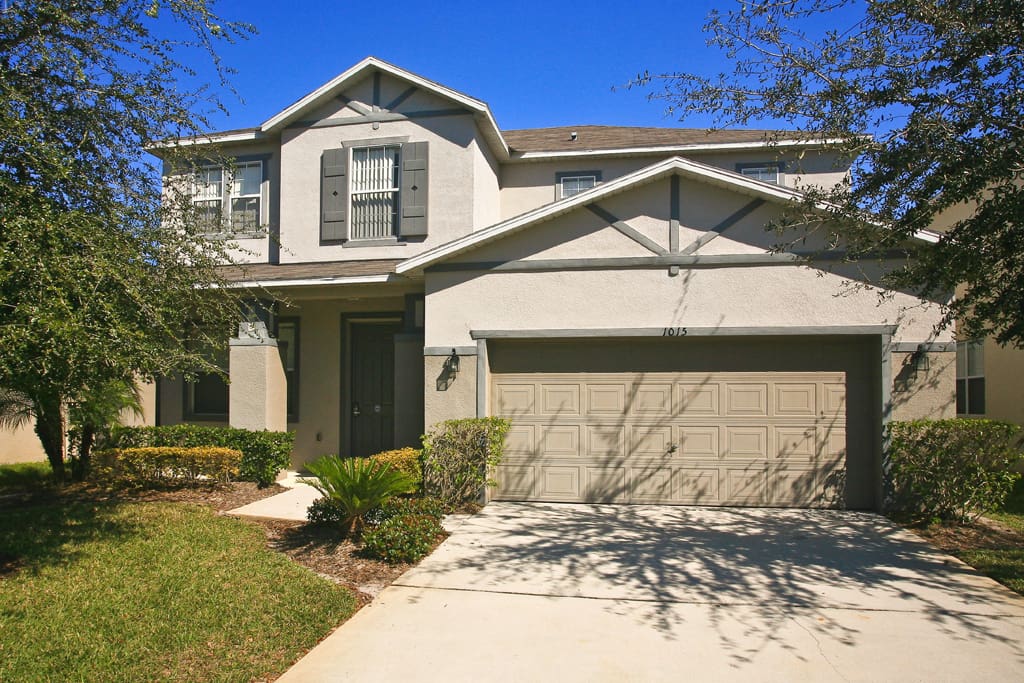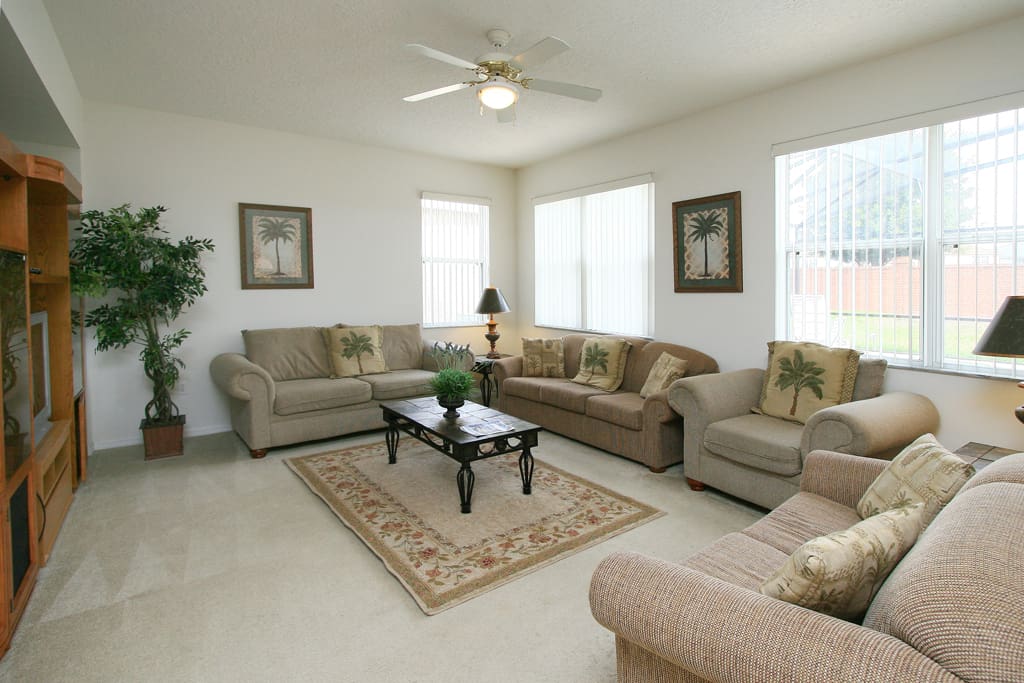 This beautiful four bedroom vacation rental in Somerset community in Kissimmee is approximately 15 miles to the Walt Disney World® Resort main drive.
The space
With 4 bedrooms and 3.5 bathrooms, this fully air-conditioned, roomy Orlando vacation home is perfect for families with children - sleeping up to 8 guests.
This spacious Somerset pool home offers a sparkling pool, bubbling spa, and a games room for the family to enjoy.
Guest access
> Pool with raised, bubbling spa (optional electric heating)
> Sundeck
> Contemporary furnishings and decor
> Family sized kitchen with all appliances
> Laundry room
> Family Games room with pool table
> Table-soccer and air-hockey games
> WiFi high-speed internet provided FREE
> Local and long-distance (US) calls FREE
> Digital entry/lock system with unique, private code
> Gated community
> Next to Remington public golf course
> Community playground
Interaction with guests
Each guest will visit the Welcome Center to meet with our Guest Services team to finalize check-in. Here, one of our vacation agents can answer questions about your stay.
Other things to note
Home check-in is at VillaDirect Welcome Center located at 8132 W Irlo Bronson Memorial Hwy, Kissimmee, FL 34747
Welcome Center Hours of Operation: 9:00am - 6:00pm (EST)
---
---
Always communicate through Airbnb
To protect your payment, never transfer money or communicate outside of the Airbnb website or app.
Learn more
---
Check in is anytime after 4PM
For the health and safety of all of our guests, smoking inside of the homes is prohibited. This property does not allow pets onsite. Minimum age to place a reservation is 21.
For complete check-in information please visit: (website hidden)
---
---
The minimum night stay for this listing varies.
---
Great for what we needed, plenty of room for 6 people. Far from attractions but perfect for what we needed. The appliances weren't the best, but we made do. Plenty of dishes and such though. If we ever need to stay in this area again with so many ppl we'd consider staying here again.
Response from VillaDirect:
Thank you for your comment, Danielle! We take a lot of pride in our homes, which is why we love hearing feedback from customers on how we can enhance our services to make every experience even better. Let us know the next time that you plan on staying in Orlando as we offer special discounts to returning guests.
---
BEWARE!!! This unit is not in a condition to be rented. VillaDirect has to be the worst company I have ever dealt with. The listing is false in more ways than one. Check in time is not 9am. You may go to VillaDirect to check in but will not be able to enter the unit until 4pm. The heat fee for pool and Jacuzzi was listed at $25 per day. I was told by VillaDirect it would be $35 plus tax per night. Although this information was listed as check in at 9am and the price to heat at $25 it was not honored. Instead VillaDirect just argued and passed blame on to Airbnb. The resort amenities is a drive down the street it is not in the gated Somerset area. More IMPORTANTLY the AC unit leaks from the second floor on to the rear living room and kitchen! You cannot put the temp under 73 degrees. The house is always warm and uncomfortable. It took two days for a serviceman to "fix" the AC. The next night after a day at the parks my son walks in to the kitchen and bashes his knee because the AC unit began leaking from a vent on to the tiled kitchen floor. I called VillaDirect told them what happened, I was told someone would come within 2 hours and they did not. I then spent a half hour addressing my concerns for nothing. The serviceman came by days end. It was our last day there and only actual day we stayed in the unit and I could not get out of there fast enough. I was told I would hear back on the next business day which was Monday it is now Friday and they never contacted me. The AC unit is an ongoing issue. It is very clear in multiple sections there is water damage and has been patched up many times before. Stay clear of this home. VillaDirect is not helpful or accommodating in anyway. They take no responsibility, pass blame on to Airbnb or the renter and offer no solutions. At check in I was told there were some stained towels that would be replaced next day. They supplied 7 towels for 7 people and 4 were folded wet and stained. I had to keep washing towels the entire time. They provide one toilet roll to each bathroom, no soap, paper towels, measuring cup, ice trays, dish or clothes detergent. It is not fully stocked at all. The trash was left over flowing and covered with flies and maggots that left a stench around the entire house. The entire experience was a nite mare. $1200 for 6 nights, I was definitely ripped off!
Response from VillaDirect:
We read the complaint above and wanted to respond adequately and with a factually accurate response below. The guest is correct that check in time that was listed on Airbnb for this home was wrong. This was a genuine error. We list over 200 homes on Airbnb, and all of the others show the correct 4PM check-in time. We have now corrected the listing. Our guest service team was able to get the guest checked in early, although not at 9:00 AM. We apologized then and again now for this error, and any inconvenience it may have caused. The staining around the air-vent was initially caused by condensation water seeping into the drywall. Typically, this staining is caused when either: a)The AC drain-line being blocked, causing a back-up of water and a leak. b)The AC is run with the pool doors open, which causes condensation to build on the metal of the vent, which is then soaked up by the dry wall or drips on to the floor below. c)The AC thermostat is set too low for the AC unit to achieve in the ambient temperature, causing condensation to gather on the vents and drip. However, there had been no feedback from previous guests regarding any AC failures. As such, our records indicated that the home was ready for rental. According to our system notes and automated call-logs, the guest called the after-hours service and left a message, as well as sending an email (the following morning), timed at 7:56 AM on Wednesday 2nd August. Our technician was sent out and arrived at the home at 11: 22am the same day. He found that the AC thermostat was set to 65-degrees. There is a sign alongside the AC thermostat advising guests that they should not set the AC below 73-degrees, as this will cause damage to the unit, which is a standard recommendation in central Florida. He discussed this with the guest, who acknowledged that the AC thermostat should not be set that low, and then set the thermostat back to 73-degrees. The AC compressor outside was tested and shown to be working at that time. At the same time, the technician also checked the drain line on the exterior and ran compressed air through it to confirm that it was not blocked. The AC is serviced regularly and inspected annually. However, in vacation rental properties things can sometimes go wrong. Some guests misuse AC thermostats and set the AC to try to get them to operate outside of their ability/specification. On departure of the guest on the 6th August, we had the AC unit inspected, and found the coils in the air-handler to be frozen, indicating misuse/abuse of the operation of the unit from having the thermostat set too low. The home has now been removed from our available inventory while the AC is repaired and the ceiling dry-wall is repainted. We dispute that the guest saw the price of $25 for pool and Jacuzzi, as this is not listed anywhere on the Airbnb listing, due to the fact that Airbnb does not provide this as an option to show. Our price, per night, for pool heat on that home is $35. The guest was particularly aggravated at the charge for pool heat, and felt that it should be provided free of charge. Because the pool heat is a direct utility-related fee, we were unable to meet the guests wishes in this respect. Following this negative review, VillaDirect is currently adding a line to the "House Rules" section on Airbnb, to indicate the pool heat pricing and to avoid future misunderstandings/conflict for guests. At check-in, the guest is correct that they were advised that there were stained towels found during the pre-arrival inspection, and that these would be replenished. We only replenish the towels that are stained or need to be replaced, so a total of 7 towels were taken to the home the following day. We (again) dispute that there were any stained towels provided, as these replacement towels were issued from the warehouse, new stock inventory. We do provide one toilet roll per bathroom, soap for each basin, and the bath/showers as standard. We also provide a kitchen towel and a trash liner in each trash can in the home on arrival of the guest. We do not provide dish or clothes detergents. The rental is offered on a "self-catering" basis. It is a whole house rental, not a room in somebody's home. As such, we provide a standard set of amenities in the home. The trash collection for the community is on a Friday and recycling collection is on a Tuesday of each week. The guest arrived on a Monday, so we are concerned that the local trash service didn't collect the trash on the Friday before their arrival. We apologize if the trash had not been emptied/removed before the guest arrival. Our Guest Service Manager contacted the guest by phone during their stay and offered an alternative unit, which was an upgrade. Both the guest and her husband declined that offer. That offer is the maximum benefit offered in cases where equipment failure or problems with a home are encountered, where the company is unable to resolve the issue to a guests satisfaction. However, in an effort to recompense the guest for the issues they reported with the home they stayed in, VillaDirect also reached out after their stay, to offer compensation against their reservation. No response to that attempt to resolve this complaint has been received. Instead, the guest has placed this complaint on Airbnb. VillaDirect always welcome any opportunity to reasonably resolve a guests complaint, and our offer remains open to the guest should they wish to respond. With over 5,000 families staying in the homes VillaDirect manages each year, there are occasions where we are unable to match guest expectations. Having looked at all of the notes and logs for this reservation, on this occasion, we believe that we responded to each of the guest's complaints during their stay, and offered alternatives when we were unable to resolve their complaint.
---
Clean and large. The game room proved to be lots of fun for my 13 year old son. The pool was a nice refresher.
Response from VillaDirect:
Thanks for sharing such great feedback on your experience with your stay in this VillaDirect home. Your comments help others know what to expect when they are looking for vacation rentals in Orlando. We are happy to hear that your son had a great time in the games room and around the pool! Just so you know, we do provide special offers to returning guests, so feel free to call us when you are planning your next trip for additional savings. We look forward to seeing you again soon.
---
VillaDirect provides families with the very best vacation rental experience and value in Orlando. With world-class hospitality from a dedicated guest service team, a variety of 2-9 bedroom luxury vacation properties, and prices to fit every budget, VillaDirect has become a leader in the Orlando vacation home industry. We help make family travel simple with our guest-centric approach, innovative rental concepts, reliable service, and commitment to providing our customers the very best value for their budget.

At VillaDirect, your family's vacation isn't just another booking; we understand what a great vacation means to you and your family. We know that the memories made on holiday can last a lifetime. That's why we dedicate ourselves to treating each and every guest that stays in one of our luxury vacation homes with the highest levels of service, doing our best to ensure that every minute of your dream vacation is how you imagined. Our travel concierge service team is available seven days a week to help plan your entire trip and provide everything you need - from discounted tickets to insider information from our local experts.

VillaDirect's standards of hospitality and customer service are unmatched in the industry and have helped us develop a reputation for going the extra mile for our guests. From decorating a home for a surprise birthday party to leaving small gifts for your children during holiday travel, there is nothing that we won't do to make sure your vacation is perfect, down to the last detail.
Languages:
English, Español, Português
Response rate:
100%
Response time:
within a few hours
Explore other options in and around Kissimmee
More places to stay in Kissimmee: