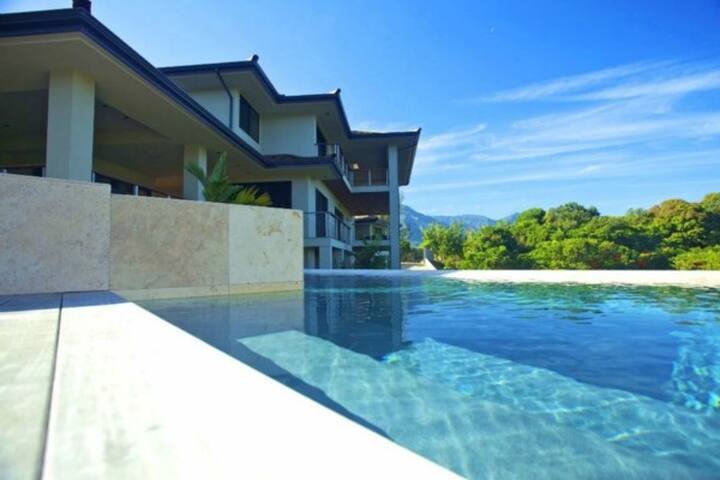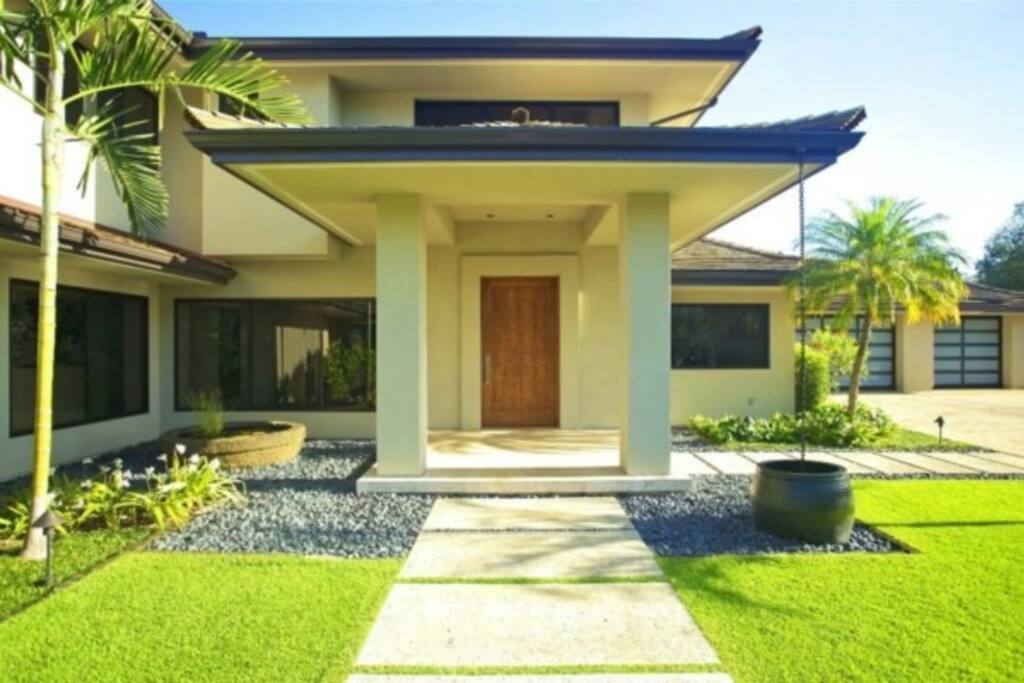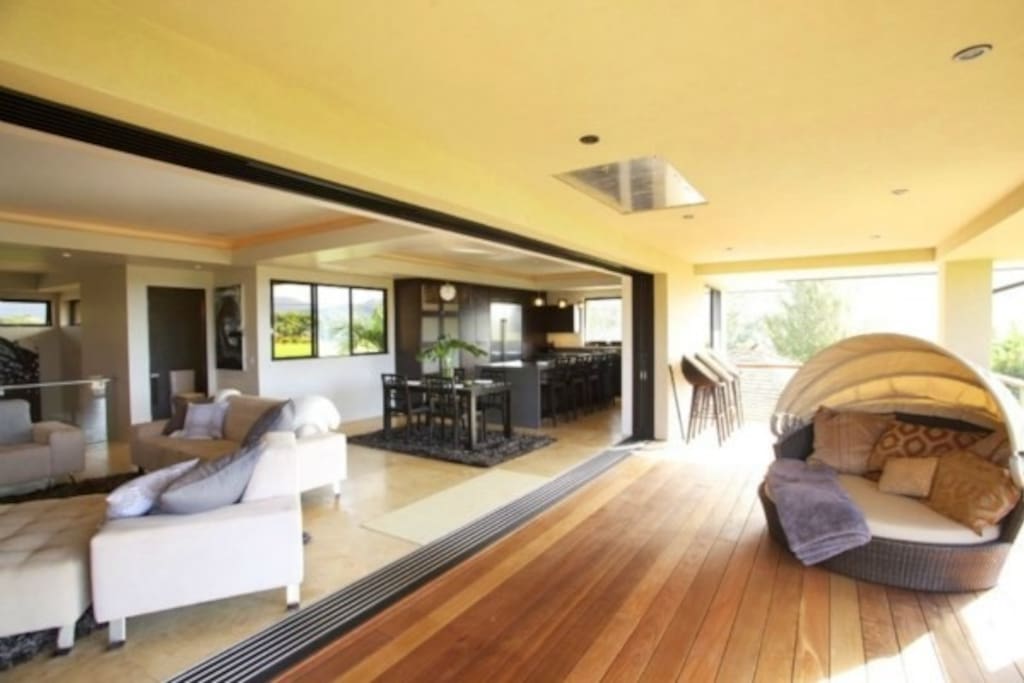 This custom designed home by Hawaii's renowned architect Mark Eyler is located on the idyllic northshore of Kauai.
HAWAII STATE TAX WILL BE ADDED TO THE DAY RATE and sent to you in a special offer
The space
Designed for professional surfer Bruce Irons, the architecture and interior design blends Balinese, Hawaiian and Asian elements with a contemporary style. This home offers a standard of unparalleled beauty combined with elegance in a modern tropical setting.
LAULE'A HALE, which means peaceful and happy in Hawaiian, is the perfect description for this home. In classic tropical design, each living space opens up to bring the outdoors in accentuating the awesome mountain, waterfall and ocean views and allowing the cooling trade winds to soothe you.
With almost 4,000 square feet of living space, this home features 3 bedrooms, 3 and a half baths with spa-like amenities such as steam room, jacuzzi, infinity pool, yoga/meditation room and expansive outdoor living areas. These are just some of the soul nurturing enhancements of LAULE'A HALE.
This home boasts luxury, ultimate privacy and pure tranquility. Your very own 5 star villa in paradise.
Guest access
Some of the amenities include steam room, jacuzzi, a mirrored yoga/exercise studio, high-speed WiFi, flat screen TVs in every room, cable TV, stainless steel appliances, beach towels and other beach amenities. Please note that that pool is not heated.
Other things to note
Rate listed does not include taxes, cleaning charges, and fees. Also the nightly rates is for 4 guests. Extra costs apply for additional guests. Please email for a complete price quote. Rates are subject to change.
Hawaii State Tax ID # W02147862-01
A/C Notes: Airconditioning is only available in the master bedroom and the two downstairs bedrooms. There is NO A/C in the rest of the house. Stand fans are available in each room. Windows can be opened to allow the cool trade winds to pass through the house. Occasionally we do not have trade winds for few days and the hottest times of the month are Jul-Sep.
Kauai is a tropical island. Your vacation may be interrupted by rain, wind, storms, warm weather etc. Houses and condos on Kauai do not typically have air conditioning. We depend on the trade winds to cool the islands down, there will be times where things stay a bit warmer usually during the summer months, June thru September. Please note that if the property you are booking does not state that there is air-conditioning on its description or amenity list, and you need to have AC, please contact our Reservations team and we would be glad to help you find an appropriate property that will suite your needs. No refunds or adjustments will be given due to not having AC on property.
Special Terms:
There is a $2,000 Security Deposit (Refundable) in addition to the charges. Must be paid by check, eCheck or bank wire (instructions in Payments section).
---
---
Always communicate through Airbnb
To protect your payment, never transfer money or communicate outside of the Airbnb website or app.
Learn more
---
Check in is anytime after 4PM
OCCUPANCY:
The Property is for the sole use as a personal vacation residence for families and responsible adults. Occupancy is restricted to the number of people listed on the Rental Agreement. If the number of occupants changes, Guest must immediately notify Agent and additional charges may apply. After the check-in date, extra guest charges will double per each additional person per night. If the total guest occupancy exceeds the number of guests allowed, this is a breach of contract and will automatically terminate this agreement. Guest will be asked to vacate the premises and all payments will be forfeited. Guest acknowledges that they will personally occupy the Property for the entire length of stay and will not sublet. Tenant shall not use the Property for any illegal or unlawful purpose, nor shall the Property be used in a fashion that disturbs or offends the neighbors. Special events, including but not limited to weddings, parties, and reception will not be allowed.
CONDITION OF PREMISES:
This property is privately owned. Should any major equipment or appliance malfunction, deficiencies shall be corrected as soon as possible during normal business hours. There will not be any refunds or adjustments. Please report all minor maintenance problems to your on island property manager, Yen Upson ((PHONE NUMBER HIDDEN).
INVENTORY:
All contents of the house, including books, cds and dvds, are provided for your full enjoyment for use during your stay. Please note: A full inventory of the house is taken. Please let us know ahead of time if something is broken or lost, it is very much appreciated.
CLOSING UP THE HOUSE:
All windows, screen windows and doors closed and locked making sure that they are snapped closed tightly
All lights off, A/C, fans and TV off
Be sure to lock the front door
CONSERVE ELECTRICITY:
The cost of electricity is extremely high on Kauai. Please help conserve electricity by shutting off unused appliances, A/C systems, fans, lights etc. Please do NOT change any setting in the freezer of refrigerator.
GARBAGE DISPOSAL:
When using the garbage disposal, please run plenty of cold water. Please avoid throwing in hard or fibrous objects to avoid damaging and clogging up the system.

FURNITURE:
Please do NOT move any furniture around to avoid damaging floors or furniture. Also, please use caution when eating or drinking near any furniture, upholstery, or bedding. Please do not put any wet clothes, bathing suits on the furniture or balcony and/or lanais rails. Interior furniture is to be used ONLY INSIDE. Moving furniture is discouraged. When moving dining chairs or bar stools, please be careful to avoid floor damage. Use lanai furniture on lanai only.
SHOES IN THE HOUSE:
It is a tradition in Hawaii to remove your shoes before entering a home. Kindly remove shoes upon entering the home.
SAND:
Please shake out all of your towels and sandy clothes. Please rinse off by the outside shower.

BEACH EQUIPMENT:
Please rinse and return after each use.
NO SMOKING:
Guest agrees that there is to be no smoking in the unit, on any lanais, or on the property during occupancy. Guest will be responsible for any damage to the property caused by cigarettes and/or cigarette smoke. Extra cleaning fee will be charged up to $500.

WASHER AND DRYER:
Please use with care. NEVER put sandy towels or shoes in the machines. This can result in damaging the machine. Please make sure the lint trap is cleaned after each dry cycle.
Please do NOT sit on bedding or furniture with wet suits and do NOT place towels on the furniture – they stain and cause mildew.
HOUSEKEEPING:
This property is cleaned prior to Guest's arrival. Fresh Linens and towels are placed in the apartment along with a starter supply of soaps, shampoos and paper products. Additional supplies that may be needed shall be the responsibility of the Guest. Please use cutting boards and not kitchen counter when chopping food. Suntan oil is almost impossible to remove from carpets, upholstery and linen. Please exercise care.
CLEANING:
For any reservation of more than 12 days, a mandatory midstay cleaning may be required at a rate of $300.00 per week. This cleaning is in addition to the out-cleaning on departure. Additional cleaning is available on request at a rate of $30/hour (rate subject to change.) Please provide 48 hours notice if you would like any additional cleaning during your stay.
SPILLS:
Please clean up immediately! If on linens, pillows etc. – Please wash asap to avoid stains.
TRASH CANS AND TRASH REMOVAL:
Trash pick up is early Wednesday morning. Please make sure to put the house trash into the county trash bin located in the garage. Housekeeping will take it out to the curb Tuesday afternoon.
YOUR SAFETY AND SECURITY:
When leaving the home unattended, or during the night, please close and lock all windows and doors. Be cautious with your personal belongings at all times.
NEIGHBORHOOD:
Please be thoughtful of neighbors, please keep music, noise etc. to a minimum from 9pm to 8am.
PETS ARE NOT ALLOWED:
Please do not bring any animals in the home regardless of how adorable they look. They can create a flea problem and professional de-fleaing start at $200.00
AMENTIES PROVIDED:
We provide your villa with a starter kit of necessities. Additional supplies that may be needed shall be the responsibility of the guest
Bath Amenities: (per bathroom)
Shampoo, Conditioner, Bath Soap and Liquid Hand Soap. (one of each)
Three rolls of toilet paper and one tissue box.
Laundry Room:
Laundry soap, bleach, dryer sheets.
Kitchen:
Dishwashing soap, Dishwasher pods, Dish scrub, 2 Paper towels, Liquid handsoap, All Purpose kitchen spray.
***Please note that we do not provide condiments or spices. If you wish to have your rental home pre-stocked with groceries and other necessities, please let us know ahead of time and we would be more than happy to arrange this service for you. Pre-stocking will charged at an hourly rate of $50/hour plus the cost of the groceries
Please review the Terms & Conditions of your Vacation Property carefully before you begin your vacation. Any monies received by Elite Pacific Properties, LLC, the "Agent", for occupancy of Vacation Property, indicates the acceptance of the terms of our Terms & Conditions in full. It is the responsibility of all guests and members of their party to be familiar with all policies pertaining to the rental.
1. RENTER REQUIREMENTS
For legal and accounting purposes, the person placing the reservation must be the same as the credit/debit card holder. This person is considered to be the Guest. All other persons occupying the rental are considered to be the Guest's invitees, and all discussion regarding reservation, cancelation, and damage policies will be discussed with the Guest, not the Guest's invitees. The Guest must be an adult over the age of 21.
2. CREDIT CARD AUTHORIZATION FORM
Elite Pacific Properties LLC requires a credit card on file for every reservation. Guest will be required to complete a credit card authorization form prior to gaining access to the property. The Guest will incur a 3.5% credit card surcharge fee for any amount Elite Pacific Properties LLC will charge to this credit card.
3. DAMAGE POLICY
Every reservation requires either
(1) a Damage Protection Policy ("Vacation Rental Damage Plan")
OR
(2) a $(PHONE NUMBER HIDDEN) refundable security deposit, depending on the property.
The "Vacation Rental Damage Plan" covers unintentional damages to the rental unit interior that occur during your stay, provided they are disclosed to management prior to check out. The policy will pay a maximum benefit depending on the plan purchased:
-$3000 in coverage for Vacation Rental Damage Insurance ($49)
-$5000 in coverage for Vacation Rental Damage Insurance ($89)
A few of our high end rentals require a Damage Protection Policy AND a Refundable Security Deposit. Any damages that exceed the maximum benefit will be charged to the credit card on file. If you damage the real or personal property assigned to your rental accommodation during the trip, the Insurer will reimburse the lesser of the cost of repairs or replacement of the property, up to the maximum benefit. Certain terms and conditions apply. Full details of the Vacation Rental Damage coverage are contained in the Description of Coverage or Insurance Policy (URL HIDDEN) The Vacation Rental Damage can be purchased up to, and including, check in time. By submitting payment for this plan, you authorize and request CSA Travel Protection and Insurance Services to pay directly Elite Pacific Properties any amount payable under the terms and conditions of the Vacation Rental Damage plan. Please contact Elite Pacific Properties directly if you do not wish to participate in this plan or assignment and instead wish to pay the refundable security deposit.
If a security deposit has been collected for the reservation, no portion may be applied to additional rental time or fees or other charges accrued by the Guest/ Invitees. The entire deposit will be refunded if
(1) no damage was done to the property other than reasonable wear and tear
(2) all keys are accounted for
(3) no items were missing
(4) all doors and windows were closed and secured upon departure
(5) all check out procedures were followed
(6) all Terms & Conditions were followed
(7) no miscellaneous charges were incurred, e.g., unpaid rental fees, guests or pets, additional cleaning fees, or other charges.
As a condition to the rental of all Vacation Properties, Elite Pacific Properties reserves the right to charge the Guest's credit card for any and all uncovered Guest/Invitee caused losses and damages sustained to the Vacation Property throughout the duration of their period of occupancy. In the event of any uncovered Guest/Invitee-caused loss or damage to the Vacation Property, including, but not limited to, undue cleaning, eviction, service calls, service charges, fines/assessments, repairs or replacements, plus all applicable taxes, Elite Pacific Properties is hereby granted the right to charge the Guest's credit card. An itemized statement outlining all associated costs will be sent via regular or electronic mail to the address submitted by the Guest at such time as the reservation was booked. By confirming their reservation, the Guest hereby agrees to pay for all such charges, as defined above and on the proceeding pages.
4. POWER/ WEATHER RELATED CANCELATION
Elite Pacific Properties does NOT issue refunds due to acts of nature such as: weather, road conditions, hurricanes, power outages etc, but CSA Travel Protection Insurance does provide some protection against these instances. If the property is uninhabitable due to such circumstances and you did not purchase insurance, reservations can be rescheduled for future dates within one year of the reservation date.
5. CONSTRUCTION
Elite Pacific Properties is not responsible for any construction noise beyond the Property limits.
6. CLEANING
For any reservation of more than 14 days, a mandatory midstay cleaning may be required at a rate of $(INQUIRE). Additional cleaning is available on request at a rate of $30 per maid/hour (rate subject to change.) Please provide 48 hours notice if you would like any additional cleaning during your stay.
7. PROPERTY CONDITION
A Property Condition Form must be completed and returned to Agent within 24 hours of arrival, wherein any existing damages or deficiencies must be reported. At check-out, Guest must leave the property in tidy condition, similar to that at move in. Cleaning crews will handle all major cleaning of linens, towels, kitchens, floors and bathrooms. However, excessive cleaning will be billed at $30/hour and will be charged to the Guest.
8. OCCUPANCY
Occupancy is restricted to the number of people listed at the time of booking. Guest acknowledges that they will personally occupy the Property for the entire length of stay and will not sublet. Tenant shall not use the Property for any illegal or unlawful purpose, nor shall the Property be used in a fashion that disturbs or offends the neighbors. If the number of occupants changes, Guest must immediately notify Agent and additional charges may apply. No special events, including but not limited to weddings, parties, and receptions, will not be allowed without the express written permission of Agent.
9. REPAIR AND SERVICE CALLS
Agent and owner do not guarantee against mechanical or electrical failure of air conditioning, fans, lights, televisions, VCRs, DVDs, or other equipment. Guest agrees to report any inoperative items to Agent promptly, and Agent agrees to make every effort to have maintenance done quickly and efficiently. Should a repair person conclude that equipment is in working order, or that failure was due to the actions of the Guest, then the charge for the service call will be billed to Guest and Guest agrees to pay the charge. No refund or rent deduction will be made due to failure of such equipment.
10. RIGHT TO ENTER
If necessary, Owner or Agent or their designated vendors may enter the property in order to inspect or make necessary or requested repairs. Owner or Agent will give Guest at least 24 hours minimum notice before entering the Property, and will only enter during reasonable hours except in the case of emergency. Regular vendors to the property including, pool, yard, and cleaning services shall be allowed to enter at normally scheduled times.
11. INDEMNITY/DISPUTES/JURISDICTION
Guest agrees to indemnify, defend and hold harmless Owner and Agent from all claims, disputes, litigation, judgments, costs and attorney fees resulting from loss, damage, or injury to Guest and guests or their personal property. Owner and agent are not responsible for lost, stolen, or misplaced items. Guest is also aware of the inherent risks to person and property while occupying residences near the ocean or that have pool/Jacuzzi features. Any and all claims, controversies or disputes arising out of or relating to this contract/agreement, or the breach thereof, which remain unresolved after direct negotiations between the parties, shall first be submitted to confidential Mediation in accordance with the Rules, Procedures, and Protocols for Mediation of Disputes of Dispute Prevention & Resolution, Inc., then in effect. If any issues, claims or disputes remain unresolved after mediation concludes, the parties agree to submit any such issues to binding arbitration before one arbitrator in accordance with the Rules, Procedures, and Protocols for Arbitration of Disputes of Dispute Prevention & Resolution, Inc., then in effect. The parties further agree that the award of the arbitrator is binding upon the parties and that judgment upon the award rendered may be entered in any court of competent jurisdiction. This agreement shall be governed by and construed in accordance with the laws of the State of Hawaii. All disputes or claims pertaining to the Agreement shall be adjudicated in the State of Hawaii, County of Honolulu.
LAND USE ORDINANCE COMPLIANCE
In accordance with City and County of Honolulu Land Use Ordinance section 21-10.1, this property is provided to you, exclusively, for a period of 30 days or greater. You are electing to occupy this property for the exact days outlined in the booking details, above. By law, the property cannot be rented to or occupied by other tenants during any portion of the 30-day term. If you should choose to occupy the property for additional nights within the 30-day rental term, a full payment of any additional charges must be made prior to such occupancy. Elite Pacific Properties will designate and or change the actual dates of the 30-day or longer Rental Period prior to the Start Occupancy Date.
Guest understands and agrees that the Rental Charges are determined based on Guest's planned Arrival and Departure dates; and that Owner and Agent incur significant costs based on the number of days that Guest actually occupies and uses the Property. Guest further understands and agrees that in the event that they occupy the Property for more days than specified, based on the Arrival Date and Departure Date, that Guest will pay an additional Property Usage Charge, plus state and county General Excise and Transient Accommodation Taxes thereon; and Guest authorizes Agent to charge their credit card on file for the full amount of that Property Usage Charge (if any), plus taxes, plus a Credit Card Processing Fee of 3.5%.
ELECTRICITY CHARGES: Guest's rental charges are based on normal electricity usage. We recommend that you turn off air conditioning when gone, and that you ensure all doors and windows are shut if the air conditioning is on. In the event that Guest's usage results in unusually high electricity charges, Guest agrees to pay for the additional charges beyond those deemed normal for the Property. A 3.5% Payment Processing Fee will be added to this charge.
---
---
---
Elite Pacific Properties is the leading luxury real estate brokerage and vacation rental firm in Hawaii, with over 100 agents statewide offering everything from luxury residential property sales to multi-unit projects/developer sales, to luxury vacation rentals. Elite Pacific Properties was founded in 2005 and is the only luxury real estate firm with staffed offices on each of Oahu, Maui, Kauai, and the Big Island.

Elite Pacific Properties is a member of Who's Who In Luxury Real Estate, an exclusive organization of the top luxury brokers in the world; has been named to Inc. Magazine's prestigious national "Inc. 5000" list for both 2013 and 2014; and been ranked by Pacific Business News as the 9th fastest growing company in Hawaii on its 2014 Fastest 50 list.

Our Vacation Rental Division reflects our high standards of excellence. With over 70 professionally managed luxury homes available for vacation rentals throughout Hawaii, we are committed to making sure that our vacation clients experience the very best in quality, delivery and outstanding service.

Active Member of:
- (VRMA) Vacation Rental Managers Association
- (NAR) National Association of Realtors
- (HAR) Hawaii Association of Realtors
- (HBR) Honolulu Board of Realtors
Languages:
English
Response rate:
100%
Response time:
within a few hours
Explore other options in and around Princeville
More places to stay in Princeville: