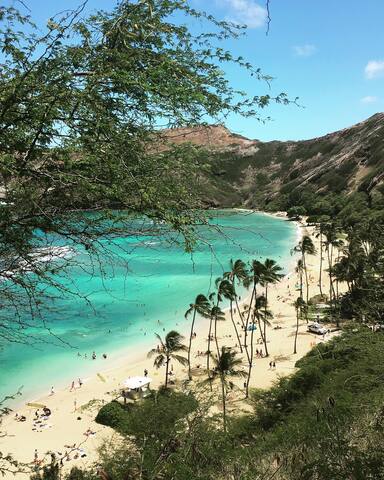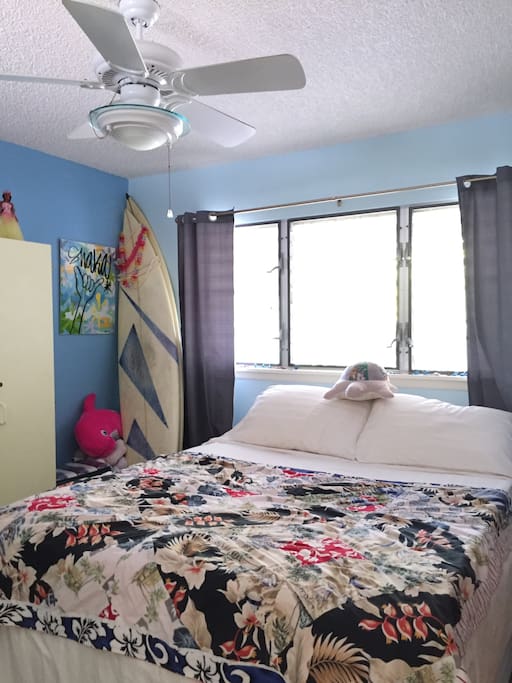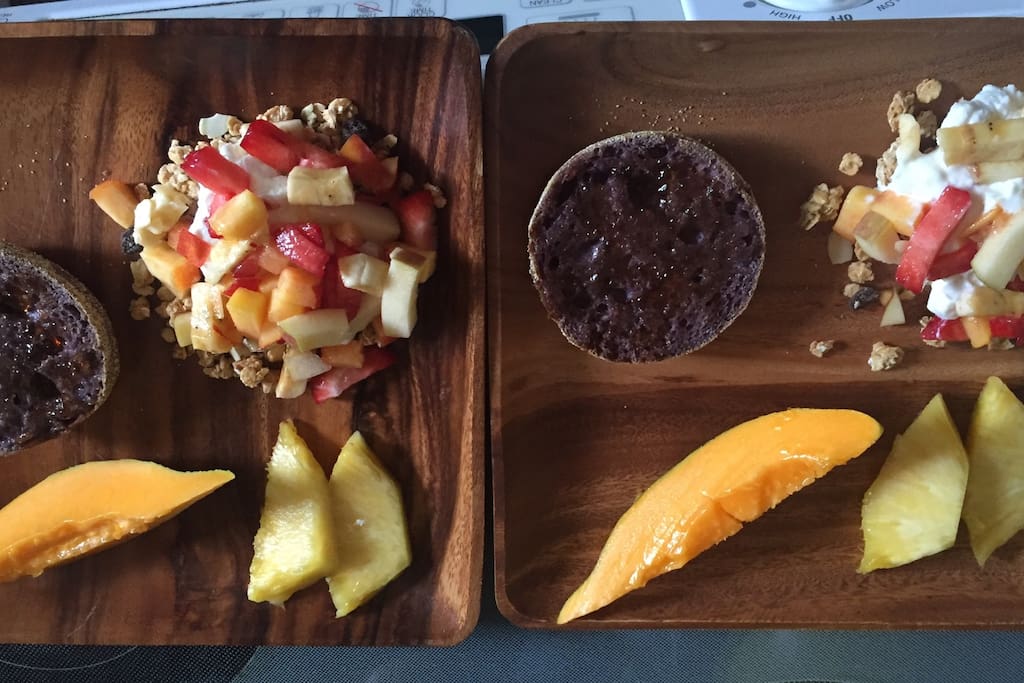 Airbnb awarded me Superhost! 5 Stars in Every category. As a Native Hawaiian, I share Cultural & Money Saving tips, provide Delicious Breakfast & help in every way possible to ensure your trip is wonderful!
Beautiful safe quiet & affluent neighborhood in Honolulu. 5 min from popular gorgeous snorkeling Hanauma Bay beach. (1st Pic)
Relax walk to great restaurants at Koko Marina Shopping Center. 20 min drive to Waikiki. Bus stop in front of our home. Free Easy parking in front of our home.
The space
Beautifully decorated private "Surfer Room" with Comfy Queen Bed and Private Bathroom -tub/shower.
*
*
(Queen Bed has been written about in many reviews and on social media as being the Best Bed Ever at an Airbnb by many guests) I also provide luxurious 100% Cotton Linens on the bed from New Zealand. **I bought these gorgeous linens during my own Airbnb trip after sleeping in them**
*
*
Our property has an outside garden courtyard where one can view the rising sun over Koko Crater & enjoy the night stars with wine. It's a big private space outside surrounded by our Hawaiian Hibiscus hedges, aroma of pink plumeria Hawaiian flowers and solid wall away from neighbors view that our guests & friends love to relax on w/ our outdoor lanai table & chairs. (Basket outside has Beer opener, wine opener and wine glasses) The company of our friendly dogs Sweetie and Nuggets who enjoy the outdoor space as well, is an added bonus for you to enjoy, though they prefer water and a few dog biscuits.
*
*
We like to keep a clean house so we like those who clean up after themselves too by bringing in their breakfast dishes. However, there is no need to wash your breakfast dishes as I am the dishwasher here. ;)
*
*
Some nights you will find our family watching a movie, please feel free to join us in the living room to watch and eat popcorn, or perhaps just to sit in the incredible full body leather massage chair we have. Quite a few guests have enjoyed it especially after a hike. Some have even fallen asleep in it. ;)
*
*
**IMPORTANT - Our guests are renting a Private room and Private bathroom, and we want you to feel comfortable sitting in the garden area as well, however, there is to be NO entering any other bedrooms or my office while staying here. Any violations of this will result in an immediate cancellation supported by Airbnb**
Guest access
Your own PRIVATE bathroom (filled w LARGE bath towels, DOVE liquid body wash soap, PANTENE shampoo & conditioner) & our private courtyard with patio furniture. Beach equipment, snorkel set, large Beach towels, beach mats, beach toys and boogie boards.
*
*
** Please do NOT help yourself to our personal items in our garage, house drawers or any closets.** (cant' believe I have to add this to my listing)
*
*
A single BEACH cruiser Bike is available for those who want to ride to the beach or just take a relaxing cruise around our gorgeous neighborhood to the shopping centers for local stores, restaurants or feed the ducks.
*
*
This is a traditional Bed and Breakfast home. There is limited kitchen access.
I am happy to heat anything up for you IF I am home via the microwave. (Im home quite a bit as I work from home and homeschool our daughter.
and FULL Access to our refrigerator. (Let us know ahead of time so we can make ample room for your food & drinks.)
*
*
Washer & dryer are available. And you are welcome to use our outdoor laundry line to air sun dry towels & bathing suits.
*
*
If you would like your laundry washed during your stay, a donation of $5 per load would help me with the cost of detergent, water, electricity for the washer/dryer for those staying LESS then 4 nights. All hotels charge ALOT for this service. Most Bed and Breakfasts do not offer this service at all. Bonus part, I wash and fold all laundry so you don't have to. When you come back from a long day at the beach, clean clothes are waiting for you. Many guests just LOVE this!!
*
*
Room has a comfortable NEW QUEEN bed w/ Sealy Posturepedic Pillow Top Mattress & 2016 NOUVA memory GEL Foam topper, mattress cover, 4 NEW Ralph Lauren Memory Foam GEL pillows, German lightweight Duvet to keep cool at night. (Also available is a Japanese THICK folding floor mattress for a child 4 years or younger - one time fee of $25 no matter how long the stay.
*
*
Any child OVER the age of 5 will be charged a nightly rate of $15 as an extra guest since I do provide breakfast. (we have an extra bedroom for anyone with a child 11 years or older, or another adult wanting privacy for a really good price. Just ask me about it. Several of our guests have used this option to book as a family.
*
*
Our very FIRST guests from Germany said the bed was AWESOME and it felt like sleeping on a cloud. (we loved hearing that) and we have continued to hear that ever since. Our bed has even gotten numerous SHOUT OUTS on Social Media as best Airbnb bed.
*
*
Interaction with guests
We love a good fun conversation with a great bottle of red or white wine under the stars with our guests. Or maybe you would like to try one of my delicious refreshing Mango Margaritas (from my seasonal tree) as many previous guests have, CHEERS! (tequila can be purchased nearby at Safeway or Walgreens)
*
*
Our furry co-hosts Sweetie, Nuggets and Racer are light on the conversation but happy to socialize. Nuggets loves to have his ball thrown.
*
*
Or maybe you would like to join me on a hike. Great way for me to take a break from working so much. ;-) Several guests have taken me up on this offer and we had a blast! Lets go enjoy the beautiful Hawaiian Nature together.
*
*
However.....if you prefer being independent & limited interaction, we will always respect that too. I like people who are direct. So just communicate what you prefer during the initial messaging time of your booking request.
*
*
We are here to provide the Hawaiian ALOHA SPIRIT experience you are seeking and to ensure that your vacation is comfortable, relaxing and a memorable one! I am a big believer in providing great service! There is nothing you could ask for that I can't take care of right away. As my husband puts it,
"My wife knows how to get things done".
(I even helped a guests locate her missing credit card in another town and drove her there to pick it up)
Other things to note
We have 1 cat now in 2017. His name is Hoku Racer. Very friendly indoor cat who loves to play and cuddle. (HOKU means Star in Hawaiian)
*
*
His Litter box is kept in our closed laundry room on the other side of the house that stays closed 24 hours. Racer has his own little swinging flap door for entrance . (Our house is kept extremely clean of any pet smells & hair!)
Former Guests & friends comment that they can't even tell we have pets in our home because it is so clean. We have 2 fun very friendly dogs Sweetie and Nuggets who love to play & throw/catch. (who live and play outside in the garden majority of the time) - Please love dogs and cats if you stay here.
*
*
If you prefer minimal interaction with our very WELL TRAINED and well behaved friendly pets, you are more then welcome to keep your room door closed, AND/OR we can keep them in the home while you enjoy the courtyard during breakfast. Dogs are pretty much kept outside on their own handcrafted custom beds with front & backyard to play and run around. Vacuuming & sweeping is done daily on our home. But please keep in mind, this is Sweetie (38 lbs) & Nuggets (15 lbs) home too. Our dogs are VERY important to us, so if you are not comfortable around dogs, our home isn't for you.
*
*
***We will NOT host any guests who is allergic to cats or dogs. Any guests checking in with this issue will need to find other accommodations. Booking will be cancelled and there will no refund issued as we have made it very clear throughout this listing and with photos that we have cats and dogs IN and OUT of our home.
*
*
FRIENDLY REMINDER: please do NOT feed our pets any human food. No exceptions! However, we do have yummy dog treats you can give them. They will love you instantly. Just ask. One of our most recent guests from London actually bought some yummy duck treats for them as a gift, and they loved it!
*
*
Regarding Water Usage:
We have a serious shortage of water in Hawaii and announcements are played daily on tv reminding our community and its visitors to be mindful of this water shortage. All Hawaii hotels have these reminder signs in each hotel room.
So please keep this in mind when taking showers in our home.
Example: There is no need to take a shower before AND after heading to the beach. My family members need hot water as well to take their own showers. Thank you for understanding.
*
*
If you haven't read my detailed profile, please do. There is important information in my profile. (regarding taxes)
In the State of Hawaii, Airbnb hosts are obligated to pay two types of taxes: a General Excise tax and a Transient Accommodation tax.
*
*
Please be prepared to pay the required taxes beforehand via through Airbnb free payment service. I will be sending the request one week prior to your arrival. Thank you for your cooperation.
License or registration number
FunNTheSun Travel - WO3623402 - General Excise and Bed & Breakfast Accommodation taxes collected are paid quarterly to the state tax office under my business company tax license.
Learn about this number
---
---
Extra people £12 / night after the first guest
Weekend Price £72 / night
Always communicate through Airbnb
To protect your payment, never transfer money or communicate outside of the Airbnb website or app.
Learn more
---
Not safe or suitable for infants (Under 2 years)
Check in time is 4PM - 2AM (next day)
Did you know its a requirement by Airbnb to READ and AGREE to the Host House Rules prior to a confirmed booking? Yes it is. As a host partner with Airbnb, I follow all policies, procedures and standards. And we expect our guests to do the same.
All of the House Rules below MUST be read all the way through to the end. It will not be in your best interest to skim thru my rules, therefore please do not do so. Thank you.
First and Foremost, this is OUR home. And we thank you for choosing our home. Every wonderful guests has left feeling like it was "their home away from home" as stated in all of our many many well deserved positive 5 Star reviews.
We want our wonderful guests who stay with us to respect that this our home and we are raising our MINOR child in this home. We expect our guests to behave in a mature respectful manner with their behavior and language while we share our home with you. (Any violations and you will be asked to leave and Airbnb will be contacted immediately. Airbnb will support our decision 100%.)
**This home is treated as an authentic Bed and Breakfast. **
We provide a beautiful room, private bathroom and a full delicious hot/cold breakfast served at 8:00am outside in our beautiful garden patio, unless weather is bad, then our lovely dining room is the alternative. During your entire stay, it is an absolute must that everyone behave properly, No raising of voices, arguing, vulgar language, or downloading porn in our home. (Act like Mature adults please)
1. VERY IMPORTANT - In order to get your booking approved, you will need to complete your Airbnb profile, upload a photo of all guests staying here on your profile pic, (email is fine too) , supply the first/last name of EVERY guests, upload a government ID to your Airbnb account as part of your Airbnb 4 verifications and PLEASE read all the rest of our 11 rules. You will understand why. Thank you so much in advance.
2. There is to be NO eating of any food or snacks in the AirBnB room. We do provide a big BRITA Pitcher of cold filtered water and 2 very clean/ sanitized Hawaiian sealed cups that can be kept in the room for consumption. Any food brought back to our home must be consumed in the patio or dining room area or stored in the guest fridge. No one is a fan of bugs.
3. We are a SMOKE-FREE home. This listing is for NON-SMOKERS only. All guests must be NON-Smokers. (Its truly sad that not everyone understands this rule) Also, no chewing tobacco, E-cigs, etc)
4. Absolutely NO VISITORS to our home. (We had to add this rule due to an AirBnB guest (male) picking up a stranger (girl) on the beach and brought her back to our home without our permission to the bedroom)
If you would like a relative/friend to pick you up, that's fine, just let us know ahead of time as to who is coming and when they are coming.
5. Any damage, extra cleaning, and/or losses to our home, room, bathroom, furniture, appliances, linens, towels, binoculars, books, decorations, accessories, bike, snorkel gear, etc will be the financial responsibility of the booked guest through their Airbnb security deposit.
6. Quiet time is between 10pm - 7:00am. We want our guests to have a fun time in Hawaii, so feel free to come and go as you please at any time of the day or night. There is an outside courtesy courtyard light AND motion light kept on for your convenience. Please be sure to turn off our courtyard light upon entering our home if you are the last ones to come in. We do not want our neighbors disturbed at all, so please be quiet and courteous upon returning to our home especially during quiet hours.
7. Anytime you are not in the room, please be sure to TURN OFF all lights, television and ceiling fan. Hawaii has the highest rates for electricity costs in the nation.
8. Please refrain from using any candles, incense or essential oils, perfume, aftershave or cologne in our home. Please put sunscreen on outside the home in the garden area. Please feel free to use the provided deodorizer spray only in the bathroom when needed.
9. During your stay, we are not responsible for illness, injury, theft or accidents. If you have any questions, please let us know beforehand. If you do become ill with a cold/flu/contagious disease BEFORE or during your stay, please let me know as soon as possible so I may protect my family. (I'm happy to take a guest to the Hospital ER, done it twice now)
10. Clear and concise communication is extremely important to me with your arrival AND departure times. Please be sure to let us know AT LEAST ONE WEEK IN ADVANCE when you are arriving so we may greet you at Check in with our Aloha Spirit and introduce to our 2 sweet dogs. If there is no other guest coming in that day, late check out is possible for those with late flight departures up to 5:00pm at half day rate.
11. Do not hesitate to bring anything to our attention, ask questions or if you need anything. I am here to help you be comfortable, happy and well taken care of as your Super Host. (FYI- all of Hawai'i has lovely geckos (tiny lizards) that occupy our homes and we love them, because they eat the bugs who enter our home without permission. haha
12. Last but not least, and the most important rule ever, please remember that EVERY AirBnB host has rules. Some more, some less. Every one of our favorite guests have had no issue following these easy standard of rules which made for a great time for everyone around. Because as clearly stated above, this is OUR HOME. While we do understand you are a paying guests, you are still a guests nonetheless.
IF your booking request is approved, Airbnb will send you my House Manual which you will need to read. **PLEASE keep reading........(it will make you smile)
"IF you have made it this far, thereby proving you've read all of our rules, please start your FIRST booking request message with this quote below from my family's favorite movie Willie Wonka and the Chocolate Factory:
"YES CHARLIE, DREAMS DO COME TRUE!"
Mahalo Nui Loa & Malama E Ke Pono (Thank you very much & Take Care)
You must also acknowledge
Potential for noise - It's an extremely QUIET neighborhood however there are 1-2 dogs who bark as well as our dogs too. But it's usually only for ONE min max - never more!
Pet(s) live on property - 2 sweet dogs that primarily stay outside in garden area but do come in on daily basis when we want cuddle time on our couch. And ONE sweet cat Racer
Amenity limitations - Just keep in mind that there are three active people in my family that also need hot water to shower on a daily basis. Thanks!
---
---
---
ALOHA & E KOMO MAI (Hello & Welcome)

My motto is: BE SOMEBODY WHO MAKES EVERYBODY FEEL LIKE SOMEBODY.

SHARING MY ALOHA SPIRIT DAILY

I'm a happy and proud wife (Business Owner) of a hard working, fun loving and Big Wave Surfer husband (Mark) for the last 20 years. Grateful mom to the best daughter in the world, who is also a middle school Honor student.
She loves her friends as much as she loves ANIMALS and a theater musical actress. She and I are both Volunteers at the Honolulu Humane Animal Society.

Our family has owned this beautiful home for 11 years now. We enjoy entertaining, go to the beach, avid surfers, play board games and have been hosting international students from all over the world for the last 10 years. Laughing is a MUST in our home. We love meeting new people and see this as another amazing adventure. We welcome guests from all over the world. (Guests are always welcome to join us when we head to the beach and many have since 2015.

My German and French speaking ability is moderate after spending a few years in both countries. I attended school in Germany and France. My dad is Hawaiian Chinese, born and raised in Hawaii and my mum is German/Irish originally from Berlin Germany but brought over to Hawaii when she was 17.

Staying in our home will give you an authentic Hawaiian experience as I am a Native Hawaiian with lots of Aloha Spirit. One of my favorite things to do is make others laugh around me and taking care of people. My 2nd fav thing is.....showing people as a private tour guide around our beautiful island and sharing our Hawaiian history and culture. Come enjoy our Aloha Spirit & E Komo Mai Hawai'i (Welcome to Hawaii)

Feel free to follow me on Instagram to see more wonderful Airbnb photos and tour reviews with my awesome guests and clients having a fun and memorable time. (let's see if you can find me) :)

HELPFUL TIP: If you are new to Airbnb, and have not yet completed your profile, it is highly recommended by both Airbnb and myself, that you do. If this is not completed prior to contacting me, then take the time to introduce yourself in your first contact message when sending us a booking request. We would like to know who is coming to our home. Please take the time to share more about yourself, job, hobbies and what you will be doing in Hawaii while staying in our home. ( IF a couple is coming, then please included some wonderful things about your traveling companion as well as their FULL name).

My favorite movie is " A FEW GOOD MEN", can you figure out why? :)

Mahalo Nui Loa for choosing our home and family.

** VERY IMPORTANT **
6/1/2016 - AIRBNB is no longer collecting the necessary Hawaii State taxes from their travelers, therefore PLEASE be prepared to pay 9.25% Accommodation tax & 4.97% General Excise tax prior to check in - using the Airbnb FREE payment service. I will be sending you the request at least 72 hours before check in. All hosts are required to pay these taxes to the City & County and State. A receipt with my Business Tax ID can be provided for you upon request for business travelers. If you have any questions or concerns, please contact Airbnb customer support regarding this tax matter.
Languages:
English
Response rate:
100%
Response time:
within an hour
Explore other options in and around Honolulu
More places to stay in Honolulu: