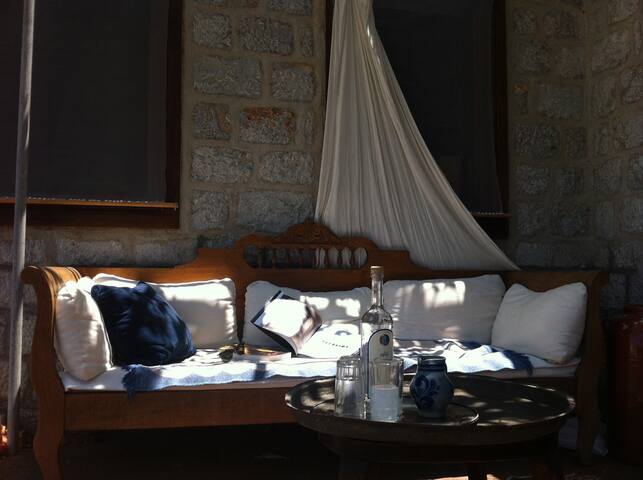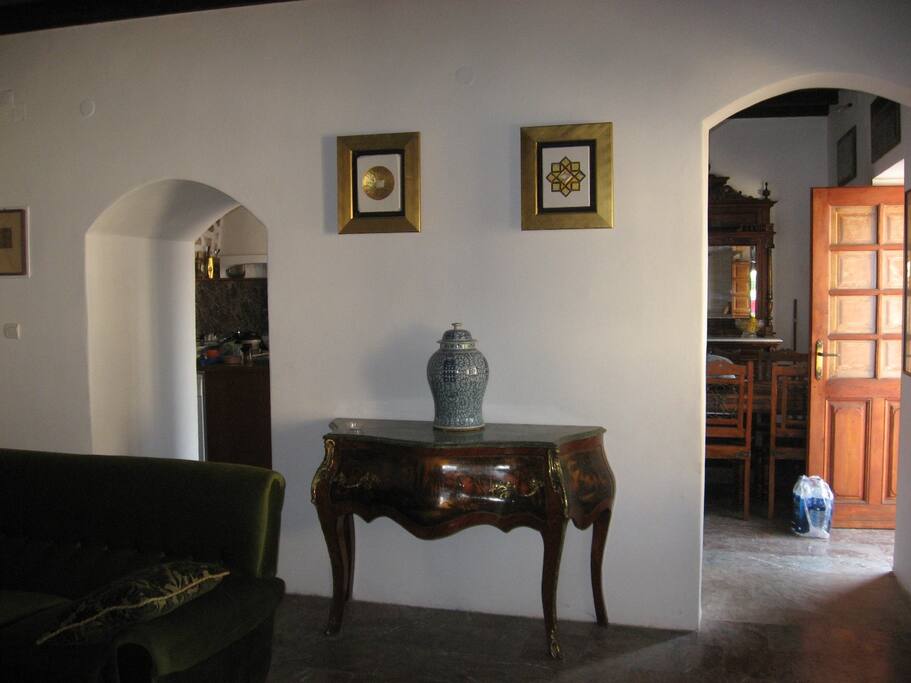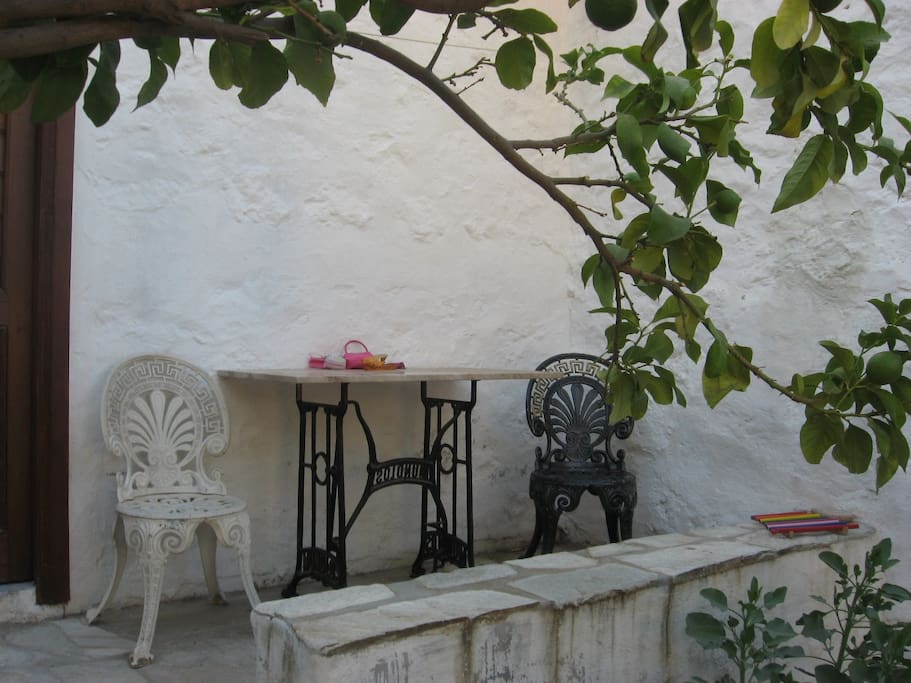 A small house with spacious, comfortable living room containing a myriad of small Greek antiquities, European antique furniture and traditional 18th century folklore objects - and several books in many languages.
The space
TRADITIONAL FOLKLORE ITEMS!
*****
- At the top of Hydra town, this is a unique, stone house on one floor level. It was built in 1970 but in the traditional way, by a local building master to serve as his own residence.
*****
- Its front, a vine covered open terrace, looks across the sea to the Peloponnese. It also faces Kamini hill with view of the historic Koundouriotis mansion.
*****
- Its spacious, comfortable living room contains a myriad of small Greek antiquities, European antique furniture and traditional 18th century folklore objects - and many books in several languages. The large fireplace gives warmth in the colder months, while fans are available for the really hot days.
*****
- The large, equipped yet simple kitchen has hosted many happy dinners and sits 8 persons at its oriental wooden table. The tableware contains fine china from Persia and Greece and heirloom silver cutlery.
*****
- There is a main bedroom with a large double bed. A foldable 2m bed can be added for an extra child, if necessary.
*****
- A smaller more compact bedroom with mezzanine upper bed surface about 6 m2 (with 2 single mattresses 1.60 m long. Below, is a double bed 1.70 m long that can accommodate 2 small persons or one larger one. There is a small Italian hand-carved 18th century cabinet.
*****
- The elegant bathroom with shower, equipped with chandelier and gold carved mirror, has a unique shower design. It has 3 doors and when one wants to 'go' then all 3 need closing!
*****
- A small, enclosed back terrace (perfect for toddlers) looks onto the mountain and a wild permaculture garden containing 3 citrus trees, pomegranate and jasmine. Perfect for afternoon coffee. An outside shower for after sea and marble water basin.
*****
- A note for SUMMER season, about showers and water in general - the whole region experiences a low pressure of water during peak demand in summer around 6.30-9.00 pm.
*****
It's a very short walk to the nearest grocery store and about 12 min walk downhill to the town centre of Hydra or Kamini.
*****
House - 1000 sq.ft. with 2 bedrooms. Sleeps 6 max persons. Includes mosquito nets for all beds, blankets, linen. Children's' toys. Maid service available at extra cost upon request. All our linen are second-hand but clean and ironed. Please note that because we live there very often on weekends, our cupboards have limited hanging and storage space for our guests' things.
*****
INTERNET
Wireless internet is available in most cafes and restaurants on the island. Our house does not have a telephone but it is very easy and inexpensive to get internet by purchasing an "internet on-the-go mobile modem stick" (these can be picked up from local Greek telephone shops or at Athens airport).
*****
If, after all our honest details, you would like to give our house a try, we promise you a unique and positive experience!
Other things to note
NOTES TO GUESTS
PLEASE READ HOUSE RULES AND INSTRUCTIONS PAPER, WHICH IS AVAILABLE IN KITCHEN (USUALLY HANGING ON THE KITCHEN CABINATE.
MINI-MARKET called "four corners" is 10min from house.
RAMBAS SUPERMARKET DONKEY DELIVERS TO THE DOOR
You can have the supermarket deliver your goods (any value above 40euro) to the house, free of charge, by donkey – remember to order water too or you will be carrying it up the hill! The supermarket that knows the house is called Rambas and is very close to the port before the large square with the cannons and lemon trees - you need to tell them that it is going to Matina Kassimatis's house, next to the' PANAGIOTIS LERIOU house' – check the person taking your order understands the address and that you leave a mobile number in case there is a problem.
WATER IS SCARCE
Hydra water is considered safe to drink, however it is a question of taste. IF YOU USE OUR KITCHEN BOTTLED WATER SUPPLY, PLEASE REPLACE IT FOR THE NEXT GUESTS. PLEASE REMEMBER THIS AS IT IS IMPORTANT THAT WE ALWAYS HAVE DRINKING WATER RESERVES !
GARDEN
Feel free to enjoy fruit that is in season when you stay in the house. If you are there for several days, it would be very helpful if you give the plants some water.
BOILER
There are two boilers – one for the kitchen and one for the bathroom. The switches are marked on a panel behind a picture in the sitting room, to the right of the fireplace. Up is on – down is off. The boilers need only about 10-15 minutes to heat the water. Please remember to switch off after use.
KITTY CATS- please cover outside mattresses with our couch covers, so that our neighborhood cats do not sit there at night. Also, if you leave your windows open without screens, they may come inside the house. Though we like them very much some are not taken care of and may carry lice and other paracites.
KITCHEN
All crockery, cutlery and utensils in kitchen may be used unless marked 'private'. Eleni, our maid, can show you how the washing machine works – avoid using it between 4 and 8 pm and if water pressure is low in the area, as the machine may experience pauses.
BEDROOMS & SITTING ROOM
Linen can be found in drawers located in the main bedroom and sitting room. Towels are under the bathroom sink and in drawers in the sitting room. Winter guests should be very careful when using the fireplace – electrical heaters are also available and function more effectively.
BEACHES
There is an old and very pleasant back path to Vlichos beach. If you go down the steps through the small alley just below the house and turn left, you will see some stone arches in the background. Continuing straight along for about 2 km will take you to Vlichos. Closer by is Kamini (baby beach) at Castello, which is very child friendly and Avlaki. Boats can take you to other beaches for swimming.
GENERAL
Remember to lock the house whenever you leave. The door from the small bedroom to the garden needs to be slightly lifted in order to lock. Marked on inside door of right kitchen cupboard, if needed, is the telephone of the island's doctor. There is a small hospital near the port. Garbage should be placed in closed plastic bags and left at inside the collection points around the island – the closest is at the start of the route to Vlichos.
---
---
Bedroom 1
1 double bed, 1 single bed
Bedroom 2
1 double bed, 2 single beds
---
Check in time is 9AM - 7PM
---
Tina's house is beautiful throughout, the antique decor, charming and the layout made it perfect for our young family. The view stunning and the location ideal for tranquility and walks to the beach and the mountains. We absolutely loved our stay and plan to return in October to explore more of the romantic island of Hydra!
---
Languages:
Deutsch, English, Français, Ελληνικά
Response rate:
100%
Response time:
within a few hours
Explore other options in and around Hydra
More places to stay in Hydra: