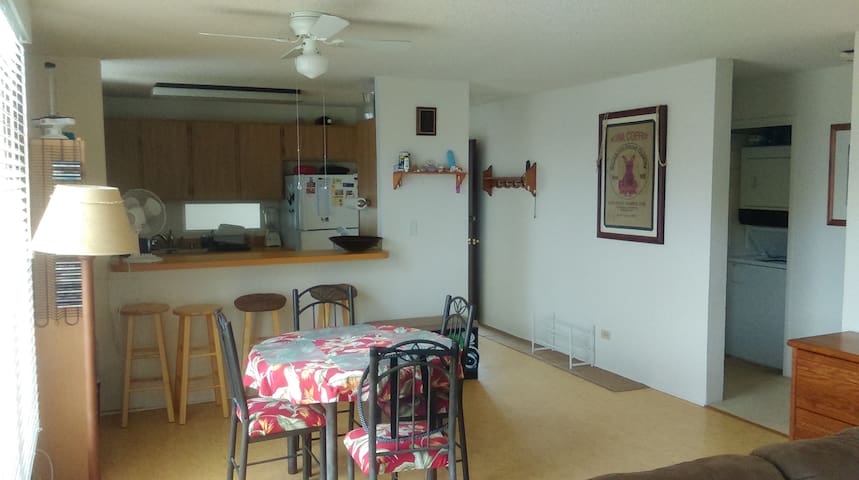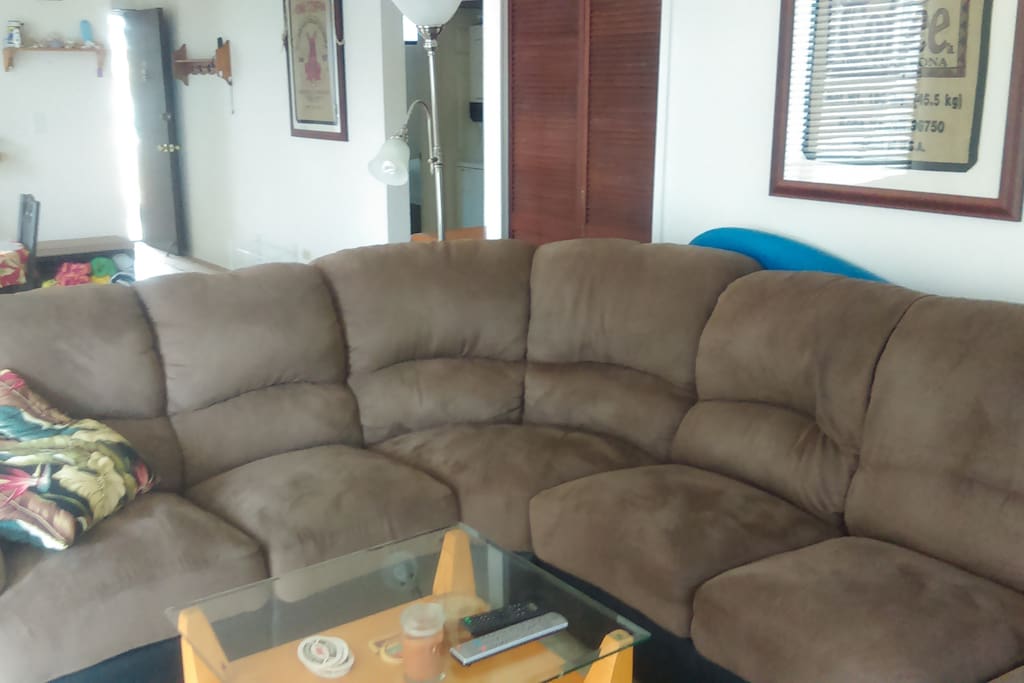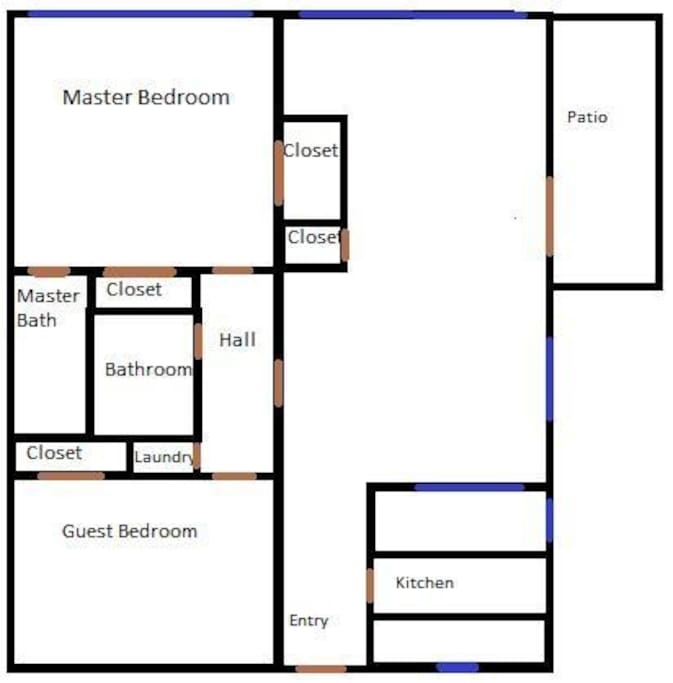 ʻAlā Hale ("Stone House") is a 2 bedroom condo situated in the heart of Kailua Kona village. You will be within walking distance of the ocean, grocery stores, shops, tour operators and eateries. This is a cozy home base for your Hawaii vacation.
The space
Also included for use at the condo:
pots, pans, coffee maker, silverware, and dishware
dvds
King bed in master bedroom
Cal Queen bed in guest bedroom
Washer & Dryer
Towels & blankets
Beach chairs & Cooler
Snorkel gear
Guide books/brochures
There is a TV, but no DVD player or cable currently. There is an HDMI cable to connect a laptop to, though
*Sorry, but the master shower and bathroom door are not functioning the best right now.
Interaction with guests
I will leave you to enjoy your vacation, but am happy to answer any questions via message or phone.
Other things to note
I am available if you have any questions
Check-in is anytime after 3PM
Self check-in with lockbox
No smoking
No shoes indoors
No pets
Please review the condo association's rules on the refrigerator when you arrive.
When you check out, just strip the sheets off the beds (leave the top blankets on the bed for separate cleaning) that you have used (if your group hasn't used one of the beds, kindly leave it made up) and throw them by the washing machine with the used towels. You can lock up and just leave the keys in the lock box. Make sure the fans and lights are turned off when you leave, please.
Below are the house rules according to the owner's association. Please review them before your stay. Thank you!
_________________________
The Association of Apartment Owners
of Kalawa Gardens House Rules
The Association of Apartment Owners (AOAO) of Kalawa Gardens has adopted the following House
Rules in order to promote harmonious living. These House Rules as well as other Standards of
reasonable conduct in accordance with the Hawaii Revised Statutes Landlord/tenant Code shall bind all
owners (persons listed on the Warranty Deed). residents (persons living in the unit), authorized agents
(person identified as the manager of a unit). tenants (persons renting from the owner) and guests
(persons visiting a resident).
The Board of Directors may delegate the full authority and responsibility of enforcing the rules to a
resident manager. Owners will be responsible for their tenants and their guests' observances of all House
Rules and for payment due to violations.
A. GENERAL:
1. No commercial or business shall be carried on in any apartment with the exception of a home
business that does not have frequent consumer traffic or disruption to other residents.
2. No solicitation of goods, services, or religious participation is permitted on the premises.
3. Illegal narcotic substances and illegal activities are not permitted on the grounds.
4. All owners or authorized agents shall notify the resident manager when their apartments are to be
unoccupied for more than fourteen (14) days.
5. Violations of any of the House Rules should be immediately reported to the resident manager.
B. COMMON AREAS:
6. No items of personal property, i.e. shoes and movable personal property shall be left in the
common areas. Doormats and plants, shall be allowed as long as they don't obstruct the
passageways or create difficulty for those cleaning them.
7. Consumption of alcoholic beverages in the common areas is not permitted.
8. Barbecuing may be done in the courtyard area between 9:00 a.m. and 9:00 pm.
9. Owners or authorized agents are required to inform the resident manager in advance:
a. of an expected delivery of furniture or large appliance which may require the use of the
limited parking area near the stairways;
b. Of an expected repairman, carpet cleaner, or other maintenance personnel who may
require usage of the parking lot.
10. Movement of large items requiring the use of the elevator shall be scheduled in advance with the
resident manager. Moving shall be done between 800 a.m. and 5:00 p.m.
11. Any damage to the shrubbery, trees, appurtenances, equipment, or rock borders shall be the full
monetary replacement responsibility of the person who caused it.
C. TRASH REMOVAL:
12. All trash shall be put inside the dumpster provided on the premises in sealed plastic bags.
13. Trash is not to be left in the common areas. Cigarette butts are considered to be trash and
disposed of accordingly.
D. PETS:
As adopted by the board August 9, 2017
14. Noisy pets (dogs, birds, etc.) are prohibited in any apartment or in the common areas. Cats and
other pets are allowed as long as there is no complaints. Examples: unpleasant smells; feces
and digging in common areas; etc.
E. VISITORS AND GUESTS:
15. Guests shall park in the visitor parking spaces and are limited to three (3) hours.
16. Overnight guest of tenants may park in the visitor parking spaces with prior written approval by
the resident manager (or a board member if the manager is unavailable) for up to one week. A
permit will be displayed in the windshield and will be obtained from the resident manager.
17. The parking space marked "RESERVED" may be leased with the following terms:
a. Lease agreements will be made with owners only. They may make them for their tenants,
but the owner is responsible for collecting the money for the lease and/or extra fees and
making the payments within the limits of the terms below.
b. Cost: $50 a month
c. Payment is due the first of the month prior to use.
d. Failure to pay the monthly fee will result in immediate loss of the parking space.
F. PARKING:
18. Residents are to park in their assigned stalls - you can lease your stall to others if you don't use it.
The resident manager needs a copy of the signed lease from the owner of the parking space so
he knows that they have permission.
19. Units with more than one car will need to park one on the street, lease the reserved stall from the
AOAO or lease a stall from another owner.
20. Residents are not permitted to park in the Fire lane (visitors cannot park here) or visitors spaces
except for brief loading and unloading.
21. Bicycles or other 2-Wheeled vehicles may be parked in the bike rack or assigned stall.
22. Vehicles may not protrude beyond parking stalls or to block the driveway.
23. Residents are responsible for the cleanliness of their parking stalls. Including the removal of
any grease buildup.
24. Repairs to vehicles are not permitted on the premises, except minor repairs that don't create fluid
spills on the asphalt, don't produce a lot of noise, and don't infringe on the parking lot or other
parking spaces.
25. Vehicles not in running condition must be removed from the parking area. When an owner is
gone for over six weeks, the resident manager needs access to keys so cars can be moved for
parking lot repairs.
26. Racing of engines or tire squealing is not permitted.
27. Cars in violation may be towed from the premises without notice at the owner's expense.
G. ELEVATOR:
28. Elevators are for the use of owners, residents, authorized agents and guests. Usage by any
other persons should be reported to the resident manager Immediately.
29. Smoking is not permitted in the elevator.
30. Anyone found tampering with the elevator equipment shall be liable for all repair costs,
replacement or damage and will be subject to criminal prosecution.
31. Residents are requested to observe the ethics of common courtesy if the elevator is used
between 9:00 p.m. and 7:00 a.m.
H. LANAIS:
As adopted by the board August (PHONE NUMBER HIDDEN). Lanais must be kept neat and orderly. If used for storage, they should have a bamboo fence
along the rails.
33. Gas Barbecues will be allowed on lanais [no charcoal or wood buying barbecues allowed)
34. No objects shall be dropped or thrown from lanais. This shall include the shaking of rugs and
carpets, the sweeping of dirt, etc.
35. No articles such as towels or clothing shall be hung on the railings.
36. Everything on the balcony needs to be secure as not to fall. Clothes may be dried if secured with
clothes pens and taken by 5:00 pm
I. EXCESSIVE NOISE:
37. Residents shall maintain order in the building and shalt not make or permit any improper
noises that would interfere with other residents.
38. Radios. televisions, and other musical devices must be kept to a reasonable sound level that
does not leave your home.
39. Profane or abusive language is not permitted.
K. USE OF APARTMENTS:
40. Plumbing equipment, such as toilets and garbage disposals, shall be used only for the
purposes for which they were constructed.
41. Sweepings, diapers, rubbish, rags. and paper shall be disposed of in the trash dumpster in
sealed plastic bags and not through the plumbing systems. Damage resulting from such
misuse shall be paid by the resident causing it.
42. Waterbeds are not allowed.
43. Nothing shall be thrown out of the windows, doors or down the hallways of the building.
L. FIRE, SAFETY AND HEALTH DEPARTMENT REGULATIONS:
44. The health and safety regulations of the Hawaii Residential Landlord~Tenant Code, Chapter
521 of the Hawaii Revised Statutes (HRS) shall be observed at all times.
45. The public stairways, walks. and passageways shall not be obstructed.
46. Anyone found tampering with the fire equipment or notices shall be liable for all repair costs,
replacement or damage and will be subject to criminal prosecution.
47. Hazardous. highly flammable or explosive substances are not permitted on the premises.
48. Entrance doors shall remain closed when not being used for ingress or egress.
M. EXTERIOR APPEARANCE:
49. No sign, signals or lettering shall be inscribed on any window. wall, door or parking stall with
the exception of letters and numbers denoting the apartments given number.
50. Nothing shall be projected out of any window.
51. No air conditioning units, or other objects shall be attached to outside wall
of the building or to the exterior of any door, window or on any Lanai.
52. Almond (of similar color) drapes or blinds must be installed to present a uniform appearance.
Exterior awnings for the patio doors may be used if approved by the board.
N. KEYS:
53. The Board of Directors and/or resident manager may retain a key to each apartment. Upon
installation of a new lock, a key corresponding to the lock must be given to the Board of
Directors or resident manager.
As adopted by the board August 9, 2017
O. RENTALS:
54. Authorized agents shall provide written notification to the resident manager whenever there is a
change of tenants. This notice shall Include the names of the new tenants with a projected
move-in date, a description of vehicles, and a copy of the signed statement described in item 55.
55. Tenants must sign a statement listing the following:
a. They have read, will abide by, and have been given a copy of the House Rules;
b. They understand and agree that their lease agreement may be terminated whenever they
receive a third violation notice of the same incident as defined In the House Rules, and
c. They will allow the fumigation of the units on a quarterly basis for the purpose of
controlling pests unless theme is a medical condition certified by an MD. for current
residents. New residents must agree to have units sprayed.
d. The owner shall assume responsibility for the actions or omissions of his authorized
agent or the tenants of his apartment.
56. Signs. including "For Sale", "For Rent". or "Open House" will be strictly regulated.
P. VIOLATIONS:
57. All violation notices will be given in writing. They will consist of the infraction and cite the
House Rule that has been violated.
58. Persons that violate the House Rules will receive an Observation Notice as a warning that the
violation should be corrected immediately. lt will be issued to the authorized agent,
59. A First Notice of Violation will be issued to the authorized agent when a violation listed in an
Observation Notice has not been corrected in a timely basis.
60. A Second Notice of violation will be issued to the owner upon subsequent abuse of the same
violation by the same person(s). A fine of $100.00 shall be assessed. The fine shall be due
upon receipt of the Second Notice and paid to the resident manager
61. Each additional notice of violation will result in a fine of $100. The Board of Directors may request
termination of a lease agreement upon the third violation of the House Rules to allow for a
peaceful environment.
62. Residents who become the subject of complaints to the Police Department, Child Protective
Service or other agency which require an in-person visit from any such department, service or
agency which disturbs the other residents shall be given a notice of warning in writing by the
Resident manager that any continued events of the like shall constitute a breach of these House
Rules and said resident may be subject to eviction.
63. Upon request, the Board of Directors reserves the right to give exceptions to these rules. All
exemptions will be given in writing.
As adopted by the board August 9, 2017
You must also acknowledge
Potential for noise - the neighbor kids can be a little loud on the master bedroom side of the condo
Aloha! My name is Ashley and I have created a little haven for travelers and guests out of half of my home. I like swimming, surfing, hiking, dancing, crafting, gardening and reading. I'm in grad school and work in renewable energy, so I'm kinda busy but I'd love to get to kno…
Response rate:
100%
Response time:
within a few hours
Explore other options in and around Kailua-Kona
More places to stay in Kailua-Kona: