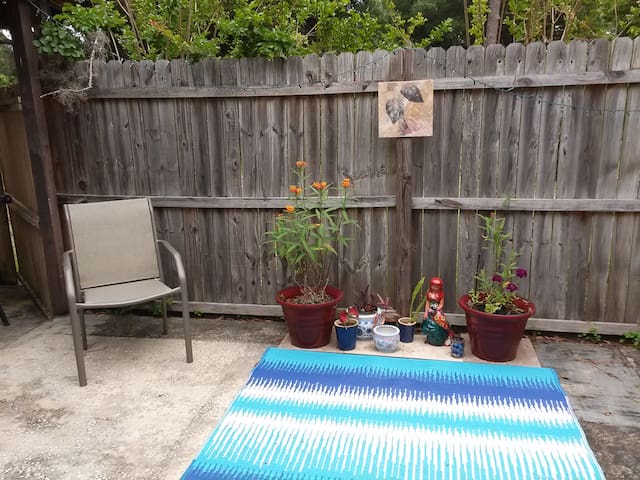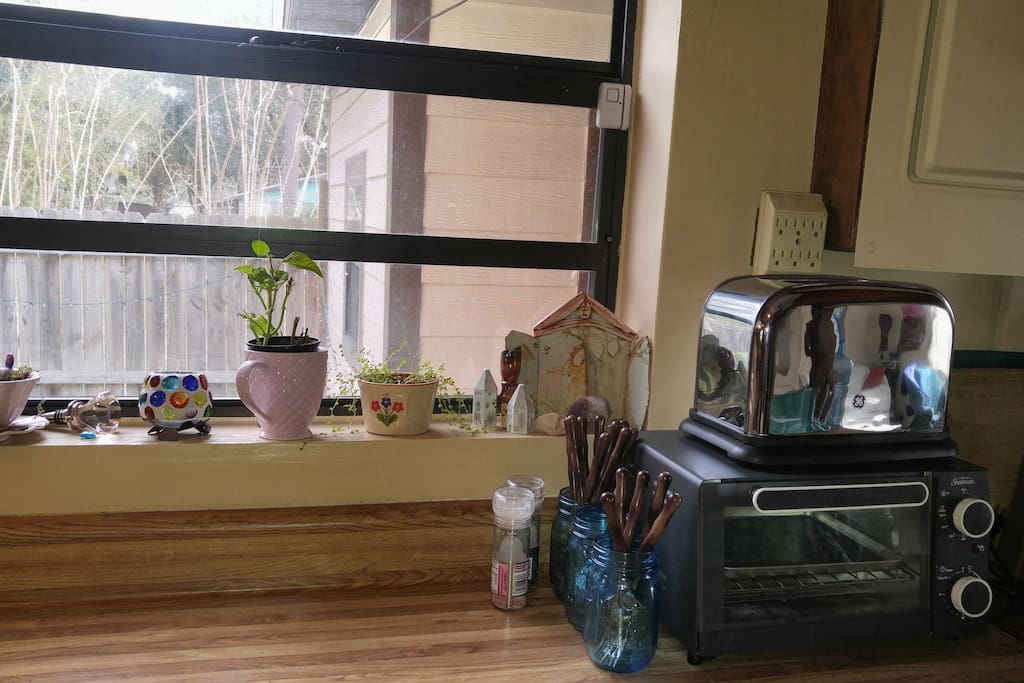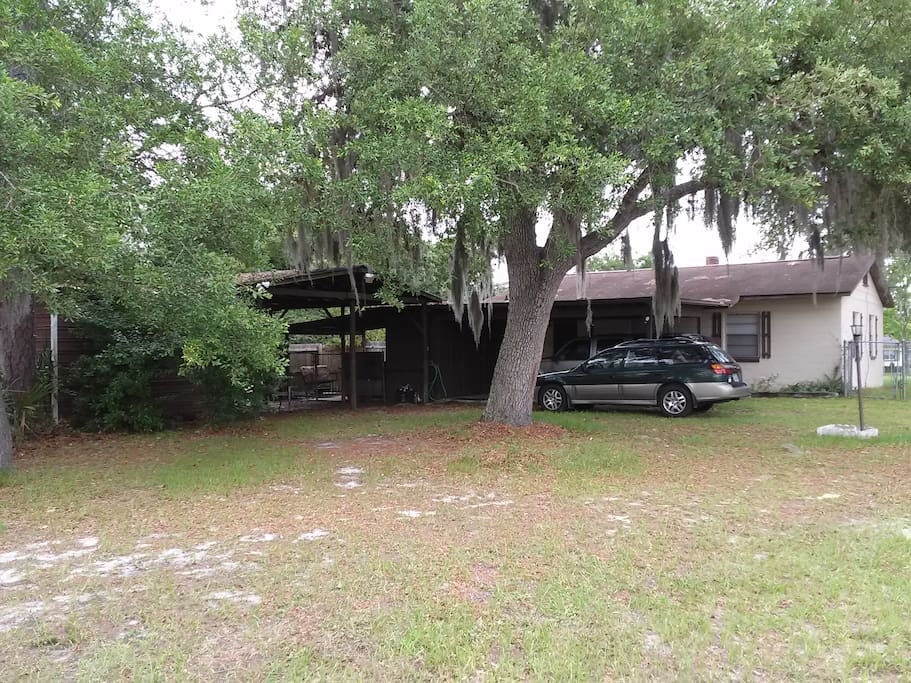 Ideal for EXPLORERS! I'm excellent at Foodie referrals.
Humble, cozy, retro, artsy house w kitchen, *WIFI * great host/tour guide!
Centrally located 1 hr to Gainesville/St. Augustine/Jax/Daytona.
EPIC BIKE trails/historic homes. BIG parking. Private shower bathroom.
NO smoking * TV * pets.
I work from home Mon -Thurs.
Please leave the house at 10 am, return after 5 pm.
The neighborhood bookstore has a pleasant Wifi Workspace with 2 cafes next door.
The space
I LOVE living in The First Coast area and I'm passionate about it.
I'm an artist and a fit lover of life.
My guests make my life interesting and fun.
The house is a 'fixer-upper', nothing fancy at all, but a comfortable place large enough to stretch out and relax in.
Homey because of my feminine decor. Lots of tea.
Guest access
Tons of parking, front and back patio, outdoor laundry room, living room, your own shower and bathroom located beside the kitchen, on the patio ;) (Strange location, but it's nice.)
Interaction with guests
As much or as little as you want. I'm very text-friendly.
If you're a health-nut, ask me about a healthy breakfast and we can work something out for a small fee.
I highly recommend the maple bacon at Magnolia Cafe.
Other things to note
I'm weird about germs, smells and dirty things. But you like to stay in clean places, right?
If you need a bathtub versus a shower, just ask. I'll arrange for you to use my personal bathroom.
---
---
Not safe or suitable for children (0-12 years)
Check in time is 5PM - 12AM (midnight)
Self check-in with lockbox
Hello Friends!
I'm easy to reach by text, but if it's urgent PLEASE CALL ME.
The only dumb question is the one you didn't ask.
1. CHECK-IN: Bags can be dropped off as early as 5 pm. Earlier bag drop-off only upon approval. I work in my home till at least 5pm most days, sometimes till 7, Monday -Thursday.
2. WIFI : WiFi code is on the fridge. Don't expect perfection because I have Comcast. (Need I say more?) Bring a laptop that you can hardwire into my modem if perfect connection is critical at night.
3. HOURS : I work from home Monday-Thursday, so please leave the house by 10 a.m. and return anytime after 5pm.
The neighborhood bookstore has a pleasant Wifi Workspace with 2 cafes next door. Lunch is served till 2.
***If you're wanting to lounge in bed all day and watch TV, I recommend BEST WESTERN INN OF PALATKA. They have a small pool, too.
Please observe 'quiet time' after 12 pm and before 8 am. This includes not using laundry facilities during quiet time.
4. FOOD: Feel free to put your food in the fridge. You can rearrange things so they fit, just like at your house.
NO FOOD IN THE BEDROOM.
Feel free to use the dining room table or back patio.
Be very careful about crumbs or spills because Florida has very BiG BUGS and they are scary.
Please use the trays if you carry your food out of the kitchen, even to the table. Helps keep my house clean and bug-free!
5: SMELLS : I'm a HIGHLY-sensitive healer-type person. I'm completely allergic to strong smells, especially chemicals, so you'll notice I try to have natural or organic products in my home.
Please DO NOT use HAIRSPRAY/COLOGNE/anything SMELLY before you come in or in my home. (You can do that in your car after you leave for the day. ) I'm allergic to chemicals and perfumes.
No SMELLY/CHEMICALS/PotPourri/CANDLES/INCENSE/WEED in the entire house, fish smells or non-natural candles - even if it's outside please. No candle lighting without my approval, for sure!
I can get a terrible headache from hugging someone with cologne or perfume on. And I will probably be forced to hug you because you are probably adorable.")
Thank you.
6. NO SMOKING : Guests may not smoke or 'vape' any substance in my home.
7. NO OTHER PEOPLE : Registered guests may not invite anyone into my home without making specific arrangements with me, in advance.
8. STUFF: Guests are responsible and liable for all of my possessions and belongings, inside and outside. If anything is broken or missing, PLEASE let me know IMMEDIATELY so I can do damage control. I will expect you to let me know and arrange for replacement or repair to my liking.
DIRTY STUFF: Please don't put ANYTHING DIRTY on the the furniture -including your butt if it's dirty or you are wearing dirty clothes. There's a hose on the carport for rinsing and an outdoor shower if you need it. Please don't drag anything dirty into the house.
NO KEY rings, CELL phones, wallets, laptops OR PURSES (which are usually super DIRTY & GERMY) on my COUCH or upholstered furniture.
Your bureau, counters, comforter and hard surfaces IN YOUR BEDROOM are fine.
I'd love for you to keep the top quilt as clean as you can, it's vintage.
I keep things nice and clean, so make sure you treat it the same way. Thank you.
9. SAFETY: LEAVE YOUR CAR KEYS AT THE KITCHEN DOOR on the hook and feel free to set down your stuff on the counter inside the door please, in case we would have to move your car or mine in an emergency.
10. KITCHEN STUFF: I will be happy for guests to use my kitchen, but do expect it to be left as clean as it was when they entered it ( or cleaner ~I'm cool with that. )
I have many artistic or one-of-a-kind items. Please use everything very kindly. Many items do need to be hand-washed and cannot be put in the dishwasher, like knives, which dulls them.
And WHO, my friend, likes dull knives?
PLEASE do not use scratching items with nonstick pans or cookware. If you scratch it, you'll need to replace it by the cost it would cost me to replace it new. I provide plenty of wooden stirrers to use safely with all my cookware.
Do not put any grease down the drain. Thanks!
Smelly/food garbage should be taken outside to the green dumpster.
11. SANITATION and BATHROOMS: Speaking of CLEAN, my rental house is old and retro-looking. Even if things look old, they are still as clean as I can get them! Your sheets and pillow cases have been washed in bleach. ;)
Your patio guest bathroom has been sanitized prior to your arrival and a clean hand towel provided in your room, with other clean, sanitized towels.

My bathroom in the hallway is for my use only, or in an emergency situation. If you have an emergency, please sanitize it!!
12. COMFINESS: I may be in my pajamas or yoga pants. A LOT. I'll try to be modest but comfy is welcome here. Please bring slippers or flip flops to wear as you go in and outdoors. No street shoes in the house. ;)
13. DRUNKS: No guest may be in my home in an intoxicated state, unless you want to find another place to stay immediately. I'm happy to call you a cab to stay at a local motel. No drunks or any drugs of any kind. We've got good juju and angels that hang out here, so you'll have a great night's sleep. :)
Please call or text with any questions! Thanks so much! Aretha
---
Auretha was an amazing host, so friendly and helpful. The place was exactly as described, quaint but a nice large sized bedroom with access to the kitchen and the small garden area at the back.
Thank you so much Jean! I loved having the 2 of you! I appreciate your feedback about the tv. I have been without tv and cable for 14 years and am thrilled with it because I like my life very quiet and really dislike cable tv. Very noisy and expensive! Usually my guests and myself carry laptops so we watch Netflix movies on our smartphones or laptops in the evening. I don't know if you have Netflix in Europe, but for $8 a month you get to watch all your favorite movies and no commercials. Have a wonderful rest of your trip. Keep in touch! XO Auretha
---
What a wonderful stay. Auretha is not only a great host but should be a tour guide as well! I was treated like family member. She not only directed me to the local sights and sounds but tourist destinations as well. She is also a talented stylist so if you happen to need a wardrobe makeover look no further. The accommodations are clean and comfortable. I had a busy schedule with relocating to the area so there were never any conflicts with her home business arrangements. Auretha is very quick to respond to inquiry, proved flexible with arrangements and made my stay as warm and welcoming as possible!
---
The "Auretha Welcome" was warm, spontaneous and to the point. Auretha is straight-forward, does not beat about the bush... and clinically honest. Definitely a spiritual soul... and her home reflects the same. There are pictures, paintings and photographs on the wall... that "talk" to you. These speak volumes about Auretha too. My travels brought me to Palatka by universal chance.... the stay with Auretha planned by deliberate design. An obvious choice. Quite easily the best Airbnb in the area :-)
---
My place is best for people exploring the area, coming in after 5pm* leaving by 10 a.m. as I have clients Monday-Thursday in the main space during the day. I'm super helpful with information. The updated Guest Shower Bathroom is past the kitchen out the door on the patio. …
Languages:
English
Response rate:
100%
Response time:
within an hour
Explore other options in and around Palatka
More places to stay in Palatka: