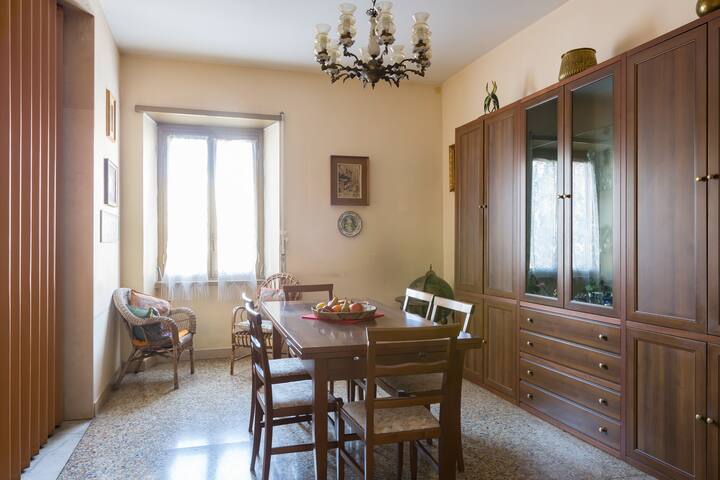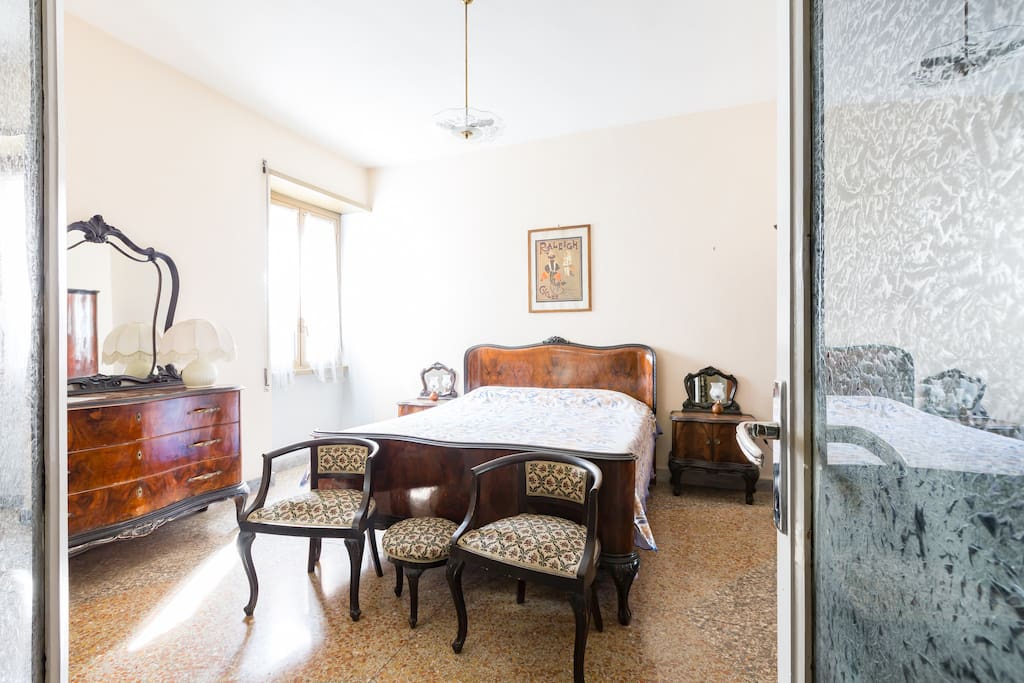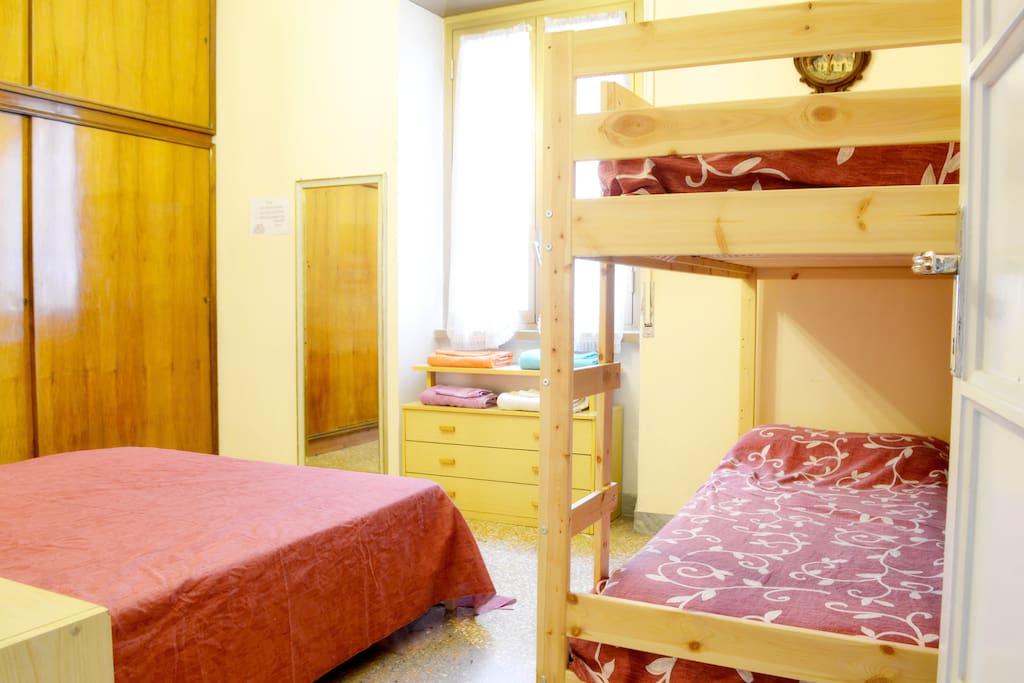 vintage nice flat in Rome up to 7 people!
A vintage, big, confortable, full equipped flat, up to 7 people, to enjoy the experience of Italian life in a classic way, in a central and well connected area of Roma.
Buses at 5 minutes, metro at 10 minutes, city trains at 15 minutes, walk to the Colosseum in less than 30 minutes. Night buses too!
Easy to reach from airports.
Very quiet, safe and not touristical area, full of not expensive bars, restaurants, shops.
Very big and wonderful park at 5 minutes, with Roman ruins inside.
The space
Two double rooms in an original Italian vintage home that was my granparents'!
Almost all the decorations and the furniture is original to feel back in the 60's!
The beds are very comfortable, the rooms are very quiet, overlooking on an internal courtyard.
Your pets, if friendly, are welcome (ask me).
IMPORTANT: the double beds are for 4 people, but there is a bunk bed in one room and I can add a foldable single bed in the other room to host up to 7 people with an extra of only €15 per night per person.
NOTE ABOUT HEATING: The heating is centralized from the building and because of municipality laws it can be on only from the 15th of November to 15th of Avril and only from 6AM to 8 AM and from 3 PM to 10 PM.
Wear warm clothes if you are a cold person!
Guest access
You can use a full equipped kitchen (fridge, gas cooker, electric oven, microwave, toaster, kettle, etc) when you can cook your meals and eat them!
Or you can eat in the big dining room, where you can also relax or chat with your friends.
The bathroom is shared with your friends so please consider this in using it (for timing and cleanliness). Please also don't take too long showers.
There is unlimited wi-fi access to the internet in the house!
The washing machine is €5 for each use. I will do it for you.
I cannot include breakfast in my offer (always because of the italian law) but you can cook your own!
Check-in is after 4 p.m., check out is before 12 p.m. (midday/noon), please respect these times.
Normally I cannot change these times because I have guests before you and after you, but maybe you could leave your luggage before or after check-in or check-out (ask me in advance).
If you want to be sure to be able to do an early check-in or a late check-out simply book another nights before or after your stay! ;-)
Of course we will have to agree for the check-in time as soon as possibile and anyway some days BEFORE that you arrive.
You can see on the Airbnb map where the house is, or ask me the address. Consider if it fits you.
If not, book another place instead than to complain after about the position!
Interaction with guests
With pleasure we will meet at the check in, I will give you a free map of Roma, I will show you the house, let you sign a contract for the staying (necessary for italian law) and ask you for your details because I have to send them to the italian government.
If you need to leave your luggage before check-in time you could do it from 12 PM, ask me in advance to be sure it will be possible.
If you will need to leave your luggage for some hours after the check-out we have to agree how, ask me in advance to be sure it will be possibile.
If you came late at night (after 8 PM) I will let you find the keys without me being there.
I live in a very close house, so if you need some help you can call me with the house phone.
If you would like to interact more, I will be glad to know you better, do something together and maybe make friendship ! :-)
Other things to note
You can bring your pets, I will like to know them too! In the house there will be all you need for them.
You can free them in the whole house.
---
This listing has essential business travel amenities.
---
---
Extra people £14 / night after 4 guests
Always communicate through Airbnb
To protect your payment, never transfer money or communicate outside of the Airbnb website or app.
Learn more
---
Not safe or suitable for infants (Under 2 years)
Check in is anytime after 4PM
Don't break anything! Always close the windows when you exit. Don't open the front door to anyone that you don't know. Check-in is after 4 p.m., check out is before 12 a.m. Don't be too noisy for the neighbours, especially at night. Don't lose the keys. Try to have fun! :-D
---
---
---
---
My name is Alfredo, I was born in Rome and I always lived here.
I'm a normal guy that doesn't accept to be normal, so very soon I make a mess in my life.
I am open minded and very curios, I can be very shy and people say that I look very gentle and peaceful.
I try to always see things from another point of view, but I can be also very lazy in doing real stuff.
I have a lot of interests but I am also dispersive.
I can be very simple and very complicated: I have lot of contradictions and doubts! :-)
I am antifascist, antiraxist, antisexist and antispecist.
I think everyone must be free and alive so I don't eat animal and I don't eat or use anything that comes from animals: someone would say I am vegan. :-)
I like to read, photography, to spend time on computers, to cook, to eat, to drink, to meet strange people, to love, to relax on the beach, to trekking on mountains, animals, to walk.

******************
Mi chiamo Alfredo, sono nato a Roma e sempre vissuto qui.
Sono un ragazzo normale a cui non piace la normalità, quindi spesso faccio un casino nella vita.
Sono di mentalità aperta e molto curioso, posso essere molto timido e dicono che sembro molto gentile e pacioso.
Cerco sempre di vedere le cose da un altro punto di vista, ma posso anche essere molto pigro nell'attivarmi.
Ho molti interessi ma sono anche dispersivo.
Posso essere molto semplice e molto complicato: ho un sacco di contraddizioni e dubbi! :-)
Sono antifascista, antirazzista, antisessista e antispecista.
Penso che tutti debbano essere liberi e vivi quindi non mangio animali e non mangio o uso niente che viene dagli animali: qualcuno potrebbe dire che sono vegano. :-)
Mi piace leggere, la fotografia, perdere tempo al pc, cucinare, mangiare, bere, incontrare persone strane, amare, rilassarmi sulla spiaggia, fare trekking in montagna, gli animali, viaggiare.

I HOSTED 1110 PEOPLE FROM 72 COUNTRIES!
HO OSPITATO 1110 PERSONE DA 72 PAESI!
Mostafa & Sakina & Soraya from AFGHANISTAN (3)
Lucio, Maura & friend, Florencia & Juan Pedro, Sol & Alejo, Rodrigo & Eliana, Silvia & Fernando, Lucia & Juan, Damian & Natalia, Federico & Laura from ARGENTINA (17)
Alice, Brett, Carmel, Kai & friend, Sarah & friend, Nadia & Mitch, Jack & Natasha, Jasmine & Arabella, Ryan, James & Sally, Emily & Takahn, Ash & Riley from AUSTRALIA (20)
Leon from AUSTRIA (1)
Maxsim & friend from BELARUS (2)
Theo, Philippe & friend, Tom, Leà & Valentin from BELGIUM (6)
Amanda, Fernanda & friend, Mayra & grandmother, Debora & friend, Rosa & friend, Mariana & friend, Pedro & Leonardo, Douglas & Raiza, Rodolfo & Maria Fernanda & Paulo Roberto, Joao & Stephanie, Paula, Bruno & Deborah, Elaine & Carlos, Bianca & Rodgiro & Josè, Eric & Munique & Erica, Gustavo & Luis, Pedro & Pedro from BRAZIL (35)
Munjiya & friend from BRUNEI (2)
Vasil e Tiho Mira, Yana from BULGARIA (3)
Yawen, Caitlin & Odessa, Steffan, Antoine & friend, Matthew & friend, Dominic & Annachie, Alexandra & Béatrice, Barry & Linda, Therese & Antonia, Jackson, Jean & Francine, Greg, Corina & Mihnea, Rebeka & Braydun from CANADA (24)
Florencia, Josè & Sandra & Berta, Danilo & Stefanie, Sebastian, Gabriel & Paz, Camilo, Martin from CHILE (11)
Chelsea, Esther & 2 relatives, Jongyi & friend, Feiyan & 2 friends, Youhan & friend, Jichao & friend, Jason & friend, Celin & mother, Gracie & friend , Claudia-Su, Qifei & Mengjie, Yanhan, Jiasheng, Weixiao & Weimiao, Xiaojia & Weining & Xinping & Zhigin & He Yu, Tengyu & Siu Wai & Chenk Tinkg, Ling Yu & Bing Ging, Ziyue & Zimu, Ran & Haoqi, Dandan, Qiu & Zhirong & Long from CHINA (44)
Estefania & friend, Ana, Elsa & Sebastian & Jinu, Andres & Jaun Manuel, Pedro & Gloria & Luis from COLOMBIA (11)
Sofia & Carlos from COSTA RICA (2)
Martina & friend from CROATIA (2)
Nikola & friend from CZECH REPUBLIC (2)
Ida & Sofie & Anne, Mia, Malene & Liv, Niels & Tanja from DENMARK (8)
Carolina & Asso from ESTONIA (2)
Sanna-Maria & friend, Jasmin & Heini, Seija & Mikko, Tomi, Mikael & Matias & Eerika from FINLAND (10)
Olivier, Jean Michel & friend, Yannick, Charlotte & 2 relatives, Celia & friend, Fouad & friend, Simon & friend, Kevin & friend, Cloe & friend, Tanguy & 4 relatives, Liza & friend, Jean Luc & 2 relatives, Leonard & friend, Maite & friend, Hanan & friend, Patrick & friend, Chaya & friend, Juliette & friend, Joshua & friend, Laurence, Christine & Christophe, Angelique & Chloe, Gilley & Floriance, Amandine & Yamina, Nathalie & Matthieu, Robert & Guillaume, Ingrid & Clement, Martine & Laurence, Charlotte & Florent, Cedric & Fabien, Romain & Charlene, Francois & Carole, Hatem, Damien, Benoit & Baeza, Lois, Alexandre & Helene, Jean Francois & Daniel & Robert, Theau & Esther, Gaetan & Emilie, Xavier & Mathis & Albane, Christophe & Mathieu, Océane, Anael & Hugo, Barbara & Alexandre, Julie, Tony & Philippe, Chloé, Lucie, Melissa & Simon & Danielle from FRANCE (100)
Ulrike, Isabel & son, Tala and friend, Ana & friend, Felicitas & friend, Vincent & friend, Marine & friend, Jenny & friend, Elisa & friend, Paulin & friend, Gunter & wife, Anna & friend, Jan & friend, Caroline & Juliane, Johannes & Johanna, Ruben & Moritz & Felix & Konstantin, Beatrice & Reena, Tim, Sophie & Robin, Anna & Valerie, Franziska & Dominik, Marion & Sebastian, Katharina & Judith, Maria & Maria, Katharina & Manuel, Martin & Sylvia, Cosima, Tobias & Jonas, Elisabeth, Sandra & Tonio, Petra & Juan Carlos, Michel, Barbara & Lea & Isabel & Volkes, Friederike from GERMANY (66)
Nick, Eleni & Styliani & Fotios & Panagiota, Venetia from GREECE (6)
Daniela from GUATEMALA (1)
Thomas & friend, Daniel & Wing, Ka Yee & Tim Tim & Jess from HONG KONG (7)
Judit & Szabolcs from HUNGARY (2)
Lokesh & friend, Narahari & friend, Kannan & Preethy, Vivek & Sandeep & Rajkumar, Saumark, Naga & Sresta & Bharghay & Mounika, Amarnathm & Gangi & Sakshmy &Prabnavagmi & Muralz & Padmavathz & Ratnam, Vishnu & Ksheereja, Prajat & Anuj, Tina & Guneet from INDIA (27)
Wendy & Raisa from INDONESIA (2)
Fadi & Lana from IRAQ
Sonia & Poline, Shay & Naya from ISRAEL (4)
Alessandro, Mimmo, Antonio, Luigi, Fabio & Sara, Elisa & friend, Veronica & friend, Roberto, Giuseppe & friend, Cecilia, Michele, Maria Grazia & 2 relatives, Bruno & friend, Francesca & 4 friends, Lorenzo, Rinaldo & Stefano & Guido, Elena & Antonio & Caterina & Danilo & Giorgia & Chiara, Emanuela & Marika & Rosy & Pietro & Francesca & Daniela & Sabrina & Erica & Marinella, Michela & Fabio & Nevia, Elisa & Rossella, Valentina & Alfio, Sabino & Stefania, Paolo e Marta, Silvia & David, Patrizia & Gianni, Roberto, Francesco, Esmeralda & Francesco, Alessandro & Francesco, Alberto, Donato & Maria Lucia, Greta & Loris, Elisabetta & Ginger, Matteo & Gabriele, Claudio, Simone & Alessandra, Vincenzo & Francesca, Angelo, Renzo from ITALY (81)
Tanifuji, Masashi, Matt & friend, Shunsuke & friend, Akane from JAPAN (7)
Christina from KENYA (1)
Aleksandrs from LATVIA (1)
Mindaugas & Vaida, Vytautus & friend, Auguste & friend, Aiste & Kestutis, Darius from LITHUANIA (9)
Nathalie & Nonihanitra & Nicolas & Karen from MADAGASCAR (4)
Siew & friend, Ah Moi, Siaw Chin & Siaw Gyn, Phoebe & Aaron & Lee & Ooi from MALAYSIA (9)
Elizabeth & son from MALTA (2)
Inaki & friend, Raul, Fabby and friend, Teresa & friend, Mercedes & brother, Adolfo & Josè, Fabian & Adriana, Mariana & Juan Pablo, Ivan & Viviana & Ana Luisa, Gustavo & Diego & Antonia, Abraham & Francisco, Alfredo & Mariana, Raul & Heriberto, Nestor & Ricardo & Maribel from MEXICO (30)
Dimitri & Darie from MOLDOVA (2)
Natasa & 2 relatives from MONTENEGRO (3)
Andre, Elena, Natasha, Raquel & Caroline, Liam & Grace, Alivia from NEW ZEALAND (7)
Nathalie from NICARAGUA (1)
Valentina from NORWAY (1)
Nawaz & Hafeez from PAKISTAN (2)
Ronald & Velkys & Aleinys from PANAMA (3)
Lily from PERU (1)
Lidia, Michal & Ada, Dorota & friend, Marcin & friend, Piotr & Eliza, Kinga & Maciej, Kapcer & Karolina, Leandro, Malwina & Dawid from POLAND (16)
Joao & 2 friends, Jose Luis & Mariana & Costanca, Miguel, Diana & Caroline & Ines from PORTUGAL (10)
Mina & Ana Maria, Maria-Mihaela & Ilie, Elena e Iounut Mihai, Andreea & Daniel from ROMANIA (8)
Natascia, Diana & friend, Margarita & mother, Tatiana & friend, Anastaciia & Kseniia & Mariia, Inna, Ekaterina, Ioanna & Gleb, Elena & Kirill & Liev, Elena & Nina, Nikita & Marina, Olga & Eugenii, Tatiana, Victoria & Alexander, Georgy & Svetlana, Anton & Anastasiia, Anna e Olesya, Yana & Ilona, Ekaterina & Elena, Elena, Dmitrii & Dmitry & Aleksandra & Maryana, Damir & Leisan, Timur, Karine, Sophia & Gennady, Alekei & Juliia & Andrei & Victoriia & Marziia, Yulia & Danila, Maksim & Anastasiia from RUSSIA (56)
Ousseynou from SENEGAL (1)
Tamara & Jakov from SERBIA (2)
Jasmine & friend, Yingna & Han Neng from SINGAPORE (4)
Lucie, Jana & Sona from SLOVAKIA (3)
Jure & Petra & Milena & Klemen from SLOVENIA (4)
Jake & friend, Wilko, Farryn from SOUTH AFRICA (4)
Yuhwa & friend, Ahn & friend, Yuwon & friend, Eun & mother, Intae & friend, Miga & brother, Noh & 2 friends, Myeong & 2 friends, Kwan & 2 relatives, Gijeong & Ara, Judith & Juyang, Hyung & Hong, Bitnarae & Young Shuk & Jaehwan & Heesun, Sae Ha, Eunjung & Inhan, Dawoon & Weonseop, Myung, Hyeran, Sehun & Jieun, Na Hyun & Na Young, Huiju & Jihye, Yong Hoe & Jinjoo & Hyun Ju from SOUTH KOREA (47)
Erika & 5 friends, Leticia & Pablo, Naroa & Gloria & Cata, Marina & Ana Dolores, Pablo & Juan & Max & Irigo & Jorge, Maria Paz, Alvaro & Sara, Estela, Irene, Sarah & Valeria from SPAIN (25)
Agnes, Elin from SWEDEN (2)
Francesco, Abraham & Carole & Perrine & Vanathy, Martha, Anais & Rolando, Tristan, Lukas &Moritz & Yannick & Catharina & Liv from SWITZERLAND (14)
Souad & Abdul from SYRIA (2)
Nalin & friend , Ai Chi & Weihao from TAIWAN (4)
Piyush & friend, Marteen & Mieke, Camila & friend, Huub & friend, Mara & Nine, Shlomi & Cornelia, Evelien & Thijs, Froukje, Miryam, Remco & Linda from THE NETHERLANDS (18)
Eya from TUNISIA (1)
Yakup, Kerem, Melis & Hanife & Ozgun from TURKEY (5)
Lynh & friend, Philip & father, Mano & 2 friends, Capucine & friend, Elizabeth & friend, Sabrina & friend, Annette & sister, Rachael & friend, Jon & Olivia & Louise & Lucy, Pippa & Kate, Amber & Dan, Callum, Gary & Lia, Kirsten, Michael, Michelle & Jerry, Jamie, Elliot, Cerys, Matthew, Joanna, Adam, Dale & Paige, Ben, Connor & Sarah, Lydia & Jenny, James, Gail & Murray, Adesewa & Elouiza & Maria & Isabelle, Caitlin & Joshua, Reece & Abbie, Ali from UK (57)
Vadim & friend, Katerina, Olga & Klaudija, Mariia & Ihor & Rostyslav, Anna, Liliia from UKRAINE (10)
German & Stephany & Shalako from URUGUAY (3)
Isaiah, Karen & friend, Cassie, Diego, Irving & friend, Rhea & friend, Kimmy & friend, Tara & father, Melissa & friend, Chelsea & friend, Julie & friend, Yucheng & 5 friends, Nathan & friend, Tara & friend, Danielle & friend, Lauren & friend, Andrew & friend, Nora & friend, Mollie & friend, Cara, Connie & friend, Karla & 2 friends, Tori & friend, Ryan & friend, Samantha & 3 friends, Vanessa & Keep, Akshay & Rachel, Michelle & Morgan, Sara, Lilian & David & Leticia & Noah & Niklas, Angela & Maxime & Jayleen & Marcey & Petronila & Alexa, Colleen & Erin, Annie & Claudia, Ellen, Roni, Rui & Adria, Michael & Claire, Chandler & Evan, Mary & Anna, Max & Rachel, Cameron & Daisy, Eugene & Daniel Hy, Charles & Vivianna & James & Matthew, Lindsey, Meliza & Aven & Aila, Sabrina & Alexandra, Linsey & Kelsey from, Abel & Michael & Chelsea & Matthew, Dan, Sheryl & Jocelyn, Julia & Marissa, Jesus & Horacio, Tinsley & Noah, Sofia & Victor, Jun, Vargas, Andrew, Ayanna & Ornella, Grace & Eric, James & Kyle & Brian, Colin & Megan, Rachel & Rubye & Catherine, Derek & Amanda & Daniel, Rachel Michelle & Michelle & Taylor, Khani & Ashley, Wesley & Ashley, Hanai & Sergio & Souad, Elaine & Jayhyun, Erica & Sinead, Orr & Katie, Jason & Elizabeth, Nathaniel & Kenneth, Tram & Trinh & Tuan & Alexandria, Daniel & Brenda, Lidia & Martin, Jason & Yongseon, Jennifer & Kelly, Joseph & Carey & Martin & Earl & Joshua & Quentin, Anna & Brett, Melissa & Jason, Martin & Lance & Henry, Harrison & Dan & Steve, Rachel & Lisa & James, Lisa & Julie & Daniel, Russel & Kendall, Amy & Carol, Angel & Caleb, Ellen & Carter, Allegra & Daniel, Addison & Ryan, Riniah & Sierra, Phanavanh e Kassandra from USA (206)
Javlon & Jasurkhuja from UZBEKISTAN (2)
Hector & Gabriela, Alexandra, Joswrany from VENEZUELA (4)
Ahn & My Linh & Ngoc Ha, Tram & Quynh, An & Hung, Loc & Thanh, Thao, Minh & Linh & Phuong & Ninh & Dung from VIETNAM (15)
Languages:
English, Français, Italiano
Response rate:
100%
Response time:
within an hour
Explore other options in and around Roma
More places to stay in Roma: