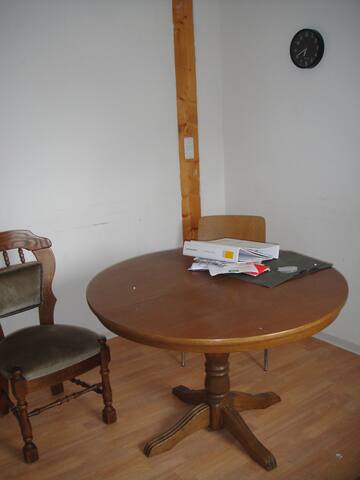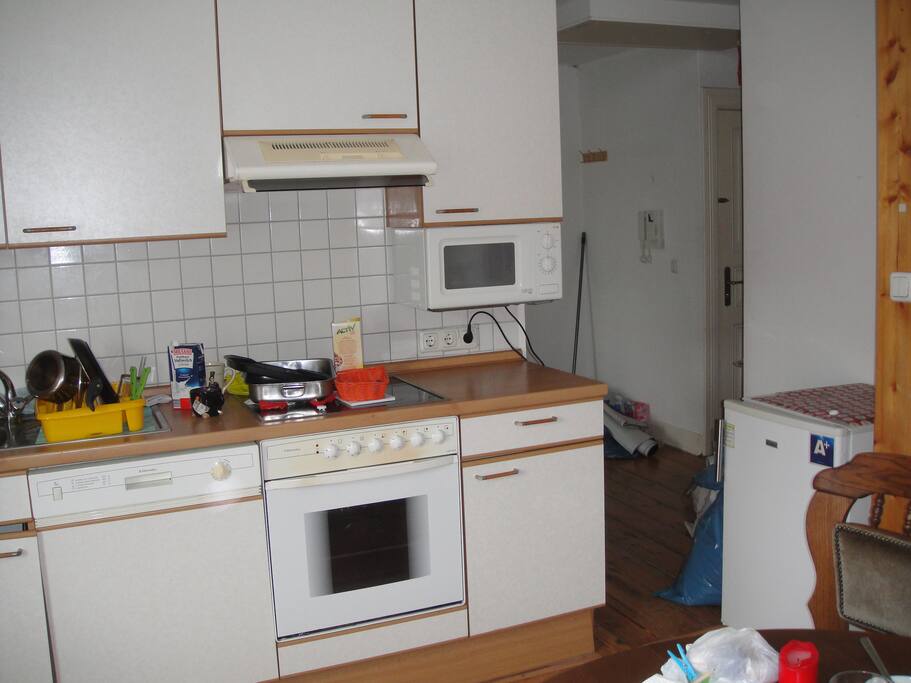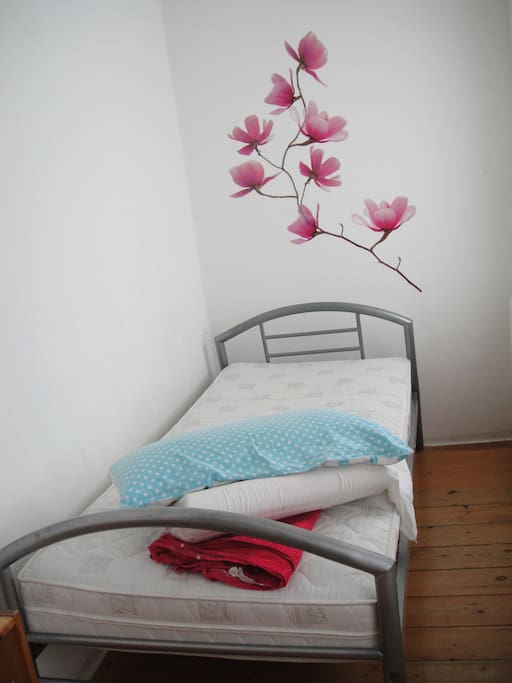 The apartment is located only a few bus stops from the Airbus Company in Finkenwerder. A bus stop of lines 146, 251 and 150 is at a walking distance of five minutes. The house is situated near the river Elbe. You can take a ferry to the other side.
---
---
Always communicate through Airbnb
To protect your payment, never transfer money or communicate outside of the Airbnb website or app.
Learn more
---
---
---
My stay at Jutta's worked out well. I had a meeting at Airbus and was happy to only have a short bus ride in the morning. Communication with Jutta worked well and she was quick to answer any of my questions. She even provided me with detailed directions arriving with public transportation. About the flat: The apartment is large and fairly modern. As others have described it lacks any personal touch. It is as if the furniture was simply placed an no one has really moved in. It is clean, but not clean clean. It could use a good scrub down. The kitchen has all main appliances but no coffee machine. A couple things I thought were odd: Jutta came extra to bring me roll of toilet paper - why not pre-stock the flat? Also, there were no garbage cans. The internet was connected with full bars but no working...probably needed a router restart. The router is located in another apartment above and I didn't want to bother the other guests so I just connected over my cellphone - 3G connection. I slept well and the bedding was warm. The bed is on a frame on the floor, which looks different than photographed. But didn't bother me as I was warm and comfortable. All in all an OK place to stay for a quick night. Also would be practical for a group of people as its pretty spacious and there are several couches.
Dear Katina, I was pleased to read your statement. Thanks for being so considerate. It took you quite a while to write your report, I guess. A coffee machine has been ordered, the garbage can of the apartment was unfortunately being cleaned when you came. New photos will be taken, anyway. Many things have changed within the last couple of weeks. Normally, the guests bring their own towels. If not, I bring them some. Toilet paper has been taken away in the past or spread all over the place. Some people think, not being supervised in any way, they can do almost anything in the apartment. I would like to keep in touch with you. You are welcome whenever I have the necessary space. Michigan is beautiful! Sincerely, Jutta Ramme
---
Achtung, wir können nur raten: Finger weg! Wir haben uns (leider) von den vorherigen Kommentaren nicht abschrecken lassen und in der Hoffnung, das die Gastgeberin bezüglich Sauberkeit dazugelernt hätte, die Silvesternacht in der Wohnung verbracht. Leider müssen wir den vorherigen Kommentaren uneingeschränkt recht geben. Die Wohnung war dermaßen verdreckt, das wir, wenn es ein Hotel in der Nähe gegeben hätte, umgehend wieder abgereist wären. An den Badezimmerkacheln über der Wanne hingen bräunliche Reste, unter dem Heizung im Bad lagen reichlich Birkensamenblätter (im Winter) und fingerdicker Staub. Im Kühlschrank eine offene Dose Erbsen, Gemüsereste und Schimmel, die wohl ein Herbstgast dort hinterlassen hat? Die Fenster Laibungen waren fast durchweg mit dickem Schimmel besetzt, besonders im Schlafzimmer. Dementsprechend roch die dortige Schlafcouch mitsamt der Bettdecken recht muffig. Ein Fernseher der keine Programme empfängt dafür eine dicke Staubschicht trägt und die Einrichtung durchweg vom Speermüll oder Speermüllreif. Fenster ohne Gardinen oder nur mit Stoff verklebt, der fortwährend abfiel und nackte Glühbirnen als Beleuchtung. ein kaputter Toaster und Müll in der Essecke und ein Staubsauger mitten im Flur. Schade, zumal die Wohnung großzügig erschien und sich hier bestimmt mit wenig Mitteln etwas schönes daraus machen ließe, Die Gastgeberin, die wir Neujahr darauf Anspruchen, schien es aber nicht verstehen zu können und sagte uns nur wiederholt, das sie ja saubergemacht und wohl etwas übersehen hätte. Aufgrund dessen, vermute ich hier auch in der Zukunft, trotz mehrfacher Kritik keine Besserung. Schade. Anderen Interessenten können wir nur raten: Finger weg!
---
Wir waren zu zweit in Juttas Wohnung. Jutta selber haben wir nicht gesehen, sie war aber stets per Mail erreichbar und hat auf alle Fragen und " Probleme" schnell geantwortet. Der Kontakt also sehr prompt und nett! Die Wohnung selber eher zweckmäßig, aber sauber. Zum Übernachten okay, ansonsten fehlt es an Gemütlichkeit. Ein paar Nettigkeiten würden hier Wunder wirken, da die Wohnung mehr hergibt.
---
Die Gastgeberin war sehr freundlich, der Buchungsablauf verlief bis zur Anreise sehr gut und ich erhielt zeitnah eine Antwort auf meine Nachrichten. Vor Anreise teilte ich der Gastgeberin mit, dass ich gegen 13:00 Uhr ankomme und fragte wie die Abwicklung der Schlüsselübergabe aussehen würde. Darauf erhielte ich eine Antwort, dass sie sich diesbezüglich meldet. Leider erhielt ich keine Rückmeldung und erreichte sie zwanzig Minuten vor meiner Ankunft. Sie teilte mir mit, dass noch Gäste vom Vortag in der Wohnung wären, diese allerdings bis 15:00 Uhr abreisen würden. Wir bekamen einen anderen Raum zur Verfügung gestellt, der allerdings stark nach Rauch stank und von weiteren Bewohnern benutzt wurde. Wir ließen also unser Gepäck im Auto und verließen die Unterkunft wieder. Als wir gegen 16:30 Uhr wieder zurückkehrten, waren die Gäste immer noch vor Ort und schilderten, dass die Gastgeberin gesagt hätte, sie können bleiben so lange sie wollen. Umgebung: Die Unterkunft an sich ist sehr schön und ruhig in einer Wohnstraße gelegen. Parken war problemlos möglich. Unterkunft: Es war alles dreckig, die Betten stanken stark nach Zigarettenrauch, obwohl die Gastgeberin gesagt hatte diese frisch bezogen zu haben. Die Klappcouch auf der wir geschlafen haben, waren die Ecken dreckig und trotz zweier Matratzen die darauf lagen, war zu spüren, dass sie durchgelegen war. Die Badewanne war voll mit Krümeln und in der Toilette schwammen Haare und Dreck. Es waren keine Handtücher vor Ort, kein Toilettenpapier, nicht einmal ein Mülleimer gab es. Ich kann keinem empfehlen hier seine Zeit zu verbringen.
---
Response rate:
100%
Response time:
within an hour
Explore other options in and around Hamburg
More places to stay in Hamburg: