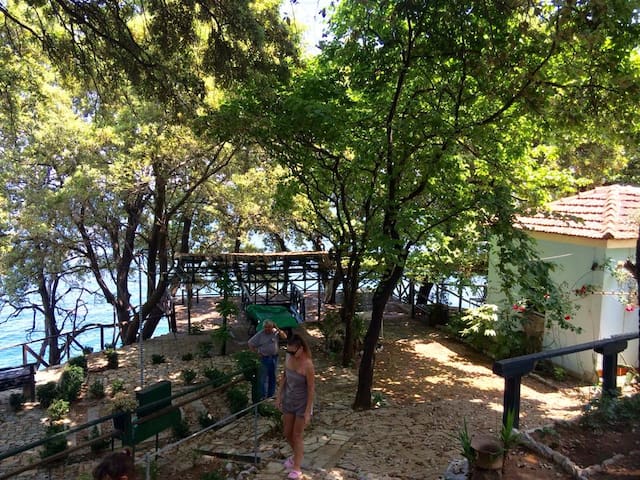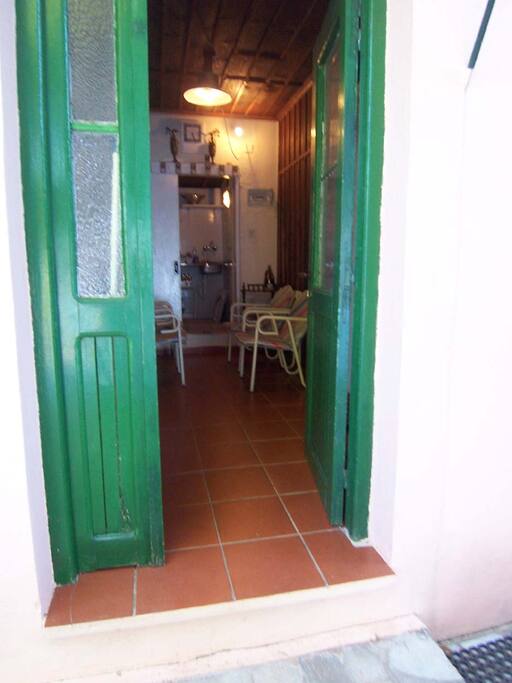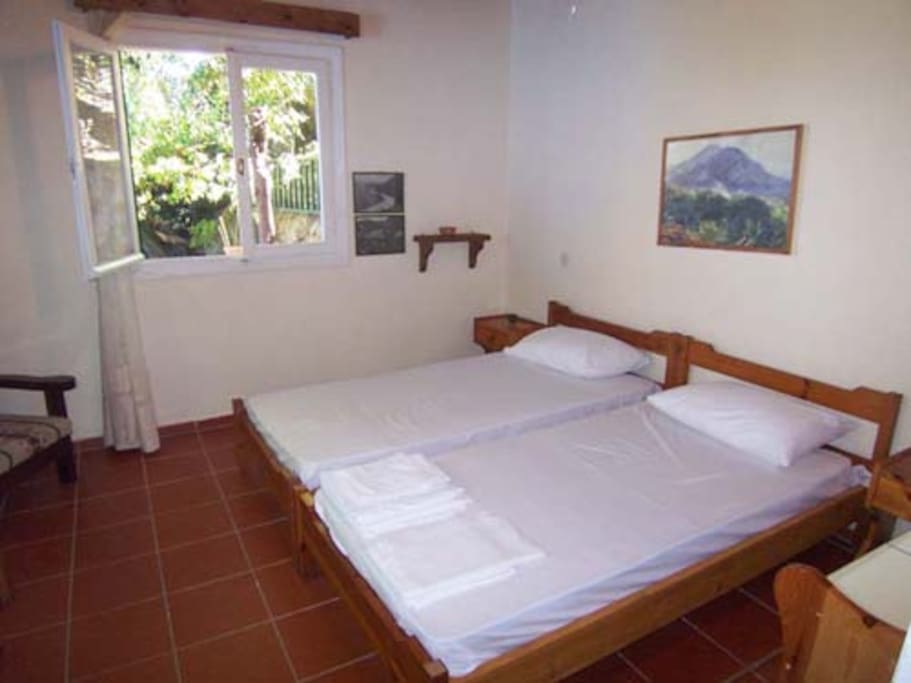 In the middle of apple groves you can rent a unique small not luxurious holiday house with great sea views, lots of privacy, lots of outside space, balcony hanging above cliffs ! 2 double bedrooms, bathroom with shower, small kitchen, very adventures
---
This place is simply paradise, the accommodation is basic and charming, spread out on a magical part of the coast. Our life was transformed to BBQ and eating on the deck or various seating areas all with amazing views, swimming in a secluded waterfront, walking trails or into the nearest village, olive groves, enormous chestnut and plane trees ... rustic charm, an experience, treat yourself
---
Kostas's place is heaven on earth. The cottage itself is small and not "luxury" but it is beyond incredible. it has an unbelievable rustic charm and you are surrounded by nature. Its truly a gem of a place and we wished we had stayed longer. Unwind, reconnect and disconnect. Every morning you wake up in absolute disconnected paradise. This is what holidays are made of. This is what real life should be made of.....Kostas himself for us made the experience. He offered to come around a barbecued the most delicious lamb ribs one night. We spent the evening learning about the Pelion and Greek life. We invited Kostas for dinner one night because he is such an amazing character and has stories of his travels by boat all around the world. We didn't want to leave but to ease the pain Kostas came to visit us on the other side of the Pelion peninsula. The Ultimate host and the ultimate Greek Experience. We will really miss this place and hidden beaches but most of all we will miss Kostas. We will be back one day.
---
Hard to describe how much we loved this place ... This really is an experience. The location is great, the house is a great place to stay. Very simple, very clean and ... so amazingly original. That feeling of being in a place like no other really is a great feeling. Even when, one day , we had bad weather condition, we spent good times there , wandering around , discovering this unique place. Costas, our host, really is a nice person, a great personality and a charming host ... really ! He payed a lot of attention about our wellness, helped us and we spent good times talking with him.
---
We stayed at this location for three nights and had an amazing time. This is the type of place that end up on the Airbnb ads - unconventional in a good way, beautiful, isolated, meticulously taken care of. Come here to disconnect, relax, read books, sleep in, cook and eat and drink and play cards. The house itself is small and simple - two rooms, a kitchen, a bathroom and a central hallway. It is very clean and decorated simply but effectively. The real asset of this listing is the lovingly curated grounds: something like 4 different dining areas, porches, patios, walkways, stairs...all sheltered from the blistering greek sun by olive groves and other trees. You can walk down to the ocean (rocky coast area) - about 30 seconds away. Ocean that will serve as a background noise when bedtime comes. So the set-up basically works this way: Anja, the Airbnb host, coordinates this listing remotely for her semi-retired relative, Kostas - a wonderful greek man who will take care of you once you arrive in Agios Ioannis Mouresio. Kostas is an experienced hotel professional and the house has been his personal project for the last twenty-some year. His hospitality is a true demonstration of "filoxenia", the greek philosophy of hosting people. He was always available, warm and professional. He came over to the place one night and we had a cookout together with simple a delicious greek food. What you should know before booking: 1) The Plaka beach is located ~10 minutes by foot, and is a secluded beach with only one local hotel giving onto it. 2) The village of Agios Ioannis Mouresio is located ~3.5 km on hilly, unpaved roads. 30 minutes by foot. Closest supermarkets, restaurants are located 3) Having a rental car greatly help make the most of this location. However getting from Mouresio is not for the unexperienced driver. Our Ford Focus made it back and forth several times, however we sometimes wished we had a car with slightly higher clearance. This is, however, the price to pay to literally get off from the beaten path and we would gladly do it again. All in all, after renting something like 15 or 20 Airbnbs, this is the first one that truely fits what Airbnb stands for: an awesome place that we wouldn't have discovered through other means.
---
Response rate:
100%
Response time:
within a few hours
Explore other options in and around Agios Ioannis Mouresiou
More places to stay in Agios Ioannis Mouresiou: