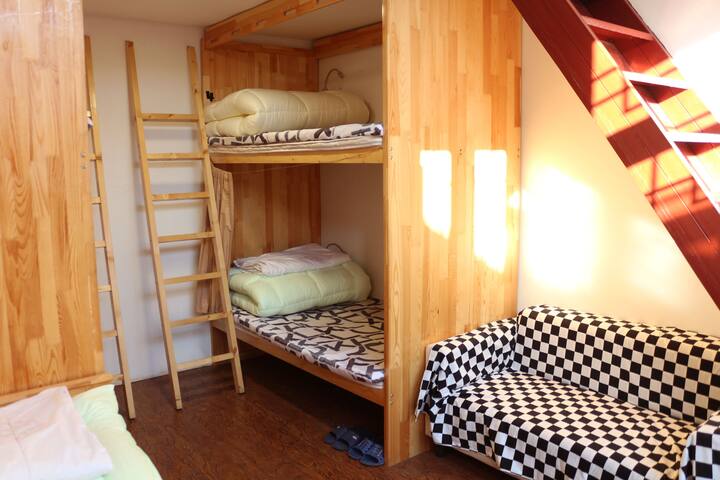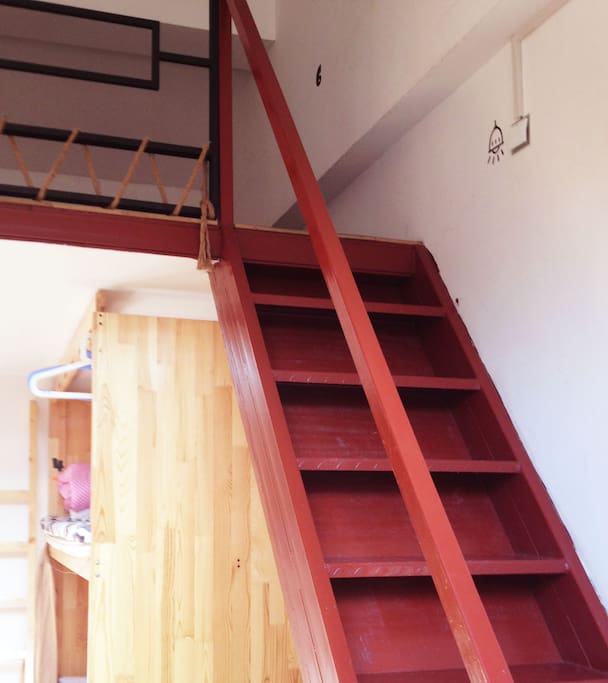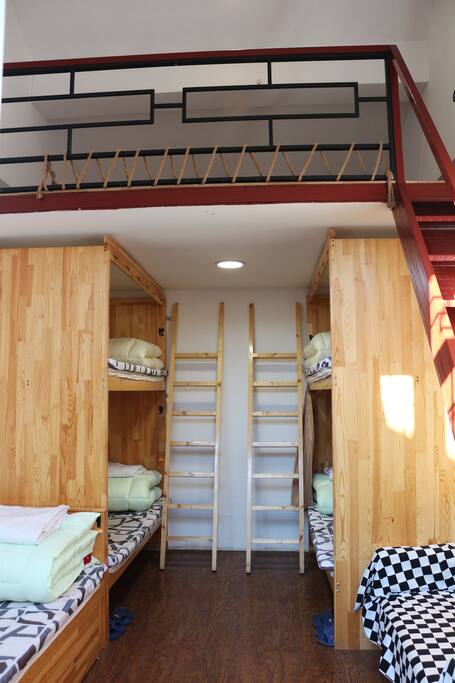 About this listing
男女混住8人床位房,房间面积28平米,有实木上下床3张(1.2*2米),房间内设有阁楼,阁楼上是2个榻榻米,红色的大玻璃门窗,房间内配有暖气以及冷热空调,公共卫浴,免费Wifi,提供收费早餐服务15元/份;(南向)
---
---
---
---
男女混住8人床位房,房间面积28平米,有实木上下床3张(1.2*2米),房间内设有阁楼,阁楼上是2个榻榻米,红色的大玻璃门窗,房间内配有暖气以及冷热空调,公共卫浴,免费Wifi,提供收费早餐服务15元/份;(南向)
北京市东城区非常有特色的一家青年旅舍,我们开设在一个老北京正统的四合院当中,在这里入住,我们不仅仅提倡舒适的住宿,更主要是老北京文化在这里您一定感受的到!
我们在公共休闲区有超大的投影仪、各类书籍杂志可以免费观看阅读,并有洗衣房、厨房可以使用。
只要您是有关HOBO青旅的问题,我们肯定是有问必答!
胡同,也叫"里弄"、"巷",是指城镇或乡村里主要街道之间的、比较小的街道,一直通向居民区的内部。它是沟通当地交通不可或缺的一部分,这也是北京的一大特色。
距离2号线的雍和宫800米,距离5号线的北新桥900米,距离东直门北小街的公交站300米,所以出现非常方便,但是请所有旅客注意,胡同不同于大马路!
第一次在胡同中穿行,那么开着地图导航是最好的:)
---
Check in time is 2PM - 11PM
房间内、公共休闲区域禁止吸烟;禁止携带宠物入住;入住时间是14:00—24:00,退房时间08:00—12:00;希望所有旅客可以节约用水用电,注意爱护公共设施及卫生!
---
Moderate
Cancel up to 5 days before your trip and get a full refund, including service fees.
---
---
At all i would say i was a good stay. The rooms were clean and the ppl nice. The toilets could have been cleaner and less smelly. Its also quite hard to finde. It would be nice to post the way discretion (the one from the back of ur card) here on airbnb. Also the, on airbnb offered breakfast ist confusing, so maybe u should take it down from the page or make it more clear. This hostel is definitely more made for locals (mandarin speaking ppl).
首先非常感谢您入住,并给我们提供了宝贵的经验,但是,关于早餐的问题我们在网上是写的非常清楚的了,我们提供收费的早餐;然后,关于语言交流的问题,我觉得你说的非常对,既然您是来到中国旅行,并且是中国的首都北京,我当然是要说普通话的,别和我说什么英文是世界语言,因为要是中国人去到国外不说英文能行吗?所以我虽然会去学习英语,但是请所有外国朋友也学习中文好吗:) First of all, thank you for staying and give us valuable experience, however, on the issue of breakfast we are writing very clear, we offer a fee for breakfast; then, on the issue of language exchange, I think you are coming to China, and is the capital of China, I am of course to say that the world language, because if Chinese people go abroad do not speak English can do? So although I will go to learn English, but please all foreign friends also learn Chinese well:)
---
This must be a little different from the usual dormitory room. It is like chinese traditional squared-house. In the center of the house, there is a reception and resting place. And the rooms are surrounded with. First of all, the staffs were very friendly and even if they don't speak english well, they tried to help the guests as much as they can. I stayed just one night with my nephew and he really liked this house and the atmosphere much more than comfortable hotel accomodation. You can be someone like people person here. I have two advises. Please avoid rush hour of shower room. When the guests are full there, it's better to finish your shower early or lately. Before you start your journey, ask the host the picture of the guest house name card in advance. It is very hard to find this place. So it must be convenient.
Thank you for giving HOBO Hostel, relatively unbiased recommendations on these two points, I need to, and we talk about the first question about the position, in fact, very simple, we will see after a predetermined our detailed address as long as you arrive at our location near open map navigation, then it will certainly be very easy to find; the second is the question about the use of the bathroom, put aside a separate toilet outside the room, in time we have here is the time to fill in , we here are three toilets and three showers bit, I think 20-23 points every day, enough to use these three hours, is not a problem, because I was only after detailed calculations say so :)
---
店长人很不错,是一个不错的的住处,旅社有网络覆盖而且超级快,下载速度可以达到3.5+MB/s,爱用电脑的旅客可是有福了,像我就有两个上午+一个通宵窝在旅社看电影美剧了… 店内有小狗一只,是一只泰迪,名字好像叫当当。另外还有美女无数,屌男们不要错过。 总之,这六天以来在这里很满意,缺点的话第一就是很难找了,直到第3天我才终于不依靠导航找到地方,觉得店家应该做个招牌什么的,醒目一些,要不第一次的话即使找到了也有可能擦肩而过注意不到。 The host was very friendly and room is good to live.Internet speed of hostel is fast from which you can download something with 3.5MB per second or more.As for me,I have saw movies and U.S.plays for two forenoon and a whole night. They have a dog who name is dangdang.What's more,there has a lot of beautiful girls.Don't miss it. In a word,I am satisfied with 6-days live in HOBO hostel.But there are still some shortcomings .Fristly,it very hard to find,which I can finally find it without navigation unit three days would be better if host put a showy sign in the door.
看到长幅的点评,无论好评还是差评,我都会莫名的感动,因为对方肯定是用心了的,5、6天时间的相处不算长也不算短,但是您的细心以及善良我想会让人印象深刻,。关于您所说的路标的问题,我们现在正在积极协商解决,但再东城的胡同区域不是一时半会就能解决的了的,,因为文物保护、因为政策规定等等问题,我们现在已经在和相关的部门沟通了,希望尽快搞定:) 如果暂时还没有这些路引的话,那么咱们其实完全可以手机导航过来,很方便也很容易就找到我们的!! 手机信号问题其实不是咱们青旅手机信号偏弱,是因为我们地处二环内,有时会有信号屏蔽的,但是这个时间不固定不确定,而且只有一小会就好,不会影响咱们手机的正常使用的!!
---
Beijing, China

·

Joined in February 2015
尽在其我,简单是美!其实人与人的相处非常简单,真诚的彼此对待,包容的彼此谅解,会心的彼此微笑,自然的彼此交流,热心的彼此帮助,迷迷糊糊的一觉醒来,明明白白的一天艳阳高照,懵懵懂懂的绕来绕去,清清楚楚的一点一线,本没那么复杂,其实一切是那么的美好。
Response rate:
0%
Response time:
a few days or more
Exact location information is provided after a booking is confirmed.
Explore other options in and around 北京市
More places to stay in 北京市: