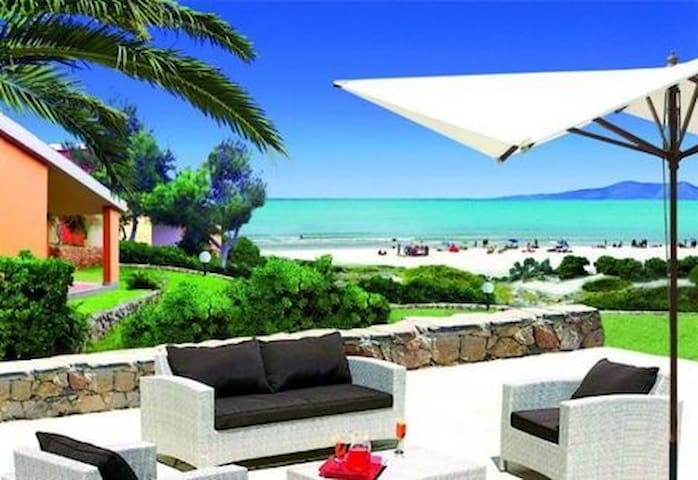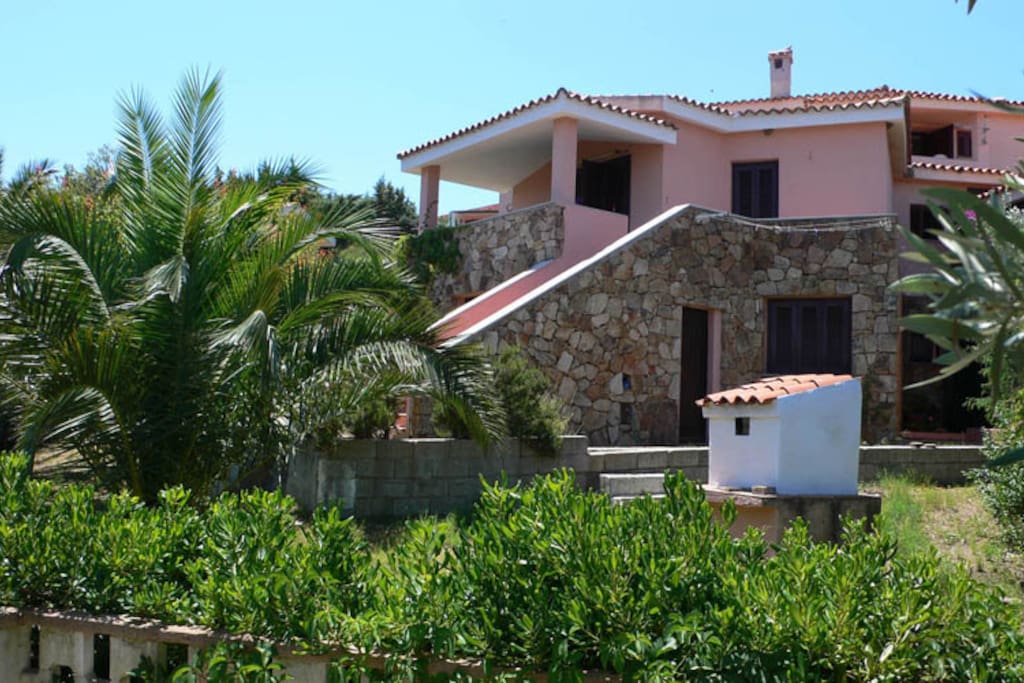 Typical terraced house - Citai Garden House ST3
Typical terraced house - Citai Garden House ST3
Citai area - Typical Rustic terraced house with stone finishes exposed in the central area but reserved a 15-minute walk from the beach. Ground floor with outdoor space for outdoor dining, large and airy living room, 2 double bedrooms, one overlooking the garden, the other overlooking a room with high window, bathroom with shower, 500 mt. a garden with fruit trees and play area for children. In hilly area, there are steps from the car park up to the property, one side of the ground.
---
Room type: Entire home/flat
---
---
Always communicate through Airbnb
To protect your payment, never transfer money or communicate outside of the Airbnb website or app.
Learn more
---
Common spaces
2 single beds
---
PRIMA DI PARTIRE, STAMPA IL MANUALE DELLA CASA E PORTALO CON TE
Il manuale della casa è presente nell'alloggio, in ogni caso sarà nostra premura accompagnarvi personalmente fino alla casa e fornirvi tutto il sostegno necessario.
Al fine di migliorare il servizio e la qualità dei nostri appartamenti, Vi chiediamo di osservare queste semplici regole:
- Segnalare eventuali carenze o danni all'inizio del soggiorno.
- L'appartamento è fornito di contatore ENEL a bassa potenza: si prega gentilmente di non accendere contemporaneamente scaldabagno, asciugacapelli, forno, aria condizionata o altre resistenz(URL HIDDEN) elettriche, il contatore si trova sulla strada principale vicino ai parcheggi ...
- La cucina è alimentata da bombola a gas che si prega di richiudere accuratamente dopo l'uso.
- Oltre a piatti, bicchieri, stoviglie ed accessori per cucinare è a vostra disposizione tutto ciò che si trova nella casa, ma a fine soggiorno deve essere rimesso nel posto originario nella quale è stato trovato.
- Si prega di riconsegnare l'appartamento con un minimo di pulizia, di buttare la spazzatura ed eventuali rimanenze di cibo –
- A fine soggiorno si raccomanda di non lasciare piatti da lavare e/o fornelli sporchi e di pulire l'angolo cottura, in caso contrario vi verranno addebitate ulteriori 30 € per il servizio .
-San Teodoro fa la raccolta differenziata dei rifiuti, troverete in loco istruzioni a riguardo.
Una raccolta fatta in modo inappropriato è sanzionabile, pertanto vi invitiamo ad effettuarla al migliore dei modi onde evitare che vi vengano defalcate dal deposito cauzionale i costi della stessa.
- La biancheria dovrà essere gentilmente tolta e posta all'interno della lavatrice, avviandone il lavaggio.
- L'appartamento non può essere occupato da un numero di persone superiore a quello dichiarato al momento della prenotazione.
- Non arrecare disturbo ai vicini con rumori o schiamazzi dalle ore 14 alle ore 16 e dalle ore 24 in poi.
- Il deposito cauzionale verrà restituito dopo aver effettuato il controllo dell'alloggio, previa detrazione dell'importo, pari, ad eventuali danni causati all'alloggio.
-Vi informiamo che durante il periodo estivo il Comune di San Teodoro e Budoni potrebbero emanare delle delibere che obbligano l'utilizzo dell'acqua solamente ad uso personale e/o alimentare e non ad uso potabile.
- L'appartamento deve essere lasciato libero entro le ore 10 del giorno di partenza in modo da poter avere il tempo di riordinare l'alloggio prima dell'arrivo dei nuovi ospiti.
- Il cliente è responsabile per eventuali danni causati all'appartamento e/o agli oggetti presenti al suo interno.
- Siamo a vostra disposizione per qualsiasi necessità.
Grazie della collaborazione e buona vacanza
Barbara e Andrea
PuntoCasaBudoni
_____________________________________
BEFORE YOU START , RELEASE THE MANUAL OF HOME AND take it
The manual of the house is present in the accommodation , in any case we will personally accompany you to the house and provide all necessary support .
In order to improve the service and the quality of our apartments , we ask you to observe these simple rules :
- Report any shortages or damage upon arrival.
- The apartment is equipped with low-power energy meter : We kindly ask you not to turn on at the same time water heater, dryer, furnace , air conditioning or other electrical resistances , the counter is located on the main road near the parking ...
- The kitchen is powered by gas cylinder , which you should carefully close after use.
- In addition to plates, glasses, utensils and accessories for cooking is at your disposal everything that is in the house , but at the end of the stay must be returned to the place where it was found .
- Please return the apartment with a minimum of cleaning, empty the garbage , and any unexpended balance of food - the City of Budoni by separate collection this must have been done properly - worth € 30 to be deducted from the mandatory deposit
- At the end of stay , it is recommended not to leave dishes to wash and / or dirty stove and cleaning the kitchen, otherwise you will be charged an additional 30 € for the service.
- The linen should be gently removed and placed inside the washing machine, then starting the wash.
- The apartment may not be occupied by a number of persons than that stated at the time of booking.
- Do not disturb neighbors with noise or chatter from 14pm to 16 pm and from 24 pm onwards.
- The deposit will be returned after checking the property , minus the amount , equal , for any damage caused to housing.
- Please note that during the summer the Municipality of San Teodoro and Budoni may adopt the resolutions that require the use of water
only for personal use and / or food and not for drinking .
- The apartment must be vacated by 10am on day of departure in order to have time to tidy up the accommodation before the arrival of new guests.
- The customer is responsible for any damage caused to the apartment and / or objects within it .
- We are at your disposal for any need .
Thanks for your cooperation and good holiday
Barbara and Andrea
PuntoCasaBudoni
Avant le départ, LIBÉRER LE MANUEL DE LA MAISON ET prendre.
- Signaler toute pénurie ou de dommages à l'arrivée .
- L'appartement est équipé de faible puissance compteur électrique : Nous vous prions de ne pas tourner en même chauffe- temps de l'eau , sèche-linge, four , air conditionné ou d'autres résistances électriques , le compteur est situé sur la route principale près du parking ...
- La cuisine est alimenté par une bouteille de gaz que vous devriez fermer délicatement après usage .
- En plus des assiettes, des verres, ustensiles et accessoires pour la cuisine est à votre disposition tout ce qui est dans la maison , mais à la fin du séjour doit être retourné à l'endroit où il a été trouvé .
- S'il vous plaît retourner l'appartement avec un minimum de nettoyage , vider la poubelle , et tout solde non dépensé de la nourriture - la ville de Budoni par la collecte séparée cela doit avoir été fait correctement - une valeur de € 30 à être déduit de la caution obligatoire
- A la fin du séjour , il est recommandé de ne pas laisser de vaisselle à laver et / ou poêle sale et le nettoyage de la cuisine , sinon vous serez facturé un supplément de 30 € pour le service .
- Le linge doit être doucement retiré et placé à l'intérieur de la machine à laver , puis à partir du lavage.
- L'appartement ne peut être occupé par un nombre de personnes que celle énoncée au moment de la réservation .
- Ne pas déranger les voisins avec le bruit ou le bavardage de 14h à 16 h et de 24 h à compter .
- La caution sera restituée après vérification de la propriété , moins le montant , égal, pour les dommages causés au logement .
- S'il vous plaît noter que pendant l'été, la municipalité de San Teodoro et Budoni peut adopter les résolutions qui exigent l'utilisation de l'eau
que pour l'utilisation et / ou de la nourriture et non personnels pour la boisson.
- L'appartement doit être libéré avant 10h le jour du départ afin d' avoir le temps de ranger le logement avant l'arrivée de nouveaux clients .
- Le client est responsable de tout dommage causé à l'appartement et / ou des objets qu'il contient.
- Nous sommes à votre disposition pour tout besoin .
Merci pour votre coopération et de bonnes vacances
Barbara et Andrea
PuntoCasaBudoni
---
---
---
The minimum night stay for this listing varies.
---
We stayed in the house for a total of five days with six guests. I found our hosts to be very helpful and the communication was great. We weren't overly keen on the house however.... the best way to describe it would be rustic I suppose. The house was musty smelling-like no one had stayed for quite a while. The bed clothes were very worn and shabby-not what you'd expect from a rental but they were clean. Due to the small or old drains you had to shower in a freezing outside shower after the beach-not really ideal for kids etc. On our last day there was very dirty mucky water coming all the taps-thankfully it wasn't such an issue because we were leaving. The waste disposal we found difficult because we weren't there for a full week and our last day was Sunday which has no waste collection-there is a fine for leaving waste but our hosts very graciously agreed that we could leave the last of our waste as we had no other option. I think this is the case throughout Sardinia for waste disposal however.The kitchen is well equipped and there are extras such as toys etc for kids and plenty of other useful things. There is no air-con or wifi and the electricity trips if there's too much plugged in which as a house of six we found tricky at times. The town is nice-small but plenty of choice. The beach is a 20-25 minute walk and there is a range of shops within walking distance. Would recommend hiring a car -we flew into Alghero and had to get a transfer as public transport to the area was very limited. Also the photos of the beach in the photo file aren't views from the house, they were views from the beach which we didn't realise due to the Italian captions, our fault of course but just so future guests know. Greats hosts who were helpful and the location is lovely but the house needs a bit of love in our opinion, it could be a lovely house!
---
The host canceled this reservation the day before arrival. This is an automated posting.
Response from Punto Casa Di Giua Andrea:
Non ho assolutamente cancellato io la prenotazione! Anj Carter, 3 mesi prima dell'arrivo ha fatto una prenotazione diretta della casa al piano terra - durante questo periodo non ha mai risposto ai messaggi inviati - dopo il check-in ha voluto cancellare la prenotazione in quanto convinto di aver prenotato il piano primo con vista mare e non il piano terra invece prenotato. Avrei potuto lasciar correre, visto che hanno fatto regolarmente il check-in e poi trascorso la loro giornata al mare per poi tornare la sera e andar via con comodo ... ma .. ho avvisato il customer service airbnb del loro dispiacere e la persona che ha risposto ha girato il caso al suo manager: Robin B che ha gestito il caso ... Robin B - Airbnb Customer Service - ha dimostrato tutta la sua professionalità, competenza e conoscenza del suo lavoro di intermediazione cancellando la prenotazione senza neanche contattarmi per telefono o via email per chiedere informazioni e verificare la veridicità di quanto accaduto ... una vera perla del customer service airbnb ..
---
Our vacation at "Punta Casa Di Giua Andrea " was exactly as promised. The location/ area which we already knew is pretty nice.The neighborhood is very quiet. There are nice bars and restaurants close by. The appartment is spaceful, very clean and well equipped. The host is very kind, welcoming and helpful. I traveled with my family, our daughter is 9 month old and the host made our stay very comfortable. I appreciate that we are able to use a stroller, a special children bed and some toys for the baby. Really really great . Summarized a wonderful stay. Everytime again. Thanks a lot!!!
---
We stayed at downstairs apartment at the house, location of a house is excellent, walking distance to town, supermarket and restaurants, although a bit too much too walk to town beach La Cinta. Barbara was very helpful and very quickly replied to our inquires. House had a nice yard with apricot tree and BBQ in the garden with patio table and chairs, inside the house we found many things we inadequate, house had a musty smell, linens were questionable very old and worn out, could not tell were they clean, mattresses uncomfortable, kitchen utensils outdated not enough towels and the once that were there looked old, we had to buy our own hand soap and toilet paper. I would not stay at the same location again
Response from Punto Casa Di Giua Andrea:
I'm sorry for what you wrote, I think you were the only one to have found many of these defects in the house, fortunately among many reviews are the only one to have left this, I would say questionable review. Home cleaning is important for us in the first place and I would check several times before making the check-in !! believe me! I'm surprised, because I have never made any complaint or request? if you'd told me this during your stay, I would have brought the housekeeper to clean yet, perhaps we missed something! We are always available, always! Maybe you're right that he had inadvertently linens old but were definitely clean and neat, in each case in the cabinet of the laundry there are many other sheets and towels that are sufficient for over a month! There are also many towels always in the furniture, in addition to those found in the bathroom, but perhaps have not seen them! The mattresses are new and orthopedic! We have bought new at the beginning of the spring season, but maybe you're used to sleeping in a different type of mattress and this made you think otherwise that were not good. Kitchen utensils are used it is true but not obsolete, constantly adding more! and if something is not right inadvertently, we replace it immediately, just ask. Toiletries (soap / shampoo / shower portion) some toilet rolls are always at check-in, even detergents to clean the house, rolls of bags for separate waste collection, although sometimes the guests take away if They do not use them. unfortunately the house was unclean at check-out, as well as the sand inside was everywhere! ok housekeeping are included in the stay, but that does not mean leaving the house as well as dirty with all the garbage there. I think your disappointment is due to the fact of being warned for doing a bad recycling of waste. Although in these cases there is a fine, we have returned the deposit left.   But I always think it is tacky to write a bad review on the profile of a customer who has lived in your house even if sometimes it would be appropriate. Sorry for my bad English, but if you have doubts ask me are here to answer you.
---
This was a great base for a beach holiday in San Teodoro. We hired bikes which is the best way to get to the beach as the walk is down a long road, about 25 minutes and in the heat it is a bit much. There are several bike hire places nearby which are relatively cheap. We stayed in mid-September and the train and buses to the beaches had unfortunately stopped running which we found out at the Tourist Centre in town. The town is only a ten minute walk with numerous restaurants and cafe/bars to enjoy and there is a discount supermarket just down the hill from the apartment as well as others on the way into town. If you want to explore outside of San Teodoro (which really is no more than the beach and restaurants/ tourist shops in the little town) you would want to hire a car. La Cinta beach is beautiful and the whole place is picturesque and what you would expect from Sardinia. In the day the town is very quiet and things tend to close in the afternoons but in the evening the restaurants are very lively and there are lots of people wandering in the tourist market and sitting outside the cafes. The apartment is basic but has what you need and a nice little patio. Only one bedroom has a mosquito net which was a shame as two of our party were bitten badly. We were in the bottom apartment and there were people staying in the apartment above with a toddler and we did hear a lot of noise through the ceiling which kept us awake sometimes. There was also the issue with the power abruptly going off if you had both the hot water and the oven on for example but really this added to the charm of the place. Otherwise though we enjoyed our stay and would recommend it for a no-frills beach holiday in San Teodoro. Barbara was quick to respond to any questions via (SENSITIVE CONTENTS HIDDEN) and very kindly let us stay in the apartment on check-out day until 1pm when the taxi she helped us arrange came to take us to the airport. Thank you for our holiday!
---
San Teodoro, Italy
Joined in April 2012
La cosa che più amo, oltre alla famiglia è viaggiare!...adoro visitare nuovi luoghi e conoscere nuova gente, usi, costumi e tradizioni...una cosa della quale non posso proprio fare a meno è del sole e del mare, mi piace trascorrere il mio tempo libero all'aria aperta.. amo fotografare la natura, panorami,piante, fiori e gli animali...talvolta anche persone....durante la calda stagione, trascorro le mie giornate libere e i miei ritagli di tempo al mare, mi piacciono le spiagge poco affollate, quelle nella quale rilassarsi e prendere il sole sentendo solo la risacca..mi piacciono le scogliere e fare snorkeling, trascorro tante ore ad osservare il fondale marino, i pesci e la vita animata degli abissi, prediligendo così attimi di silenzio che riempiono l'anima ...
Adoro parlare con la gente e raccontare di luoghi visitati, lo faccio con passione, trasmettendo così, nel raccontare, emozioni e sensazioni da me vissute e che solo alcuni luoghi del nostro bellissimo e selvaggio territorio sanno offrire... la nostra, terra arcaica dagli usi e costumi remoti è fatta di gente semplice, a volte rude all'apparenza, ma dal cuore buono e dall'animo sincero, il cui valore per la famiglia amore della sua terra è viscerale ... io sono anche parte di questo: sarda ... ma con gli occhi e la mente di chi ha tanto viaggiato in giro per il mondo!
Mi piace la buona cucina e adoro sorseggiare un bicchiere di vino in compagnia..mi piace l'idea di restare sempre giovane..almeno dentro!!Non disdegno le uscite con gli amici...sicuramente non mi annoio !Amo il mio compagno Andrea e mio figlio Riccardo della quale non potrei fare a meno!
_____________________________________________________________________

The most thing I love, over my family is traveling ... Love to see new places and meet new people, customs and traditions .. live the places ... for me it is impossible to live without the sun and the sea, I like to spend my free time outdoors .. I like photographing nature, landscapes, plants, flowers and animals ...and people sometimes .... During the hot season, I spend my days off and my spare time on the beach, I like the uncrowded one, so you can really relax and soak up the sun .. I like swimm and snorkel on the reefs, I spend many hours watching the seabed, fishes and animated life of the deep, preferring as moments of silence That fills the soul ...
I like talking to people and tell of places visited, I do it with passion, try to telling, emotions and sensations experienced by me .. there are places in our beautiful and wild area can offer unforgetable moments ... our land from archaic customs is made of simple people, sometimes seemingly rude people, but in reality is good-hearted and sincere from the soul, the value for the family and for the love of his land for sardinians is visceral ... I am also part of this: i'm Sardinian woman ... but with the eyes and the mind of one have much-traveled around the world!
I like good food and I love to sip a glass of wine with friends .. I like the idea of staying forever young .. at least inside! Do not disdain go out with friends ... for sure I'm not bored in my life! I love my partner Andrea and my little son Riccardo , which I could not do without!
_____________________________________________________________________

La chose que j'aime le plus, en plus de la famille est de voyager! ... Love visiter de nouveaux endroits et rencontrer de nouvelles personnes, coutumes et traditions ... une chose que je ne peux pas faire sans le soleil et la mer, je envie de passer mes temps à l'extérieur gratuits .. J'aime la nature photographier, paysages, plantes, fleurs et animaux ... parfois les gens .... pendant la saison chaude, je passe mes jours de repos et de mon temps libre à la mer, j'aime plages désertes si, dans les pour se détendre et profiter du sentiment solitaire dim. .. J'aime le surf et la plongée avec tuba des récifs, je passe de nombreuses heures à regarder la vie des fonds marins, de poissons et d'animation de l'abîme, préférant comme des moments de silence qui remplit l'âme .. .
J'aime parler aux gens et dire des lieux visités, je le fais avec passion, de transport, dans les contes, les émotions et les sensations vécues par moi et seulement quelques endroits dans notre région belle et sauvage peut offrir ... notre terre de coutumes archaïques à distance est faite de gens simples, des gens qui semblent parfois grossiers, mais de bon cœur et sincère de l'âme, la valeur de la famille et pour l'amour de sa terre est viscéral ... je fais aussi partie de celle-ci: la Sardaigne ... mais avec les yeux et l'esprit de la très voyagé autour du monde!
J'aime la bonne cuisine et j'adore siroter un verre de vin avec des amis .. J'aime l'idée de rester jeune pour toujours .. au moins à l'intérieur! Ne dédaigne pas sortir avec des amis ... pas sûr que je m'ennuie J'aime mon partenaire e mon petit Riccardo , que je ne pouvais plus m'en passer!

_____________________________________________________________________

Das, was ich am meisten liebe, neben der Familie ist, zu reisen! ... Liebe, neue Orte zu besuchen und neue Leute kennen lernen, Bräuche und Traditionen ... eine Sache, die ich einfach nicht verzichten kann ist die Sonne und das Meer, ich gerne meine freie Zeit draußen zu verbringen .. Ich liebe Fotografieren Natur, Landschaften, Pflanzen, Blumen und Tiere ... manchmal Leute .... während der heißen Jahreszeit, verbringe ich meine Tage und meine Freizeit am Meer, ich mag, wenn menschenleeren Stränden, die in welche sich zu entspannen und genießen Sie die Sonne einsam .. Ich mag die Brandung und schnorcheln die Riffe, verbringe ich viele Stunden beobachtete den Meeresboden, Fisch und animierte Leben der tiefen, lieber als Momente der Stille, die die Seele füllt .. .
Ich mag den Menschen sprechen und erzählen von Orten besucht, ich mache es mit Leidenschaft, Fördern, in der erzählt, Emotionen und Empfindungen von mir erlebt und nur noch wenige Plätze in unserem schönen und wilden Umgebung bieten ... unser Land von archaischer Bräuche Fernbedienung der einfachen Leute, manchmal scheinbar rude people, aber gutherzige und aufrichtige aus der Seele, der Wert für die Familie und für die Liebe seines Landes machte ist viszeralen ... Ich bin auch Teil dieses: sardischen ... aber mit den Augen und dem Verstand des auf der ganzen Welt viel gereist!
Ich mag gutes Essen und ich liebe zu schlürfen Sie ein Glas Wein mit Freunden .. Ich mag die Idee des Bleibens forever young .. zumindest innen! Nicht verachten mit Freunden ... nicht sicher, ob ich mich langweile ich liebe meinen Partner und kind Riccardo , die konnte ich nicht verzichten!
Languages:
English, Français, Italiano
Response rate:
100%
Response time:
within an hour
Explore other options in and around Suaredda-traversa
More places to stay in Suaredda-traversa: