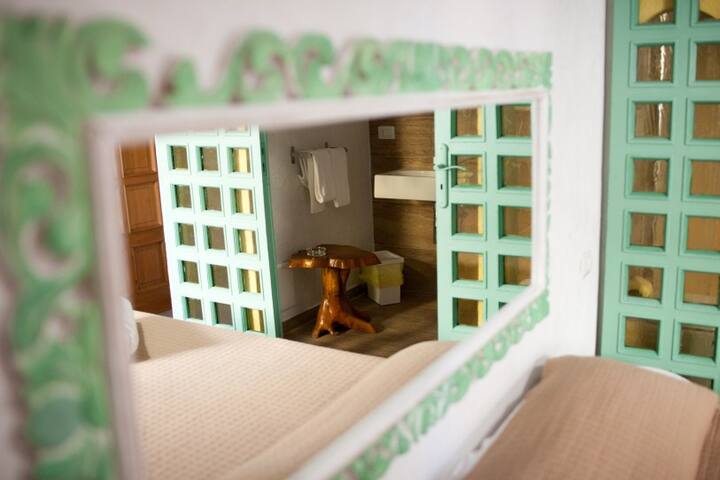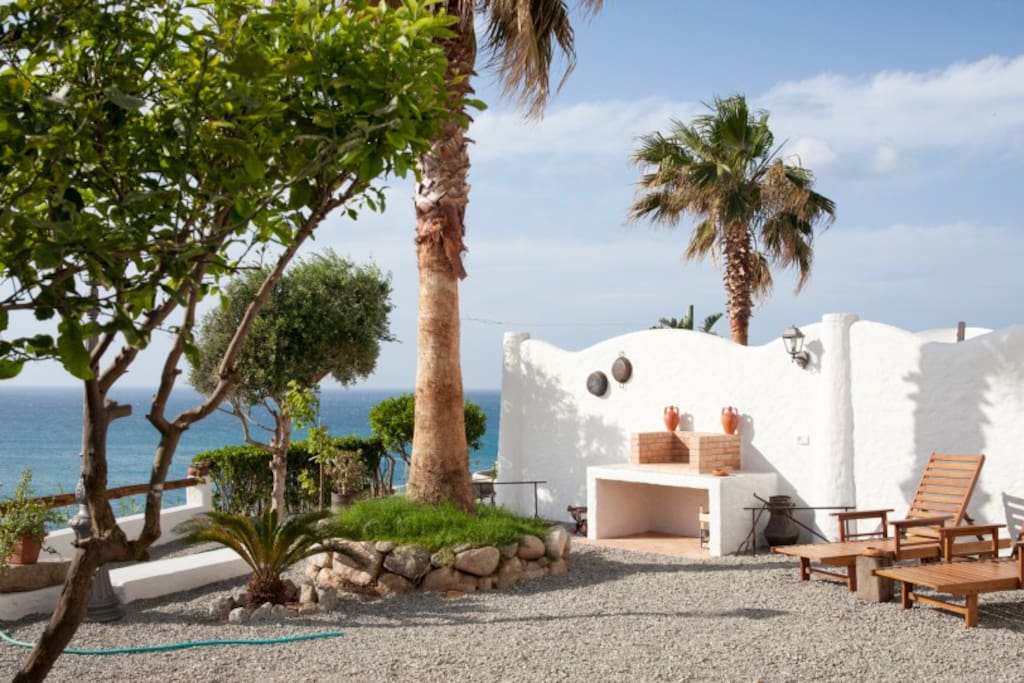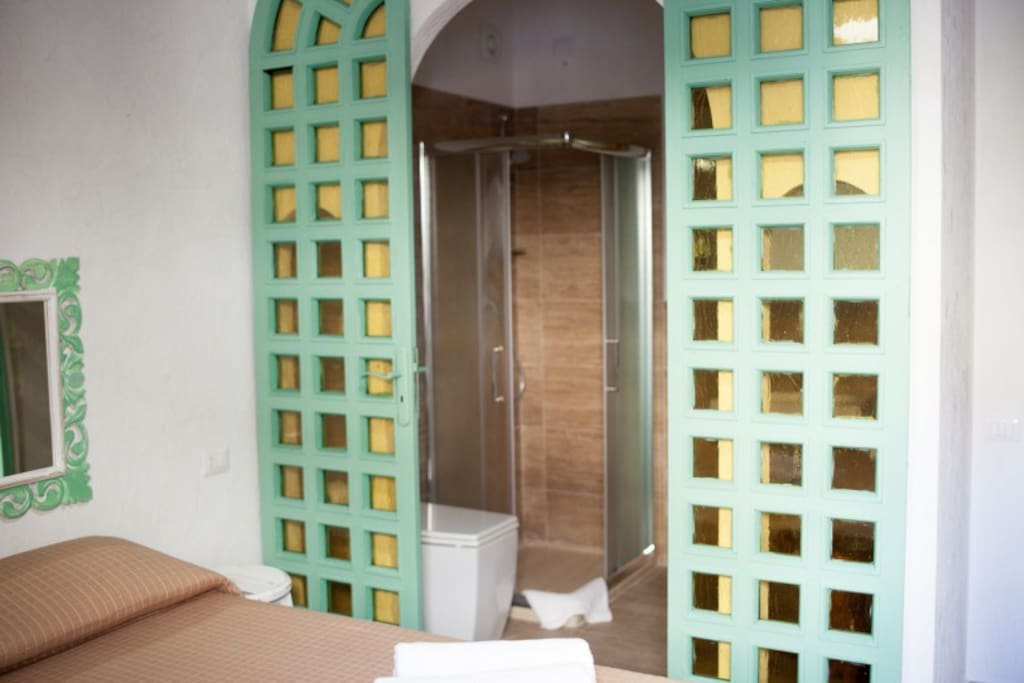 Renovated villa offers rooms with free Wi-Fi directly connected to the beach by a private stairway, a lounge area with a barbecue can be found on the panoramic garden with a stunning sea view, daily breakfast and room cleaning included, kitchen.
The space
Peacefully located only 2 minutes walking to the beaches and 5 minutes from Tropea's historical center, the garden has a stunning sea view. Wi fi, air con unites, 600 mt from Tropea's train station, we can organize your transfer from/to Lamezia Airport
Guest access
Common garden sea view, direct acces to the beach in 2 minutes, garden, kitchen, living room, outdoor dining area, bbq, wi fi, washing machine, air/con unites
---
Now that I think about it, it wasn't precisely what we (me and my boyfriend) expected. I think the pictures in the ad was the top floor, whereas we got a different room on the bottom floor, and we thought we would get our own kitchen. It wasn't a problem at all though! The room was very comfy and nice, the bathroom was nice but keep in mind that it has a water heater, in the bathroom that you can turn on and off, we used up all the heat before we discovered that this is how the water temperature works here so I had to shower in cold water at the end of the day haha. I loved the style of the room, very cosy. It had long white curtains and a door to the backside of the house where you sit and eat while looking out over the ocean. The view was incredible. This is such a beautiful place. I really liked that it was close to the beach, even the famous Tropea beach that has less painful sand to walk on, the water is truly crystal blue and there's small fish here that you can dive and look at. It was also close to restaurants that had amazing food. I was a bit worried with not having access to vegan food, but we found two markets (foodstores) rather close that actually had vegan milk. Don't worry if vegan, you'll always find something to eat here. We could use the kitchen which was good if you want to make food. Aircondition was highly appreciated. Some mosquitos, maybe three, that was really annoying but after a while we kind of just suffered though it so bringing some kind of mosquito protection would be good. Strangely you couldn't hear the mosquitos which helped with the sleep. The breakfast was absolutely delicious. The people were very kind and helpful! Also, there will be a tourist tax, so be mindful of that. Overall it was a perfect place for a romantic trip.
---
Our stay with Francesco in Tropea was great. The place was perfectly located with a literally 5 minute walk down to the beach via a private path and a 5 minute walk into downtown Tropea. The room was a good size - with so much to do there wasn't much time we wanted to spend in it besides to sleep! We enjoyed breakfast provided to us every morning eaten out on the beautiful patio overlooking the Mediterranean. I hope to stay here again in the future!
---
This space was great. The pathway to the beach was exactly what I was looking for. Its such a short walk down, and there was ample space to set up on the beach. The surrounding area is easily walkable and there was much to do in a short distance from the residence. The B&B was extremely clean, however my comforter had a light stain on it which led me to check to the rest of the mattress which seemed to be fine. Francesco was very helpful with arranging transport to airport in the early hours of morning, though the driver did request more than he and I had agreed upon once we reached it. Overall the experience in Tropea was wonderful, it's nothing short of amazing, and it's got small town vibes. You'll probably be recognized as a foreigner if you're not from Italy/don't speak Italian , because this sleepy, laid back town seems to be where Italians vacation-now I understand why ;]
---
Wow. Staying here was just about as close to perfect as you could hope for. A beautiful room in a private villa (there are 5 rooms total) with air conditioning, private bath, comfy bed and daily maid service, 10 minutes walk from the historic center, lovely breakfast every morning of fresh fruit, coffee, juice and pastries on a beautiful patio overlooking the sea, and a private staircase down to the beach. And Francesco is a warm and gracious host. He also helped us arrange transportation to Lamezia airport. We will definitely be back to Tropea... Don't hesitate to book this!.
---
Francesco is a darling, and he runs a lovely little B&B. The whole house was well decorated and comfortable, and our room was perfect for a one night stay. Easy access to the beach, a nice back patio with a view to the water. Breakfast was served in the morning by two lovely ladies who made sure we were well fed before heading out!
---
We had a great time in Tropea, thanks to the nice accommodation and to the short way to the city and the beach. I would definitely recommend to stay with Francesco but you need to make sure that you know which room you booked. For us only the room with balcony made sense. Fortunately, we could change the booking on our arrival day when we saw the initial room we booked (room without balcony, without see view, little dark, for me this wasn't clear in the description). Francesco gave us very good recommendations for restaurants which he visits too.
---
Response rate:
100%
Response time:
within a few hours
Explore other options in and around Tropea
More places to stay in Tropea: