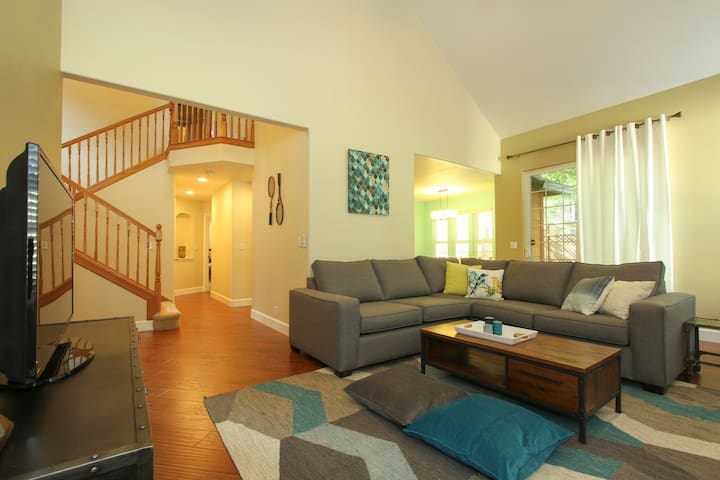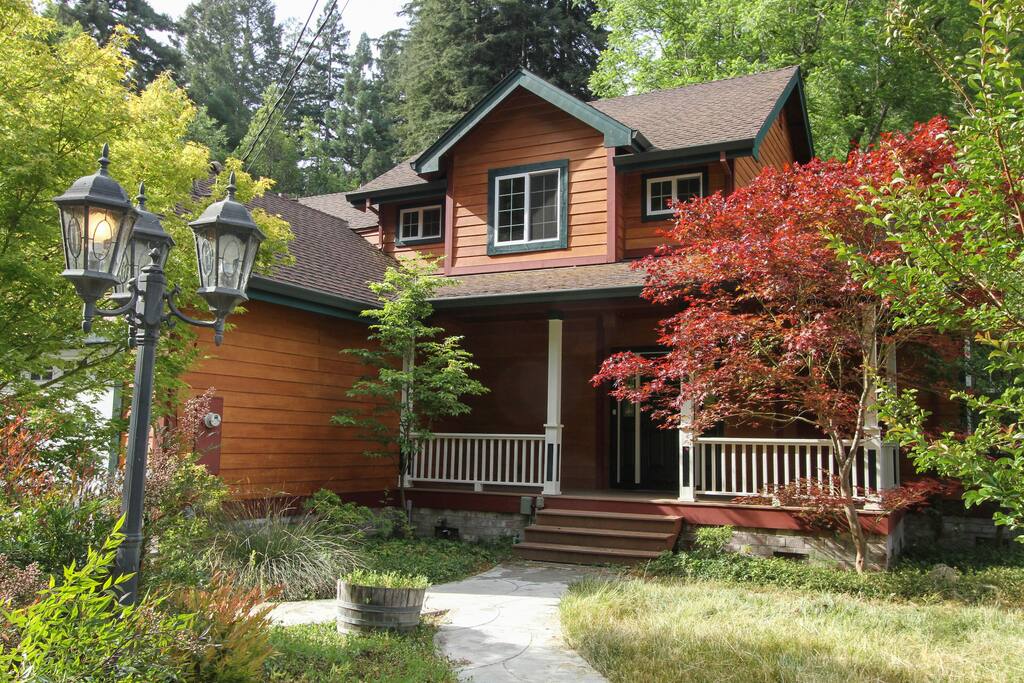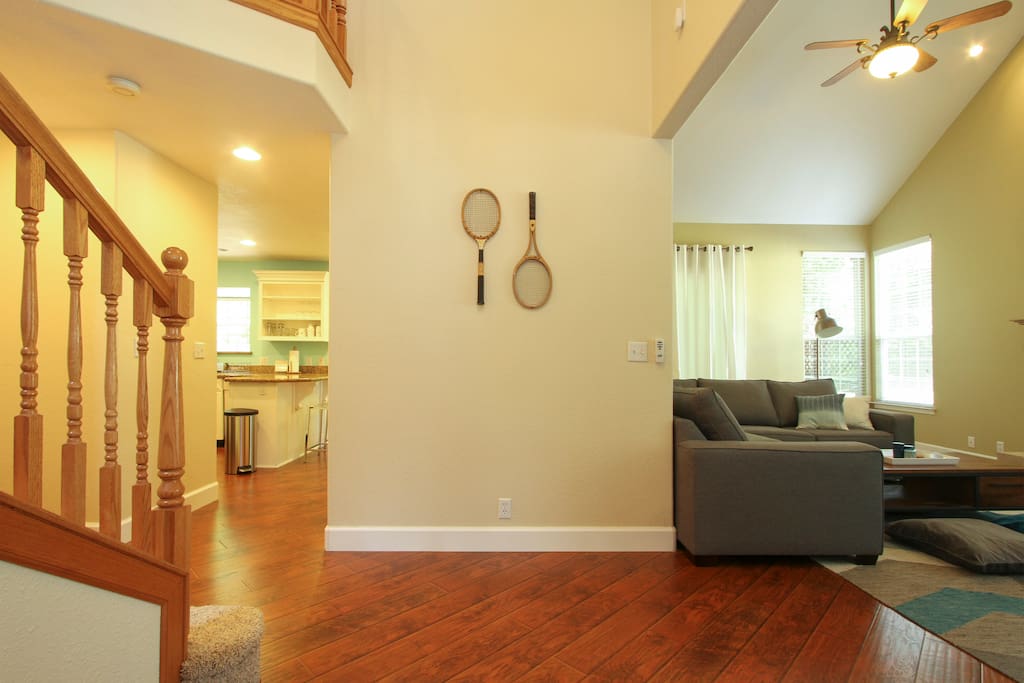 Stay 2 nights or longer and get an EXTRA NIGHT FREE! Offer good January through March 2017 (excludes holiday periods). Email us your desired dates to receive the special offer (subject to availability). From May 29 - Sep 4, 2017 the minimum stay is 6 nights.
The space
Our home combines country charm with modern decor and amenities. Sleeps 6 and includes a master bedroom with King bed, a bedroom with daybed that pulls out to king-sized bed, a bedroom with Queen bed, and a Queen sofa bed in the living room. 2.5 baths, including en suite bath with shower and jacuzzi tub in the master bedroom. BBQ or enjoy your morning coffee on our expansive deck with built-in seating, soak in our hot tub under the stars and trees, relax by the fireplace with our assortment of games, or browse Netflix and Pandora Radio on our flat-screen TV. Additional comforts include washer/dryer, central heat, wi-fi, and ceiling fans in bedrooms and living room.
Additional 10% for holiday periods. Contact us for details.
Guest access
Entire property except storage closet.
Interaction with guests
We are readily available to help with any needs or questions you may have. Helpful tips for your stay such as instructions and places to go are also provided when you check in.
---
---
Check in is anytime after 4PM
VACATION RENTAL AGREEMENT & INFORMATION SHEET AGREEMENT: Russian River Rentals, on behalf of the owner of home being booked, and Tenant of this home, agree as follows:
GENERAL: Tenant is an adult and will be an occupant of the unit during the entire reserved period. Tenant is responsible for all other occupants using the premises and agrees not to have any more than the specified amount of adults or children staying overnight at this unit. No keys will be issued to anyone who is not an adult. Tenant agrees that any breach of this contract may result in the tenant being liable for any additional damages. Commercial use of our homes is strictly forbidden without a contract for the specific use.
PETS: Homes that allow pets require an additional pet fee of $50/pet. TENANT MUST CLEAN UP AFTER HIS/HER PET, that includes properly disposing of all waste material. If any waste material is found on the property after your stay, you will be charged at $15 per waste matter picked up. In addition pets are absolutely not allowed on ANY furniture at any house. Any extra cleaning required as a result of tenants' pet will be charged at $25 per hr. This includes, but is not limited to dog hair and odor. Tenant must maintain control of his/her pet at all times. Per Sonoma County Vacation Rental ordinance, pets may not be left alone in vacation rental homes.
WEATHER-RELATED CANCELLATIONS: Tenant acknowledges that the Russian River is prone to flooding in the winter months, and that on rare occasions bookings must be cancelled based on the threat of flooding. Because such cancellations are due to an act of God, which is beyond the control of either Tenant or Russian River Rentals, Tenant agrees to accept a credit for any unused days of the booking. Such credit may be applied to an equal number of days at any future time except summer holiday weekends (Memorial Day, 4th of July, Labor Day). Please note that our cancellation policy is in effect immediately upon booking.
CHECK IN: Check in time is 4:00 PM. Early check in times are allowed only with prior approval, and we cannot guarantee that we'll be able to arrange for early check in times. All hours prior to 4pm are charged at $20 - $30 per extra hour depending on the home. Please call for details and to make early check in arrangements. You will be charged at $50 per hour for all hours prior to 4pm if you have not made early check in arrangements in advance.
CHECK OUT: Check out time is 11:00 AM. Late checkout times are allowed only with prior approval, and we cannot guarantee that we'll be able to arrange for late checkout times. All hours after 11am are charged at $20 - $30 per extra hour depending on the home. Please call for details and to make late check in arrangements. You will be charged at $50 per hour for all hours after 11am if you have not made early check in arrangements in advance.
CLEANING: Each property will be inspected and cleaned after your departure. The cleaning fee pays for the washing of linens and towels, the making of beds, dusting, vacuuming, cleaning the bathroom(s)and hot tub maintenance. You are responsible for WASHING DISHES, cleaning the stove, microwave, coffee maker, and BBQ, if you used them. You are required to leave the property in the same general condition that you received it by making sure that all dishes are done and put away, the home is generally picked up and ready to be vacuumed, counter tops are soil free, and all trash has been taken out. If additional cleaning is required, you will be charged at the rate of $25 per hour. Please note that cleaning fees are double for stays of 2 weeks or more.
TRASH: Trash receptacles at each house are standard sized cans appropriate for one week of trash. Trash pick-up occurs weekly at all houses. ALL TRASH MUST BE LEFT IN THE OUTSIDE GARBAGE RECEPTACLES. Please note, the house info that you are sent, and/or the notes you will find in the home will let you know what day garbage pickup is. If you can't find this info, please phone to ask us what day trash pickup is. If you are staying at a home on garbage pickup day, you are responsible for taking the garbage out to the street ready for pick up. If you generate more trash/recycling than the provided receptacles can accommodate, you must take the excess with you or you will be charged a $25 per bag trash hauling fee.
HOT TUBS: The hot tub is emptied and refilled on average once a month and checked/cleaned once a week. Tenant is responsible for making sure that tenant and tenants' guests enter the hot tub completely clean and that there are no spillages in the hot tub. NO CHILDREN UNDER THE AGE OF 7 ALLOWED IN HOT TUBS. Tenant agrees that if the hot tub needs to be emptied and refilled as a result of tenant or tenant's guests causing excess dirtying to the water, tenant agrees to pay $100 for the emptying and refilling of the hot tub. Russian River Rentals makes every effort to supply you with a hot tub in good operating condition. Occasionally, unforeseen circumstances may render our spas inoperable. RRR regrets
these unusual inconveniences but cannot offer compensation in such cases.
TELEPHONES: You may use phones if provided for local calls only; YOU MUST USE A PHONE
CALLING CARD TO MAKE LONG DISTANCE TELEPHONE CALLS unless otherwise stated in a
particular home's guest book.
WHAT WE SUPPLY: The property is equipped and set up as a fully furnished property that will include
quilts, comforters or blankets, bedspreads, linens, pillows, bath towels, living / sleeping furniture and a
fully equipped kitchen. You may not take towels provided out of the house, please bring your own beach
towels. THE CLEANER HAS A CHECK LIST AND KEEPS COUNT OF ALL THE ABOVE
PERSONAL AND REAL PROPERTY ITEMS, YOU WILL BE CHARGED FOR THE REPLACEMENT
OF ANY BROKEN OR LOST ITEMS.
WHAT YOU SHOULD BRING: Beach towels, (please do not take bath towels out of the house),
personal toiletries, consumables and all other personal property needed for your stay.
TENANTS LIABILITY: Tenant agrees to accept liability for any damages caused to the property by
tenant or tenant's guests, including, but not limited to: broken furniture/fixtures, landscaping, misuse of
appliances, and kitchenware. Tenant agrees to accept liability for any items lost or stolen by tenant or
tenants' guests, including, but not limited to: Linens, towels, kitchenware, keys, boats, paddles, and beach
chairs. If damages beyond those covered by the Damage Fee, tenant agrees to reimburse Russian River
Rentals for costs incurred to repair / replace damaged or missing items.
SLEEPING CAPACITY / DISTURBANCES: Tenants and all other occupants will be required to
vacate the premises and forfeit all monies paid for any of the following: A: Occupancy exceeding the
sleeping capacity stated above under the "reservation confirmation" sections. B: Using the premises for any
illegal activity including, but not limited to, the possession, serving or consumption of alcoholic beverages
by or to persons less than 21 years of age. C: Causing damage to the premises rented or to any of the
neighboring properties. D: Any other acts which interferes with the neighbors' right to quiet enjoyment of
their property, including noisy activities after 10 pm.
VACATION RENTAL ORDINANCE: Tenant acknowledges that s/he is aware of and agrees to comply
with Sonoma County's Vacation Rental Ordinance, which requires each vacation home to have a vacation
rental permit. The requirements of the permit include, in pertinent part: 1) quiet time 10pm-9 am; 2) no
amplified sound at any time; 3) parking limitations (detailed in directions to each house); 4) maximum
daytime occupancy limited to overnight occupancy + 6. Violation of the vacation rental permit may result
in eviction.
TENANTS RESPONSIBILITY: Tenant is responsible for notifying us immediately of any defective
utilities, fixtures, or any other problems relating to the property, or personal property. Russian River
Rentals cannot be held liable, or responsible for compensation, for problems at the property prior to
notification by the tenant. Russian River Rentals will endeavor to remedy any problem within 24 hours. In
no event will we issue a refund for a problem we had no opportunity to resolve.
Tenant is responsible for locking all doors and windows upon every temporary or permanent departure.
Tenant is responsible for returning all watercraft to its original place of origin after each usage, and for
locking up all watercraft found locked upon their arrival after each usage. Upon your final departure please
take all trash into the outside garbage receptacles and leave the trash cans on the street ready for pick up,
you will be charged a $20 for any irregular trash pickups by the local waste company should you forget to
put the garbage out, and $20/bag (up to $100) for excess trash. Lastly, please load the washing machine
with one load of used towels upon your departure. Your fulfillment of these requirements is greatly
appreciated.
USE OF HOT TUB AND PATIOS: Tenant hereby acknowledges that if the property they have reserved
includes a hot tub, the undersigned is fully aware that the hot tub and surrounding patio / deck can be
dangerous, that the deck / patio can be slippery when wet, and that injury is likely to occur to anyone who
is not careful. With full knowledge of the above acts and warnings, the undersigned accepts and assumes
all risks involved in or related to the use of the hot tub and surrounding areas.
BOATS AND WATER TOYS: Tenant hereby acknowledges that if the property they have reserved
makes available any boats or water toys for their enjoyment , the tenant agrees that they are fully aware that
usage of these amenities can be dangerous and Tenant hereby holds harmless Russian River Rentals and the
owner of above said property for any and all claims, demands and causes of action by reason of any injury
or whatever nature which has or have occurred, or may occur to the undersigned, or any of his/her guests as
a result of, or in connection with the usage of boats and/or water toys made available by this property for
their use.
UNIT CHANGES: Russian River Rentals reserves the right to move guests to a comparable unit when
circumstances occur beyond our reasonable control. (See also "Cancellations and Refunds" above.)
HOLD HARMLESS: Russian River Rentals and Owner do not assume any liability for loss, damage or
injury to persons or their personal property. Neither do we accept liability for any inconvenience arising
from any temporary defects or stoppage in supply of water, gas, electricity or plumbing unless the
temporary defect is not corrected within 24hrs of tenant notifying Russian River Rentals of the defect. If
the defect is not fixed within 24hrs of tenant's notification, Russian River Rentals may offer some form of
compensation for prolonged inconvenience. Tenant agrees to hold harmless Russian River Rentals for any
loss or damage caused by weather conditions, natural disasters, acts of God, or other reasons beyond its
control. Tenant also acknowledges that on occasion a particular house may be unavailable for a variety of
reasons and in such circumstance Tenant agrees to accept comparable accommodations in lieu thereof.
RELEASE OF LIABILITY: The Tenant, for himself/herself, his/her heirs, assignors, executors,
and administrators, fully releases and discharges Owner of above said property, and Russian River Rentals
from any and all claims, demands and causes of action by reason of any injury or whatever nature which
has or have occurred, or may occur to the undersigned, or any of his/her guests as a result of, or in
connection with the occupancy of the premises and agrees to defend, indemnify, and hold Owner and
Russian River Rentals free and harmless of any claim or suit arising there from. In any action concerning
the rights, duties or liabilities of the parties to this agreement, their principals, agents, successors or
assignees, the prevailing party shall be entitled to recover reasonable attorney fees and costs.
Tenant acknowledges that he/she has read the above agreement and agrees to fully comply with all rules
and regulations. Tenant understands that this document entitled "Vacation Rental Agreement & Information
Sheet", together with the Booking Form, is a contract that becomes binding upon Russian River Rentals'
receipt of tenant's check or credit card information.
HOUSE RULES: A few of our properties have additional house rules specific to their property, these
rules will be addressed with separate "House Rules" that will be emailed to you. The House Rules for any
given house are incorporated into the Agreement by this sentence.
REMEMBER THAT YOU ARE RENTING A PRIVATE HOME. PLEASE TREAT IT WITH THE
SAME RESPECT YOU WOULD LIKE SHOWN TO YOUR OWN HOME.
If receiving this rental agreement and information sheet via electronically, it is not necessary for you to sign, date
and send it back to us. Please note that this contract is in effect upon booking: When you
make a reservation for one of our homes, you are agreeing to all terms and policies
stated in this contract. This includes, but is not limited to, our cancellation policy.
End of VACATION RENTAL AGREEMENT / Information Sheet

FAQ
I'd like to rent a riverfront home. How much highway noise will I hear from the house?
The 116 Highway/River Road runs from the 101 Freeway out to the Pacific Ocean. The highway hugs the river most of the way. For the most part,
riverfront homes that are on the highway side of the river will receive the most road noise. The majority of homes in the Russian River resort area
receive some level of "white noise" as the river and highway are in a canyon. If you're especially sensitive to "white noise", feel free to contact us and
we can discuss what homes will be the best fit.
I plan on barbecuing. Do I bring charcoal for the barbecue? What do I need to bring for gas grills?
Propane is provided for gas grills. If you need to refill the canister during your stay, there are two locations. For Guerneville and Forestville propane
canister refills, visit True Value/Dada Hardware ((PHONE NUMBER HIDDEN) on River Road in downtown Guerneville. For Monte Rio, Cazadero and Duncans
Mills homes, visit Cassini Ranch Campground ((PHONE NUMBER HIDDEN) Moscow Road, Duncans Mills. Be sure to ask for and keep your receipt for
reimbursement after your stay. Only refills for existing tanks will be reimbursed with proof of receipt; please do not purchase a new canister or tank
without prior office approval.
Homes with charcoal grills do not include charcoal or lighting fluid. You may purchase charcoal at any number of locations including Safeway,
Berry's Market, Bohemian Market, and Bartlett's.
Are linens, towels, dishes and toiletries provided? What should I bring?
Yes; linens, towels, dishes, cookware, glassware, and silverware are provided. Generally, homes include "the basics" in terms of cooking utensils
and housewares. Be sure to bring any specialty cooking gear and spices. All homes include a microwave, toaster, barbecue (either gas or charcoal),
coffee maker, and TV (cable may not be included). With the exception of hand soap, toiletries and hair dryers are not provided. A starter supply of
toilet paper, paper towels, dish soap, dishwasher soap (for homes with dishwashers), laundry detergent and trash bags is included in the rental. Unless
specified, firewood is not included with most homes, but can be purchased at many of the local markets and grocery stores.
Where is the nearest market or grocery store?
A large 24-hour (limited hours on holidays) Safeway is on River Road in the main strip of downtown Guerneville. Smaller markets such as Berry's
Market in Forestville on Hwy 116, Bartlett's General Store in Monte Rio and Bohemian Market in Occidental are also good for quick trips. Guests
staying in Occidental have the option of nearby Sebastopol (15 minutes drive) for a larger variety of markets (Whole Foods, Safeway, etc.)
Where can I rent canoes and/or kayaks?
Burke's Canoes ((URL HIDDEN) in Forestville and King's Sport and Tackle in Guerneville
(URL HIDDEN) Both companies currently offer guided tours as well as drop off and
pick up shuttle locations.
What time of year can I use the watercraft if it's included with the home?
Kayaking and canoeing at the river is seasonal. May through September is usually optimal, but is entirely dependent on weather and river conditions
and will vary year to year. When the river reaches a stage that is too high or the current is too swift, watercraft is stored for the winter. As a general
rule, the river conditions November through March are too dangerous even for experienced kayakers.
Can I check-in earlier than 5pm or depart later than 11am?
The check-in and check-out times are firm during the high season (Memorial Day through Labor Day). During the low season, early arrivals and late
departures are contingent on whether a guest is arriving or departing at the same home on the same day. To request an early check-in or late checkout,
please contact our office no more than a day or two prior to your arrival date and we'll check availability at that time.
Are cribs, highchairs and pack n' plays provided?
Cribs, pack n plays and highchairs are available only at specific homes. Please check the amenities section on the home's web page, or phone our
office for assistance.
Do all homes come with cable and/or internet?
Cable, satellite and internet service availability will vary from home to home. Please contact our office for assistance if you're looking for a specific
service. As the Russian River resort area is such a rural area, internet service is often very limited and unreliable with significantly slower speeds and
data limits in some locations. Connectivity and speed are dependent upon many factors including weather, obstruction, noise, usage and so on.
If I have a service question or need help with operating electronics or an appliance in the house, what should I do?
Each homeowner provides a guest guide or handbook in the home. Information such as how to connect to the internet; operate the DVD player; and
other details about the home are usually contained within. If you need additional assistance, please contact us 7 days a week at (PHONE NUMBER HIDDEN) so we
may contact the homeowner on your behalf. If your matter is urgent, please leave a message on our main line but also call the emergency number on
our outgoing message.
Will the hot tub be ready when I arrive? If I have questions about it, who should I call?
All homes with hot tubs are required to have tubs professionally serviced by a licensed company. Hot tub maintenance occurs on a weekly basis. If
you have questions about how to operate the hot tub, contact information for the hot tub company is posted next to the hot tub or in the in-home guest
handbook. You're also welcome to call our office at (PHONE NUMBER HIDDEN) and we're happy to contact the service on your behalf.
Where is the nearest hospital?
Palm Drive Hospital, 501 Petaluma Drive, Sebastopol ((PHONE NUMBER HIDDEN) or Santa Rosa Memorial Hospital, 1165 Montgomery Drive, Santa Rosa ((PHONE NUMBER HIDDEN).
Can you recommend any restaurants in the area?
Yes. Visit our "Things to Do" page here: (URL HIDDEN)
How deep is the river where I'll be staying?
The river levels can be as impossible to predict as the weather as they are constantly fluctuating from year to year and week to week. For current river
conditions, visit (URL HIDDEN)
Will my cell phone work at the house?
Cell phone reception in the river area is extremely spotty, and will vary from cell phone to cell phone. Cell phone reception depends on the cell phone
carrier, type of service and type of cell phone.
I'm on a tight budget; can I clean the house myself and forgo the cleaning fee?
For quality assurance purposes, all homes are cleaned by approved cleaning personnel only. We offer homes that fit almost every budget. If you're
under strict monetary constraints, please contact one of our agents; we're happy to help you find an economical home to fit within your budget.
Can I fish in the river?
Yes. The Russian River is a barb-less hook river year-round. Steelhead, Bass, Catfish and Bluegill populate the river. Check with the California
Department of Fish and Game (URL HIDDEN) for specific rules and regulations. Guided fishing tours; free fishing maps; up-to-date fishing
information; and reel and rod rentals are available through King's Sport and Tackle in Guerneville (URL HIDDEN)
%26_Tackle/Fishing.html).
Can I ship boxes or send mail directly to the vacation home?
The major mail carriers won't deliver to vacation homes. However, you can ship parcels to Guerneville Parcel Box for a small handling fee per box
((URL HIDDEN) or to the Shipping Station in Forestville ((PHONE NUMBER HIDDEN).
What is the environment/wildlife like at the Russian River?
The Russian River is a rural resort area that is beautiful and woodsy surrounded by ancient redwoods that's ideal for nature lovers. You can enjoy the
sun, go on a wine tasting adventure, hike trails, kayak or just enjoy the slow pace of getting away from it all. You won't find manicured lawns or
gated communities here. Most cabins and homes are in the woods in their raw natural state.
With such beautiful natural surroundings, brings the presence of wildlife. You can watch the osprey from Osprey Hill or you might spy an otter
floating on its back down the river. Butterflies, deer, hawks and other wildlife are often spotted. If you're a wildlife enthusiast, you're in for a treat.
The forest also is home to some pesky and pesty critters too. Spiders are especially prolific in such a forested area, and can hide during the day and
rebuild webs nightly. Ants, scorpions and wasps are commonly found as well. Ants can appear in a house unexpectedly at anytime especially during
the rainy season. If you should encounter ants during your stay, just phone our office for assistance.
There are also a healthy population of raccoons. Raccoons are adept at rummaging through trash and are persistent and clever in finding new ways to
thwart raccoon "proofed" cans. Coyotes, bobcats and mountain lions roam the area, and as such, small dogs should not be left unattended outside.
There are lots and lots of trees! Enjoy a hike or horseback ride through Armstrong Woods or zip line through the redwoods in Occidental. With so
many trees around, you can also expect to see lots of leaves especially in the fall and winter seasons. Of course, our housecleaners sweep regularly,
but leaves will easily cover a deck or yard within a day or two.
What about the drought in California?
While the river is never dry, it's sometimes too shallow to float kayaks in certain areas. The Russian River is a managed river system with reservoir
releases controlling river flows, especially throughout most of the summer and fall. When tributary stream flows are low, the Water Agency releases
water stored in the reservoirs to supplement the natural flows in the Russian River to provide adequate flows for water supply, recreation and aquatic
habitat. The river levels are usually very low in Spring and early Summer. Depending on the conditions, dams are installed in the river sometime in
June (which slows the current and raises river levels for recreation) and removed in September.
Where can I rent bicycles in the area?
(URL HIDDEN)
---
Response rate:
100%
Response time:
within an hour
Explore other options in and around Guerneville
More places to stay in Guerneville: