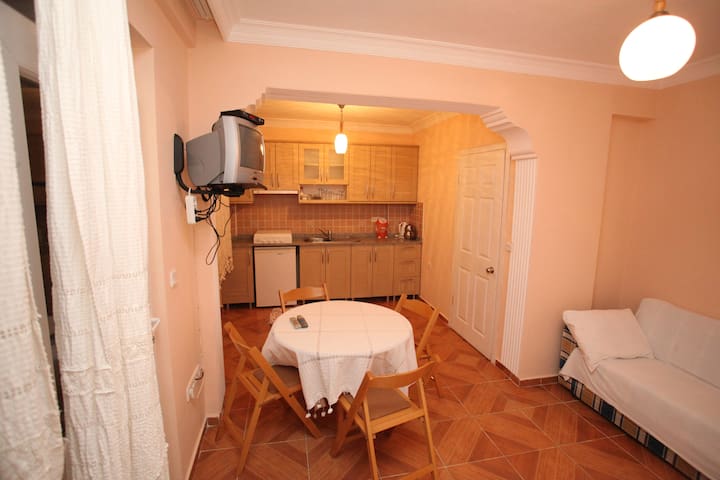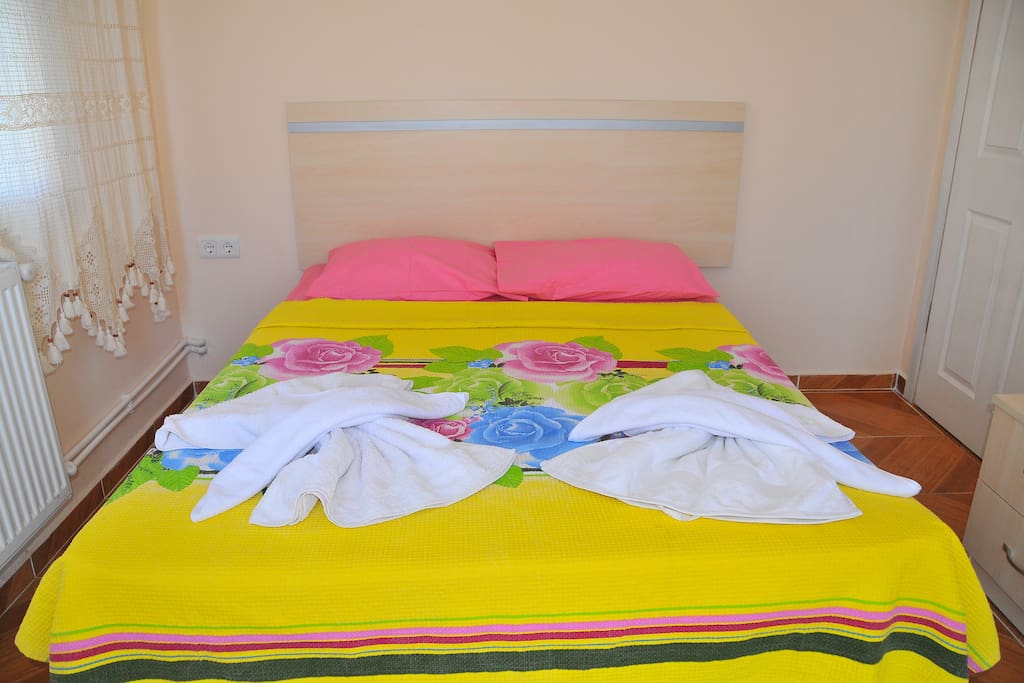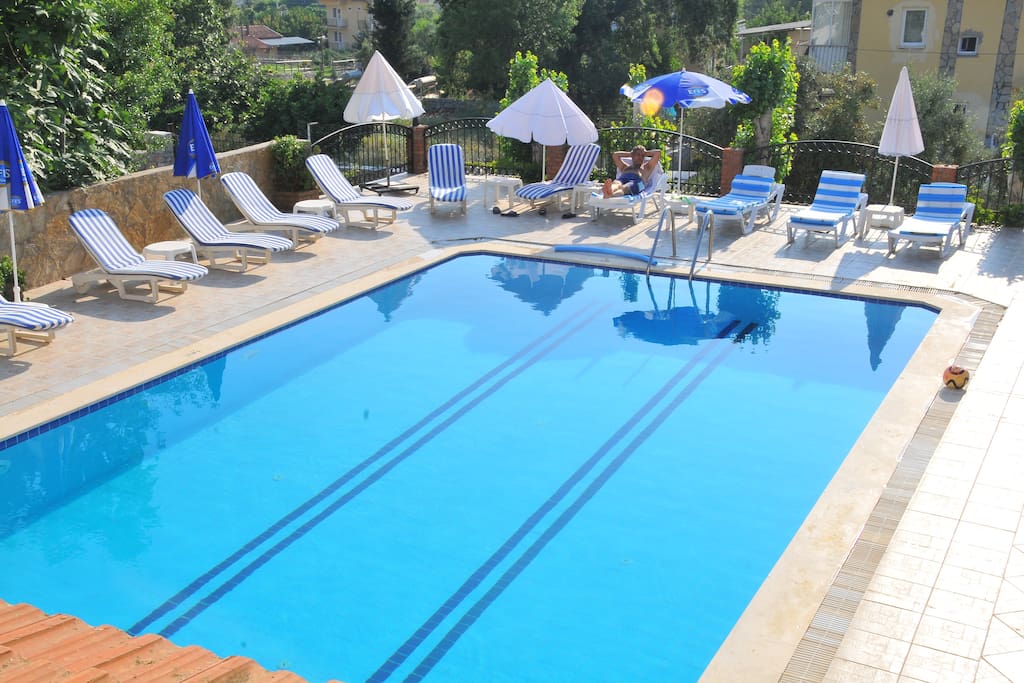 About this listing
Babadağ'ın eteğinde yer alan apart otelimiz Likya yolu - Yamaç Paraşütü - Hisarönü Gece Eğlence Merkezlerine - Ölüdeniz Tekne Turları - Saklıkent Kanyon Turu - Kayaköy Antik Kenti ve saymadığımız birçok aktiviteler mevcut ve ayağınızın hemen altında.
---
---
---
Always communicate through Airbnb
To protect your payment, never transfer money or communicate outside of the Airbnb website or app.
Learn more
---
Flexible
Cancel up to 24 hours before your trip and get a full refund. Cancel within 24 hours of your trip and the first night is non-refundable.
---
---
Ev sahipliği fena değildi. Havuz gayet büyük ve temiz. Ancak fotoğraflarda görülen odalardan farklı odalar veriliyor. Bize verilen çatı katıydı(belirtilmediği halde) ve diğer odalardan daha vasattı. Çatı katının fiyatı farklı olmalıydı.Yatak odalarından sadece birinde klima vardı ve bebeğimiz olduğu için çok zorlandık.Banyo-tuvalette havalandırma dahi yoktu.Fotoğraflarda gösterilen bulaşık makinesi,çamaşır askılığı vb birçok şey yoktu bunlar bi kenara duşakabini geçtik duşbaşlığı asacak yer bile yoktu.Heryerden hamamböcekleri çıktı.Otel temizliği çok vasattı.Ortak kullanıma açık görünen şeyleri kullanamıyoruz.Otel işletmecisinin kızı çok saygısız ve kabaydı.Kesinlikle gelmeyin. The host is hospitable. The house is small hotel, isnot home. Pool is enough big. But the rooms are not as it looks in the photos and we were given a penthouse room. If we knew we would not buy this room (penthouse). The price of the penthouse had to be cheaper and it had to be mentioned on the airbnb. Penthouse have only one air conditioning, non-ventilated toilet/bath, no dishwasher, no clothes hanger and rooms were very hot. There was not even room in the shower to hold the shower head. There were cockroaches everywhere. Room cleaning was very bad. The hotel owners had their own personal items and hotel supplies together, so they had difficulties in their use. The hotel owner was very polite and helpful but his doughter was unnecessarily sincere and in fact very rude and disrespectful. Definitely choose another hotel and do not regret it.
Oncelikle her musterimizin dusuncelerinize onem verip degerlendiriyoruz bunun icin tesekkur ederiz.Fakat sizin belirttiginiz bazi konularda abarti vardir.cati kati apartimiz diger apartlarimiz gibi temiz ve genis bir aparttir fotograflarda hem cati kati apartimiz hemde diger apartlarimizdan ornekler vardir eger siz geldiginizde bizim tercihimiz cati kati degilde diger apart lardn biri deseydiniz zaten apart odanizi degistirirdik buna ilaveten madem dus taki asma aparatimiz yoktu keske soyleseydiniz hemen yerine birtane takardir ayrica yukarida hamam bocegi olma gibi sansi yok otel bir aile isletmesi temizlik bizim icin cok onemli madem bu kadar rahatsiz oldugunuz seyler vardi neden bize bildirmeyip sonradan abartili sekilde hakkimizda kotu dusunceler yaziyorsunuz ??? Otel isetmesinin kizini da bu sekilde kotuleme hakkiniz yok kardesim kesinlikle kaba bir kisi degildir size sadce yurutecei apartta degilde asagida restauratta kullanabilirmisiniz birazdan ablam ve yigenim gelcek onlar kullnirlar demis ve sizde tamam ozamn demissiniz bunda ne gibi kotuluk gordunuz acaba?Tabi siz de bu durumdan hosnut olmadiginiz icin hemn turk milleti olarak konuyu abartip kotuleme pesindesiniz ben otel isletmecisinin diger buyuk kiziyim ve bebegininde yürüteci otelde kalmisti ve yurutecin ortak kullanima girdigi nerde gorulmus dogal olarak bebegin esyasini kimse kullanamaz hijyen gerektiren bir konu bu tur seyler ki siiznde bebeginiz var bunu benden daha iyi biliyor olmaniz gerek mama sandalyesi zaten ortak kullanimda havuzda ayni sekilde fakat bebegimin kucuk sisme havuzunu da alma hakkiniz yok tabiki madem aldiniz sisme havuzu havuzun yanina tasir ve sonrasinda kovayla icine suyu koyabilirsiniz ama siz ne yapmissiniz sisme havuzun icine suyu koyup surukleyerek tasimissiniz ve sisme havuzu patlatmissiniz oysaki onun yerine havuzun kenarinda iki tane daha sisme buyuk havuz vardi onalri kullanabilirdiniz lutfen otelimiz icin boyle karalayici dusunceler yazmasaydiniz keske kimsenin hakkini boyle yemeseniz biraz dogrucu olalim lutfen
---
Languages:
Deutsch, English, Español, Français, Nederlands, Polski, Türkçe, Русский
Response rate:
100%
Response time:
within an hour
Exact location information is provided after a booking is confirmed.
Explore other options in and around Ölüdeniz
More places to stay in Ölüdeniz :