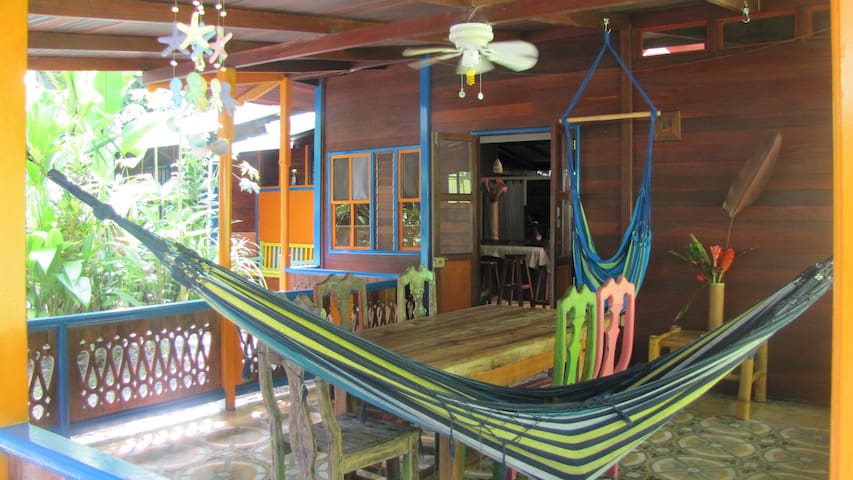 Comfortable home in quaint beach village, short walking distance to a picture perfect beach, grocery store, restaurants, surrounded by nature and wildlife. Perfect for a family or group of friends. Will appeal to the off the beaten path travellers. Fully equipped kitchen, hot shower, flat screen TV (with HDMI cable for your own devices - no cable service), upgraded Wifi internet, comfortable porch with large dining table. Personalized attention before arrive and throughout your vacation.
The space
At Casas La Selvatica we offer an unforgettable rainforest immersion experience. Beyond comfortable accommodation, you will experience the sounds, scents and sights of the jungle with its amazing flora and fauna. Better yet, you will be only minutes away from a picture perfect beach, grocery store and restaurants. The setting is ideal for couples or families who appreciate the comfort of an entire home rather than a hotel room, and the cultural experience of living in an actual local neighbourhood, surrounded by locals.
Playa Chiquita is an idyllic beach village, ideally situated on one of the most picturesque stretches of the Caribbean Coast of Costa Rica. This quaint location could not be more convenient for travellers, whether bound for an eye opening experience of nature, wildlife, culture or just pure relaxation. The village is located on the edge of the Gandoca-Manzanillo Wildlife Refuge, a protected nature reserve which is home to numerous species of animals, birds and plants. It is also only 4 miles/ 6km South of the happening town of Puerto Viejo, the epitome of a laid back Caribbean place, a melting pot of cultures and a great place for contracting tourist services.
Casa Grande has two bedrooms, one bath and two dens, comfortably accommodating up to five people. There is a fully equipped kitchen and a large outdoor dining area.
If you seek serenity, while enjoying the convenience of a picture perfect beach and services within a few minutes walk, this is the place for you.
We offer the following, along with your accommodation:
- exceptional, prompt traveler assistance, from the time of the initial contact until check-out;
- wireless high speed internet
- on site English/Spanish speaking host available to provide information, assist with activities booking, etc.
- coffeemaker, toaster over, blender and kettle
- digital metal safe for secure storage of your valuables
- high quality towels and bedding
- complimentary laundry service provided by our caretakers for vacations of minimum 7 days; for shorter vacations, the service is available for $5/load (washing, drying and folding)
- two hammocks on the porch
- use of cell phone (with a calling card for international calls available at nearby grocery store)
- bike rentals available at nearby grocery store (3 min walk away).
We would love to customize your vacation according to your needs. If you are celebrating a special occasion or would like to pleasantly surprise a loved one, we can provide additional services as required (tea lights, bottle of wine, local handmade organic chocolate, etc.) or arrange for a romantic dinner or spa package before your arrival.
Thank you for considering Casas La Selvatica and the Caribbean Coast of Costa Rica as your potential vacation destination. You will discover a fascinating country, with amazing nature and wildlife, a vibrant culture and will get re-connected with the meaning of pure life.
Please review the terms and conditions listed under "House Rules" and kindly let us know if you have any questions. By submitting a reservation request and payment, the renter acknowledges review and agreement to the terms listed under "House Rules".
Interaction with guests
This is a self-contained home located on a property which hosts another vacation rental home as well as a caretaker suite. Guests enjoy full privacy. The Host is present at check-in, check-out and visits daily for assistance and information.
Other things to note
Frequently Asked Questions:
1. What is this area like?
As most travel guides describe it, the Southern Caribbean is the right combination of picture perfect beaches, spectacular wildlife and proverbial laid-back attitude, spiced-up with a surprisingly active music and restaurant scene. The area is a paradise for outdoor enthusiasts, offering countless low ecological impact activities. This part of the country enjoys a lower level of development when compared with the Pacific Coast, and might catch by surprise unsuspecting travellers expecting all inclusive or high end resorts. While this type of accommodation options are also available, they are not prevalent, hence the true laid back attitude of locals and travellers alike.
2. How do I get there? Is a car needed?
A rental car is not necessary. You can get here from San Jose by public transit, door-to-door minivan service, driving a rental car or by private transfer (we can arrange that for you!). Most travellers choose the public transit, which is convenient, reliable and inexpensive. As a rule of thumb, if your intention is to get here on the bus, you will have to chose flights landing in San Jose no later than 2pm to catch the last bus of the day to Puerto Viejo. Similarly, if you want to leave Playa Chiquita on the day of your flight, you will have to catch a flight departing no earlier than 2pm. For flights outside these windows, you will need to spend the night in San Jose. Please inquire if you have any specific questions about transportation.
3. What is the weather like? Do the houses have air conditioning?
'The only thing that is constant is change"...this could not be more true about the weather in this part of Costa Rica. Overall, this is a tropical rainforest environment, with not so distinct dry and rainy seasons. One can expect that the average daily temperatures will be around 30C (85F) and 20C (70F) at night throughout the year. The amount of rain varies, however most precipitations come in torrential showers followed by sunshine. There is significant humidity in the air at all times.
Similar to 98% of vacation homes owners in the area, we did not find air conditioning necessary. The houses are built with air vents for natural ventilation. The average nightly temperature of 20C (70F) is comfortable for a restful sleep. For the occasional hotter evening, ceiling/wall fans are available in every room.
4. What is there to do? What activities are available?
Most travellers come here to enjoy the beaches and to explore the amazing flora and fauna of the surrounding rainforest. The area is also popular with surfers and yoga practitioners. It is a perfect spot for a romantic getaway, as well as a a very convenient location for a family vacation. Some of the most popular activities are snorkelling the coral reef, zip-line canopy tours and jungle hikes, river rafting, visiting the nearby wildlife rescue center (located within walking distance from La Selvatica) or night time turtle watching, to name only a few. On a rainy day, you can browse through our book collection, play a board game (chess, checkers and few other games are available), catch up on your emails or make travel plans using the free wi-fi internet, or watch a DVD from the collection available at Casa Grande.
5. Do I need local currency?
The local currency is the colon (plural colones). As an easy reference, 1 USD equals approximately 500 colones. US Dollars are widely accepted in most tourist areas all over Costa Rica. From our own experience, we found that what works best is to use our credit cards to withdraw colones at ATM's. You can do this as soon as you land at San Jose airport, while waiting for your checked baggage – there are two ATM's right by the baggage carousels. It is probably safest to withdraw just enough cash for the first few days of your trip (for example the equivalent of $150-$200) and avoid carrying to much cash on you while travelling. Once on the Caribbean, you can use the ATM's in Puerto Viejo and Cahuita. You can also withdraw cash from your credit card directly from the bank tellers (you must have your original passport with you). Credit cards are increasingly more accepted by tourist businesses, however it is safe to always have some cash on hand. The next door grocery/mini-department store where you will probably shop for most food, beverage and other needs accepts all types of credit cards.
6. Are there jungle creatures around?
Our homes are located in the rainforest, in a lush environment also home to howler monkeys, toucans, sloths, lizards, frogs, snakes, spiders, bats, ants and many other neat creatures. Some of these could be watched right from the comfort of your porch! We try to blend in as much as possible with the natural environment and to be passive and respectful observers of the surrounding wildlife. We are fortunate to have a rather limited mosquito population.
7. Is La Selvatica the right place for me?
We offer two homes. Casa Grande is a good option for people who enjoy larger living areas, and also for families with children. Guests of Casa Grande enjoy a large porch, complimentary use of bicycles and laundry service (provided by our caretaker). We found that our homes are especially attractive to travellers willing to embark in an eye-opening experience of nature, wildlife, different culture and holistic relaxation. We offer two cozy self catering vacation homes in a spectacular rainforest/beach setting. We do not offer services similar to those found in high-end hotels or all inclusive resorts, nor do we intend to compete for their guests. The area is enjoyed by independent travellers and it is probably better suited to travellers not adverse to being in occasional and relative close proximity with geckos, spiders, humming birds, agoutis or any other creatures which inhabit the nearby rain-forest. This area is NOT a bug-free zone.
8. Are there restaurants and shops nearby?
La Selvatica is located within 2 minutes walking distance from the main road which treks along the coast. This means we are also within few minutes walk from a couple of grocery stores, a handful of good restaurants, a couple of yoga centres and a few other shops. You can shop nearby for most basic necessities. For more choices, there are plenty of shopping options in Puerto Viejo. Another great shopping option for local produce and plenty of other goods is the Saturday market, taking place weekly in Puerto Viejo.
8. Is the area safe?
The area is at least just as safe as most places. Like most other places, the Southern Caribbean and Costa Rica can be enjoyed with no worries, when common sense safety procedures are employed. Petty theft is not uncommon. The local business owners community is very active in promoting safety for tourists, and this should not be interpreted as an indication that the area is unsafe. Our property is fenced in (gates locked at night by guests). Both our houses have lock-boxes and guests are encouraged to store all valuables there, when not in use. We also advise our guests to bring a couple of passport copies to carry with them, while their original passports are safely stored in the lock-box. We have a caretaker on-site and a resident dog, for added security. Always take only the minimum with you when going to the beach, especially if you anticipate spending lots on time in the water. It is best to take a special trip to the beach for taking photos, then leave the camera in the lock-box and enjoy your worry-free day at the beach!
---
---
Check in time is 3PM - 8PM
Dear Guest,
Please review the following terms and conditions of your vacation rental for Casas la Selvatica - Casa Grande (2 bedrooms, 1 bath); Acceptance of these terms, along with the payment of the reservation deposit as described below are required in order to obtain the confirmation of your reservation. By proceeding with payment and reserving the vacation rental home, you confirm your agreement to all the terms and conditions below.
1. CHECK-IN is after 3:00 P.M. and CHECK-OUT is before 11:00 A.M. If you plan to arrive or depart outside these hours, please inform us and we will do our best to accommodate your needs.
2. You are renting a NON-SMOKING home; smoking is permitted outside only. If needed, please use ashtrays located on porch. If smoking indoors has taken place during your rental, a cleaning charge of 200.00 USD will be added to your total charges
3. PETS - Pets are allowed on the property under certain circumstances and only after prior approval obtained at the time of booking. Please discuss these circumstances with the owners before agreeing to these Terms and Conditions.
4. DAMAGE DEPOSIT - A refundable damage deposit of $150.00 will be applied to your booking. The deposit is fully refundable upon host satisfaction that the rental unit is left in the same condition as it was upon check in, provided the following conditions are met:
a. no damage is done to the house and its contents, beyond normal wear and tear
b. no charges are incurred due to collection of rent or services rendered during the stay
c. all keys and cell phone (if applicable) are returned in functional condition
d. no linens are lost or damaged
e. no objects have been removed from the house
f. the renter is not evicted by the owner (or representative of the owner) or the local law enforcement for disorderly or criminal activities.
If the above conditions are met, the deposit will be fully refunded to the renter within 7 days AFTER check-out. The deposit is handled exclusively by Airbnb payment system and the length of time to refund cannot be influenced by the owners.
5. At least one of the renters has to be of ADULT AGE at the time of check-in; you will be required to present your passport/ID at check-in.
6. Laundry service provided by caretaker is included with your stay for vacation of 7 days or longer (one load per adult guest or as confirmed in your pre-booking communication with the owners). When the service is needed, please inform your host or caretaker. Guests have no direct access to the laundry facilities. For vacations of less than 7 days, as well as for additional laundry service (i.e. more than one load per adult guest per week) the service is available for $5/load. You can pay for the service in cash to the host.
7. Bikes are not offered with the vacation rental. You may notice in our reviews that guests enjoyed using our bikes. When possible, we offer our personal bikes for guests to use. Rental bikes are available at the nearby grocery store. Guests should have no expectation that bikes will be offered with the home rental.
8. PAYMENT - As per the Airbnb policies, full payment of the rental amount and the refundable damage deposit will be required at the time of booking. All payment are handled directly by the secure Airbnb payment system - the owners have no access to your credit card information.
9. CHANGES and CANCELLATIONS - A 14 day notice is required for cancellations. In the event that a cancellation is needed, this should be initiated by the guest using the Cancellation option available in the confirmation message received from Airbnb at the time of booking. For cancellations that are made more than 14 days prior to check-in, the rental amount and damage deposit, minus a $50 processing fee will be returned to renters at the time of the cancellation request. Cancellations or changes that result in a shortened stay that are made within 14 days of the arrival date, forfeit the full reservation and damage deposit. Cancellation after check-in or early departure does not warrant any refund of rent or deposit.
10. Renters will be offered a walk through the rental unit at check-in. Any requests for upgrades or changes to the accommodations or services provided should be presented to the hosts at this time. Requests not brought up to the hosts at this time will not warrant discounts at check-out.
11. MAXIMUM OCCUPANCY/ VISITORS - Your party will be composed of the number of people listed in the reservation confirmation. All persons in your party must be registered with the host/owners. We ask that you inform us if you would like to have visitors during your stay. Your visitors (or anyone else) cannot be present on the property or enter the property for any reason unless you or the members of your party are present. Failure to adhere to this policy may result in the forfeiture of your damage deposit and/or cancellation of your stay.
12. MINIMUM STAYS may be required during holidays or high season. If this applies to your desired vacation dates, you will be informed before your reservation will be confirmed.
13. INCLUSIVE FEES - For vacations of less than 7 days, rates include a one-time linen-towel setup. For vacations of more than 7 days, linens and towels will be changed weekly. Should you require additional towels in between the weekly changes, please inform your hosts.
14. NO DAILY MAID SERVICE - While linens and bath towels are included in the unit, daily maid service is not included in the rental rate however is available at an additional rate. We suggest you bring beach towels. We do not permit towels or linens to be taken from the the vacation homes.
15. RENTAL RATES are guaranteed at the time of acceptance of terms and conditions and payment of reservation deposit for the duration of your reserved vacation. Rates for additional days reserved later may be different from the rates of your initial reservation.
16. We strive to be an ENVIRONMENTALLY FRIENDLY vacation home. Please use the recycling bins provided for your recyclable items (glass, metal, tetra pak).
17. SAFETY and SECURITY: It is strongly recommended that you purchase travel insurance prior to your departure. Guests are encouraged to exercise common-sense safety procedures for the protection of self and valuables. We provide lock-boxes for your valuables. We recommend that you bring copies of your passports to carry with you, while your original passports can be safety kept in your lock-box. Casas La Selvatica assumes no liability for lost/stolen goods or injury occurred during your vacation. Your host or the owners are your best resource for information and/or additional services. Should you require any additional services during your stay (including, but not limited to: baby-sitting, pet-sitting, etc.) we recommend that you discuss this with your host or owners of the property before contracting these services. Please note that any person (such as service providers) will only be allowed to enter the property in your presence and/or after prior notification to the host/owners.
18. We provide complimentary wireless internet service. The speed of data transmission and overall functionality of the service is regulated solely by the service provider, and we assume no responsibility for any loss which might occur due to the sub-optimal functioning of this service.
19. WRITTEN EXCEPTIONS - Any exceptions to the above mentioned policies must be approved in writing in advance.
20. Should you require any on-site additional assistance, we ask that you communicate with the host or email the owners as soon as possible. By proceeding with the reservation request and payment, you agree to all terms and conditions of this agreement. You understand that this agreement is equivalent with your handwritten signature.
Casas La Selvatica Vacation Rentals
Playa Chiquita, Costa Rica
You must also acknowledge
Dog(s) live in the house
---
Our journey south was meant to be a temporary escape from the dark and rainy Canadian West Coast, in search of sunshine and warmth. After a brief search for a potential destination and keeping in mind that we desired nothing of an all inclusive resort, we quickly realized that o…
Languages:
English
Response rate:
100%
Response time:
within an hour
Explore other options in and around Playa Chiquita
More places to stay in Playa Chiquita: