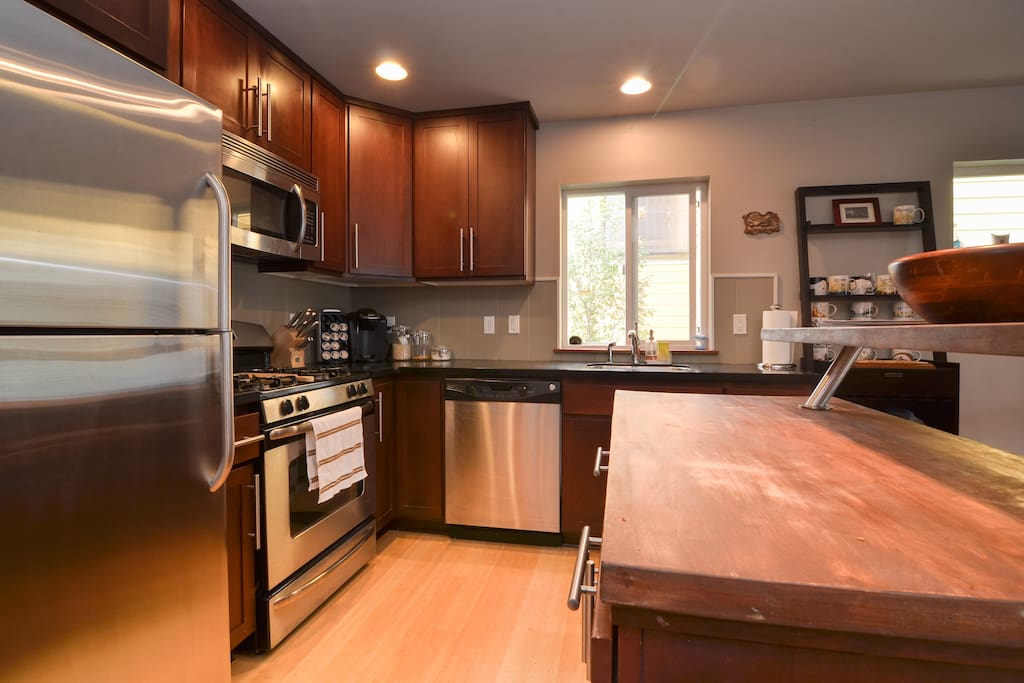 Cozy Modern 3BR/3B w/ Parking, by UW, Lake & A/C!
Beautiful New Modern Townhouse w/ Private Parking Garage. One of the most Centrally Located spots in Seattle. Burke-Gilman 50 mile walk/run/bike Trail is across the street and access to Lake Union is 3-5 min. walk from the house! Perfect place to stay if spending anytime at or around The UW. With Walk/Bike Scores of 98 and 91, access everything you need and more without having to drive! Please Read Reviews and see my Guidebook for more details about the place and nearby attractions!
The space
- The Home is 3 stories, 3 bedrooms and 3 bathrooms
-Mini patio/deck with Grill Access on 2nd floor just a few steps across the kitchen and family rooms to get to the deck--great for easy grill/kitchen simultaneous use!
- Dual Master bedrooms, Differences: one has larger closet, and a Standup only shower. The other has a window A/C unit and larger bathroom with tub/shower and 2 sinks. As mentioned, each have private bathrooms, Master Bathroom (from now on "master" bedroom will be the one with 2 sinks and A/C) has a window A/C goes to 60 degrees, also can work well as a fan while showering to suck steam out.
- 1 car garage, can also park right outside front door, additional street parking~30 yards away from house
-Laundry Room w/ complimentary detergent/softener/Dryer Sheets
- Large closets w/ hangers, dressers and drawer space bedrooms and bathrooms (only top 2 drawers available in 2nd upstairs guest room, 3rd is for linens.)
- The 3rd bedroom (half bedroom) does not have a bathroom. It has a Trundle bed with 3 spacious drawers for storage and a closet.
The Trundle (Raised Platform Twin bed with a 2nd pullout separate Twin Bed & frame) has two separate twin beds/mattresses. If 4 beds are needed for the reservation, the bottom of the trundle pulls out separating itself and is second twin bed of it's own. (Pull on the "top drawers" handles on trundle (they are fake) to pull the trundle bed out--if not already pulled out for you).
- Available upon request is another Twin size Sealy Airbed if 5 beds are needed. I kindly ask and one of the "house rules" is no sleeping on the couch PLEASE. First it makes me wonder did you have extra guests unaccounted for stay over. Secondly, It isn't sanitary and Neither I or my Cleaner want to find drool, hair or whatever else on my couch after stays. Would you want to relax on someone's couch if you knew that random people were sleeping on it frequently? Don't think so! lol
- Leather Platform Queen bed 10' Memory Foam "IQ" Mattress in guest room
- Master bed is a Sealy (firmer mattress) -- both are very comfortable!!
- European (extra large) ironing board and new iron available.
- Other Complimentary Amenities: 2 Hair Dryers, Shave cream , hair product, men/female Dove and Old Spice body wash, towels, wash cloths and facial/hand towels for each guest, Extra linens, Tresemme Shampoo & Conditioner, Listerine Mouthwash, body lotion, Q tips, Cotton Swabs, Neutrogena Makeup remover, Nail Polish Remover and more.
-Extras for guests : Tea and Tea Kettle, Keurig w/ Variety of K-Cups. There are also cooking essentials i.e. butter and variety of dressings, sauces and cooking spices. Brita Water Filter.
- Of course there are is everything you need in the kitchen: silverware, plates, mugs, cups, Tupperware, pots and pans etc.

Guidebook: 10+ page guidebook of favorite local spots to go to and tourist destinations in and around Seattle I personally compiled. Also Divided out into restaurants, nightlife, sightseeing, parks etc and age range for nightlife spots.
Master Bedroom Differences: larger bathroom with bathtub and shower, 2 sinks vs. one and has more storage available. The bed is a pillow top Sealy Mattress on the firmer side.
**Note: the 3rd bedroom is a .5 bedroom, airbnb doesn't allow listings of ".5" rooms for some reason. However I have either a double twin Trundle Bed w/ new mattresses. Tested it out for a night myself and slept like a baby. Also has three large drawers built in for storing your things. The second bed pulls out from underneath as an entire separate bed.
-You will also find "House Safety Card" w/ instructions in event of an emergency and instructions on how to use the AT&T Digital Life Security System. Digital life also has keyless entry---all guests will be given unique numeric codes prior to arriving w/ instructions on how to use it and lock/unlock the house.
- video camera has also been installed by front door to help ensure you are as safe as can be!
- House is "Fire Safety Approved " By Seattle Fire Department with 4 separate locations of fire extinguishers and a ladder to hang out the top windows and climb down in event of Fire. (top shelf far left in the guest room**)
- Carbon Monoxide Alarm is also incorporated into the system.
Guest access
Entire Home Full Access!
**Note**: Parties of 5-6 (if you are reading this and have a party of 7 people I will consider taking reservations of 7 on a case by case basis, please message me and tell me about your trip etc. If accepted, the 7th guests will have to sleep on the Sealy electronic blowup twin airbed (pump, linens and bed provided).
- *Airbnb doesn't allow listings of half bedrooms hence why the listing says 3. Just FYI, I don't want to misinform anyone about the place.
1st floor:
- garage access, coat hang/shoes off area "mud room" (hallway once you enter front door - please remember to take your shoes off here)
- 1st guest room - Trundle Dual Twin Bedroom.
2nd Floor:
-Kitchen and family room.
- 50" 1080p HDTV Samsung LED TV
- Roughly 40-50 (most HD) Basic Cable channels - NO XFINITY/COMCAST Cable
**VERY IMPORTANT** IF YOU HAVE ANY CABLE PROVIDER ACCOUNT (XFINITY) YOU CAN ACCESS CABLE CHANNELS IN HD
XBOX ONE MEDIA CONSOLE (HDMI 2) - HDMI sources are accessed by pressing "source" on top of Samsung remote
Instructions for XBOX ONE and how to get access to cable channels: (You can also call me anytime if you need some help)
1. use the XBOX ONE, sign in/turn on the xbox by holding the "x" on the XBOX remote
2. once it glows and flashes the xbox will turn on. it will automatically sign in has me. "Rory"
3. press the "Up" button on the joystick, find Oneguide on the very top of your screen.
4. Go to "Store" or "Apps"
5. here you will find NBC, NBCSports, WATCHESPN, ESPN NEWS, eTV, AMC etc. click on any one of the channels you want access to. It will either let you watch or give you a website and a 6-digit code you need to input on the website link they provide
6. **MAKE SURE YOUR CELL PHONE IS NOT CONNECTED TO THE HOME WIFI NETWORK WHEN YOU DO THIS -- Turn phone wifi off
7. Open a browser on your cell phone, go to the address xbox tells you to, and input the code. xbox will probably ask you first which cable provider you use/have an account with BEFORE giving you the website and code---if you did not pick yours you should go back and re-do the steps above.
7. Assuming you did everything right so far, the website link may ask you some additional questions.. like your username and password for whatever your cable provider is back home. You will need those! Assuming you have your credentials, input the 6 digit code prompted to and give the TV a minute to load the channel and you now will be able to access most of your provider channels, all in clear HD! (you will not need to do this every time you go to an app channel just the first time :)

- Roku Player (HDMI 1) - Basically all sorts of channels for kids and adults lots are free some need to be accessed just like the xbox.. via a code and website you must access with your cell phone OFF the house wi-fi
- Pantry and Fridge to store food.
3rd Floor: both bedrooms I've already described and the laundry and dryer-- feel free to use both as well as detergent on top of dryer.
-Outdoor mini deck w/ view of Eastlake/Eastlake bridge, partial view of Lake Union and on sunny days you can see Mt. Rainier in the distance!
Interaction with guests
I'm happy, outgoing and will interact with guests however much they care to interact with me. Happy to suggest things to do or see. My #1 goal is for you to be happy with your stay, feel comfortable in my home and have an overall positive and fun experience while visiting Seattle! Do not hesitate to contact me at anytime with questions about anything I am here to help!
I usually am unable to greet guests personally unfortunately, however I am available to greet you over the phone if you like. Please feel free to call when you arrive and I can give you a tour and tell you all you all you need to know about where things are in the house etc.
During your stay if any questions or issues come up please call me directly or message me 24/7 and I will reply ASAP and do whatever it takes to fix any issues that may come up!
Other things to note
PLEASE Make sure you read The House Rules before booking and the morning you check-out protocols before you leave!
-I will give you your own personal digital code, instructions for unlocking the house
**Checkout is 11am. Check-in is 2pm-2am -- on days I have checkout/ins back-2-back I do my best to get house and room(s) rdy for an earlier check-in for guests.
-You will also find "House Safety Card" w/ instructions in event of an emergency.

- House is "Fire Safety Approved " with 4 separate locations of fire extinguishers and a ladder to hang out the top windows and climb down in event of Fire. This info is all provided on the Fire Saftey Card in the listing.
---
---
Common spaces
3 sofas, 1 air mattress
---
Check in time is 4PM - 2AM (next day)
Self check-in with keypad
HOUSE RULES
1. CHECK-IN: 4pm-2am, Checkout: Anytime before 11am (Will do my very best to accommodate late check outs and early arrival requests---the sooner notice the better, thank you) - Please communicate with me the day before and day of about the specifics of when you will be arriving etc.
2. THE GOLDEN RULE TO LIVE BY! - Please remember you are guests in someone else's home, not hotel guests. Please don't do anything you wouldn't want guests in your home to do- be respectful and clean up after yourself please!
a. Dirty dishes rinsed and put in dish washer (silverware goes in handles down through the slots)
b. Any trash of yours from takeout food, shopping bags, grocery bags (paper), beer can etc. put in the labeled (recycle is labeled) Trash Cans
c. Please empty the trash cans/each has a different plastic bag. Recycle is a black bag. Trash is white bags. The trash cans are outside below the deck next to the house/sliding glass bedroom door. I just literally drop them off the deck into the yard, walk downstairs and put them in appropriate bin (black bin is trash, bigger green bin is for Recycling
i. If you can remember to get the trash from the bathrooms and toss those little baggies in with the main trash before taking it out that would be great! If you forget, no big deal.
3. Please communicate your arrival, departure times, and any changes to your itineraries. If you want to check-in early, please ask ahead of time and I will do my best to accommodate you.
4. Please book for the correct # of guests, including babies and small children, per Airbnb policy.
5. Unfortunately we can accommodate ONLY those guests who were included in the Airbnb reservation. As much as we love a party, we are not able to host yours. Do not arrive at the home with more guests than specified in the reservation. This violates Airbnb policy; parties arriving at the home with additional guests will not be allowed to check-in until the reservation has been amended to the correct number of guests.
6. Please remove make-up before getting into bed to prevent staining bedding (makeup remover provided complimentary in both private bedroom bathrooms). Please don't eat or drink in the bedrooms or anywhere else but the kitchen area! Any evidence of food in the bedrooms will result in a $25 deduction from your security deposit. However, accidents do happen! If you do happen to break this rule or anything else spills/stains the sheets, blankets, carpet etc. PLEASE don't try to hide it, alert me immediately so that it can be properly washed and treated. Thanks!
7. Water (ONLY) is allowed in the bedrooms (Please keep on coasters provided to prevent the cups from ruining the wood, please keep cups on coasters provided on wooden tables ALWAYS.
8. IF you reservation ends on a Monday please take Trash Bins out to the curb on SUNDAY NIGHT with whatever trash you have accumulated during your stay in the kitchen bins. New trash bags will be underneath both containers of trash under the current ones being used, if not there, check top of the pantry.
a. Extra Paper towels and toilet paper can be found above the fridge in cabinets.
9. Please communicate promptly if the accommodations do not meet your needs or expectations. Give me a chance to fix it - because I will try!
10. Please always remember to clean/take your shoes off when entering the house and leave them on the first floor or you may take them with you upstairs. (People have ignored this rule which is why you will notice the stairway carpet looks a little dirty… I assure you I have tried using a rug doctor. Nothing helps. But it always gets vacuumed so the carpets are always clean.
10. No excessive partying. --keep noise down after 10:30PM out of respect for the neighbors.
11. No Smoking anywhere in the house: Please smoke outside at least 15 feet away from the front door downstairs.
12. No Pets allowed
13. No Guests age 24 or younger will be accepted unless accompanied by a parent/adult over 35. Guests wants to stay with a group of mid 20s adults will be considered on case by case basis. Please message me to discuss and hopefully we can work something out!
14. Please do not steal the complimentary amenities (or anything for that matter! Ha). There are mini-bottles of shampoo, conditioner and other extra amenities in the bathrooms.
CHECKING OUT:
15. Before leaving please put all used towels in a heap in both upstairs showers/tubs. Any unused towels please leave folded on top of either dresser or in the closet shelving with the other towels.
16. If you are here for more than 2 days, and/or if you put raw meat or vegetables in the trash, please take out the trash. You may leave the trash bags on the deck for me to take out later, drop them off the deck---walk downstairs and out the bedroom glass door and toss in each respective bin. Trash cans might be on curb (If checking out on a Monday, please walk trash out through yard to the curb by 7th Ave (next to the two trees) combo to the lock on back yard gate is 36-38-28 (also on the back of the lock I might be mixing the #s up) the curb and they are empty it would be really
nice if you could simply wheel them back into the yard, put your trash in each bin. (The bins may be on the curb if it was trash day if they are not in the fenced in yard area, --- you might have to bring those in… it's about 15 feet from the outskirts of the yard, very easy. (larger size GREEN bin = RECYCLE, BLACK = TRASH This will keep your kitchen area clean and pleasant (Extra trash bags for you are on top shelf of the pantry and there should always be 1 extra recycle and 1 trash bag at bottom of the trash when you pull out the full trash bags so you can easily replace the old ones.).
10. Please always remember to clean/take your shoes off when entering the house and leave them on the first floor or you may take them with you upstairs.
11. No excessive partying. --keep noise down after 10:30PM out of respect for the neighbors.
12. No Pets allowed
13. No Guests age 24 or younger will be accepted unless accompanied by a parent/adult over 35. If the age of the group varies in mid-20s I will consider on case by case basis, just message me and we can discuss. Unfortunately, the only two "bad" guests I've ever had trashed the place and both were under 25 in each reservation. Sorry guys!
14. Please do not steal the complimentary amenities. The mini-bottles of shampoo, conditioner and other extra amenities in the bathrooms are there for people who forget their own or find they need something they don't have with them.
16. Please treat the home with respect and keep the common areas clean i.e. if you use any dishes etc. please rinse and put in sink/dishwasher. Before departing, please pick up after yourselves, no trash all over the place etc. Please be careful and try not to make scratches, holes in walls, stains on carpet, bed sheets, and mattress.
17. Please remember that no food and ONLY water cups/bottles (on coasters) please) are allowed in bedrooms.
*People keep disregarding this rule so I will unfortunately penalizing guests $50 out of their security deposits if I find evidence of food being eaten in the rooms (Food baggies multiple crumbs of food etc.), Wine bottles/spills etc. (this has happened too many times) I'm sorry but this is my home, I don't want to risk food or drinks spilling and staining the carpet and bedding.
18. There are thermostats in each room, please do not set the temperature to 90 degrees and leave it there (it's happened). Please set each room no warmer than 72 degrees, you may turn the heat up higher than 72 if the room is very cold i.e. 64 degrees., but once you get to 68-72 DON'T FORGET TO TURN HEAT BACK DOWN INTO THAT RANGE (68-72)and please keep it there when you are not home. All the heaters in the house are set to emanate heat from hot water running through the walls (in the winter), which keeps the house very warm. (Please don't alter the thermostat
on the first-floor hallway, downstairs bedroom is ok just avoid the hallway one). Lastly, the temperature on the 2nd floor thermostat: Please Never set above 72 degrees Please! Why? Because the 2nd floor thermostat regulates the temperature of the water in the walls behind the vents to keep the house at a comfortable range of 68-72 degrees during winter months----the heater vents emanate warmth from hot water that runs through the walls of the house.
19.** $250 security deposit for any major damages or violations of house rules** Airbnb makes the decision on what the payout should be on a case to case basis if the guest and host cannot come to agreement within 72 hours of checkout via the Resolution center (Per Airbnb).
THANK YOU SO MUCH EVERYONE! I can't tell you how nice it is when I see my place after a checkout where the guests abided by the rules! I apologize if I come off as "strict" or repeat myself but I've learned the hard way over time I needed to really spell things out and make the rules this way over time. I hope you enjoyed your stay and I'm always available for you if you need anything or have any issues! I rate everyone who stays very generously, unless you do something awful I will pretty much 5-star you, Everyone, please at least remember to leave me the 1-5 star ratings (all 5s please! , no rate me however you feel but 5s are extremely important for hosts and much appreciated!!) and written feedback is great too.
If you ever pass through Seattle please save my place and I will give you a 10% discount next time!
Warm Regards,
-Rory
(PHONE NUMBER HIDDEN)
(EMAIL HIDDEN)
Emergency Contacts (contact in order of listed):
Marin Hummel: (PHONE NUMBER HIDDEN) (Occasional Co-Host)
You must also acknowledge
Must climb stairs - 2 flights of stairs.. 12 steps each... one to the 2nd floor sand one flight to the 3rd floor.
---
The apartment was nice and big, exactly as pictured, with the added bonus of having air conditioning which we greatly appreciated during a week of record high temps (note: most houses in Seattle do not have A/C!). The location was great if you are visiting UW, you can walk to campus quickly. It's very close to I-5 and I was worried about noise from the highway but it was not an issue at all, I could barely hear it and it was more of a hum than anything and being by I-5 made it convenient for getting places. Rory was nice and quick to respond (I was the one having phone issues with an international number).
---
A really nice place to stay, near the university so great options for places to eat. Fairly central and Rory is a great host. Would stay again.
Thanks for your feedback Michaela. Future guests I urge you to please read through my responses here. Thank you! Re: Cleanliness feedback: Thank you very much for feedback on my cleaner. You were the 2nd person to mention this, I gave her one last shot but she has now been fired. I am handling cleanings in the meantime until I get a competent replacement cleaner/clean agency. RE: Heating: The fireplace does work, the only reason it was "off" was b/c the Pilot underneather was turned off to save gas during the summer and fall months. House heating only necessary in the winter months. I apologize this wasn't turned on for you in time for your stay--- FUTURE GUESTS: house fireplace will be working fine for your stays. RE: House being cold: I actually replied to you right away when you asked about the fireplace and heat in the home and explained to you how to turn the thermostats on, (switch directly below the wall thermostats). So I'm not sure why you didn't follow those instructions, if you did the heaters would have all worked. Unfortunately too many guests never follow my house rules which state house temps must be kept no higher than 72 degrees. Too many times I've come to clean and find guests blast every heater in the house to 90 degrees, leave it on all day/night whether they are home or not and don't even have the courtesy to turn the heat OFF before checking out. This jacked up my heating bill tremendously. As a result I unfortunately had to disable heaters from turning on above 72 degrees since too many guests do not follow the rules. RE: Sheets - I assure you the sheets are ALWAYS clean. a couple sets of the sheets do have these odd dark stains in random spots--- This is from a detergent that was too concentrated and for some reason stained the sheets a bit unfortunately. But please do not worry I would never ever re-use dirty linens!! RE: Carpet: Yes the carpet needs to be replaced (stairways). All three bedrooms the carpet is very clean The house carpet is 8 years old. I've tried using rug doctor but it isn't helpful at all unfortunately. It isn't worth it to me to spend a few thousand dollars to put nice new carpet in when nearly all guests do not follow the "take your shoes off when entering the house" house rule. ..Don't want to ruin a brand new expensive carpet sorry guys!
---
Rory was very responsive to any questions and communicated well throughout. Unfortunately the place wasn't ready for our check in time and we arrived to a house that needed cleaning but Rory had messaged ahead to inform us, but we missed the message. Overall the location of the place is good, a short drive to the city centre. Parking was difficult in the garage as it had stuff in the way and is a tight entry. There is parking on the next street but it is very busy so hard to get a spot. The house was clean and tidy generally but due to people staying the night before it could have been tidier. The house is better suited to 4 people or less due to the space and dining area. The back door also doesn't lock so is a bit of a security worry.
---
A great place to stay for a family get away. Rory and his girlfriend were extremely responsive throughout the entire process. They were flexible in accommodating our group and made sure we felt comfortable in their condo. Parking is a little tight if you're squeemish, but I was able to get my 4Runner in and out without a problem. It didn't fit in the garage with the roof rack on, but I was able to park in front and only had to juggle with a neighbor once. We'll definitely keep Rory's place in mind for our next trip to Seattle!
---
Great location, very convenient to multiple areas of Seattle, for us most importantly the UW district and Lake Union. The apartment was clean and comfortable. It is on three levels. Location was a major plus but it is on a bit of a busy street, so 2 of the bedrooms very quiet and one you could hear some traffic. We were here for weekend in Seattle with baby and grandparents and this was a perfect place to crash/relax for the price. We will likely rent it again.
---
Hey! I'm an outgoing person, love the outdoors, hiking etc. I'm friendly, easy-going and like meeting new people! I do not occupy this house, it is a full private home rental for guests. The entire house is open to you. Feel free to store groceries, you will be able to find a…
Languages:
English, Español
Response rate:
100%
Response time:
within an hour
Explore other options in and around Seattle
More places to stay in Seattle: