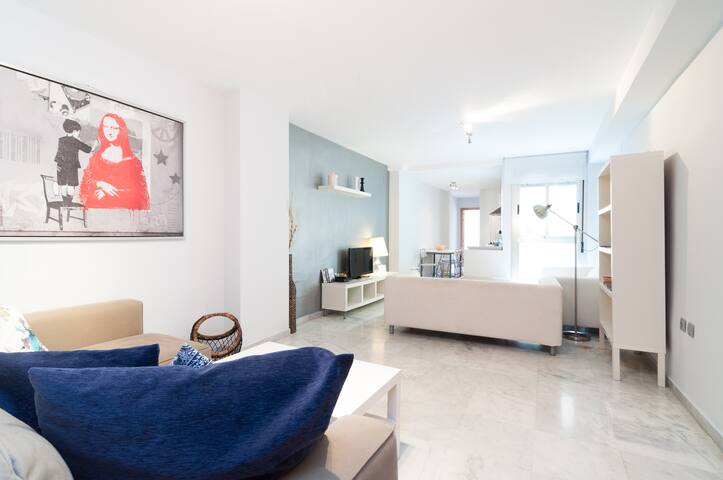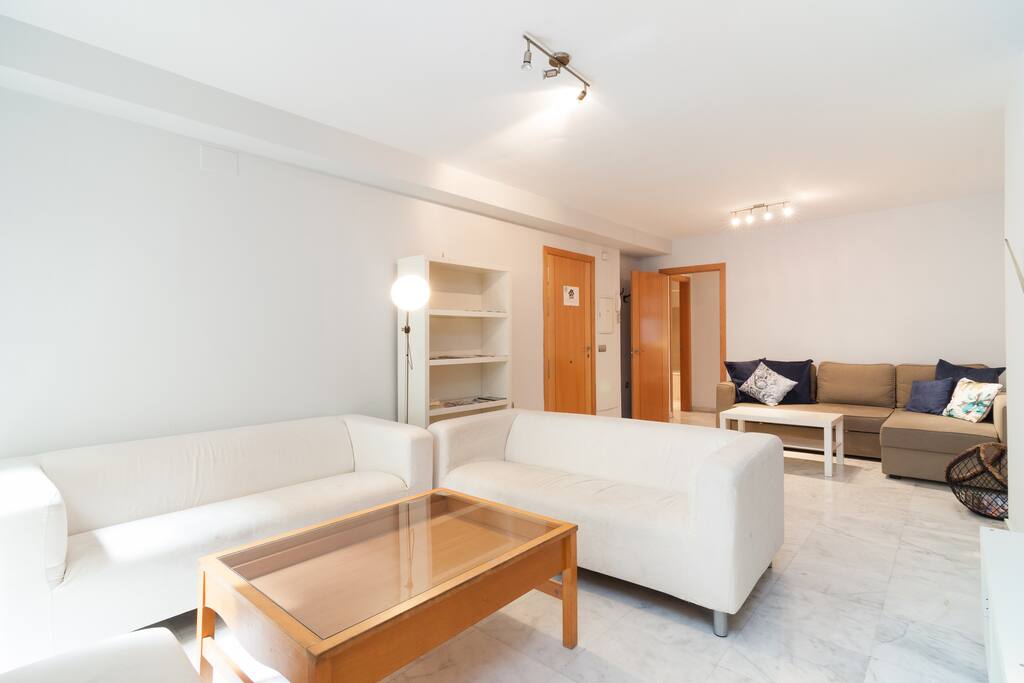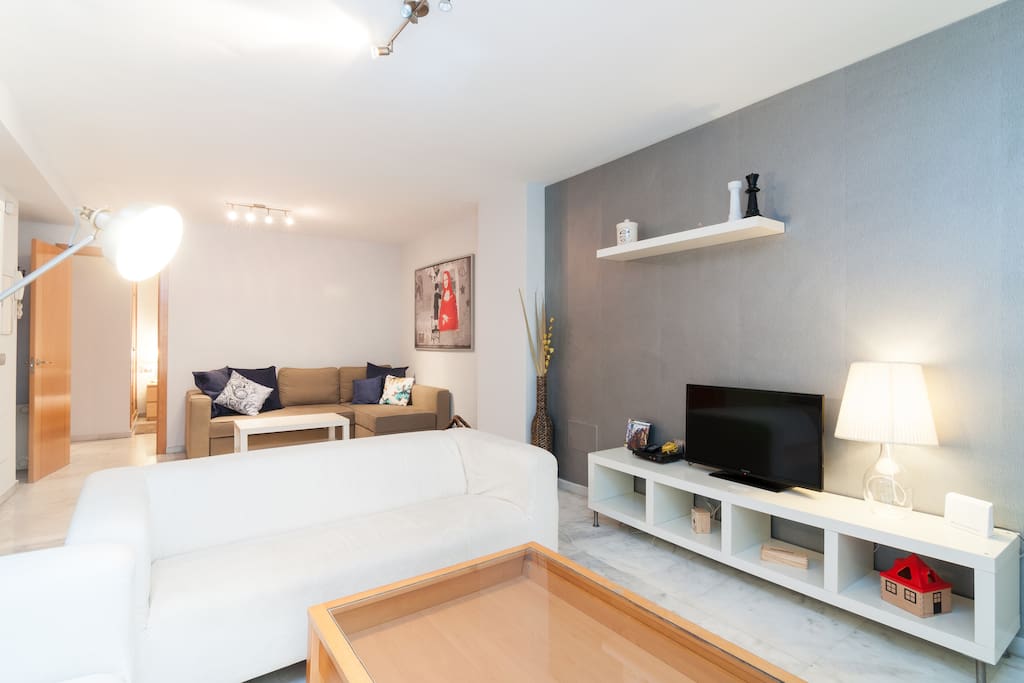 Plaza de Toros, beach & monuments
The space
Sophisticated, spacious, modern and confortable apartment located just in front of the Plaza de Toros of La Malagueta. This fully furnished property provides the adequate space to enjoy the quality of life of Malaga, 2 minutes from the beach and only 5 minutes from the Cathedral, the Alcazaba, Palace Museum of Arts.
Malaga City has much to offer a tourist, not only is it the cosmopolitan capital of the Costa del Sol it also has kilometres of beautiful sandy beaches. The beaches are all situated along the Promenade of Pablo Ruiz Picasso which is lined with bars and restaurants where you can sample Malagueño produce and culture at its best. Malagueta and La Caleta are the busiest beaches.
All beaches are accessible via the Nº 11 Bus from Paseo del Parque.
LA MALAGUETA
This is a very large man made beach, it is accessed via the Pablo Picasso promenade whose bars and restaurants are busy day and night. It has a view of the fishing area where you can see the fisherman untangling their nets. There are a number of Chiringuitos offering a selection of drinks and Tapas. Facilities include: disabled access, warning advice, hire of sunbeds and parasols, parking, public telephone, showers, W.C and a children´s play area. This beach is the closest to the city centre located to the east of the port.
Features:
| 2 Bedrooms.
| 2 Bathrooms.
| Hairdryer.
| Fully equipped kitchen.
| Iron and ironing board.
| TV.
| 2 wardrobes (built in).
| Newly renovated.
| Lift.
| Parking (optional).
Maximum capacity recommended: 6 pax.
Final cleaning: 30€
Late check in service fee (after 20h): 20€.
Interaction with guests
Private Property Spain office is open from 11:30 until 14:00 and from 16:00 till 20:00 Mondays till Fridays, 12:00 until 20:00 on Saturdays and you can check in from 16:00 until 20:00.
It may be possible to check in earlier than this time, upon prior request and subject to availability. Please contact us to request our Concierge Service.
PLEASE NOTE THAT CHECK-IN BEARS EXTRA CHARGES IN THE FOLLOWING CASES IN MALAGA CITY:
– EUR 20 FOR ARRIVALS AFTER 20:00, SUNDAYS AND PUBLIC HOLIDAYS.
– EUR 25 FOR ARRIVALS AFTER 21:00
– EUR 30 FOR ARRIVALS AFTER 22:00
– EUR 35 FOR ARRIVALS AFTER 23:00
– EUR 40 FOR ARRIVALS AFTER 00:00. THERE IS AN ADDITIONAL EUR 10 CHARGE FOR EACH EXTRA HOUR AFTER 01:00.
Please note that you must check-out by 12:00. It may be possible to check out later than this time, upon prior request and subject to availability. Additional cost may apply.
Other things to note
If you want to travel with your pet, additional cost may apply, depending on weight:
Between 1 and 5 kg: 10 euros/day;
Between 5 and 12 kg: 12 euros/day;
Between 12 and 19 kg: 15 euros/day;
More than 20 kg: 17 euros/day.
We recommend that you inform us before your arrival. Please do not hesitate to contact us for any further requests you might have.

Please contact us for any additional request you might have, we will be pleased to assist you.
---
---
Weekend Price £125 / night
Always communicate through Airbnb
To protect your payment, never transfer money or communicate outside of the Airbnb website or app.
Learn more
---
Check in time is 4PM - 8PM
•Errores o defectos en el inventario de la vivienda deben ser comunicados en las primeras 24h desde el día de llegada. / Inventory mistakes or deficiencies must be reported within the first 24 hours from your arrival day.
•No sacar material de la casa (por ejemplo muebles, toallas, cojines, vasos, etc) / Please do not remove, change or move the apartment decorations or furniture's.
•No se admiten animales en el complejo sin previa autorización. / Animal are not
allow.
•De acuerdo con las normas de urbanidad y sana convivencia, no deberá realizarse
ruido que pueda molestar a los vecinos entre las 14h y las 16h, así como desde las 24h hasta las 09h. / According to the noise pollution law, noise must be kept to minimum between 14h and 16h, also from 24h till 09h.
•Informar al responsable de cualquier anomalía que encuentre en las instalaciones. / You may AVISAR for any problem you can have with the installation service.
•Se ruega no tirar basura o colillas en el jardín; por favor, usen las papeleras. Les agradecemos su colaboración para cuidar y mantener el jardín limpio. / Use basket ans astray for cigarrets and rubish. Do not through them in the garden.
• No se permite ocupar la vivienda con mayor número de personas que las contratadas. / It is not allowed to occupy them with a higher amount of guest than the number of beds supplied.
•Cualquier daño que pueda producirse en la vivienda, sera descontado de la fianza entregada a inicio./ Any damage to the assets and property will be charged into your room bill to those who caused it.
•Antes de abandoner la vivienda, le ruego se ponga en contacto con la persona responsible, a fin de que pueda revisar que todo está en perfecto estado de limpieza. / Before leaving the apartment, please call the responsible person so we can check the level of cleanliness and the state of the property. The house must be returned in a correct level of hygiene, specially the kitchen area.
•No nos hacemos responsabels de los objetos que queden olividados. / We are not responsible of any lost or forgotten property.
Les agradecemos su cooperación.
---
---
---
---
The place is fantastic. Everything is the same as description. Great location and nice host. Strongly recommend.
---
Me and a company of 3 people stayed in this apartment for a week, while we were visiting Malaga for the first time. We all were more than happy to stay in this apartment. We were surprised that there were all the necessary things required for a comfortable living. Everything was nice and clean. The internet was fast! Carlos was really kind, and showed us where the best places are to visit. We had an idea that we wanted to rent scooters and he also showed us where to do that. That was a really important thing for us unexperienced tourists. Kind attitude from the first people you meet in the new city you visit is one of the key things that makes the first impression of the city. Overall it was a great experience, we really fell in love with the city and our home away from home. i highly recommend this place, you wont regret it! We decided to come back next year and we will stay with these guys once again!
Gatis, it was a real pleasure meeting and welcoming you all! Gatis and his group stayed in our apartment for a week. They were friendly, polite and responsible. Gatis speaks perfect english and was attentive to all our communications. They are experienced travelers. From Private Property Spain can surely recommend them as excellent guests! We hope to welcome them back soon!
---
We tried to book the apartment described here but Carlos suggested us to go to a different apartment that was more suitable. We decided to go with Carlos's suggestion. The suggested apartment has much older furniture than the photos presented in this ad (Reding, 1min beach & 5min monuments). In the living room there are two couches. One couch arm was broken and was being held up by a lamp. The second couch had a blanket covering large brown stains. There are three bedrooms. 2 have small day beds. The other bedroom had a full size bed that was held up by a stool beneath the middle of the mattress. The kitchen is very old. In order work the stove you need to turn on a propane gas tank and light the burner with matches. The only unfortunate thing was about an email we received about a bathroom mirror that was broken after we left. Airbnb customer service sent us photo of a mirror from the second bathroom that had the corner broken off . We had no idea how it happened and disputed the charge. Despite these minor issues we were glad to stay at this place in Malaga. The apartment was clean and had everything that you really need. Carlos is a very nice guy and was very helpful in giving directions to the apartment and advice on where to go and what to see. The apartment is well located by the beach, and is close to grocery stores and restaurants and not too far from the major attractions in Malaga.
Mr Omar Miri and his group broke several items in the house, including a toilet mirror. However, we decided not to charge for broken glasses or other minor objects, as we consider it 'usage damages'. In this case, we only claimed the toilet mirror. The apartment was checked by its usual cleaner who reported the incident right after Mr Omar's departure. Apparently, We must assume it broke itself. Now Mr Omar Miri and his group do not admit the damage, refused to pay for it and we have our property harmed. _____________________________ As property owners we feel very frustrated about Mr Omar's stay. We offered his family an apartment with terrace and free private garage for their whole stay. It has top guests satisfaction and reviews. The price is 30% higher than what they originally booked for that period. Additionally, in order to guarantee his family a pleasant stay and their satisfaction, we sent him pictures, full description and detailed information of it before their arrival. _____________________________ We just invested a significant amount of money on new furnitures and equipment. We find Mr Omar Miri's comments ungrounded and contradictories with his own statement: "The apartment was clean and had everything that you really need." _____________________________ Airbnb still did not offer a satisfactory solution, neither their insured alternative for home owners.
---
Прекрасная квартира. Две комнаты и салон с кухней. Есть всё необходимое, а так же, в одной из комнат маленький балкон. Пять минут пешком до центра всех развлечений Малаги. И пять минут пешком до пляжа и до порта. Предоставляется выход в интернет.
Это было приятно встретиться с Сергеем, человек Simplate, образованный и имеет городскую квартиру. Он был очень Antentas нашей связи и проверка на работоспособность, выезд. Он говорит на небольшом испанском языке, достаточно, чтобы общаться. Спазмы встречи с Вами! Спасибо!
---
Квартира находится в прекрасном районе города - рядом с морем, а также недалеко от центра. Думаю, что в жаркие летние дни - она будет хорошим местом отдыха после пляжа и экскурсий. Мы были весной, шли дожди. В этих условиях в квартире было холодновато, приходилось использовать обогреватели. Солнечный свет попадает лишь в одну спальню.В другой спальне практически нет окна. Так что было прохладно и днем и ночью. Очень понравилось отношение к нам хозяина квартиры. Получили его помощь и поддержку по всем вопросам. С радостью обратимся к нему вновь. Спасибо!
---
We are hospitality professionals managing a portfolio of holiday rental properties.

After working and traveling internationally, we gathered valuable experience and results in property management and operations within the hospitality industry.

Vacation Apartments can also be up to standards, do not risk it and put your holidays on the hands of professionals.

We are committed to making sure you spend a memorable time with your friends or family. Our selection of properties, services and returning guest certify us!
Languages:
English, Español, Italiano
Response rate:
100%
Response time:
within a few hours
Explore other options in and around Málaga
More places to stay in Málaga: