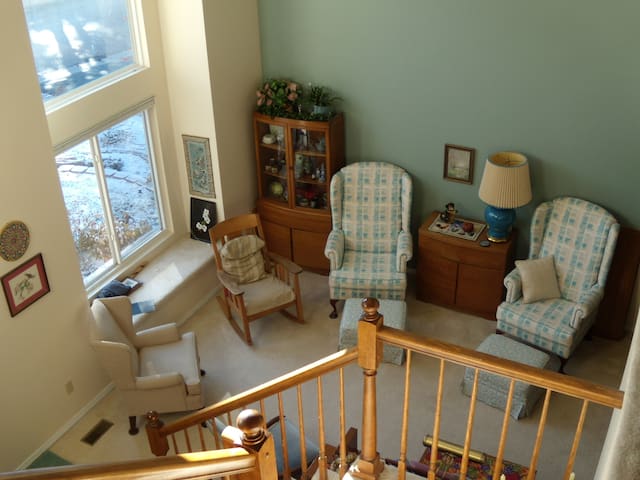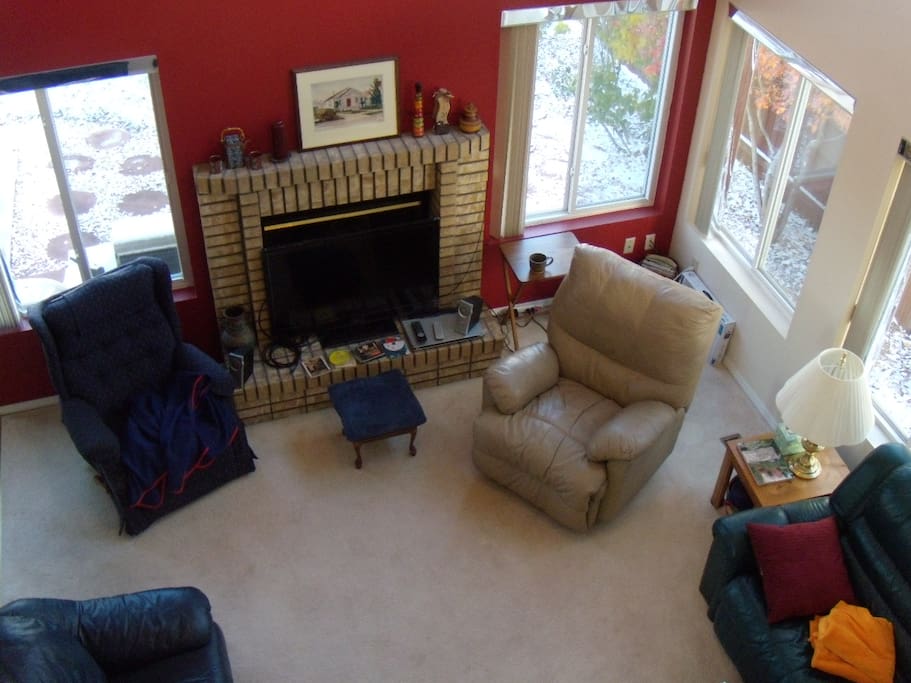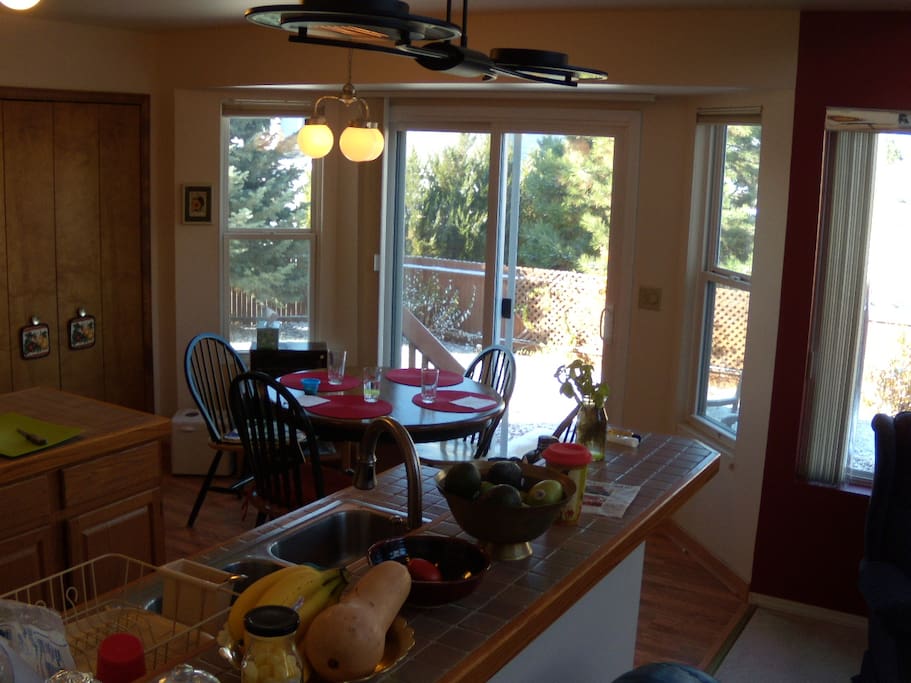 Air Force Academy getaway
Air Force Academy getaway
Located directly across from the AFA airfield, this home has beautiful trees in a quiet neighborhood with comfortable accomodations, wifi, broadcast TV, and a cozy kitchen. You will be staying with us in our home which we love.
The space
Located directly across from the AFA airfield, this home has beautiful trees in a quiet neighborhood with comfortable accomodations, wifi, and a cozy kitchen. We have a single broadcast TV in the social den attached to the kitchen. Price listed is for guest bedroom. If you request to use two rooms, the price will be higher.
The room listed has a queen sized bed, "American soft", a dresser, a table, two lamps, a couple mirrors, and a closet, along with a view of Pikes Peak from the window, which also has blinds and a black-out curtain.
The second room, which is not listed, and is available as an extra cost option with the first room, shares the bath and contains a queen-sized bed, two lamps, and a window with an even better view of Pikes Peak and blackout curtains.
We invite you to eat breakfast here, either joining us or eating on your own, and to enjoy coffee, teas, and hot chocolate.
You are welcome to share the public areas of the home with us and those are included in the pictures. Since we have a separate living area and den area, as well as a dining room table and an eat-in kitchen table, it is also possible for you to visit privately in one area while we are using the other.
We also have table games, ping pong, and children's toys available, and can rent you bikes if that helps your adventures.
Restaurants are within walking or biking distance (14 min walk, 4 min bike), as is the nearest bus stop. Our tastes run toward Panera, ChikFilA, Olive Garden, and McDonalds (Robert), but there is something for everyone in the area.
The neighborhood includes some great walking routes as well as an excellent golf course and public parks and school playgrounds. We also recommend the nearest YMCA, the Santa Fe trail through the Air Force Academy, Walmart, King Soopers, Albertsons, and Costco.
At the top of our list of scenic attractions are the Air Force Academy, Garden of the Gods, Red Rocks Canyon, and North Cheyenne Canyon.
Guest access
In addition to the bedroom or bedrooms you will have access to the main floor, with both a quiet sitting room and a social den attached to the kitchen. You can eat at the kitchen table or in the dining room.
Interaction with guests
As our mutual schedules allow, we welcome interaction but don't demand it. We only allow guests to stay in the home without us present after a previous stay. This is especially good to know if you're interested in renting the home for air force academy graduation or another special event.
Other things to note
If you would like to stay with us, please request a reservation. Queries without a reservation request do not receive as quick a response. If the date you are interested in is not available, you can contact us, but we cannot guarantee availability. We do not typically accept one night guests.
---
---
Always communicate through Airbnb
To protect your payment, never transfer money or communicate outside of the Airbnb website or app.
Learn more
---
Check in is anytime after 11AM
Breakfast: We often eat cold cereals or hot oatmeal for breakfast, and we invite you to join us or eat at your convenience. We also typically have fruit in season, condiments like butter, jam, peanut butter, etc., and a generous assortment of teas (including many herbal and decaffeinated varieties) to which you can help yourself. We often make fresh bread, so remind us to start some if we forget.
If you are a coffee drinker, we currently grind our own, either decaf or caf, and have a drip coffee maker with a thermal carafe. A french press is also available (but the espresso machine is broken), as well as a milk frother and some cinnamon, sugars, and chocolate powders..
Kitchen use: Our microwave is available to reheat your meals. More extensive use of the kitchen should be arranged in advance with Laura.
Laundry: Our laundry machines are available for a fee of $2.50 per load; please arrange timing with Laura.
Parking: If possible, please park in front of our house, and leave room for a second car to share that space. (There is room for two cars!)
Allergies: We seek to maintain an allergy-friendly and smoke-free environment. We request that you not light candles and be careful with your use of other scents.
We request no pets or smoking indoors, but outdoors is okay.
Etc: We have lived internationally and can converse in Chinese and Spanish as well as English. We also generally don't wear our shoes inside, but you can if you like.
Ecological concerns: We do practice some green behaviors, like composting, recycling, and adjusting temperatures, windows, and shades according to outside conditions and time of day. If the temperature is not to your liking, please tell us.
Our toilets are chair-height and low water use. The shower has a Speakman adjustable nozzle which gives a wonderful shower in my opinion. You may have to remind yourself to get out when you're finished cleaning up. We leave soap and shampoo in the bathroom.
If you have other questions, needs, wants, or concerns, we hope you will ask.
Etc: A word about size of accomodations: This is a 3 bedroom, 2.5 bath home with a basement that is also in use (but not by you unless you play ping pong or do laundry!) We list accomodations for 3 and 1.5 bathrooms because that is what is available to you as guests. Any additional people would need to be accomodated using extra mattresses and so forth, by arrangement with us in advance. While we do sometimes rent the "whole house," meaning we move out, one of our current policies is that we only rent the whole house to people who have already stayed with us as guests....The beds in the house in this case could accomodate 8 including the sleeper sofa, but not counting couches or mattresses on the floor.* If you want to rent the whole house or bring more than 3 people, please discuss this with us in advance. (And yes, we charge more than the basic room rate for situations beyond two people staying in one room :-). If your situation is different or unique, you can also make a specific request.
*The size listed above is for the finished house, not the bedroom you are normally renting or the unfinished basement, for that matter. I don't list accomodations for 8 people because the queries I was getting in response on airbnb seem to include people thinking of vacation rental cottages rather than family homes. If you are a family with small children who wants to use two rooms and a shared bath for your accomodations, I think you would all enjoy staying with us.
We welcome people of all ages, backgrounds, practices, personalities, and beliefs. If you are an international or from a different part of the country or cultural mosaic, we especially welcome you! If while you are staying with us you would like to do something together with us, please ask. We are sometimes able to welcome you into some of our adventures or join you in one of your own.
---
---
---
---
The Spinella's were absolutely amazing. I can't complain about anything. They were some of the most genuine people you could meet and helped in any way possible. It definitely did not feel like staying at a strangers house. I would recommend to stay with them to anyone! Definitely would stay again given the chance.
---
First of all, the location is perfect - so close to both the Academy and other points of interest, yet quiet and private. Steve and Laura were excellent hosts. What better way to feel at home than the aroma of freshly-baked bread every morning (then, of course, enjoying it as part of breakfast)? We were welcome to use the living area as well as our room and private bath. We always felt welcome whenever we crossed paths, and any requests (for instance, an ironing board for our cadet) were accommodated immediately and with a smile. They were even able to accommodate a last-minute guest who joined us. Our hosts' warm and welcoming ways, helpful direction on tourist activities, willingness to accommodate requests, and a clean environment made our stay very comfortable. We hope to be back for Parents' Weekend next year!
---
Steve and Laura are such a welcoming family. We checked in very late at night due to flight delays and he was kind enough to stay awake until we arrived at his place. In addition, they offered us fresh bread and home made waffles (oh so good) for breakfast, which was so generous of them. We wanted to hike around the area so Steve gave us awesome suggestions such as the 7 bridges. The room was exactly as described and the bathroom had two sinks! The best part was learning about their lives because they had so many interesting experiences. Overall, I totally recommend them because they treated us like good friends. :)
Thank you, Vi. When we welcome guests into our home, we do want them to see us as friends and allies in their journeys, and we're so glad to hear that's how you felt! Of course, we don't always have waffles for breakfast, but when we do, we are happy to share them with our guests (as long as they don't complain too much if I put yogurt, syrup, and strawberries on them, or some other weird combination ;-).
---
Steve was a very nice host. My wife and I stayed there for three days for the 2016 USAFA graduation. Steve's place is perfect place for accessing any USAFA activities as it gives wonderful relaxing at night. As a host, Steve and his wife cooked us a full breakfast and sat down with us on the Sunday's morning. We also used the coffeemaker and dishes with a bowl of cereal on the other days. It was really cool to talk with Steve and his wife in mandarin. I definitely recommend this place to everyone!
---
Colorado Springs, Colorado, United States
Joined in October 2012
50 something couple who likes to mountain bike, travels a lot, works with an international nonprofit doing global care. You can find us online using "TEAMspinella" and "Steve Spinella"

We are part of airbnb because we care about people, we want to learn and practice good hospitality, and we enjoy our home and enjoy sharing it.
Languages:
English, Español, 中文
Response rate:
100%
Response time:
within an hour
Explore other options in and around Colorado Springs
More places to stay in Colorado Springs: