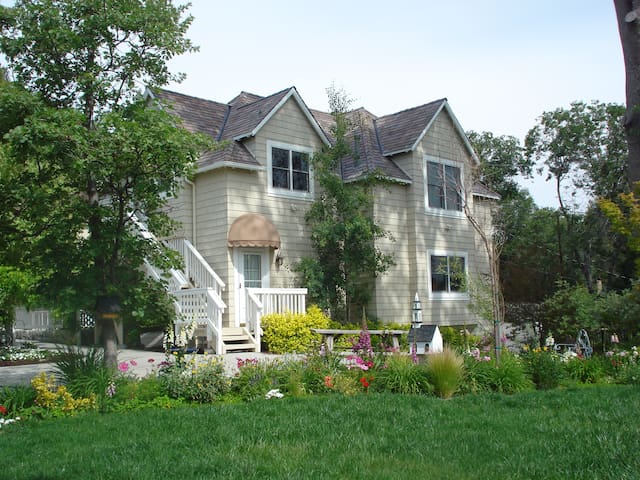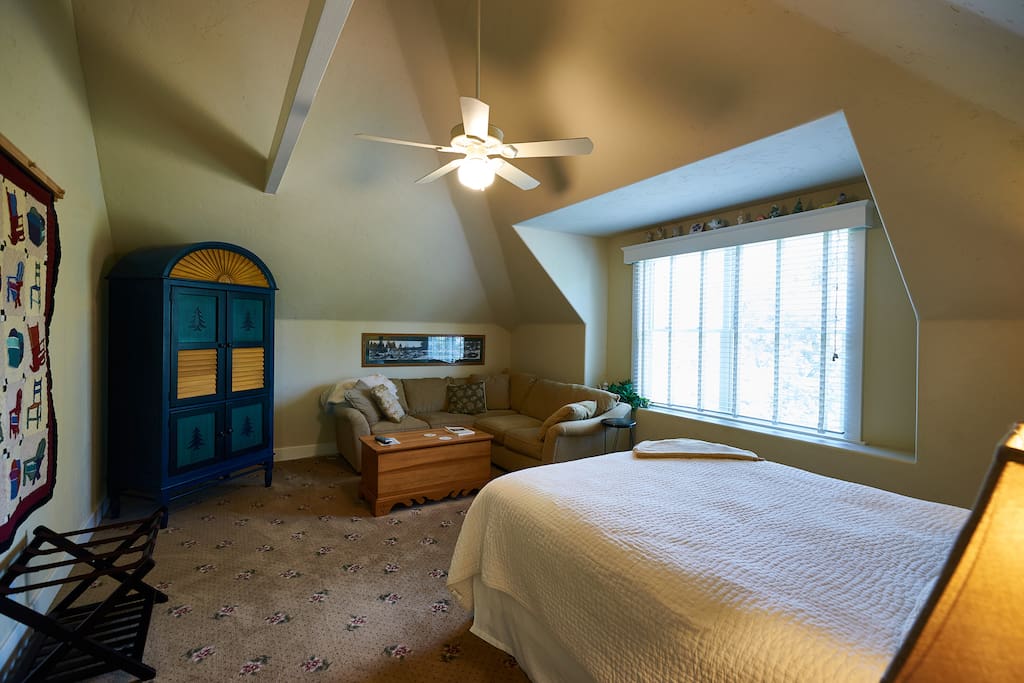 Guest House steps to the lake with CENTRAL AIR
Central air-conditioned 860 sq ft private apartment (detached from main house) with private entrance (on 3rd floor of detached garage) located across the street from lake, hiking trails, UCLA Conference Center and Tavern Bay Beach Club. Only 8 minute drive to Lake Arrowhead Village/Blue Jay for dining/shopping/movies. Check-in is 3 pm and check-out is Noon. Earlier check-in may be available if unit is vacant the night prior.
The space
Private detached guest house (private entrance) located across the street from the lake in the beautiful North Shore area. Apartment is the 3rd floor of the 3 story garage and has CENTRAL AIR. You will have access to the private Tavern Bay Beach Club on the lake and hiking trails around the lake or stroll around the neighborhood to enjoy looking at beautiful lake front estates. If you would rather shop, dine, water ski or take a boat tour, the Lake Arrowhead Village is only an eight minute drive away. Movie theater is located 8 minutes away in Blue Jay.
Guest access
Guests have access to the guest house, private bay Tavern Bay Beach Club (must have beach club card with you), lake trails and patio table/chairs (during the warmer months).
Interaction with guests
We are available to answer questions via phone or text and if we are staying in the main house over your stay, we are available to assist in anyway.
Other things to note
The Rental Agreement
This Rental Agreement and Contract (the "Agreement") is a legally binding agreement made and entered into as of the Reservation Date written below by and between the undersigned person(s) or company (the "Guest") and the undersigned owner, manager or agent ("Rental Agent"), pursuant to which the Guest has agreed to rent the residence described below (the "Property"), for the duration of the Rental Term for the Total Rental Fee and other good and valuable consideration as described herein.
OCCUPANCY
Guest agrees that no more than previously agreed upon number of persons (maximum 2 persons) shall be permitted on the Property at any time during the Rental Term, all of whom shall comply with the conditions and restrictions imposed upon Guest under this Agreement.(Unless specific number agreed upon at the booking of the rental). If not adhere to this agreement and have more guests without permission, you will be fined heavy at the discretion of the OWNER.
Guests agrees to strict rule of Check-in and Check-out time within the LIMITS of 30 min. of the said check-in time of 3:00 PM, and the check-out time of Noon unless otherwise CONSENTED BY THE OWNER. Please note we may be able to accommodate earlier check-in, please inquire.
THERE IS A LATE FEE OF $50.00 FOR EVERY HOUR AFTER THE LIMITS OF TIME.
PARKING
Parking is strictly limited on our property to 2 Maximum on the driveway on West Shore.
CONDITION AND USE OF PROPERTY
The Property is provided in "as is" condition. Rental Agent shall use its best efforts to ensure the operation of all amenities in the Property, such as internet access, satellite or cable TV access as applicable. Rental Agent shall not be held responsible for such items failure to work, but will make every effort to correct any issues as reported as quickly as possible.
Guest shall use the Property for residential purposes only and in a careful manner to prevent any damage or loss to the Property and keep the Property in clean and sanitary condition at all times. Guest and any additional permitted guests shall refrain from loud noise and shall not disturb, annoy, endanger, or inconvenience neighbors, nor shall Guest use the Property for any immoral, offensive or unlawful purposes, nor violate any law, association rules or ordinance, nor commit waste or nuisance on or about the Property.
DEFAULT
If Guest should fail to comply with the conditions and obligations of this Agreement, Guest shall surrender the Property, remove all Guest's property and belongings and leave the Property in good order and free of damage. No refund of any portion of the Total Rental Fee shall be made and if any legal action is necessary, the prevailing party shall be entitled to reimbursement from the other party for all costs incurred.
USE OF HOUSE FOR FILMING AND OTHER MEDIA EVENTS
There will be additional fees and permits will be required. Please, talk to the owner prior to the rental at least 1 month before.
ASSIGNMENT OR SUBLEASE
Guest shall not assign or sublease the Property or permit the use of any portion of the Property by other persons who are not family members or guests of the Guest and included within the number of and as permitted occupants under this Agreement.
RISK OF LOSS AND INDEMNIFICATION
Guest agrees that all personal property, furnishings, personal affects and other items brought into the Property by Guest or their permitted guests and visitors shall be at the sole risk of Guest with regard to any theft, damage, destruction or other loss and Rental Agent shall not be responsible or liable for any reason whatsoever.
Guest hereby covenants and agrees to indemnify and hold harmless Rental Agent and their agents, owners, successors, employees and contractors from and against any costs, damages, liabilities, claims, legal fees and other actions for any damages, costs, attorney's fees incurred by Guest, permitted guests, visitors or agents, representatives or successors of Guest due to any claims relating to destruction of property or injury to persons or loss of life sustained by Guest or family and visitors of Guest in or about the Property and Guest expressly agrees to save and hold Rental Agent harmless in all such cases.
RELEASE
Guest hereby waives and releases any claims against Rental Agent, the Property owner and their successors, assigns, employees or representatives, officially or otherwise, for any injuries or death that may be sustained by Guest on or near or adjacent to the Property, including any common facilities, activities or amenities. Guest agrees to use any such facilities or amenities entirely at the Guest's own initiative, risk and responsibility.
ENTRY AND INSPECTION
Rental Agent reserves the right to enter the Property at reasonable times and with reasonable advance notice for the purposes of inspecting the Property or showing the Property to prospective purchasers, renters or other authorized persons. If Rental Agent has a reasonable belief that there is imminent danger to any person or property, Rental Agent may enter the Property without advance notice.
UNAVAILABILITY OF PROPERTY
In the event the Property is not available for use during the Rental Term due to reasons, events or circumstances beyond the control of Rental Agent, Rental Agent will apply due diligence and good faith efforts to locate a replacement property that equals or exceeds the Property with respect to occupancy capacity, location and value that meets the reasonable satisfaction of the Guest. If such replacement property cannot be found and made available, Rental Agent shall immediately return all payments made by the Guest, whereupon this Agreement shall be terminated and Guest and Rental Agent shall have no further obligations or liabilities in any manner pertaining to this Agreement.
ADDITIONAL TERMS TO THE RENTAL AGREEMENT
In addition to the standard terms included herein, Guest acknowledges and agrees that the following additional terms and conditions apply to the Guest's rental of the Property:
GENERAL PROVISIONS
This Agreement contains the entire agreement between the parties with regard to the rental of the Property, and any changes, amendments or modifications hereof shall be void unless the same are in writing and signed by both the Guest and the Rental Agent. This Agreement shall be governed by the laws of the State of New York. The words "Rental Agent" and "Guest" shall include their respective heirs, successors, representatives. The waiver or failure to enforce any breach or provision of this Agreement shall not be considered a waiver of that or any other provision in any subsequent breach thereof. If any provision herein is held invalid, the remainder of the Agreement shall not be affected.
Upon entrance to the house, the guest will make the entire contract valid as explained herein and will be assumed to follow all the rules and guideline as described.
Any violation of the rules will be considered a forfeiture of contract and will result in the loss of your rights to the rental fees and deposit.
---
---
Bedroom 1
1 queen bed, 1 couch
---
Not safe or suitable for children (0-12 years)
Check in is anytime after 3PM
1. Upon arrival, please park on the bottom driveway on West Shore Road adjacent to the UCLA Conference Center. Enter the property through the black gate. After entering the gate, the guest house will be on your right. Walk up the staircase to the top floor of garages.
2.Please DO a complete walk-through of the house and report to us at the beginning of the rental any abnormalities or broken items before the 1st day's end. (If not reported in the beginning of the rental, you will be responsible for any broken items or missing items. Example: keys, membership cards, broken mirrors, broken appliances…)
3.Please find 2 keys and (1) ALA (Arrowhead Lake Association) Membership cards in the kitchen next to door on the wall. This card is needed for access to Tavern Bay Beach Club and lake trails.
4.This is a non-smoking house. Any smoking in house will be considered a direct violation of the rental agreement. You may smoke outdoors on the property.
5. There is no cooking anywhere in the house other than the kitchen.
6. When using the heater, we recommend setting the thermometer to no higher than 70 degrees Fahrenheit and AC around 75 degrees.
7. Please do not use any of the owner's personal belongings. We are not responsible for any injuries from the unauthorized use of said items.
8. Please do not move any furniture or any furnishings in the house (if moved, they need to be put back to exactly as they were before).(Excessive moving of things in the house requiring attention by the cleaning crew will result in extra fees)
9. Please be aware that this is a family neighborhood with residents who live here and enjoy the mountain year-round. To respect our neighbors, please keep all outside noise to a minimum after 10:00 PM. (Indoor noise is OK to a certain degree even after hours.)
10. Pets are not allowed in the house at any time.
Checklist Prior to Departure
1. Set the heater to 50 degrees Fahrenheit (in winter months) and turn off AC (if used in warmer months).
2. Turn off all lights and ceiling fans.
3. PLEASE Lock and close all windows.
4. Leave door unlocked.
4. Shut off all water faucets.
6. Wash and dry all pots, pans, dishes, and utensils, and return them to their original locations.
7. Leave all used towels on the bathtub or in the laundry basket in closet. Cleaning crew will change the bed linens.
9. Please do not leave trash outside during your stay since raccoon's will get into the trash.
10. Items to be returned: keys (2) and Arrowhead Lake Association beach club membership cards (1). Please leave all 3 items on the kitchen on the wall next to door. (Lost keys or membership cards will result in a deduction of $25 each from the deposit.)
11. Upon leaving the house, please let me know over the phone or by a text message your departure time and any damage that occurred during your stay at the house. (Cell Ph(phone number hidden))
---
This was our second time staying at Jim and Leslie's beautiful guesthouse. We came up for the 43rd Annual Lake Arrowhead Home Tour. The weather was perfect so we enjoyed having breakfast out on the patio enjoying Jim's beautiful garden. We hiked and explored the nearby UCLA Conference Center, walked the beautiful trails around the lake which are just steps from the house and went to Oktoberfest at the Village. We had a busy and fun weekend. Jim and Leslie are wonderful hosts and we look forward to staying again!
---
Fabulous location!! Leslie offered very helpful directions and tips. My husband and I loved the space and thought they did such a great job making it comfortable, private and inviting. Beautiful natural light streams through the kitchen and the back yard is afloat with butterflies! We visited for our 7 yr anniversary and we couldn't have picked a better place. Would definitely come back.
---
My husband and I just stayed at Leslie's place for our laid back babymoon and had the most lovely time! We appreciated the little snacks and drinks, and tips on "things to do" emailed to us ahead of time. The place is super adorable and cozy, especially with the AC, since we went during their heat wave. The location was great - the trails accessible close by around the lake are incredibly beautiful! And being just a short drive to downtown Lake Arrowhead (about 10-15 mins), made it an easy drive to restaurants for breakfast, lunch and dinner.
---
My husband and I stayed here for his birthday and our anniversary- we wanted a peaceful, clean and inviting experience. That's exactly what we got. I highly recommend staying here - the location is amazing and the guest house is very clean and well stocked with the items you will need. I found the communication with our host extremenely helpful and pleaseant. Glad we stayed!
---
Leslie's guest house is the perfect get away. From the moment you enter through the rose draped gate you feel at peace. The apartment is cozy and extremely clean. The bed was very comfortable with nice bedding. This location is perfect.. a 5 minute walk to the lake and wonderful trails. Leslie is the perfect host making herself available should you need. The snacks upon arrival are a nice treat after a long journey. We will be back again!! The Frankel's
---
Response rate:
100%
Response time:
within an hour
Explore other options in and around Lake Arrowhead
More places to stay in Lake Arrowhead: