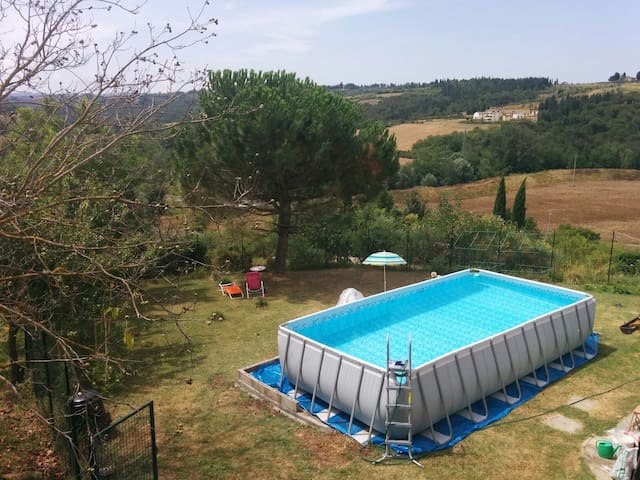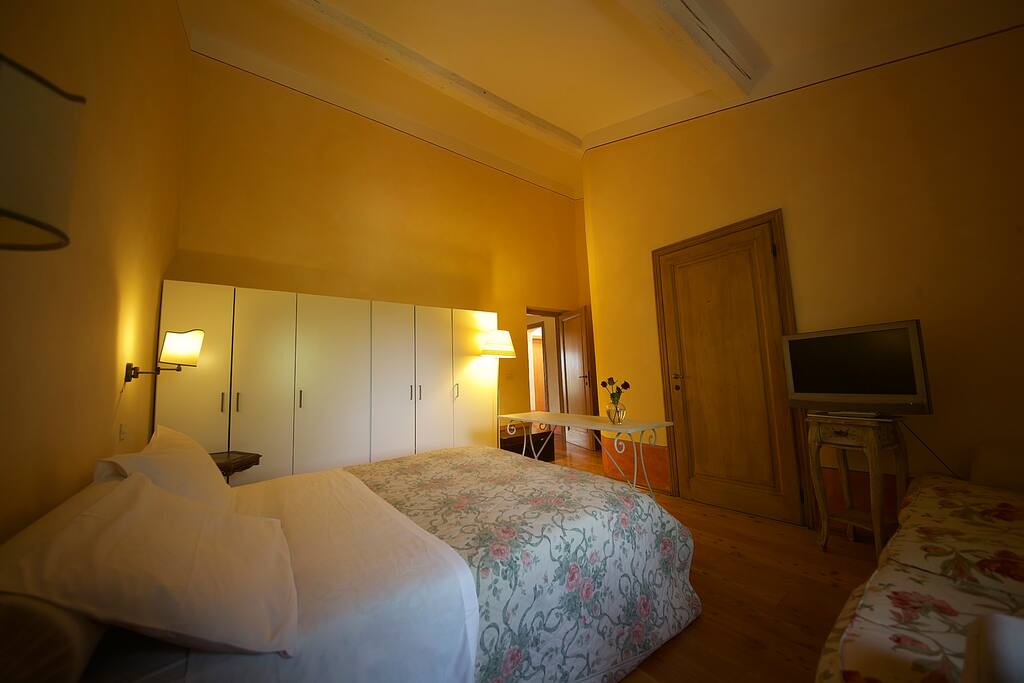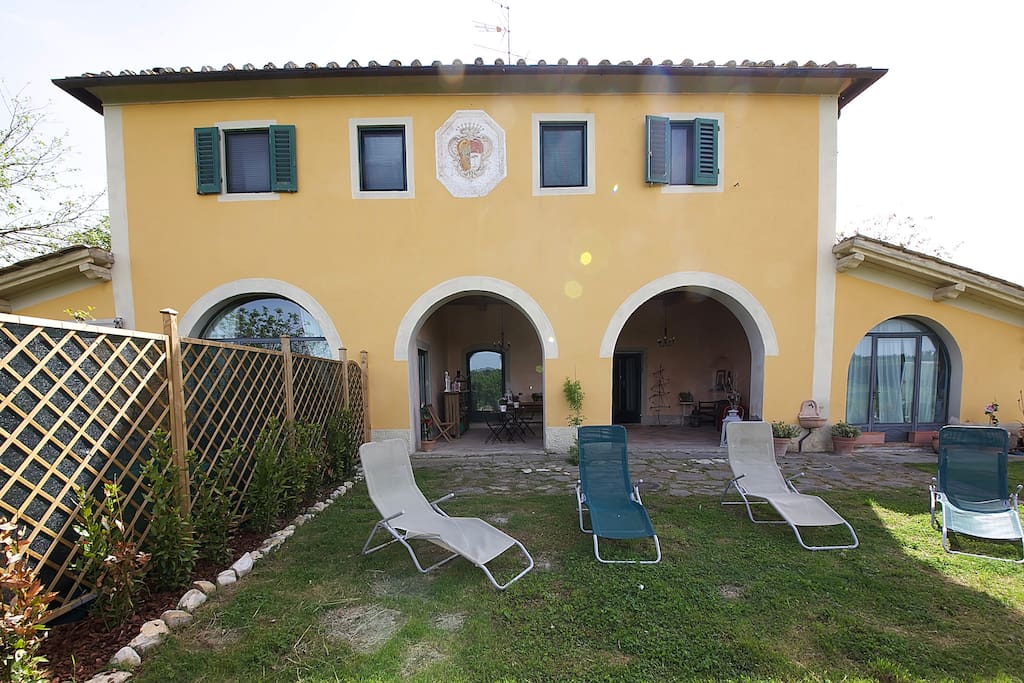 Artist's House SunMars@gabriga's 2
Do you need a break from the city? Slow time down at our historic
villa, tucked quietly away in the classic beauty of the Tuscan
countryside. We are far from the hustle and bustle of downtown
Florence, yet we are only 20 minutes away.
The space
The villa itself consists of a spacious ground floor which is given
over to a living room and a dining room. Upstairs there are three
bedrooms, each with its own bathroom. Outside, it's surrounded by lawn, garden and birds chipping.
Guest access
Apart from your room, you're welcome to enjoy your breakfast in the kitchen, relax in the living room or the garden, and park your vehicles in the free parking space.
Interaction with guests
The host, Gabriga, is your typically enthusiastic warm-hearted Italian from the south of the country, where welcoming guests is a tradition and an art. His English is not perfect, but he has the Italian gift for expression and communication is never a problem. He is an expert on the region and its surrounding attractions, having lived and worked in Florence for a few decades. He is more than happy to give you his recommendations of the best bars and restaurants, and can answer any questions you may have in order to get the most out of your stay. His partner, Fan, is from Beijing in China, and her English is perfect. She loves to travel, create and cook! Which is excellent news because we provide dinner service upon request, so you have the chance to experience true home cooked Italian and Chinese food, made with the best natural ingredients.
Other things to note
We have a space in the garden for pets if you are traveling with any.
We also have a couple of bicycles for rent if you want to explore the countryside more.
---
---
Extra people £14 / night after 2 guests
Weekend Price £53 / night
Always communicate through Airbnb
To protect your payment, never transfer money or communicate outside of the Airbnb website or app.
Learn More
---
Bedroom 1
1 queen bed, 1 single bed
---
Check in is anytime after 2PM
Respect others in the house and treat it like your own home.
---
---
---
Artista visivo. Lavora nel campo della scenografia teatrale. Realizza servizi fotografici per il teatro di ricerca. Nell'arte visiva è solito realizzare installazioni interattive.
Ha realizzato scene per teatro, danza, lirica ed installazioni in Italia e all'estero.

CURRICULUM

Gabriele Pellegrini, born 1959 in Ruvo, Bari, has lived and worked in Florence since 1979 where he attended l'ISIA, l'istituto Superiore per l'Industrial Design. He graduated with a thesis entitled, "The World of Packaging: Predesign for a Project on Business Communication within the System of Mass Communication"
Rather than the "logical" immobility of industrial design, he prefers the risk and freedom of the design of theatrical scenography. From 1991 to 2001 he worked with architect and set designer Stefani Battaglia. Together, they designed scenography and costumes for theater and dance, multivision works, installations, and video installations, collaborating with companies and organizations of national and international importance.
At the same time, he has continued his personal research on the phenomenology of perception using the photographic language, but not exclusively; his first exhibition is already an installation. He creates combinations particularly agreeable with his "multimedia expressiveness," achieved with his work in photographic installations in both natural and developed locations.
For ten years he has also worked with photography of scenography. Especially active and appreciated his theatric experimentations, he has photographed for Socíetas Faffaello Sanzio (Cesena) which has recently published a photographic book Epitaph that contains images of the company's productions for the last twenty years, Fabbrica Europa (Firenze), Fondazinoe Sipario Toscana (Cascina), Teatro delle Donne (Firenze), Kripton (Scandicci), Opera Giovani in Europa di Aldo Tarabella, La fabbrica dell'Attore (Roma), La Zattera di Babele (Roma), Simone Carella (Roma), Sylvano Bussotti (Firenze), Luigi Cinque (Roma), Compagnia Virgilio Sieni (Firenze), Compagnia Marinella Salerno (Firenze), Associazione Culturale Danza Arbus (Firenze), Balleto di Toscana (Firenze), Pino Minafra (Ruvo), Alcatel (Milano), Teatro della (Limonaia Sesto Fiorentino), Tempo Reale (Firenze), etc.
Both his photographs for these companies and those of his installations have been published in visual art, dance and theater books as well as in Italian and foreign newspapers.

Visual Arts
The first installation, EPILOGO-Fotofonie, (each image was given its own sound), was presented in 1993 in Florence at the Galleria Container and in 1994 in Prato at the Galleria Dry Photo in and again in Florence for Ecosfera at the Fortezza da Basso.
The installation, on the subject of environmental pollution, presented the images and sounds of the debris of our daily consumption: "sopravvivenze di oggetti disperse sui bordi della terraferma, quasi escrescenze biologiche, prossimi all'armonia nell'angusto ritaglio dello spazio"



The second installation, ARITIMIE-Fotofonie, was presented in Ruvo, Puglia in the field of Talos Festival '95: "La melodia-la ricerca-la follia." It was also presented in Florence at Stazione Leopolda for Fabbrica Europa '95: "Il disordine delle arti."
The works in the Aritimie series were also displayed in the gallery "La mente e l'immagine di Roma," and at "Cardillac" in Florence.
"ARTIMIE" involves itself in the idea of visual, contemporary pollution from a propagandist system geared toward "the masses" to the universal languages of advertisement communication written and transferred via products. The result achieved over the course of fifty years of "excess" and "hammering" for the erasure of different sociological, ethnic and religious realities has brought about a vertical drop in the quality of the sign and the degradation of cultural identity.
The works are born of the study of common packaging. In the research, the sign of artificial materials is set against the signs of natural elements that become, today each in turn, "products of mass consumption."
Through "mental" manipulation and the repetitive speculation of images, the "insignificant coded" becomes the "significant uncoded," stimulating those processes tendentiously favorable for the recovery of the truly imaginary.



For 'Apre' in February 2000 (the first Florentine exhibition dedicated to ecological and biotechnological problems) at Stazione Leopolda in Florence, he installed on a steel wall six meters high and twelve meters long a series of recent, large-scale works, resulting from research on photography and digital pictures, a preview of the interactive installation project "Corpi. Sembianze del Tempo."
The works of the series "Corpi. Sembianze del Tempo" intensify the already commonly-held certitude of the invasion of the artificial into the depths of the body. This invasion is, in one sense, having to put up with violence, and in another sense like a gift of membership to the system through the manipulation of the flesh and mind.
Bodies. At the end, identity is always in suspension. Under the investigation of the stare, recorded, in the attempt to find the threshold and go beyond the common place of representation.
The works open, therefore, at the visionary crossroads that occupy the space of memory and divination.
In February 2001 in Bari, at Teatro Kismet OperA he presents a photographic retrospective dedicated to Societas Raffaello Sanzio entitled "Corpi." The suggested images are digitally enhanced photographs that come from the photographs taken during the representations of "Amleto, Orestea, Giulio Cesare, Voyage au bout de la nuit, Genesi, Il Combattimento."
In Prato, the exhibit becomes an installation that creates an interaction between the works dedicated to "Corpi" for Raffaello Sanzio with "Corpi contrafatti" of some of his recent digital work and takes advantage of the atmosphere and the sliding hooks on the snaking platforms of the butcher's workrooms in the ex-butchery, now Cantieri Culturali dell'Officina Giovani.
The project was created in collaboration with l'Assessorato alla Cultura and Teatro Metastasio (from March 14 through April 8, 2001).
In Florence, for Fabbrica Europa 2002 mito d'Europa e identitá contemporanea, his installation exhibition entitled "La voix du corps" viaggio nel mondo della Socíetas Raffaello Sanzio was unveiled in the main aisle of Stazione Leopolda. It presents on an inclined stage a series of other new works.



RIEPILOGO MOSTRE ED INSTALLAZIONI PERSONALI

EPILOGO-FOTOFONIE,
- Galleria Container - Firenze 1993 - Galleria Dry Photo - Prato 1994 - Ecosfera, il Giardino di Gaia - Fortezza da Basso - Firenze 1994
ARITMIE
- Spazio Cardillac - Firenze 1994;

- ARITMIE- FOTOFONIE (Installazione)
Underground via Gobetti , in collaborazione con Galleria Omphalos Terlizzi, Talos Festival , Assessorato Cultura Comune di Ruvo di Puglia e Tecnotermica Guastamacchia, Engineering & Contractors - Ruvo di Puglia 1995

- ARITMIE - FOTOFONIE (Installazione)
- Spazi d'arte Fabbrica Europa, Ex Stazione Leopolda - Firenze 1995

- CORPI. SEMBIANZE DEL TEMPO (anteprima)
- Auditorium Rodari in collaborazione festival jazz - Campi Bisenzio 1997
- Apre 2000 - Ex Stazione Leopolda - Firenze 2000
- Officina Giovani Cantieri Culturali Ex Macelli - Prato 2001"

- "CORPI" Dalle foto di scena per la Socìetas Raffaello Sanzio
- Teatro Kismet OperA - Bari 2001
- Officina Giovani Cantieri Culturali Ex Macelli - Prato 2001"

"LA V DU CORPS" viaggio nel mondo della Socìetas Raffaello
Sanzio.
Fabbrica Europa 2002 Ex Stazione Leopolda Firenze 2002

- Studi Aperti: installazione dei Light-box serie "colonne" negli studi di via degli Artisti Firenze 2003

Corpo, segno, superficie (ospite) Castello Estense
Ferrara aprile 2007

- "di me morie" installazione. Riarteco Apre2007- Firenze, Piazza
Santa Croce

Art in the city 08

- "Di me morie" video installazione.
per galleria Polin Treviso
26 luglio 2008
Piazza Mazzini, Lido di Jesolo (ve)


COLLETTIVE

- RIFLESSI O TRASPARENZE - Galleria La Mente e
L' Immagine - Roma 1994

- PERMANENZE E METAMORFOSI - Forte Belvedere -
Firenze 1996

- 2° Premio Trevi Flash Art Museum - Trevi 1997

- BENI DUREVOLI - FYR Arte Contemporanea Firenze
1- 31 gennaio 2005


- "Inadeguato" installazione.
con Claudia Vianello.
Per "rivivere il chiostro"
Chiostro delle Oblate
Firenze 15/6/2007 - 21/7/2007

- "Corpo Elettrico"
Erotic Art. ideato da Officine Artistiche
Treviso

De forma by art Bologna 1/9 2007

Ass.Artigianando nell'arte.Torino 6/10/2007

- Humanity - Galleria Bluorg, Bari 21 / 11 / 07

- Skull: return to sender - Wannabee gallery,
Milano. 15/ 5 / 08

- Skull: return to sender - Zaion gallery,
Biella (TO) giugno 08

- Skull - Spazio Revel, Scalo d'isola.
Milano 16 / 9 / 08

- Sex Toys - Wannabee Gallery,
Milano 14 / 10 / 08

- Arte erotica e pornografia
Le Segrete di Bocca
Milan2009

- VentiperVenti - Terza edizione
Lineadarte Napoli
installazione "Non sai cosa darei per averti"
20 / 6 / 2009

- Itinerari del Sassoscritto "I sentieri delle
stelle" installazione all'aperto "INADEGUATO"
Località Gavignano - Antella - Firenze
25/29 / 6 / 2009

- Today Mater Lux. Palazzo Carrizzo/Masseria Luce
Lineadarte Napoli 24 / 10 7 2009

- Nigredo -
Firma anche progetto e direzione allestimento
Ex Lavanderia ex ospedale
psichiatrico S.Maria della Pietà Roma
15 /10 / 2009



VIDEOGRAFIE

- EPILOGO-FOTOFONIE - girato in super vhf alla Galleria Container 1995

- ARITMIE- FOTOFONIE - girato in betacam nello spazio Underground via Gobetti di Ruvo di Puglia 1995

- La voix du corps - girato in digitale alla Ex stazione Leopolda di Firenze 2002




SCENOGRAFIE
LA MER, coreografie C. Vodoz-Festival de la Cité - Losanna 1991
PITAGORA, regia G. Cauteruccio - Produzione Kripton –Scandicci 1991
NOTTE FATALE, coreogafie di R. Fabbri - Teatro Comunale - Firenze 1992
LA MER, coreografie C. Vodoz Teatro Comunale - Firenze 1992
CHIOMA DI DRAGO, coreografie M. Salerno - Teatro Studio - Scandicci 1993
MINOTAURO - regia F. Gigliotti - Macchine di Bosco - Teatro Studio Scandicci 1993
PARABOLE, coreografie C. Vodoz - Teatro Comunale -Firenze 1993
UNE MAISON DANS MA V, coreogr. C. Vodoz - Chateau de la Tour de Peilz 1993
IL CRISTO PROIBITO, regia M. Luconi - prod. Ist. del Dramma Popolare S.Miniato 1993
OTELLO, coreogr. F. Monteverde - Centro Regionale per la Danza Pistoia -1994
Balletto di Toscana ( Premio Danza e Danza 1995 )
TRANCE - FERIMENTI, coreogr. R. Fabbri, M. Salerno, A. Vidac -. Fabbrica. Europa -1994
Le notti della Moda. Capri 22 giugno 1994 committente R.A.I. 1
FABBRICA EUROPA- AGORA' - installazione. all' ex Stazione Leopolda, - Firenze - 1994
BIENNALE DELLA MODA -Direzione allestimenti spazi esterni Forte Belvedere Firenze. 1995
MADAME BUTTERFLY- di G. Puccini - regia F. Ripa di Meana - Teatro Regio Torino 1996
LA BOHEME di G. Puccini regia A. Tarabella consul. e direzione allestimento Arezzo 1999
MADAME BUTTERFLY di Puccini - regia F. Ripa di Meana Teatro d'Opera di Bilbao 2001

VIDEO INSTALLAZIONI

CORSIA, install. con G. Cattani. Ideazione e ingegnerizzazione sculture meccaniche, direzione tecnica. fotografia - Biennale Venezia arti visive. sez. Aperto 1993

GRUPPO CARMA , progettazione, ambientazione, sculture in ferro, fotografia multivisione e video. Milano, Magna Pars 1996


Response rate:
100%
Response time:
within an hour
Explore other options in and around Chianti
More places to stay in Chianti: