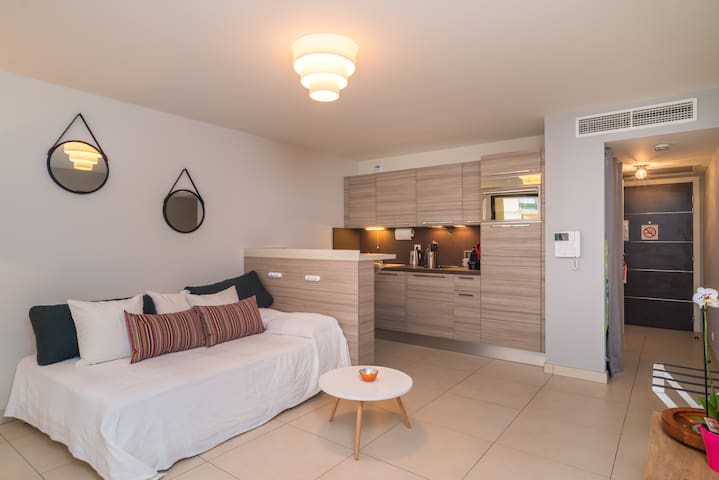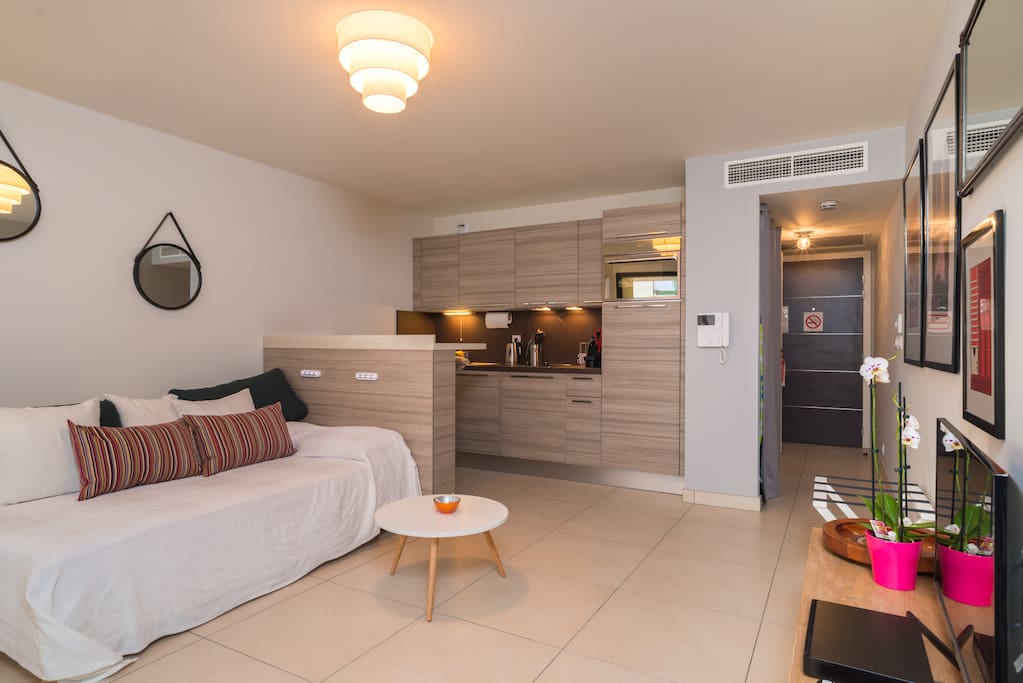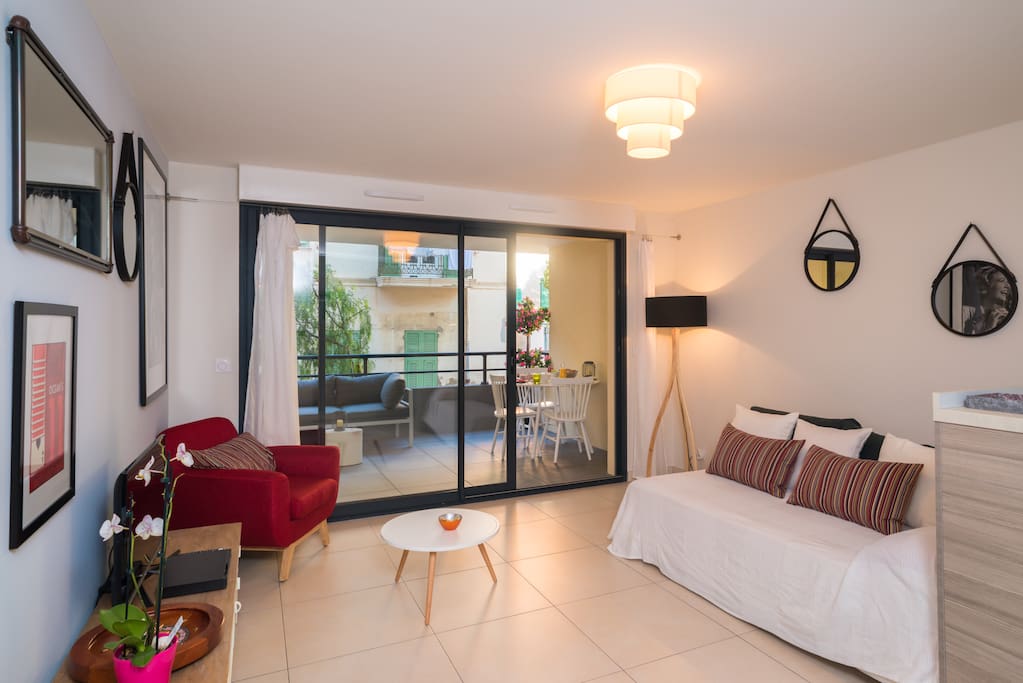 About this listing
Studio neuf dans une résidence neuve aux portes de Monaco.
Tous les voyageurs qui séjournent dans cet appartement adorent !
Situé à 5 minutes de la plage, 10 minutes du palais et du port, dans une petite rue calme entouré de tous les commerces de proximité (boulangerie-supermarché-restaurants),desservi par bus toutes les 10 minutes.
Ambiance monégasque réalisée par un architecte d'intérieur:le casino, le grand prix de F1 , le luxe et Grace Kelly.
Vous serez sous le charme.C'est garanti!
---
Room type: Entire home/flat
---
---
---
Studio neuf dans une résidence neuve aux portes de Monaco.
Tous les voyageurs qui séjournent dans cet appartement adorent !
Situé à 5 minutes de la plage, 10 minutes du palais et du port, dans une petite rue calme entouré de tous les commerces de proximité (boulangerie-supermarché-restaurants),desservi par bus toutes les 10 minutes.
Ambiance monégasque réalisée par un architecte d'intérieur:le casino, le grand prix de F1 , le luxe et Grace Kelly.
Vous serez sous le charme.C'est garanti!
Fonctionnel, neuf, climatisé, parfaitement équipé, confortable. Je n'ai pensé qu'à votre confort en préparant ce logement et recherché une décoration qui pourrait vous mettre à l'aise instantanément.
Ma meilleure publicité est celle des voyageurs qui ont séjourné dans notre maison et qui ont laissé leur avis..
Un grand séjour de 20 mètres² incluant un espace cuisine et repas.
Un vrai lit 140 cm pour que votre nuit soit confortable.
La vaste terrasse permet de se détendre et prendre ses repas.
Wifi à disposition, TV TNT, Lecteur DVD/blue ray.
Cuisine entièrement équipée.
Café et thé offert pour les premiers matins. Petit dressing de rangement à l'entrée.
Le studio fait 30m² en tout, mais a également une grande terrasse/loggia parfaitement équipée.
Je serai disponible pour répondre à vos attentes et interrogations à votre arrivée mais également pendant le séjour.
Votre appartement se situe à côté de la place de la LIBERTE à Cap d'ail.
La plage est à 5 minutes de marche . Vous y accéderez par des escaliers, longerez le Tennis Club de Cap d'ail et arriverez sur la Plage Marquet.
C'est également de ce point de départ que commence le magnifique sentier littoral de Cap D'ail qui vous conduira à la plage de ''LA MALA''.
Le quartier Liberté est à la frontière de la Principauté de Monaco. En sortant de l'appartement, vous rejoindrez le dynamique quartier de Fontvielle en 5 minutes, ou irai visiter le Rocher de Monaco en 10 minutes à pied ou vous retrouverez sur le port.
Il est possible de prendre le bus (ligne 100) pour vous amener dans les points stratégiques de la Principauté de Monaco (pied du palais - le port - L'office de Tourisme - Le casino).
Enfin votre quartier est commerçant : boulangerie - supermarché - pharmacie - coiffeurs - pressing - restaurants - poste de police et tout ceci dans un rayon de 100 mètres.
BUS ligne 100 (ligne d'azur). Arrêt LIBERTE. Passage tous les 10 minutes : très pratique pour aller dans la direction de Nice ou Monaco jusqu'à Menton.
La gare (train) la plus proche et accessible est la GARE de MONACO. Prendre le bus ligne 5 ou 4 et descendre à l'arrêt ''Cimetière''. Il restera environ 200 mètres à parcourir.
Les frais de taxes de séjour sont incluses dans le prix.
Le Check-in et le Check-out se font exclusivement sur rendez-vous.
Si votre Check-in a lieu après 22:00 un supplément de 20€ sera demandé.
Si votre Check-out a lieu avant 7h00 du matin un supplément de 20€ sera demandé.
---
May not be safe or suitable for children (0-12 years)
Check in time is 3PM - 8PM
APPARTEMENT NON FUMEUR - NO SMOKING APARTMENT
Si vous êtes fumeur, ne réservez pas cet appartement - If you smoke, do not book this apartment.
L'appartement et la loggia sont NON FUMEUR. Nous insistons sur ce point.
Nous serons au regret de vous faire quitter les lieux si nous constatons que vous fumez à l'intérieur de l'appartement ou de la loggia durant votre séjour. AirBnb sera informé du problème
CHECK IN CHECK OUT only in appointment / ENTREE SORTIE sur Rendez-vous exclusivement.
ETAT des lieux Entrée
Soucieux de recevoir au mieux les voyageurs, l'appartement sera parfaitement propre et équipé à votre arrivée par du matériel en parfait état de marche. Ceci est vérifié avec vous .
Si par mégarde, un dysfonctionnement nous aurait échappé, nous vous demandons de le signaler dans les 24h00 .
En règle général, n'hésitez pas à nous contacter à la moindre difficulté.
Vous ne nous dérangez pas .
Il est préférable de venir vous aider plutôt que retrouver du matériel cassé.
ETAT des lieux Sortie
Nous attendons que l'appartement soit rendu dans un état de propreté courant.
La vaisselle devra être propre et rangée et les poubelles vidées et sorties.
Nous nous verrons dans l'obligation de demander un supplément de 15€ en cas de manquement.
PARTICIPATION AUX FRAIS de MENAGE
Lorsque vous arrivez dans la maison de nombreux linges sont à disposition :taies d'oreillers, traversin, drap housse, drap, couette, couvre lit, coussins, torchon de cuisine, 4 serviettes de bain, tapis de sol, sèche main. Une partie des frais de ménage est exclusivement réservée au travail de blanchisserie du linge.
Lorsque vous quittez, une société de nettoyage intervient après votre départ, entre chaque voyageur. Tout est remplacé (café, thé, produits de ménage etc) , chaque appareil est vérifié ou mise en marche, la cuisine et les sanitaires sont désinfectés. Le coût est de 50 € à chaque fois, ceci nous donne l'assurance que tout sera propre et en ordre lorsque vous entrerez dans votre logement.
Voilà pourquoi il est demandé 39€ de participation aux frais de ménage.
AIR CONDITIONNE
Votre appartement bénéficie d'air conditionné froid (de mai à octobre) ou chaud (octobre à mai).
Le changement chaud ou froid est géré par la copropriété de l'immeuble car le système est collectif. Mais il peut arriver que la météo soit imprévisible et que le système ne soit pas adapté pendant 1 journée. Nous ne pouvons intervenir sur ce point pour faire modifier le système de chauffage à la demande.
EAU & EAU CHAUDE
Nous vous demandons d'être éco-responsables et de consommer raisonnablement: eau et électricité.
L'eau chaude est générée chaque nuit dans un ballon de réserve de 100 litres. Nous attirons donc votre attention sur le fait qu'une consommation excessive d'eau chaude en début de matinée va épuiser la réserve pour la journée. Préférez le lave vaisselle si vous avez beaucoup de vaisselle à laver le matin et le midi.
HEURES d'arrivée et départ.
Arrivées 15h00-20h00
Départs: 07h00-12h00
Beaucoup de nos invités dépendent d'horaires de trains ou d'avions et ne peuvent pas obligatoirement suivre ces horaires.
Nous nous adaptons donc en permanence afin que vous n'attendiez pas. Nous essayons par une organisation précise de prévoir au mieux votre arrivée et votre départ. Nous essayons toujours de trouver la meilleure solution pour vous.
Si le logement est disponible le jour de votre arrivée ou départ, nous vous le laisserons un peu plus longtemps si cela vous est nécessaire.
Veuillez noter qu'un supplément de 20€ vous sera demandé en cas de Check-in après 22h00
Veuillez noter qu'un supplément de 20€ vous sera demandé en cas de Check-out entre 00h00 et 07h00.
INCIDENT - CASSE - PERTE
Un incident est toujours possible, nous vous demandons de nous le signaler à votre sortie des lieux, tout simplement pour que le voyageur qui arrivera après vous bénéficie des mêmes conditions que les vôtres.
En cas de casse ou de perte, une demande de retenue sur caution sera faite auprès de AirBnb. C'est pour cela que le contrat prévoit une caution. Le prélèvement sur caution sera égale au montant des réparations et SERA VERIFIABLE par une facture que je présenterai à AirBnb.
LOGEMENT POUR 2 PERSONNES
Le logement est prévu pour une ou deux personnes et n'est hélas pas adapté pour les enfants ou famille.
Nous tenons fermement à ce qu'il n'y ait pas d'invitations dans l'appartement ou de voyageur surprise de dernière minute.
VIE EN COPROPRIETE
Nous sommes soucieux de nos voisins. Étant situé dans un quartier résidentiel et dans une petite copropriété très calme, nous attendons de nos voyageurs qu'ils respectent la tranquillité de chacun.
Pas de bruit après 21h00 notamment sur la loggia.
Si vous souhaitez faire la fête, une seule direction : MONACO, le port, les boites de nuit, la place du Casino, les restaurants et bars..
Faites vous plaisir.
CONCLUSION
Le non respect de ces règles peut entraîner la fin immédiate de la location sans remboursement.
Il n'est pas agréable d'évoquer tout ceci car la majorité des voyageurs est fantastique et respectueuse. Ce règlement est aussi détaillé pour tous les autres voyageurs qui se conduisent mal lorsqu'ils ne sont pas chez eux ou qui voudraient réclamer de manière injustifiée.
Merci de votre compréhension et d'avoir lu jusqu'à la fin ces conditions.
Sylvie
RULES - CONDITIONS OF RENTAL -

NO SMOKING APARTMENT
If you smoke, do not book this apartment.
The apartment and the loggia are NO SMOKING. We insist on this point.
We will be sorry to leave you if we find that you smoke inside the apartment or the loggia during your stay. Airbnb will be notified of the problem.
CHECK IN
Concerned to receive you by the best, the apartment will be perfectly clean and garnished on arrival by equipment in perfect condition. This will be checked with you.
If inadvertently malfunction would have escaped us, we ask you to report in 24:00 hours
Don't hesitate to contact us at any difficulty. You do not disturb us !
It is best to come help you instead find broken equipment.
CHECK OUT
Please keep the house clean and tidy ( we don't ask you to polish and disinfect everything) just that's it's "normal" when you leave.
Clean the dishes and put away in closets, take out the trash. We will be obliged to ask for an extra 15 € for failure.
PARTICIPATION CLEANING FEE
When you get in the house many linens are available: pillowcases, bolster, fitted sheet, sheet, duvet, bed covers, cushions, kitchen towels, 4 bath towels, floor mats, dry hand. Part of the cleaning fee is exclusively the work of laundry washing.
When you leave a cleaning society comes after your departure, between each guest. And they also renew the supplies ( coffee caps, tea, washing powder, etc ), check every device/machine works, and disinfects the kitchen and bathroom/cabinets. This costs us 50 € each time because we want to be sure everything is clean and in order for you.
Therefore it is requested € 39 for participation in the cleaning fee.
AIR CONDITIONING
Your apartment has cold air conditioning (May-October) or hot (October to May).
Hot or cold change is managed by the condominium building, because the system is collective.
But it may happen that the weather is unpredictable and that the system is not suitable for 1 day. We can't intervene on this point to change the heating system on demand.

WATER & HOT WATER
We ask you to be environmentally responsible and consume reasonably Water and Electricity.
The hot water is generated each night in a 100 liter reserve tank. Please note that excessive consumption of hot water in the early morning will exhaust the reserve for the day. Prefer the dishwasher if you have a lot of dishes to wash in the morning and afternoon.

CHECK IN TIME / CHECK OUT TIME
arrivals 3:00 PM - 8:00 PM
Departures: 7:00 AM 12:00
Many of our guests depend on train schedules or aircraft and may not necessarily follow these hours.
So we adapt constantly so you don't wait.
We try to prepare your arrival and your departure with the most precise organization
We always try to find the best solution for you.
If home is available the day of arrival or departure, we leave you a little longer if you need.
Please note that a surcharge of 20 € will be requested in case of check-in after 10:00PM
Please note that a surcharge of 20 € will be requested in case of check-out between 00:00 and 07:00 AM
INCIDENT - BREAK - LOSS
An incident is still possible, we ask you to report it to your departure simply for the traveler who comes along enjoys the same terms as yours.
In case of breakage or loss, a deposit deduction request will be made to Airbnb. That is why the contract provides for a deposit. The levy on deposit will be equal to the amount of repairs and BE VERIFIABLE by an invoice that I will present to Airbnb.

ACCOMMODATION FOR 2 PEOPLE
Accommodation is for one or two people and unfortunately is not suitable for children or family.
We will not find a last minute traveler and invitations to other people in the house.
LIFE IN CONDOMINIUM
We care about our neighbors. Being located in a residential area in a small building very quiet, we expect our travelers to respect the tranquility of each.
No noise after 9:00 including the loggia.
If you want to party, one direction: MONACO, port, nightclubs, the Casino, the restaurants and bars ..
Enjoy yourself.
CONCLUSION
Failure to comply with these rules may result in immediate termination of your contract Airbnb and without refund.
It is not pleasant to mention all this, because the majority of travelers are fantastic and friendly. This regulation is also detailed for all other travelers who behave badly when they are not in their home or who would claim unjustifiably.
Thank you for taking time to read the rules.
Sylvie.
---
Moderate
Cancel up to 5 days before your trip and get a full refund, including service fees.
---
---
2 nights minimum stay.
From May 22 - 26, 2019 the minimum stay is 4 nights.
---
Exact location information is provided after a booking is confirmed.
Sylvie and David were great hosts! The studio was very tidy spacious and supplied with everything you would need. It was perfect for a couple like us! They were very kind and helpful before and during our stay. We can't thank you enough!
---
Sylvies apartment was perfect for a vacation in Monaco. Its brand new, super tidy and it is just a 10-15 min walk to all the attractions in Monaco. Sylvie was also very responsive and kind.
---
Sylvie's studio was, hand down, my best airbnb experience so far! The apartment was immaculate and spacious. Very modern and well maintained. The neighborhood was quite, and a small grocery store and patisserie were less than 100m away. Sylvie was wonderful. Very attentive and helpful. This studio was in a perfect location for us. However, it was outside of town a small bit. But the CAM busses were easily accessible, and walking to the center of town was simple enough.. If you wish to be closer to downtown or the casinos, I'd suggest checking out Sylvie's other listing. I imagine it is just as lovely as this place!
---
The apartment was very comfortable, clean and well equipped. It is only a 15 minute walk to the center of Monaco. I had a great time and thanks so much to Sylvie who was so helpful and kind. Would highly recommend.
---
Depuis très jeune j'aime le voyage, les voyages, découvrir d'autres fonctionnement, cultures, et échanger avec mes hôtes.
Je ne peux me passer de la mer, ou l'océan ou les lacs, en tout cas un point d'eau autour de moi et tous mes voyages sont tournés vers la découverte du monde sous marin.

J'aime recevoir dans le sens du partage : je suis là lorsque vous en avez besoin et c'est avec plaisir que je viendrai à vous - sinon je suis de nature discrète et je n'aime pas trop ''l'envahissement'' donc, je ne le pratique pas :-)

Ma devise dans la vie : Carpe Diem
Response rate:
100%
Response time:
within an hour